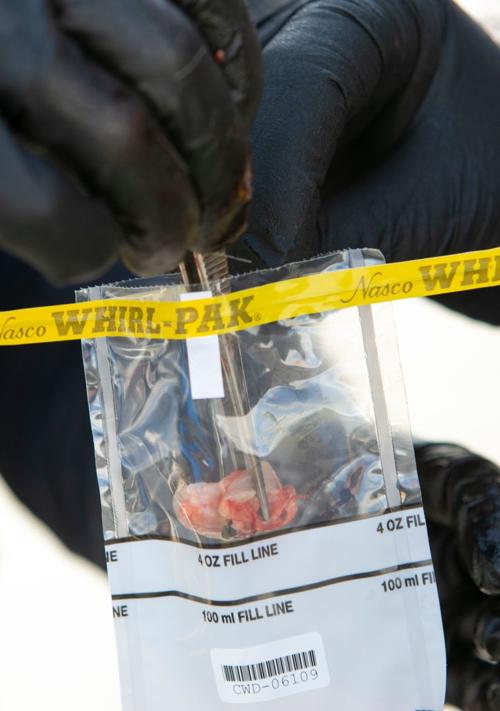 Samples from three deer harvested in southeast Montana have tested positive for chronic wasting disease, the first positive results in the southeastern corner of the state. A second test will be conducted to confirm the initial positive results.
The positive animals include a mule deer buck shot 60 miles north of Miles City in Hunting District 701 in Prairie County, a white-tailed buck harvested two miles north of Hysham in HD 701, and a white-tailed doe taken near Decker in HD 704.
The Decker deer was harvested within the Southern/Yellowstone CWD Management Zone, which includes transport restrictions. The sample was collected at the Montana Fish, Wildlife and Parks office in Billings. All of the hunters were notified by FWP and were advised of their options to obtain another license, if desired.
"We have a management plan to guide local efforts," said Emily Almberg, disease ecologist with FWP's wildlife division. "We're not trying to eliminate deer, we're trying to manage the disease long term for healthy herds."
If left unmanaged, CWD could lead to population decline in infected herds, as it has in other states. Sampling is part of FWP's efforts to determine the presence and distribution of the disease.
CWD affects the nervous system of deer, elk and moose. Transmission most commonly occurs through direct contact between animals, including urine, feces, saliva, blood and antler velvet. Carcasses of infected animals may serve as a source of environmental contamination as well and can infect other animals that come into contact with that carcass. Montana's first known case of the disease was in the wild south of Billings in 2017.
There is no known transmission of CWD to humans; however, the Centers for Disease Control and Prevention recommends that hunters harvesting an animal in an area where CWD is known to be present have their animal tested. The animal's head and throat area are required for testing purposes. If the animal tests positive, CDC advises against eating the meat.
The general hunting season ends on Sunday, Dec. 1. Hunters wanting to have their animals tested for CWD have several options in Region 7. Samples will be collected at:
The Miles City regional FWP office Monday-Friday during business hours through Tuesday, Dec. 3.
Hysham, Ashland and Ekalaka check stations, which operate Saturdays and Sundays from 10 a.m. to sunset and Mondays from 8 a.m. to noon.
Broadus FWP office on Tuesdays from 10 a.m. to sunset.
Sidney at the volunteer fire department on Sundays from 10 a.m. to 2 p.m.
Glendive at Hollecker Lake on Dec. 1 from 10 a.m. to sunset.
Hunters also may collect the samples themselves and mail them using instructions posted at fwp.mt.gov/cwd.
To prevent the spread of CWD, hunters are encouraged to take the meat and leave the remaining parts at the kill site if possible, or to dispose of the animal in a Class II landfill.
In Region 7, landfills are located in Miles City, Broadus, Baker, Forsyth, Glendive and Sidney. FWP strongly discourages dumping of carcasses or parts near roadways and areas outside of the kill site. It is unsightly and illegal, and if the animal has CWD, the carcass can transmit the disease for at least two years.
Be the first to know
Get local news delivered to your inbox!