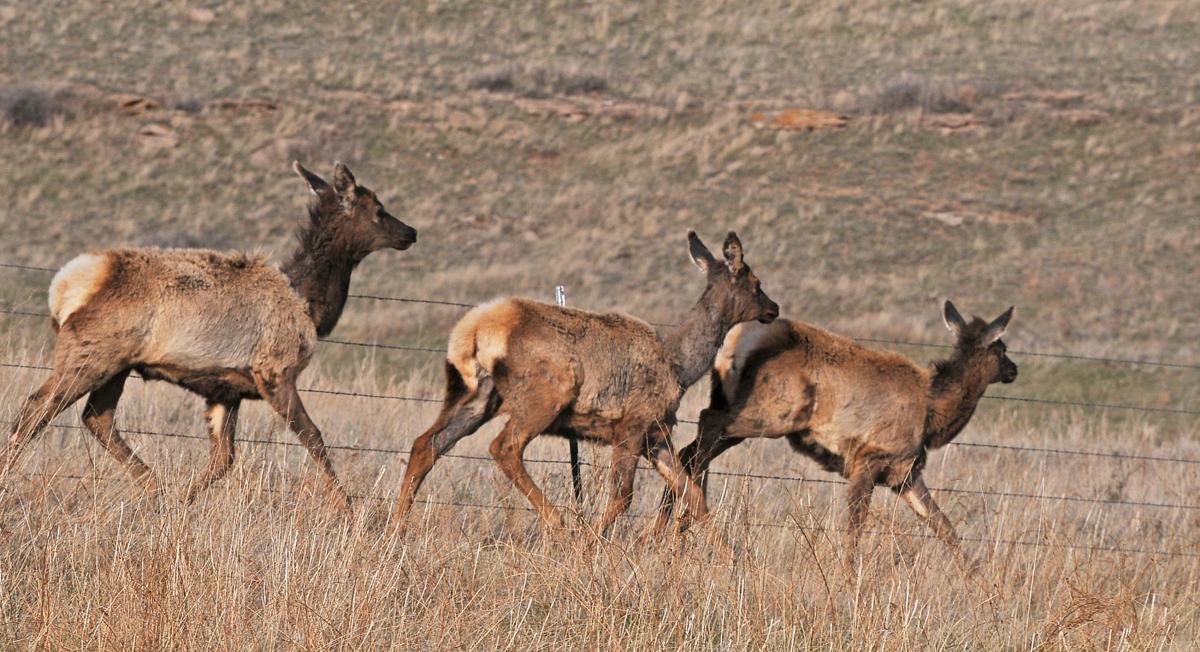 In what has become an all-too-familiar scenario in deer, chronic wasting disease has now been detected in a hunter-killed Montana elk.
The cow elk was shot by a landowner on private property northeast of Red Lodge earlier this month. The Dry Creek area between Belfry and Bridger is home to a herd of about 150 elk that aren't densely concentrated, according to FWP wildlife biologist Shawn Stewart.
Tissue samples were extracted from the elk carcass in Billings on Nov. 6. Tests results confirming the suspected presence of the disease were returned to Fish, Wildlife & Parks and the hunter on Monday.
"I'm very disappointed but not surprised that's where it came from," said Nick Gevock, conservation director of the Montana Wildlife Federation. 
Montana's first CWD case in the wild was confirmed in a Carbon County mule deer in 2017. Since then, CWD has been detected in deer everywhere the department has tested. Earlier this month tests showed that a moose in northwest Montana was suspected to have CWD.
"It's become very apparent that this is very widespread and now it's crossed over — with moose and elk — it's in all cervid species," Gevock said.
The prevalence of CWD in elk has tended to be lower than in deer in other states where the disease is found, such as Wyoming.
"What we do know is pretty much everywhere we have looked, wild elk have lower prevalence than deer," said Emily Almberg, a wildlife research specialist for FWP in Bozeman.
"Currently there are no documented direct population impacts in Wyoming elk from CWD," according to the Wyoming Game and Fish Department's website, "however, research from Rocky Mountain National Park suggests that CWD could impact elk populations at higher prevalence (13%)."
The disease is known to spread more easily when animals are concentrated, such as in game farms. In 1999, CWD was found in a herd of captive elk near Philipsburg. That herd was ordered to be destroyed with the elk remains incinerated. 
The fact that elk are herd animals, more likely to congregate, would seem to suggest the disease could more easily spread among the big mammals. That's been one of the concerns of FWP and and the Fish and Wildlife Commission who have repeatedly urged Wyoming game officials to quit unnaturally concentrating elk in the winter at feedgrounds.
The fact that more elk haven't tested positive for CWD could be related to a couple of factors. One is that not as many elk have been tested for it. Second is a possibility that there's something about elk behavior that has led to less transmission, Almberg said.
In addition to the elk, Monday's test results confirmed the presence of CWD in three more deer in south-central Montana. They included a mule deer harvested on national forest land near Crooked Creek in the Pryor Mountains, a white-tailed deer northwest of Worden, and a white-tailed deer on private land northeast of Silesia.
Tissue samples from the suspected CWD-positive animals will undergo additional testing for confirmation. Hunters who harvested the animals have been informed.
The positive test results "underscores the need to continue that collective work" with other western wildlife agencies, Almberg said. She noted that many hunters have voluntarily contributed tissue samples from the animals they have shot to be tested for CWD, part of FWP's attempts to widen the search for where the disease has spread. The testing is done at no cost to the hunter.
"That's helped cover a large swath of the state," Almberg said.
Gevock emphasized that his organization is encouraging all hunters to cooperate in helping to detect and lessen the spread of the disease by not transporting carcasses in known CWD areas and by properly disposing of carcasses in landfills after butchering.
"We really, as hunters, want to be engaged to do everything we can to keep this to an absolute minimum," Gevock said.
No changes to hunting in the area will follow the detection of CWD in the cow elk since the area is already part of a larger CWD management zone, Stewart said.
CWD is an always-fatal prion-based disease that affects the nervous system of deer, elk and moose. Transmission can most commonly occur through direct contact between animals, including urine, feces, saliva, blood and antler velvet. Carcasses of infected animals may serve as a source of environmental contamination as well and can infect other animals that come into contact with the carcass.
There is no known transmission of CWD to humans. However, the Centers for Disease Control and Prevention recommends that hunters harvesting an animal in an area where CWD is known to be present have their animal tested. The animal's head and throat area are required for testing purposes. If the animal tests positive, CDC advises against eating the meat.
The 2019 general hunting season ends on Sunday, Dec. 1. South-central Montana hunters wanting to have their animals tested for CWD may collect the samples themselves and mail them using instructions posted online at http://fwp.mt.gov/cwd. Technicians are available to help extract and submit tissue samples during normal business hours at FWP's Region 5 Headquarters, 2300 Lake Elmo Drive in Billings Heights.
Be the first to know
Get local news delivered to your inbox!