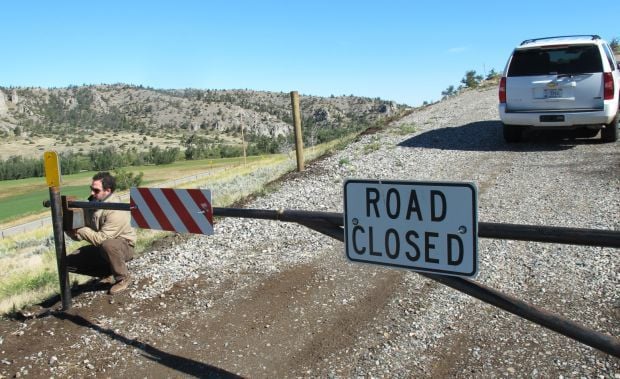 Livingston District Ranger Alex Sienkiewicz, who has been an advocate for public access to public lands, was removed from his post on Friday and temporarily reassigned to the Custer Gallatin National Forest's supervisor's office.
The reassignment was made to "create some separation between Alex as district ranger and allegations raised concerning access issues in the Crazies," said Mary Erickson, forest supervisor.
Erickson said allegations from an assortment of landowners in the Big Timber area were "raised to the level" of the Secretary of Agriculture, Sonny Perdue, and Sen. Steve Daines, R-Mont.
Other issues
Some of those issues relate to the Wonder Ranch, owned by a Texas family, which sits at the mouth of Indian Creek in the Beaverhead National Forest. Last year the Beaverhead won a lawsuit against Wonder Ranch owners Chris Hudson and Eugenia (Hudson) King concerning an easement across their property to the forest and Lee Metcalf Wilderness.
"This is part of what we're going through with this new administration," said Kathryn QannaYahu, a Bozeman conservation activist who was upset after hearing about Sienkiewicz's transfer.
Erickson said Sienkiewicz was also being moved to assist with the forest's proposed mineral withdrawal of more than 30,000 acres near Emigrant and Gardiner where gold miners are seeking permits, a process that is on a tight time schedule. With a hiring freeze in effect, Erickson said that Sienkiewicz would be a good fit for the position.
Public affairs officer Marna Daley will act as the district ranger until the issue is resolved. Erickson said she doesn't know how long the internal agency process may take.
"We don't have a lot of these types of inquiries," she said. "So it depends."
Trespass case
Sienkiewicz was appointed to the district ranger position in 2011. His removal came only a day after a Bozeman man's trespass citation was settled out of court.
Rob Gregoire was cited for trespassing on the Hailstone Ranch, at the southeastern base of the Crazy Mountains, by a Sweet Grass County Sheriff's deputy last fall. On Thursday, Gregoire signed a deferred prosecution agreement and made a $500 donation to the Sweet Grass Foundation as part of the deal.
Gregoire was using Trail 115/136, known as the "East Trunk Trail," based on information he received from the Forest Service that the trail that crosses a portion of the Hailstone Ranch has been a public route for more than a century.
Forest records that Gregoire gathered for his trial showed documents filed by agency trail crews as recently as 1988 when they worked on the route. A 2015 letter from forest supervisor Mary Erickson to Sen. Steve Daines said her office was aware of the "illegally blocked access point" and that the "Forest Service maintains it owns unperfected prescriptive rights on this trail system." Yet the Department of Justice refused to let forest officials testify to those facts in Gregoire's trial, he said.
Erickson said the Forest Service "has a role defending public access," but the question now being raised is how the agency navigates that issue. She said the Department of Justice and landowners are discussing the Crazy Mountain situation and she doesn't "want to compromise those talks."
Locked gate
It wasn't until last year that ranch owner Lee Langhus formally contested the public's right of access. In a letter to Sienkiewicz and the Forest Service, Livingston attorney Joe Swindlehurst, who represents Langhus, wrote that: "If the Forest Service or the public thinks there is a prescriptive easement across the land, then it is up to them to prove it."
"So all of these years the public has been using that trail they have not been in communication with the Forest Service," QannaYahu said. "There's no history of them disputing public use of that trail."
There is proof in Forest Service records, however, of the agency's trail signs continually being taken down, hinting at long-standing friction between area landowners and the Forest Service. The 1988 trail crew's report included a note that said, "Trailhead sign for east trunk trail is missing (probably ripped down by Carrocias). Probably never keep one up there."
Family ties
Different members of the Carroccia family own land in the same area as the contested trail. One of those properties is the Sweet Grass guest ranch, owned by Bill and Shelly Carroccia. Bill and Shelly's daughter, Paige, is married to Pat Dringman, the Sweet Grass County attorney.
That connection prompted Gregoire's supporters to question whether he could even get a fair trial in his trespass case. QannaYahu echoed that suggestion and added that Dringman's first plea deal with Gregoire to defer his sentence included payments of $250 each to the Crazy Mountain Stockgrowers and the Montana Farm Bureau, two groups she said had "no skin in the game."
"I feel there is a direct conflict of interest with Pat Dringman even taking this case," QannaYahu said.
The Crazy Mountain Stockgrowers's president, Nathan Anderson, wrote in a February letter to the editor that the Forest Service should go "through the proper channels" to prove its easement.