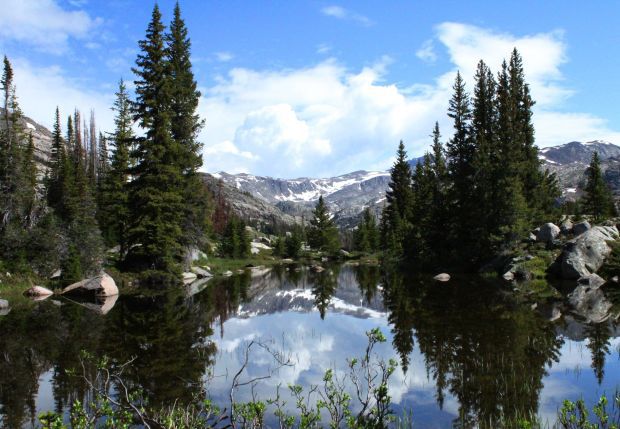 Fire danger in the Bighorn National Forest was recently upgraded to a rating of "very high."
Though no fire restrictions are in place in the Bighorn National Forest, restrictions may be necessary if hot and dry weather persists.
When the fire danger is very high, fires will start easily from most causes and small fuels, such as grasses and needles, will ignite readily. During very high fire danger, fires will spread rapidly and become intense right after ignition. Small fires can quickly become large and exhibit extreme fire intensity, such as long-distance spotting. Fires can be difficult to control and will often become much larger and last longer.
"Over half the wildfires in the Bighorn National Forest are human caused, and therefore 100 percent preventable," said forest supervisor Bill Bass.
Campfires left unattended or abandoned are the most common human-caused fires in the national forest so campers should ensure that campfires are never left unattended and are dead out before leaving the area. 
"Other causes of human-caused wildfires are hot mufflers igniting grass, so be careful where you park your vehicles and ATVs," Bass said.
Spark arrestors are required on all equipment that produce sparks, such as chainsaws and ATVs. Fireworks are illegal in all national forests, 365 days a year.
"If your campfire is left unattended, you can be subject to a citation and a fine between $225 and $5,000 and/or six months in jail," said fire management officer Jon Warder. "You can also be held responsible for the cost to suppress a wildfire, often running into the hundreds of thousands of dollars and more."
Wildfires in the Bighorn National Forest can be reported 24 hours a day, seven days a week to Cody Interagency Dispatch Center at 800-295-9954.
For the latest information about forest conditions, contact the Bighorn National Forest in Buffalo at 307-684-7806, in Greybull at 307-765-4435, or in Sheridan at 307-674-2600, or online at www.fs.usda.gov/bighorn/.