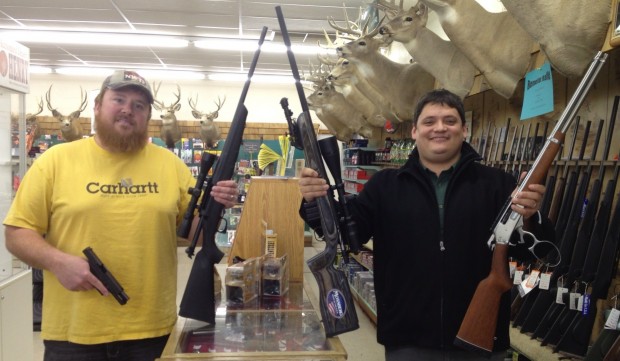 Twenty-five guns will be auctioned or raffled at this month's banquet of the Hi-Line Gobblers chapter of the National Wild Turkey Federation.
The roster of firearms includes the coveted -- a .40 Glock semi-automatic pistol, a Taurus .45 ACP fitted with a laser light, and a Mossberg MVP predator rifle chambered in 5.56 NATO — to the simply appealing, including turkey shotguns, Cowboy Action lever-action rifles and classic big-game bolt action rifles.
The firearms will be awarded in a variety of ways. Some will be the prize for winning games of chance, others will be awarded through raffles and others will be auctioned to the highest bidder.
The banquet will be held on Feb. 23, at the Elks Club in Glasgow. This is the 7th annual fundraising banquet for the Hi-Line Gobblers, a volunteer conservation organization committed to improving habitat for upland game birds, opening hunting access and promoting hunting heritage.
Tickets will be available at the door. Advance tickets can be purchased from any Hi-Line Gobblers committee member.
Here's a partial list of firearms available at the Feb. 23 event:
· Mossberg 500 12 gauge shotgun;
· G22 Glock .40 caliber pistol;
· Mossberg MVP 5.56mm NATO predator package;
· Remington 770 .270 Win. rifle;
· Remington 887 12 gauge shotgun;
· Rossi Rio Grande .45/70 rifle;
· Ruger American Rifle .30/06 Springfield;
· Taurus 24/7 G2 .45ACP pistol;
· TriStar Setter 20 gauge over/under shotgun;
· Mossberg 817 .17HMR rifle;
· Browning A-Bolt .30/06 Springfield (the NWTF's 2013 Gun of the Year), plus many more.