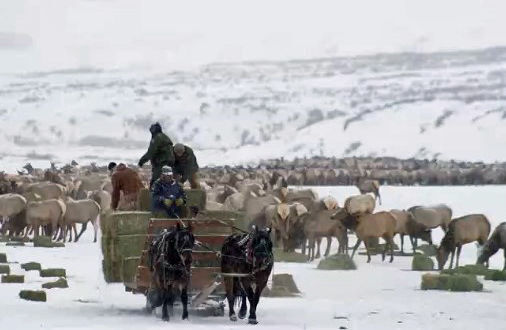 A cow elk shot in Grand Teton National Park has tested positive for chronic wasting disease, according to the Wyoming Game and Fish Department. 
This is the first elk to test positive for CWD in northwest Wyoming that lives in close proximity to winter feedgrounds.
"It's a sad situation," said Bruce Smith, who worked at the National Elk Refuge near Jackson for 22 years and wrote the book "Where Elk Roam: Conservation and Biopolitics of Our National Elk Herd."
"It was just a matter of when, not if," he said, adding that if there's one infected elk, there are many others that haven't yet been identified.
The CWD infected elk was killed by a hunter during the park's elk reduction program. Tissue samples were collected as part of the park's mandatory testing program.
Wildlife managers say that while the positive test in an elk raises concern, the result is no surprise based on the steady progression of the disease westward across the state. Deer are more susceptible to CWD and have tested positive in the region, including mule deer in Grand Teton National Park in the fall of 2018; in Star Valley in 2016; in the Pinedale area in 2017; and two mule deer in the Wyoming Range in 2020.
Unlike some other wildlife diseases, CWD is always fatal. Transmission is via bodily fluids, which is easier when animals are crowded together such as at a feedground. The infectious prion that causes the illness is capable of living in the soil for months.
Intensive CWD surveillance of the Jackson elk herd has been ongoing since 2009. More than 4,500 CWD samples have been collected and tested for the entire Jackson elk herd. More than 1,400 samples were collected through the park's elk reduction program alone, and this is the first elk to test positive.
The positive test result for an elk in northwest Wyoming comes as Game and Fish and partnering federal agencies recently began a public collaborative effort to discuss the future management of elk feedgrounds in Wyoming. While Game and Fish is actively accepting public comment on state-managed elk feedgrounds through this public process, there is no plan to close any feedgrounds.
"It is absolutely clear — and now more urgent than ever —that the Wyoming Game and Fish Department must immediately begin phasing out feedgrounds," said Connie Wilbert, Chapter Director of Sierra Club Wyoming in a press release. "There is no time to waste; we need to start phasing out elk feedlots now, before a chronic wasting disease epidemic decimates wildlife in northwestern Wyoming and the entire region."
Smith called keeping the feedgrounds open impractical considering the threat CWD poses. The Jackson herd, as well as the others distributed at feedgrounds across the state, will be "distribution points" for CWD across the landscape. 
Because the western Wyoming herds migrate long distances in the Greater Yellowstone Ecosystem, Montana's wildlife managers have long been concerned the Wyoming feedgrounds would become a breeding ground for CWD and its spread in the region.
Smith said when he worked at the National Elk Refuge all of his managers believed the animals should be dealt with according to "sound principals" for wildlife management. But the state of Wyoming had "veto power" over any modifications attempted by the U.S. Fish and Wildlife Service, which manages the refuge. Such complications remind Smith of the current situation with COVID-19 and the difficulties of implementing sound public health protocols.
To ensure that hunters and the public are informed about CWD, Game and Fish announces when CWD is found in a new hunt area. A map of CWD endemic areas is available on the Game and Fish website.
To date, there have been no cases of CWD in humans and no strong evidence for the occurrence of CWD in people. However, experimental studies raise the concern that CWD may pose a risk to humans and suggest that it is important to prevent human exposure.
Critics of the feedgrounds, including former wildlife officials who have worked in the state, have criticized Wyoming for not moving more quickly to halt winter feeding because of the threat CWD poses.
WGFD has tried several ways to stop brucellosis in elk that use winter feedgrounds, a disease that poses a threat livestock. However, vaccinations and test-and-kill programs proved ineffective.
Therefore, the Game and Fish and National Park Service adhere to the recommendation of the Centers for Disease Control and Prevention and the World Health Organization that hunters not consume any animal that is obviously ill or tests positive for CWD.
For more information on chronic wasting disease transmission and regulations on transportation and disposal of carcasses visit the Game and Fish website.