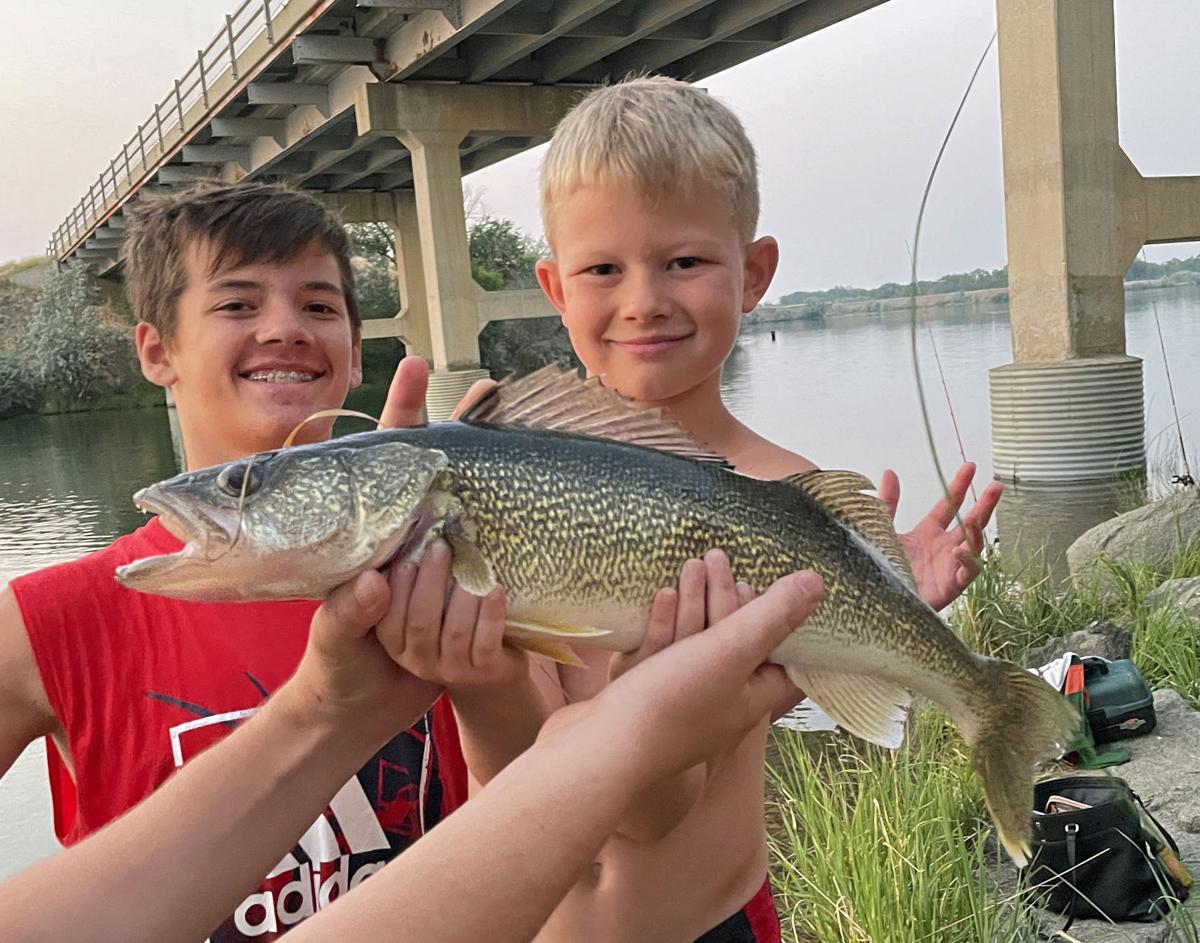 BILLINGS — Bass anglers have been experiencing successful fishing trips lately n several bodies of water, including Bighorn Reservoir, the lower Yellowstone River, Tongue River Reservoir, Noxon Rapids Reservoir and Fort Peck Reservoir.
Fly anglers should also be excited as the summer hatches are occurring on the Bighorn River.
Another place to target would be Flathead Lake, where the whitefish are biting.
Here's this week's fishing report:
Top picks
Bighorn Lake, Ok-A-Beh — Bass fishing is awesome. In the shallows, anglers will get lots of small ones. Go out a little deeper for bigger bass. A Wacky Rig will work most of the day. In the evening and mornings, try a top-water popper. Fishing is slower for walleyes. Try bottom bouncing a crawler harness for walleyes. — Scheels, Billings.
Bighorn River — Summer hatches are finally kicking in. Good hatches of PMDs and black caddis have fish looking up in the afternoon. Nymphing has been very good with Sowbugs, PMDs and various caddis patterns. The water remains at a prime temperature and should for the rest of the summer. — Bighorn Angler, Fort Smith. 
Canyon Ferry Reservoir — The walleye bite has been really good with the best action on the south end from Hole in the Wall and Confederate to the Ponds. Bottom bouncers are working best with a worm in 10 to 15 feet of water. Try using pink, chartreuse or green spinner blades. Some perch are being caught. A few walleyes are being picked up in these areas from shore, as well. Fair rainbow fishing can be found while trolling cowbells or crankbaits 20- to 25-feet deep around mid-reservoir and the north end. An occasional rainbow is being caught from shore while using worms around White Earth and Beaver Creek Bay. — FWP, Helena.
Noxon Rapids Reservoir — The water temperature was 72 degrees on Monday with at least 12 feet of clarity. Forest fires are adding smoke to the mix, creating an overcast effect to mid-morning. The bite is still hot with summer patterns developing. All species of fish are being caught. Perch are being caught on flies, small jigs and night crawlers. Walleyes are being caught on deep-diving crankbaits and bottom bouncing rigs on deeper main lake ledges, points and deep banks. Pike are being caught on inline spinners and Rapalas (don't forget your steel leader). Walleyes are running at depths of 12- to 25-feet plus. The pike are at depths of 8 to 15 feet with some smaller fish shallow. For larger pike, target the outside edges of weedy coves and banks. The bass are at depths of 5 feet in the weeds to 15 to 20 feet in deep weed beds. Advanced anglers may have some luck targeting deep lake structure in depths of up to 20-25 feet. Try main lake points, deep walls, road beds and main lake ledges near coves. The bass, a mixture of smallmouth and largemouth, are healthy and averaging 2 to 5 pounds. Use a variety of soft plastics or crankbaits for bass. Fish are starting to develop their post spawn and summer patterns. On the surrounding creeks that feed the reservoir, trout are being caught on inline spinners. — Lakeside Motel and Resort.
Tongue River Reservoir — Bass anglers are doing well. Some are using Flicker Shads and some are keeping it simple with a bobber and a worm. The crappie are deep. The best walleye action is in the southern half of the lake. Try bottom bouncing a worm for walleye. Perch and bluegills are in the shallows. — Tongue River Marina.
Montana
Beaverhead River — The 13 miles of prime tailwater below Clark Canyon Dam are wide open. No hoot owl restrictions here because flows are great and the water is plenty cold. The flows have actually been a bit on the high side and will drop this month. Hatches are rocking with PMDs dominating the mornings and caddis in the evenings. Craneflies, yellow Sallies and hoppers are also on the menu. The upper river is fishing great and the trout are healthy and abundant. The lower Beaverhead does have hoot owl restrictions. We have always been extra cautious when it comes to protecting our fisheries and this season calls for extra diligence. Skip the photos and release fish without removing them from water. Use barbless hooks and minimize handling while turning trout loose. We are looking at an approaching cooling trend and actually have seen cooler overall temperatures than northwest Montana most weeks. Cooler weather will eventually remove restrictions from many areas and fishing can normalize somewhat. The second half of August and all of September have a great outlook on the Beaverhead. — Frontier Anglers, Dillon.
Bitterroot River — The Bitterroot is getting low and water temps are getting high on the lower end. We'd suggest fishing on the upper end to find cooler water. This week we have up and down weather and the end of the week looks like it will cool off. That will be good for the fish and for fishing. It is terrestrial time with hoppers, ants and beetles and a few spruce moths out. Make sure to have a few different colors and sizes of hoppers. We like Yeti, Morrish, Thunder Thighs and Sweetgrass hoppers. Drop a beadhead nymph like a dark Perdigon, Spanish Bullet, Duracell, San Juan or Rubberlegs off the back to double your chances. Attractor dry flies like Stimis, Hippie Stompers, Amy's Ants, P-Hazes and Royal Wulff are another way to get fish to come up in the mornings. — Grizzly Hackle Fly Shop, Missoula.
Blackfoot River — The Blackfoot is fishing well. There are spruce moths on the river and fishing has been good. Keep throwing one even if you don't see them as fish are looking. Hopper-dropper fishing has been good with a deep dropper. Change up your dropper to see what they like. Perdigons, Spanish Bullets, Princes, Rubberlegs and San Juans are a good bet.  Ants and attractor dry flies will bring fish up, as well. Don't forget to bring them as the fish in the mornings are looking up. — Grizzly Hackle Fly Shop, Missoula.
Boulder River — The lower river is beginning to warm up and the fish are getting a bit more difficult to come by. Fish a hopper-dropper for best results. The upper river is in good shape with cool water. Fish small attractor and terrestrial patterns for best results. — Sweetcast Angler, Big Timber.
Clark Fork River, Missoula — The upper river from Rock Creek up to Warm Springs is on hoot owl restrictions. Below Rock Creek there are no restrictions. Water temps are getting up there and we suggest fishing where you can find cooler water, like below tributaries that are putting cold water in. Hopper/dropper is the way to go right now with only a few PMDs still hanging around. It's terrestrial time. Attractor dries like Brindle Chutes, P-Hazes, Adams, Royal Wulff, Stimis and PMXs are another great way to get into fish. — Grizzly Hackle Fly Shop, Missoula.
Cooney Reservoir — The surface water temperature was in the mid 70s this week. Overall, the fishing has slowed. Night fishing has been the best. Folks are catching a few trout in the early mornings. Yellow PowerBait was working well. The walleye bite has been slow. The few groups that did catch fish were using bottom bouncers with Rapalas or a worm harness. The perch are still along the weed edges. They're hitting small jigs tipped with a worm or leech. — Cooney State Park.
Deadman's Basin — Water levels are really low and fishing is slow for trout. The boats on the lake are smaller fishing boats as it's not recommended to launch bigger boats. About the only action has been the a few carp reeled in by bank anglers. — Cozy Corner Bar, Lavina.
Flathead Lake (North) — Anglers are catching whitefish. The best tactic would be a 3/8 Rattle-D-Zastor in dark green with a combination of dark green and red reflector tape. Fish with a fly above it. The best bait is maggots. — Zimmer Bait and Tackle, Pablo.
Flathead Lake (South) — Use the same whitefish setup as used in the northern half of the lake. In the narrows area, action is good. The north shore of Elmo Bay is also fishing well. Anglers will need to wait for schools of little perch to come in. Once you find out where the half-inch long perch are located, that's where the whitefish will be feeding. — Zimmer Bait and Tackle, Pablo.
Flathead River, above the lake — Flows are holding steady and the fish are looking up. Lots of trout to be caught using Panther Martins or Rooster Tails along with dry fly patterns. — Snappy's, Kalispell.
Flathead River, below Kerr Dam  — Anglers are doing well on smallmouth bass. Anglers can also catch rainbow and brown trout. — Zimmer Bait and Tackle, Pablo.
Flathead River sloughs — Good-sized pike are being caught using dead bait and Northland Spinners, along with a few panfish on small paddle tail jigs. — Snappy's, Kalispell.
Fort Peck Reservoir, Big Dry Arm — Anglers are still catching bass and northerns. The walleyes are a little harder to catch, but anglers are still boating a few. Target 17 to 25 feet for bass, northerns and walleyes. Try pulling bottom bouncers with a worm harness. Most action is north toward the dam and many are in search of lake trout. A few lake trout have been caught. Anglers are finding the lake trout on the fish finder, but the key is getting them to bite. — Rock Creek Marina.
Fort Peck Reservoir, dam area — Fishing has been fair. Some chinook salmon and a few lake trout, walleyes and northerns have been caught. For chinook salmon, target 65 to 125 feet at the bait over 160 to 180 feet of water. A Beavis Trolling Fly, Brad's Bait Cup, and Herring Cut Plug Rig have been effective. For lake trout, use the same rigs or pull a plain Dardevle spoon in 90 to 125 feet of water close to bottom. Use leeches and crawlers for walleyes while bottom bouncing. Pitching Shiver Minnows or pulling cranks at depths of 18 to 35 feet is producing. Anglers fishing for walleyes are getting into smallmouth near rock piles and points. — Lakeridge Lodging & Bait Shop.
Fort Peck Reservoir, Fourchette Bay — Pike and bass fishing is good. There is a kids fishing day Aug. 14 at Fourchette. For information, call the Sport Center at 406-535-9308 or be at the boat ramp at 9 a.m. Aug. 14. — Sport Center, Lewistown.
Fort Peck Reservoir, Hell Creek — Anglers are doing well. The key is locating walleyes, but once one does they are biting. The walleyes are scattered at various depths. Bottom bouncing leeches is a good option. The northern bite has been slow. Bottom bouncing a leech or jigging a leech or plastic is producing smallmouth. — Hell Creek Marina.
Fresno Reservoir — Water levels are pretty low but boats can still be launched. A few anglers are going out and doing OK for walleyes. Water levels should start creeping up as there won't be any more water drawn for irrigation soon. — Bing N Bob's Sport Shop, Havre.
Gallatin River — A mud plug coming from the park and Taylor Fork has turned the Gallatin off. Even with the recent restrictions, the Gallatin in the canyon up into Yellowstone Park still has good water conditions. Lots of oxygen is created for the fish in the riffles above Big Sky and down through the rapids in the canyon. In the early mornings and evenings try a Nocturnal Stone with a Caddis or Spruce Moth. As the high sun rises try a terrestrial (hopper, ant, beetle) with a small flashy beadhead nymph dropper. You will still see some PMDs and the last of the yellow Sallies in certain sections, so these would be a great option as well. If you are looking to nymph, try a McCunes Sculpin dead drifted with a tan Pat's Rubberleg or any small flashy nymph of your choice. A full fishing closure is in effect from Sheds Bridge (Highway 84 in Four Corners) down to the Missouri Headwaters, and the East Gallatin from Penwell Bridge to the confluence with the Gallatin and a hoot owl restriction from Penwell Bridge up to the confluence of Rock and Bear creeks. — Montana Troutfitters, Bozeman.
Georgetown Lake — Hatches are damselflies, callibaetis, caddis and tricos. Fly patterns are Damsel dries and nymphs, Callibaetis nymph, Parachute Callibaetis, Drifter Midges and, Goddard Caddis. Water conditions are clear and the water temperature at midday is 68 degrees. — Flint Creek Outdoors, Philipsburg.
Glacier National Park — The North Fork and Middle Fork of the Flathead River are fishing well. Use red Humpies and Black Flying Ants on the North Fork. Peacock Elk-Hair Caddis and Purple Haze will work on the Middle Fork. Lake McDonald is getting too hot to fish. Bowman Creek is fishing well with Renegades and Royal Coachman. Action at Bowman Lake has slowed down with warming water temps. The Belly River is fishing well with grasshoppers. Upper Two Medicine is fishing great. Hidden Lake is fishing well, but check before you go for bear closures. Elizabeth Lake is fishing phenomenal for grayling, but people need an overnight pass from the Park Service. — Arends Fly Shop, Columbia Falls.
Hauser Reservoir — A few rainbows continue to be picked up early in the morning or late in the evening while trolling cowbells and Wedding Ring combos between the Dam and York Bridge. Using lead core line and having five to six colors out while trolling has been working well. Most walleyes are being picked up in the Causeway arm and in the White Sandy and Black Sandy area. Most walleye anglers have been pitching jigs/vertical jigging near points or trolling crawler harnesses. Green, orange, white or black jigs or spinner blades have been popular. Shore anglers are picking up a few walleyes and trout from the Causeway Bridge while using floating jigs and leeches/crawlers. — FWP, Helena.
Hebgen Lake — It rained on Monday, but fishing is pretty slow. The lake is dropping and most anglers are having a hard time catching fish. Boats can still be launched at Kirkwood. — Kirkwood Resort & Marina.
Holter Reservoir — Good numbers of perch and a few walleyes continue to be picked up. Most are being caught while pitching jigs or vertical jigging in the canyon near the Gates of the Mountains and other weed beds or points in the middle and lower sections of the reservoir. Shore anglers are finding a few perch around the boat docks at Log Gulch boat ramp. Black, green, orange and white jigs tipped with leeches or crawlers have been popular. Some rainbows continue to be picked up early in the morning on the lower end of the reservoir. Trolling cowbells and Wedding Ring combos or crankbaits at least 20 feet down in the water column has been working well. Some anglers are finding trout while fly fishing from a float tube near the Gates of the Mountains. — FWP, Helena.
Lake Frances — Anglers need to put in down by the dam as the lake is getting low. — Roberts Bait & Tackle, Great Falls.
Lake Koocanusa — Kokanee anglers are doing well. The fish are running 7 to 12.5 inches. Silver Wedding Rings and Kokanee Killers are working. In the morning, anglers are catching 6- to 16-inch rainbows on the lake. A brown and black pattern is working well. — Koocanusa Resort and Marina, Libby.
Lake Mary Ronan — Fishing really well for perch, especially along the north shore. Kokanee fishing is really good at night. A good approach to night fishing it is to go two hours before midnight and fish two hours after midnight. — Zimmer Bait and Tackle, Pablo.
Madison River, Lower — The lower is currently under hoot owl restrictions. Technically the river will be open to fishing from midnight till 2 p.m. With low flows and extremely hot temps, it's probably best to leave this river alone till things cool down. If you do decide to fish the lower, go very early in the morning, use barbless hooks, get your fish in as soon as possible, and do not take your fish out of the water as this exponentially increases mortality. — Montana Troutfitters, Bozeman.
Madison River, Upper — The upper is fishing great in the mornings. There have been Nocturnal Stone sightings, so fishing a black and tan Chubby with a Caddis in the very early mornings has been very productive. In the midmorning to early afternoon (before 2 p.m.), the hopper-dropper rig is the hot ticket. For droppers, anything small and flashy will get the job done: Split-case PMDs, Green Machines, $3 Dips, Purple Deaths, Worms, Shop Vacs, black & brown Rubberlegs, and your favorite Caddis Pupa are all good bets. There have been some nice fish coming on the early morning streamer bite recently; cloudy days have been better overall.  Streamer color has been variable lately, but typically black and olive are great colors on cloudier and rainy days and yellow and white are our favorites for those sunny days. — Montana Troutfitters, Bozeman.
Martinsdale Reservoir — Anglers are still out fishing, but no new reports on how they are doing. Lake levels are receding. — Mint Bar, Martinsdale.
McGregor Lake — Crayfish are plentiful. Smallmouth action is picking up along the shores as well. — Snappy's, Kalispell.
Missouri River, below Holter — The water temps are 66.6 degrees and flows were 3,000 cfs on Monday. There has been quite a bit of fishing pressure. Hoppers and ants are working and the opportunity is there for a trico bite. Anglers should handle fish carefully and not take them out of the water. — Montana Fly Goods, Helena.
Missouri River, Fort Benton — Fishing is very slow. Lots of moss is floating. Fishing pressure is light. — Roberts Bait & Tackle, Great Falls.
Missouri River, Fred Robinson Bridge — Flows are low and the water has a lot of moss. Fishing should start to improve in September and October when temperatures cool. — Sport Center, Lewistown.
Nelson Reservoir — Anglers are still catching fish, but most walleyes are on the smaller side. Water levels are really low. Anglers are launching at the state park, but one has to be good at backing up their boat and get way, way out there. — Hardware Hank, Malta.
Pablo Reservoir — There is a lot of fishing pressure. Anglers are using Rooster Tails and Gary Yamamoto Senko worms in dark colors, like watermelon, baby bass and motor oil. — Zimmer Bait and Tackle, Pablo.
Rock Creek (East) — Flows were 218 cfs on Monday. So far there are no hoot howl restrictions yet, but make sure to check with Montana Fish, Wildlife & Parks for updates. Fishing has been good and hoppers have been steady. Dries: More or Less Hoppers, peach (12), Morrish Hopper tan (10), Hippie Stompers orange or royal (14). The streamer bite is pretty decent, look to throw Slump Busters in brown. Nymphs: Montana Prince tan (16), Hare's Ears (14), Tungsten Zebra Midge red (18). Streamers: Complex Twist Bugger black, Slump Buster brown, Thin Mint. — East Rosebud Fly Shop, Red Lodge.
Rock Creek (West) — Water temps are staying cooler than most area rivers, but afternoons are hot. Spruce moths are out and, depending on the day, it has been good. Make sure to have a box with Andys Moth, Spruce Almightys or Yellow PMXs. Hopper-dropper is another good option if you don't see any spruce moths out. Small Hoppers with beadhead nymph (16) like a Perdigon, Duracell, Prince or PT will work. Attractor dry flies are another good option. Tie on Royal Wulff, PMXs, Humpies, Hippie Stompers, P-Hazes and Para-Wulffs. — Grizzly Hackle Fly Shop, Missoula.
South Fork of the Flathead River — The water levels are low, but the fishing is hanging in there. Peacock Elk-Hair Caddis, Parachute Purple Haze, Yellow Sallies and orange Parachute Madam X will work. Anglers are starting to switch to 6X 9-foot leaders because the water is so clear and low. — Arends Fly Shop, Columbia Falls.
Spring Creek — Grasshoppers are the ticket. Anglers are running beadhead Prince Nymphs or Pheasant Tail Nymphs. — Sport Center, Lewistown.
Stillwater River — The river was running at 594 cfs on Monday. We do have hoot owl restrictions on the lower Stillwater from Absaroka fishing access down to the confluence of the Yellowstone River. Get up high on the Stillwater, old Nye or above has been excellent. Hopper action has been great lately. Fish are taking smaller-sized Hoppers (12). Dries: More or Less Hopper (8), Pookie pink or peach (10), PMX yellow (12). Nymphs: Rubberleg Copper John (12), BH Wonder Woman (16), Lucent Pheasant Tail (14) purple. Streamers: Slump Busters black, Grinch, Thin Mints. — East Rosebud Fly Shop, Columbus.
Swan Lake — Action should be beginning to improve as conditions cool down. — Zimmer Bait and Tackle, Pablo.
Thompson chain of lakes — Anglers are trolling Wedding Rings for salmon, using spinners for pike and jigging for perch. — Snappy's, Kalispell.
Tiber Reservoir — The walleye bite has been a little slow, but pike action is turning on. Most action for pike is jigging off of weed beds. For walleyes, anglers are either jigging or bottom bouncing. A lot of little walleyes are being caught. — Ru's Tiber Marina.
Yellowstone River, Big Timber — Try fishing large dries with deep droppers like Rubberlegs, Pheasant Tails and Prince Nymphs. If the fish are not coming to the surface, try a shallow nymph rig with a Golden Stone nymph and a small beadhead nymph. — Sweetcast Angler, Big Timber.
Yellowstone River, Huntley — Water levels continue to drop. Anglers are catching a few catfish on cut bait and worms. The walleye and bass bite continues to be jigs with crawlers or minnows. — Huntley Bait and Tackle.
Yellowstone River, Livingston — Hoppers are the main game over here. Some fish are still swiping, but if you have the right hopper fly there are some nice fish already looking for them. Yellow or light pink seem to be two colors the fish have been most interested in. Running a dropper has been effective to get into fish between dry fly action. The high sun can definitely change the dry fly bite but smoky days are giving fake cloud cover. Some fish are keyed on a short dropper imitating an emerger. Some fish are hugging bottom and the best way to get into them is a full nymph rig. Sally and PMD nymphs are getting steady action. The Yellowstone has gone on hoot owl fishing restrictions from the park boundary to the bridge in Laurel; fishing is prohibited from 2 p.m. to midnight. — Montana Troutfitters, Bozeman.
Yellowstone River, Miles City — Fishing has been good. Anglers are catching many different species, including sturgeon, catfish, smallmouth bass, sauger and walleyes. The sturgeon have mainly been caught using a worm on the bottom. Some anglers have done well on catfish using cut bait and also shrimp. Smallmouth, walleyes and sauger have been biting on jigs and plastics. Anglers are also catching sauger and walleyes on crankbaits. — Red Rock Sporting Goods, Miles City.
Wyoming
Bighorn Lake, Horseshoe Bend — As of Friday afternoon we were are 3.5 feet above the minimum recommended launch level, so all power boating and fishing boats could enter at Horseshoe Bend without a problem. The lower than usual water at Horseshoe Bend has opened up a lot more shore fishing opportunities and people are catching channel cats and bass in front of the fishing dock. The north narrows and Crooked Creek are producing channel cats as well. The state line and back are producing decent sauger with a lot of bass. — Horseshoe Bend Marina.
Bighorn River, Thermopolis — From the dam to town is fishing good. Water temps are elevated so land the trout ASAP and keep them in the water. Once one gets on the north side of Thermopolis, water temps climb. Fish early. — North Fork Anglers, Cody.
Buffalo Bill Reservoir — There was a little bit of rain that muddied some waters on the North Fork. There will be some color to the water that comes in. Water temps have warmed up. Try running some live bait deeper and fish deeper in the middle of the day and run heavier spoons or deep-diving crankbaits. The best fishing remains in the first two and last two hours of daylight. — Rocky Mountain Discount Sports, Cody.
Clarks Fork — Fishing is so-so due to warm water temperatures in the lower river. We recommend fishing above 7,500 feet on the river to keep the fishery healthy and to find much more cool water temps. Trout are responding to Pale Morning Duns, Caddis, Hoppers, Ants and Beetles. — North Fork Anglers, Cody.
Cody-area lakes — At East Newton Lake it is too warm to fish, although there are no closures in effect. At Luce and Hogan reservoirs, water temps are below 70 degrees. Fishing has been good early and slows down when the sun has been high and hot. Ants, Beetles and Hoppers are working along the shoreline. Anglers floating in kick boats on Luce have done well with Leeches, Damselfly nymphs and Midge Pupae fished deep. Hogan is practically the same in regard to water temps and flies to use. High elevation lakes in the Beartooths are recording temps in the high 60s. Fish these early and be off the water by 2 p.m. to protect the fishery. Damsel nymphs, small leech imitations, adult Damsels, Hoppers, Ants, Beetles and Caddis are good fly choices. — North Fork Anglers, Cody.
Lake DeSmet — Rainbow trout fishing from the bank has been good in the early mornings and evenings for rainbow trout. Use pink or purple PowerBait and crawlers off the bottom. Casting black and yellow Panther Martins is also producing rainbows. From the boat, troll with orange Rapalas and gold, silver split cowbells. Early mornings and evenings produce the best bite. For kokanee, anglers are trolling with flashers and dodgers with a Wedding Ring harness and doing well. Tip with the house-made shoepeg corn at depths between 30 to 40 feet. The larger kokanees are picked up at 40 feet. Troll between 1.8 and 2.2 mph. The walleye bite is on. It's a slow troll with bottom bouncers with Walleye Delights and a crawler. A chartreuse jig head with a leech will also work. Off the shore, a floating jig head tipped with a leech or crawler has been producing walleyes. — The Lake Stop, Buffalo.  
Lower Shoshone — Water temps are well within the comfort range for trout. Fishing is good to awesome all day. Large Golden Stones are flying around below the dam. The Cody (town section) area has been hopper-dropper with some good PMD action midday using emergers. Early evening has been good with small dark Caddis and Pale Evening Dun Mayfly dries. — North Fork Anglers, Cody.
North Fork of the Shoshone — The river has fished good inside the Shoshone National Forest. Hoppers and droppers are the norm for early August. Flows are low, so plan to wade fish. Floating will be drag, drag, drag your boat! — North Fork Anglers, Cody.
South Fork of the Shoshone — The river has fished good inside the Shoshone National Forest. Hoppers and droppers are the norm for early August. Flows are low, so plan to wade fish. — North Fork Anglers, Cody.
Upper and Lower Sunshine Reservoirs — Both are fishing well. The lakes are still a little bit low. Grasshoppers are the best bait. — Wea Market, Meeteetse.
Yellowstone National Park — Slough, Lamar and Soda Butte are all very low but still fishing well. The fish on Slough have gotten quite picky and are shying away from bigger terrestrials most days. Drop down to a tan Morrish Hopper (14) or an Arrick's Flying Ant. There's also been reports of little cream Baetis so bring a few of Bucky's Almost There Baetis (20) in cream. Lamar has still had the most consistent bite and there are even a few PMDs still flying around and getting fish excited. Try a PFD Emerger (16) in PMD flavor or swinging a SLS Softhackle (16) through the riffles. Gulp beetles (14) fished along the deeper banks should bring a few fish to hand, as well. Soda Butte has gotten the worst of this hot and dry summer and is flowing around 22 cfs at the time of this writing. Although it is still open to fishing we would recommend giving the fish still residing there a break. Like all the other rivers and streams in the park, anglers must be done fishing by 2 p.m. — Blue Ribbon Flies, West Yellowstone.