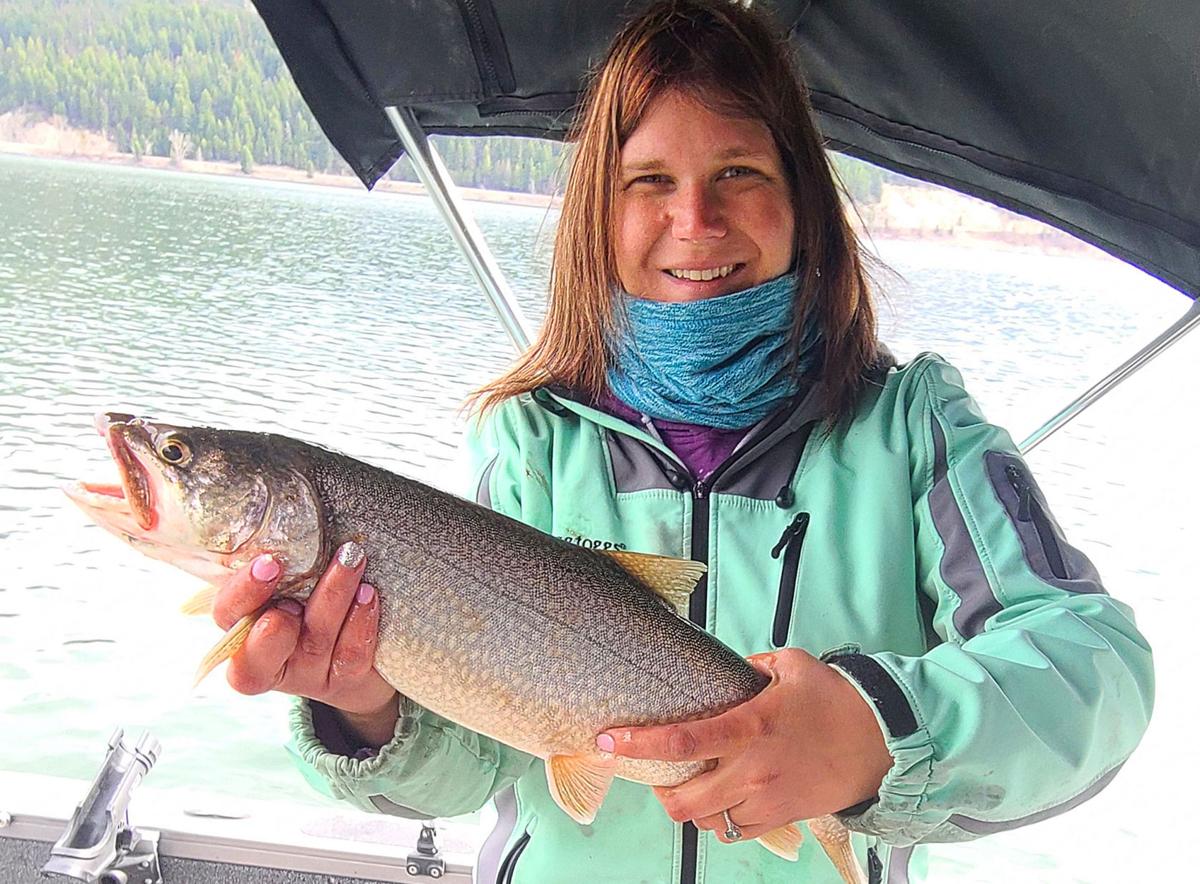 BILLINGS — Anglers are starting to catch quite a few big fish in the Big Dry Arm area at Fort Peck Reservoir.
Walleye, northern pike and smallmouth bass are all hungry in that area of Fort Peck and have been on the prowl looking for food.
While targeting walleye, many northern pike have been reeled in. Occasionally there will be a strike and after attempting to set the hook an angler will retrieve his line to find the pike has bitten off the presentation.
On the northern half of Flathead Lake anglers are finding lake trout along the mud line, which has created opportunities to catch a mackinaw.
Runoff continues on many of the region's rivers, so anglers are finding other opportunities on tributaries, lakes or ponds.
Here's the weekly fishing report:
Top picks
Fort Peck Reservoir, Big Dry Arm — Fishing is outstanding and going bananas. A 33-inch walleye was caught on the Dry Arm at a depth of 20 feet jigging with a minnow. Toward Sand Arroyo Bay a 30-inch walleye was boated as well as a 28-incher. The fish were caught in the same hole within five minutes using a jig and minnow. Quite a few pike have been caught while jigging for walleyes. If targeting pike, anglers are having a lot of success. Make sure to use a steel leader or braided line. Bass are aggressive and anglers fishing for them are doing well. Jigging is the best method for bass. Tip the jig with plastics or a minnow. — Rock Creek Marina.
Flathead Lake (North) — Runoff is in full swing. Lake trout are concentrated along the muddy water. Some of the best lake trout fishing on the lake happens when runoff is heavy. Try sinking Rapalas in perch and pike minnow patterns. One can also use a tube jig or dead stick a whole fish. Potentially one can catch bull trout, lake trout and northern pike. — Zimmer Bait and Tackle, Pablo.
Holter Reservoir — Most rainbows have moved out from the shorelines, however, some shore anglers are having success near the Gates of the Mountains and on the lower end of the reservoir around most of the public boat ramps. Casting spoons or using worms and marshmallows, spawn sacks or PowerBait has been producing a few fish. Boat anglers are catching rainbows while trolling around the Log Gulch to Split Rock area and the clay banks across from the boat loft. Running crankbaits, Thomas lures or cowbells tipped with a spinner and night crawler has been producing some trout. A few walleye have been picked up recently while pitching jigs to shore in shallow water. — FWP, Helena.
Missouri River, below Holter — The river is fishing well. The flows were at 3,500 cfs on Monday and water temperatures were 56 degrees. A few caddis are appearing on the lower river. There are also baetis and midges out, along with March browns. Nymphing has been fantastic. You need some clouds for dry fly action. — Montana Fly Goods, Helena.
Swan Lake — Lake trout fishing is good. The trout are tasty and healthy. Try jigging with a combination of green chartreuse and white glow, baited with green cut bait scented with shrimp. Fish a fly above the bottom jig. Fish at depths of 50 to 90 feet. Another option for lake trout is to fish at Holland Lake and Lindbergh Lake, which are on the headwaters of the Swan drainage. — Zimmer Bait and Tackle, Pablo.
Montana
Ackley Lake — Tiger muskie fishing is picking up with a few being caught the past couple of days. There were some small trout recently stocked. — Sport Center, Lewistown.
Beaverhead River — It is fishing well. The flows were 500 cfs on Monday. Use San Juan Worms and Midges. Scuds are another option. From the dam to Buffalo there were quite a few anglers out because it was opening weekend. Below that there wasn't as much fishing pressure. — Frontier Anglers, Dillon.
Big Hole River — The flows were 1,520 cfs on Monday at Melrose. Pat's Rubber Legs, San Juan Worms and streamers will work. — Frontier Anglers, Dillon.
Bighorn Lake, Ok-A-Beh — A few big brown trout are still hitting while trolling crankbaits. Natural colors, flashy silver and blue patterns are good choices. Smallmouth are biting. Wacky Rig Senko would work and Gitzit Tubes. With the water warming up, one might try top-water action. For sport fishing, fly anglers are targeting carp in the shallows. — Scheels, Billings.
Bighorn River — Flows are down at 2,500 cfs. The river remains clear and is fishing well. The fish are finally looking up for baetis and midges the past few days but a good presentation is a must.  Nymphing has been good overall with Carpet Bugs, Tailwater Sows, LBF, MacGrubers, Graveyard Midges and various baetis nymphs. We're seeing a lot of big fish showing up as well as plenty of smaller fish, which is a great sign for things to come. — Bighorn Angler, Fort Smith. 
Bitterroot River — There was a small window of fishing over the last week, but the Bitterroot was going back up and unfishable as of Monday. Tributaries opened up and there are more local options available to fish. — Grizzly Hackle Fly Shop, Missoula.
Blackfoot River — The Blackfoot is going back up with the nice weather we've been experiencing. Runoff blues have taken over, but the tributaries are now open. — Grizzly Hackle Fly Shop, Missoula.
Boulder River — After a drop in the amount of current last week, higher weekend temperatures have brought a new increase in flow. Heavy runoff should make fishing pretty difficult this week. Try a heavy nymph rig with a Golden Stone nymph and an aquatic worm imitation for best results. As always, wade very carefully on the Boulder during high water. — Sweetcast Angler, Big Timber.
Canyon Ferry Reservoir — Rainbow trout are being caught from shore between the Outhouse and Kim's Marina using PowerBait, leeches or night crawlers. Most of the fish have started to move offshore. A few rainbows are being caught by boat anglers while trolling cowbells or crankbaits around White Earth and Cemetery Island. Some walleyes are being caught around the ponds in shallow water while others are being caught out from shore quite a bit. Most walleye action has been on crankbaits or bottom bouncers. — FWP, Helena.
Clark Fork River, Missoula — Big and muddy and going back up as of Monday. It looks like the upper river didn't go up too much and could be fishable. The tributaries are now open. — Grizzly Hackle Fly Shop, Missoula.
Cooney Reservoir — Water temperatures have warmed into the low 50s. Trout fishing remains good from shore and on a boat. PowerBait from the shore or cowbells from the boat produced a lot of fish last week. A few perch came off the water, too, as an angler was trying to catch trout but found some nice perch using worms. Walleye fishing is slow and the fish are starting to target leeches with the warming water temperatures. — Cooney State Park.
Deadman's Basin — Anglers are catching some trout using crawlers from the bank and boat. — Cozy Corner Bar, Lavina.
Flathead Lake (South) — There has been very little pressure as most anglers are gravitating to the north end. In the East Bay some large perch are being caught and equal numbers of smallmouth bass. Troll crankbaits, or fish with a Wacky setup (a 3-inch Gary Yamamoto Senko, and a jig head, and hook the Senko in the middle rather than the end). Both perch and smallmouth will hit the Wacky setup. Or use a standard setup with a bottom weight and two hooks above it baited with a crawler. In the Polson area, lake whitefish, mountain whitefish and lake trout are being caught using sausage by the piers. — Zimmer Bait and Tackle, Pablo.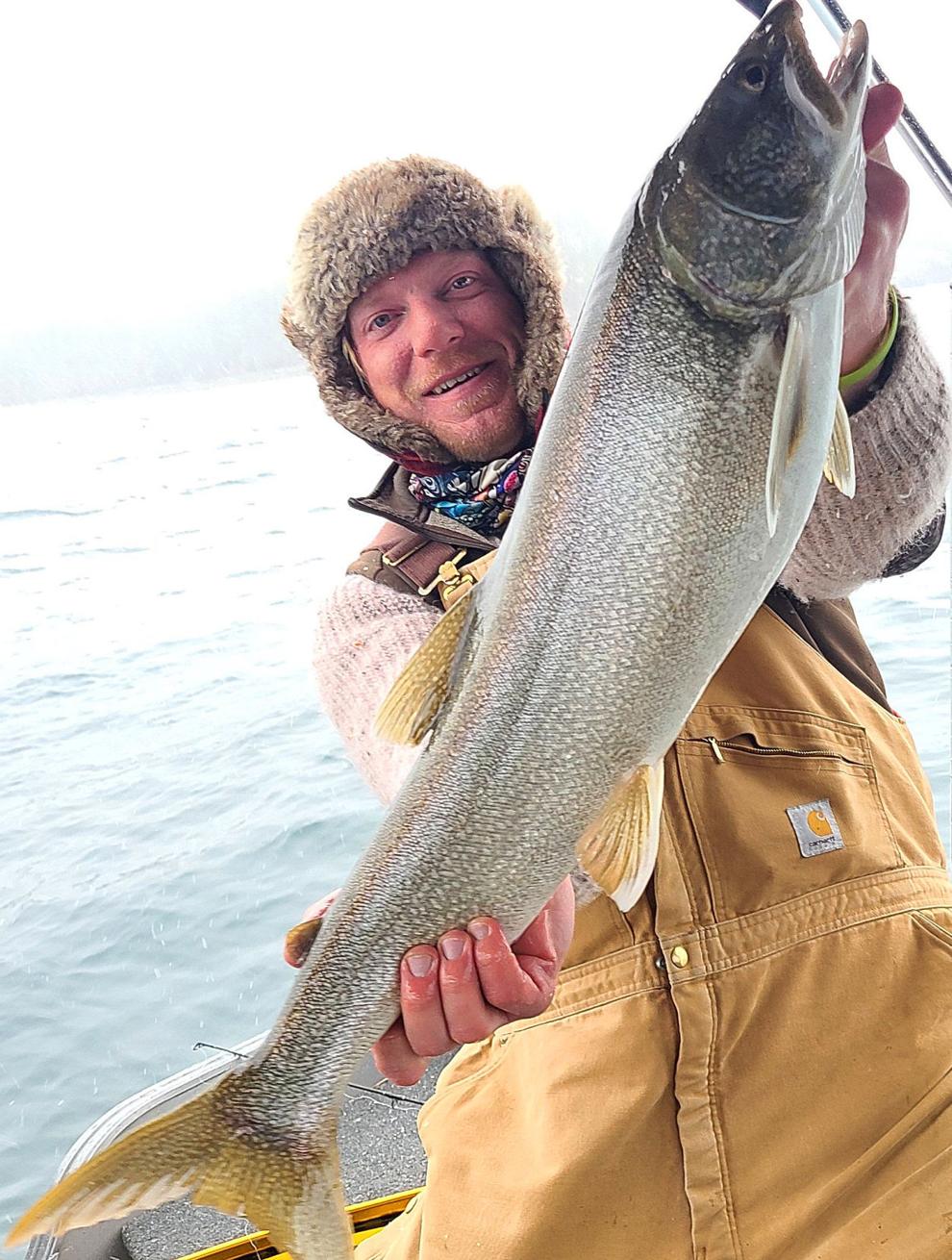 Flathead River, above the lake — The river is fast and muddy and hard to fish. Until runoff is over there are better places to fish. — Zimmer Bait and Tackle, Pablo.
Flathead River, below Kerr Dam — It is producing smallmouth bass in the backwaters. The bass are running 2 to 5 pounds. Use a crawler below a bobber. — Zimmer Bait and Tackle, Pablo.
Flathead River sloughs — At Fennon and Church, largemouth bass, pike, crappie and perch are biting. The sloughs aren't as muddy as the river, but are murky. — Zimmer Bait and Tackle, Pablo.
Fort Peck Reservoir, Crooked Creek — There were 68 teams in the tournament and the top weight on Saturday was 53.24 pounds of walleye for five fish. The tourney continued into Sunday. The leading day weight on Saturday topped the first day of last year. After day one, 37.76 pounds was the second best weight and 34.74 pounds was third, while 31.44 pounds clocked in at fourth and 31.16 pounds was fifth. — Crooked Creek Marina.
Fort Peck Reservoir, dam area — In the Big Dry Arm for walleyes, use jigs and minnows. Some are pulling cranks and picking up fish at 15 to 20 feet. Some are pitching jigs to the shore with plastics or minnows. Pike are being caught the same way. If one wants to target pike from a boat, pitch spinnerbaits, cranks and spoons to the shore. Use shallow-diving crankbaits, jigs and minnows, or slip bobbers and pitch toward rock piles for smallmouth. In the dam vicinity a few walleyes are being caught, and pike anglers are doing well. Anglers are catching lake trout pulling cranks at depths of 10 to 35 feet, jigging at depths of 40 to 100 feet or pulling downriggers at 70 to 90 feet. Bank anglers are doing well for catfish, pike and walleyes in the Nelson, McGuire and Flat Lake areas. The Lakeridge carries crawlers and minnows and will have leeches next week. — Lakeridge Lodging & Bait Shop.
Fort Peck Reservoir, Hell Creek — Pike and bass anglers are doing well fishing the shallows. Pitch spoons and spinner baits. A few walleyes are biting in the afternoon. The best bite is toward Timber Creek. Most anglers chasing walleyes are jigging. — Hell Creek Marina.
Fresno Reservoir — The water is starting to rise and water temperatures are gradually coming up, which should help fishing. At Bear Paw Lake in Beaver Creek Park anglers are catching some fish. — Stromberg Sinclair, Havre.
Gallatin River — As of Sunday, the last couple cooler nights helped keep flows from increasing too much, however, flows are starting to bump quickly and the next few days of 80-degree weather will have the Gallatin high and muddy for a long while. If you decide to head this way don't bother wading, fish right off the bank with your big dark Stoneflies, Worms or a black streamer. — Montana Troutfitters, Bozeman.
Georgetown Lake — Check the regulations for the closure on the SE shoreline. That said, bring your best leech and Chironomid game. — Flint Creek Outdoors, Philipsburg.
Hauser Reservoir — Anglers fishing from shore for rainbows below Canyon Ferry Dam have been finding a few fish. Night crawlers and Thomas lures have been working well from shore. Anglers trolling for rainbows around Black Sandy are finding some nice fish using cowbells and Wedding Ring combos tipped with crawlers. Some anglers have been finding rainbows while trolling bottom bouncers for walleyes. Most walleyes have been showing up in Lake Helena and a few in the Causeway arm. Crankbaits and bottom bouncers with crawler harnesses or leeches have been working well for walleyes. — FWP, Helena.
Hebgen Lake — The lake is completely ice free and currently 78% full. We have had some good reports along the north shore with Ice Cream Cones (12-14), Driskill's Midges (12), and Perdigonomids (14). If you're looking to launch a boat on Hebgen, you may want to look at either Kirkwood or Yellowstone Holiday Marinas; due to the current low level of the lake it will be difficult to impossible to launch in most of the less-developed areas. With warmer weather on the way keep an eye out for fish feeding on midges on the surface. — Blue Ribbon Flies, West Yellowstone.
Lake Koocanusa — The derby was held over the weekend. The kokanee salmon were small and far and few between. The kokanee salmon are at 80 to 100 feet down. Some pretty nice trout have been caught. — Koocanusa Resort and Marina, Libby.
Lake Mary Ronan — Perch fishing should be steadily improving. Kokanee fishing will be more and more an early morning, late evening and into the night event. Anglers should be aware there is a developing pike fishery. — Zimmer Bait and Tackle, Pablo.
Madison River, Lower — Caddis are still here, however, not as prolific as a week ago. With this hatch don't expect to be the only one on the river. If floating, be sure to call a shuttle in early. It's that time of year where flows are a bit unpredictable, especially with our forecasted weather. No promises here, but there will most likely be a bump or more in the next week. On calm days we have been seeing a variety of bugs. Caddis, baetis, March browns, yellow Sallies and stoneflies are all on the menu. The dry fly bite has been a little inconsistent with changing conditions. If you can get a day on the river that is overcast, the dry fly bite can be very productive. Fish are typically eating dries along the banks of the river where fast and slow water meet. Double nymph rigs have been the best way to get the numbers typically consisting of worms, crayfish, Zirdle Bugs, soft hackles, Lil Spankers and Dirty Birds. Try fishing the weed beds if you're not getting fish along the banks. — Montana Troutfitters, Bozeman.
Madison River, Upper — The upper has been fishing great. We have seen a good number of caddis and March browns. The clarity and conditions have been changing day-to-day. Hebgen and Quake lakes have both thawed and fishing has been good up there. Small and flashy is the name of the game if you decide to nymph; Green Machines, $3 dips, Purple Deaths, Worms, Shop Vacs, black & brown Rubberlegs, and your favorite caddis pupa are all good bets. You can also have some success dead drifting a Sculpin under a bobber. It's crucial that your bugs are getting down fast on the upper. Dry fly fishing has been good if you stay late in the day. An Elk-Hair Caddis trailed behind a Purple Haze has been our go to when fish are eating on top. We have had good reports of anglers doing well using BWOs near Raynolds and Three Dollar Bridge when there's some clouds and low wind conditions. There has been some nice fish coming on the streamer recently; cloudy days have been better overall. Streamer color has been variable lately, but typically black, olive and white are our favorites. We have had reports of better streamer action near Lyons Bridge and below. In between the lakes will have some deep snow in spots but you can get in easily below the dam. The sweet spot seems to be the Three Dollar area with excellent streamer, dry and nymph opportunities. — Montana Troutfitters, Bozeman.
Martinsdale Reservoir — Fishing is slow from the bank. — Mint Bar, Martinsdale.
Missouri River, Fred Robinson Bridge — Paddlefish action is picking up with quite a few caught over the weekend. Catfish action is very good here and at PN Bridge. — Sport Center, Lewistown.
Nelson Reservoir — Fishing is slow for all species. The water is pretty low, but anglers can launch boats. Some are jigging and some are pulling crawler harnesses and catching a few. — Hardware Hank, Malta.
Noxon Rapids Reservoir — The water levels are rising and there isn't a lot of debris. Anglers are catching fish. — Lakeside Motel and Resort.
Pablo Reservoir— The bass are in pre-spawn mode. Some of the female bass are protective and aggressive. Many anglers will release fish that are spawning in a conservation effort. There is always the possibility of catching pike. — Zimmer Bait and Tackle, Pablo.
Rock Creek (East) — It had been producing a lot of good fish. Natural Dungeons have been a good fly for brown trout. One can also try streamers, or nymphing with a big Stonefly or Worm. It will start rising with the warmer temperatures. The flows were 135 cfs on Tuesday and have doubled since Monday. — East Rosebud Fly Shop, Red Lodge.
Rock Creek (West) — Big, but fishable near the banks as of Monday. It will be hard to wade out there, but you can fish from the banks or hit side channels in certain spots. People are starting to float, so be careful. The name of the game will be nymphing big Stonefly nymphs and San Juans or throwing streamers. We could see salmonflies toward the end of the month; it all depends on the weather and water temperatures. — Grizzly Hackle Fly Shop, Missoula.
Spring Creek — It is pretty muddy. — Sport Center, Lewistown.
Stillwater River — With the recent warm temperatures the Stillwater has almost doubled in flows. That said, the river is still fishable, just a little more difficult to navigate on foot. Nymphing with a big Stonefly such as a North Fork Special, Pat's Rubberleg, or a Girdle Bug is a great option this time of year. Pair it up with a San Juan Worm/Steel Worm (8), Caddis Pupa (14), Copper Johns and MT Prince Nymphs (12-16), or Lightning Bugs (12-16) and fish the slower seams. Make sure to have some dry flies as well as we have been getting good reports of top-water action. Elk Hair Caddis (12-16), Stimulators (10-16), Purple Haze (12-16) and Parachute Adams (10-18) are all great patterns. — East Rosebud Fly Shop, Columbus.
Tongue River Reservoir — Anglers caught some bass, northerns and a few walleyes. Walleyes are hitting on minnows. Some are using worms and leeches. The water surface temperature is in the upper 50s. Water levels are coming up. — Tongue River Marina.
Yellowstone River, Columbus — Runoff has started and will continue. The Yellowstone is big and dirty and will be the last river to come into shape. If you do plan on fishing the Yellowstone, look for slower water, inside seams, and tight to the banks. Nymphing Pat's Rubberlegs with a San Juan Worm dropper would be a good bet, as well as heavy streamers like Tungsten Sparkle Minnows. Make sure to have some Caddis dry flies as well, as they are all over. — East Rosebud Fly Shop, Columbus.
Yellowstone River, Huntley — Catfish are hitting cut bait, minnows and night crawlers. The river is muddy and up a little bit. — Huntley Bait and Tackle.
Yellowstone River: Intake — On opening day, Saturday, 34 paddlefish were caught, all downriver. The biggest fish was 82 pounds and the smallest was 22 pounds. — Intake Paddlefishing/Yellowstone Caviar Facebook site.
Yellowstone River, Livingston — The Yellowstone is back to chocolate milk and most likely gone until July. — Montana Troutfitters, Bozeman.
Yellowstone River, Miles City — The water is rising and getting dirty and may be muddy for a while now. Fishing is mainly a catfish and sturgeon bite. Some anglers caught catfish using cut bait and crawlers. — Red Rock Sporting Goods, Miles City.
Wyoming
Bighorn River, Thermopolis — Lots of boats are going down. Anglers are still fishing small nymph patterns and streamers. Emergers are a good choice. The river is up and fishing is good. — White Horse Country Store & Canyon Sporting Goods, Thermopolis.
Boysen Reservoir — Walleye action is picking up and the water temps are above 50 degrees. Many of the walleyes being caught are healthy. Try jigging Mister Twister Tails. Crankbaits are also working. Target depths of 10 feet or less for walleyes and sauger. Trout anglers are doing great. On the river below the spillway anglers are doing well for rainbow trout. — Boysen Marina.
Clarks Fork — High and muddy and on the rise. The flows were 2,570 cfs on Monday. — North Fork Anglers, Cody.
Cody-area lakes — On East and West Newton try Callibaetis dry and nymphs. Chironomids are working. Try an Ice Cream Cone. Griffith's Gnats, Parachute Adams and Sparkle Duns will work for dry flies. On Luce and Hogan, the same flies will work, and damselflies are emerging. — North Fork Anglers, Cody.
Lake DeSmet — Anglers are catching trout with Jake's lures. Some are using garlic-scented green marshmallows. Some anglers caught kokanee salmon while trolling. No reports on walleyes. — The Lake Stop, Buffalo.  
Lower Shoshone — The flows were running at 1,292 cfs on Monday. There is some color to the river. It's one of the few local options to fish for river anglers. Try streamers or Woolly Buggers. North Fork Specials will work. Prince Nymphs are another option. Beadhead Pheasant Tails will work. Use something dark and get it down. — North Fork Anglers, Cody.
North Fork of the Shoshone — The river is high, muddy and rising. The flows were 2,550 cfs on Monday. — North Fork Anglers, Cody.
South Fork of the Shoshone — The river is high and muddy with flows of 973 cfs on Monday. — North Fork Anglers, Cody.
Upper and Lower Sunshine Reservoirs — Some larger fish are biting on the upper reservoir. — Wea Market, Meeteetse.
Yellowstone National Park — Yellowstone will open to fishing on May 29. — Blue Ribbon Flies, West Yellowstone.