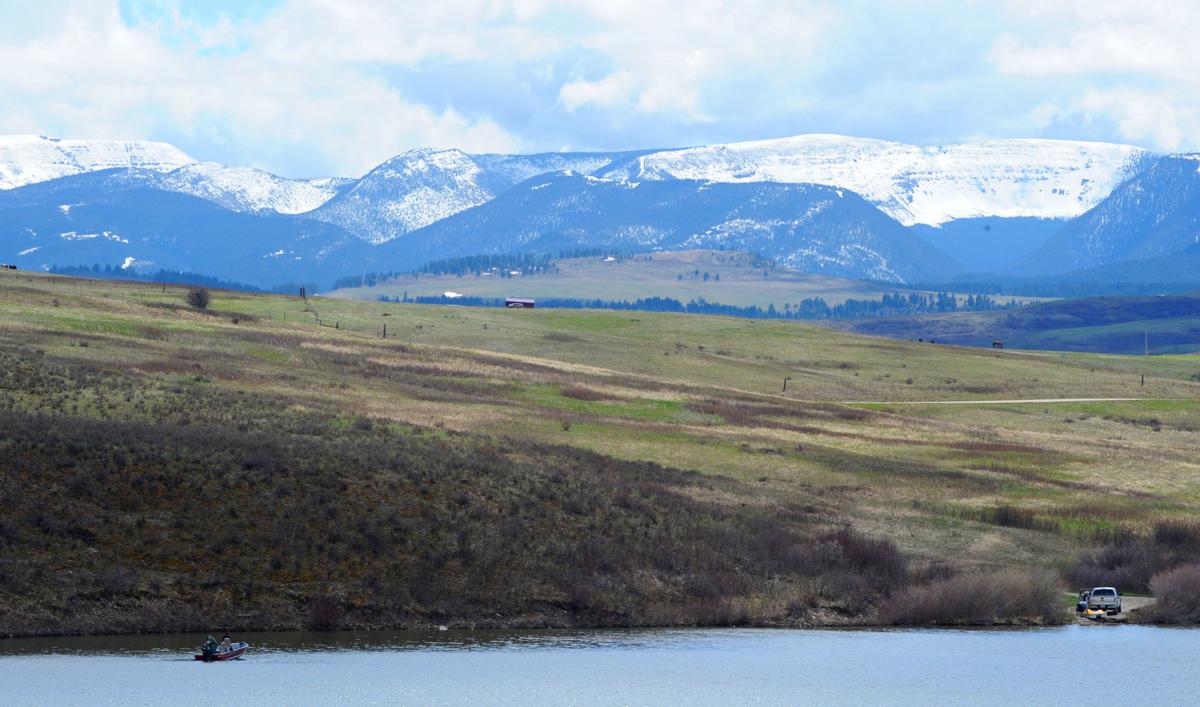 Water levels across the state have been dropping but are expected to rise again with the warmer forecast this week.
Consequently, only experienced floaters and waders should enter Montana waters at this time.
The Beaverhead River is my favorite pick of the week. The fishery strong. Expect a good return here.
Other options: Canyon Ferry has been producing good-sized rainbow trout from boats and shore. And Big Dry Arm at Fort Peck Reservoir has been an excellent site to pull in hefty pike and walleye.
Top picks
Beaverhead River — The water is loaded with exceptional fish this year. We are reaping the benefit of four good years on our local trophy tailwater fishery. One in three fish you will catch will be as large as anything you'll catch on any other Montana river. The water is clear and at a great level. You will have to use smaller bugs the closer you get to the dam. Try a variety of midge and baetis patterns (16-20). Tan Sowbugs (14-18) are catching a few fish, as well. Small San Juan Worms have been working well below High Bridge. The fish in these waters are notorious for liking a new fly every day until PMDs hatch in the latter half of June. You should change frequently until you dial in on the bug of the day. Persistence will yield some of the largest average-sized fish in the state. — Frontier Anglers, Dillon.
Canyon Ferry Reservoir — There has been some good rainbow trout action by bank and boat anglers at the north end of the reservoir.  Shore anglers are having luck at the Outhouse using worms or marshmallows.  Anglers trolling jointed perch-colored Rapalas or Spinners 100-150 yards offshore at the Outhouse are having great luck. Boat anglers are finding rainbows from White Earth to the Silos. Walleye and perch fishing has been very slow. A few anglers are targeting carp and doing well from the shore using night crawlers at Confederate Bay, Duck Creek and Pond 4. — FWP, Helena.
Fort Peck Reservoir, Big Dry Arm — Fishing has been outstanding. Zeik Gordon reported catching a 43.38-pound carp using an official scale. He baited with a quarter once orange jig with a 12-pound test. A 36-inch walleye was aslo caught. Several bass have been reported along with a 45-inch pike that was caught while trolling. — Rock Creek Marina.
Madison River, Upper — Nymphing has still been the most productive way to fish. Stonefly nymphs, Worms, Caddis Larvae, Baetis, soft hackles and larger mayfly attractors are all working well in the subsurface. If it stays calm out, you will likely see some fish eating dries in soft water. Streamer fishing seems to be getting better daily. White is the hot color. — Montana Troutfitters, Bozeman.
Montana
Ackley Lake — Muskie action has been consistent using smelt. The water is rising. — Sport Center, Lewistown.
Big Hole River — All the rain we had recently blew the water out for the next few days. — Frontier Anglers, Dillon.
Bighorn Lake, Ok-A-Beh — Still closed until further notice. — Pryor Creek Bait Co., Laurel.
Bighorn River — The water is now flowing at just under 2,000 cfs. This is making for some interesting and different approaches to how we would normally fish. The overcast days this past week caused some heavy hatches of baetis and midges. On the sunnier days the evenings will be key to finding risers. Wade fishing has been the most productive while nymphing. Carpet Bugs (16-18) in tan and grey, standard Rays in tan or grey (16-18), Green Weenies, Mac Grubers, Zebra Midges and Rootbeer type midges have been working the best. The streamer bite has picked up a bit. — Bighorn Angler, Fort Smith.
Bitterroot River ­­— The water is really big, but it's fishable. Unless you are an experienced in big rivers, we wouldn't suggest floating in these conditions.  No room for mistakes out there. If you do get out, concentrate on side channels away from the main river. Fishing with San Juans, Double Bead Stones, Rubberlegs, Jig PT's and Princes under a bobber is the way to go right now. Streamer fishing is a good option. Nothing stripped too fast. Play with colors till you find what they like. Mason's Juniors, Baby Gonga's, Mini Dungeons, Smoke N Mirrors, Jewel Thiefs and Silvey's Sculpins are working great right now. — Grizzley Hackle Fly Shop, Missoula.
Blackfoot River —The water has dropped considerably, but is still too big and muddy for good fishing. If the water levels continue to drop, we might be fishing it by the end of next week. — Grizzley Hackle Fly Shop, Missoula.
Boulder River — The water is really muddy and fast below the confluence of the West Fork. Look up above the Natural Bridge, the water is still high with tolerable water clarity. Caddis are hatching during warm mornings. However, it would appear the fish are not interested. With that being said, don't be scared to fish some caddis patterns. Nymphing was subpar. Sticking to an attractor pattern is key. It might be time to sit back and wait for flows to go down, or explore the East and West forks. — East Rosebud Fly Shop, Billings.
Clark Fork River, Deer Lodge — The water is tea colored with Mother's Day caddis beginning to pop. Dries to use are Elk Hair Caddis (14-16), CDC Caddis (14-16) and Missing Link Caddis (14-16). Nymphs to use are Pat's Stone (4-12), Lightning Bugs (4-12) in silver, gold and black. Streamers to use are Bee Bugger, J.J. Specials, Scully Buggers, Sculpzilla, Lil' Kim and Sparkle Minnow. — The StoneFly Fly Shop, Butte.
Clark Fork River, Missoula — The conditions are blown out right now and probably won't be any good to fish until a couple weeks or so. — Grizzly Hackle Fly Shop, Missoula.
Clark Fork River, St. Regis — The river is dropping but is going to come back up. Fishing conditions are still not very hospitable. — Joe Cantrell Outfitting, St. Regis.
Cooney Reservoir — The water has stayed clear with only a little off-colored water around the inlets. Surface water temperatures dropped this week to 50 degrees around the inlets in the morning to 54 on the north shore. With the bad weather we didn't see a lot of people. The boats that did made it out trolled cowbells for trout. Some anglers did well from the shore catching perch and a ling using worms and leeches. Walleye are targeting worms and leeches in deeper water. People are still catching walleyes using Rapalas. The best reports I heard were parties that were trolling worm harnesses. — Cooney State Park.
Deadman's Basin — The trout have been biting night crawlers and PowerBait. — Cozy Corner Bar, Lavina.
Flathead Lake (South) — The water temp has reached 50 degrees and will get warmer this week. Lake trout have been caught at the city docks. Perch have also been caught from the dock. Yellow Bay has seen some action in 210-240 feet of water. Big Arm has also seen some action in 55-75 feet or from the shoreline to about 35 feet. Smallmouth bass have been reported at Polson Bay. — Zimmer Tackle, Pablo.
Flathead River — The river is still restricted to Montana 15 license plate residents. — Zimmer Tackle, Pablo.
Fort Peck Reservoir, dam area — The fishing was a little slower with the turn in weather. Walleye, pike, and lake trout all had a decent bite. Walleye and pike were caught pitching toward the shorelines using jigs, minnows, and plastics. Lake trout were caught pitching jigs into shallow water and using downriggers in 60-80 feet of water. — Lakeridge Lodging & Bait Shop.
Fort Peck Reservoir, Hell Creek — Catching walleye, bass, pike, and a few crappies down at Timber Creek using minnows. — Hell Creek Marina.
Gallatin River — Stick to the banks and work the soft water with big rigs. Streamers and dark Stones and Worms are decent options. — Montana Troutfitters, Bozeman.
Glacier National Park — Closed until further notice. — Glacier National Park.
Hauser Reservoir — A few rainbow trout have been picked up around Black Sandy. Shore anglers have been doing well using PowerBait, egg sacks, night crawlers and marshmallows. Boat anglers are catching a few while trolling cowbells and Wedding Rings with a crawler trailer. The walleye bite is still good at Lake Helena. Boat anglers are doing well trolling chartreuse- or gold-colored crankbaits, bottom bouncers or using leeches. — FWP, Helena.
Hebgen Lake — The inconsistent weather over the past week has kept the dry fly fishing from taking off, but subsurface fishing with Chironomids and leech patterns continues to produce some fish. Focus on the area along the north shore from the Narrows to Kirkwood, and try Driskill's Midges (12), Perdigonomids (14) and Ice Cream Cones (14) under an indicator in 8-12 feet of water, or strip black Pine Squirrel Leeches (14) or black or brown Woolly Buggers (8). If you do run into a warm calm day, be on the lookout for risers during late morning and evening hours. Try a Parachute Adams (16) with a red Copper John (16) or T.B. Hooker dropped underneath. — Blue Ribbon Flies, West Yellowstone.
Holter Reservoir — Rainbow trout continue to be caught near the shore at Gates of the Mountains, Log Gulch and Departure Point areas. Successful shore anglers are doing well with midge nymphs and leech patterns. Anglers using plain night crawlers or egg sacks are picking up a few trout. Shore angling has been most productive. Boat anglers have reported that walleye and perch fishing has been fairly slow. — FWP, Helena.
Kootenai River — This river is semi-blown out. The runoff has begun. The water levels are high and heavy and they are only going to get higher. The water does fish decent in the afternoons or in the soft backwater eddies. — Kootenai River Outfitters, Troy.
Lake Frances — Anglers are catching walleye, perch using leeches, night crawlers, and salted minnows. — Roberts Bait & Tackle, Great Falls.
Lake Mary Ronan — Salmon are being caught using shrimp, corn and a worm to hold on to it all. — Zimmer Tackle, Pablo.
Madison River, Lower — The water temps have come back up for good evening caddis hatches. The nymph bite has been good with Worms, soft hackles, crayfish, and small mayfly patterns. It seems as though the fish are moving around a bit. Some days they are feeding in the shallows, and other days they are in the deeper buckets or runs. If you are not getting into fish, try different types of water. — Montana Troutfitters, Bozeman.
Marias River — The water is muddy. Anglers are still catching catfish, northerns, and the occasional sturgeon using live minnows and night crawlers. — Roberts Bait & Tackle, Great Falls.
Missouri River, below Holter — The river is starting to fish well now, but after some rain we will see what happens at Dearborn and Prickly Pear. Right now we are seeing good dry fly fishing below Craig with Caddis, BWOs, March Browns and even a few skwalas hanging around. Come with an assortment of dries like X-Caddis, BWO Flash Cripples, P-Hazes and Adams. Nymphing up by the dam and really the whole river has been good. Mayfly nymphs are starting to be an option, your standard Sowbugs and Scuds have been the best. Streamer fishing this week should be great. Smaller streamers like Jewel Thieves, Baby Gongas, Mason's Juniors, Laser Legals, Mini Dungeons, Complex Buggers and Woolly Buggers. — Montana Fly Goods, Helena.
Missouri River, Fort Benton —The river is muddy. Catfishing is really the only action. — Roberts Bait & Tackle, Great Falls.
Missouri River, Fred Robinson Bridge — Reports of paddlefish action picking up. — Sport Center, Lewistown.
Rock Creek — The water is high, fast and muddy, but that doesn't mean the fish aren't there. This is the time of year to start looking for smaller side channels and pockets of calm water. Nymphing and stripping streamers will likely be your best bet. When selecting a fly, look to get deep and flashy. The caddis have been coming off in the warmer afternoons, although with water clarity abysmal it's been tough to provoke a rise. If you're planning to fish dry flies think about big stimulator patterns or bushy caddis flies. Try a Coffey's Sparkle Minnow for a streamer or a BH Rubber Leg Prince (12) for a nymph. A good dry to use is a Galloup's Butch Caddis (14) in olive. — East Rosebud Fly Shop, Billings.
­Rock Creek — The water levels have dropped a lot, but floating is still too dangerous. We should start seeing salmonflies by the end of next week. Make sure you have bigger salmonfly nymphs like Yuk Bugs, Bitch Creeks, Rubberlegs and Double Bead Stones. Drop a pink or red San Juan Worm off the back. You want to stock up on a few dries like Rogues, Supa G's, Water Walkers, Cat Pukes, Chubbies, and Fluttering Stones. — Grizzley Hackle Fly Shop, Missoula.
Spring Creek — Fly spinners are catching trout. The water is clearing. — Sport Center, Lewistown.
Stillwater River — The water flows dropped and cleared with the cooler weather and created a window to fish. However, things are likely to change. Go above the Rosebud confluence if you are going to wade. If you are nymphing, use a Girdle Bug, dark stonefly pattern, or a San Juan Worm along with a small beadhead like a Red Copper John, Optic Nerve, Batman, North Fork Special, or Lil' Spanker. Streamer anglers have had success with the Grinch #1 pattern. In off-color water try a darker streamer for contrast. Caddis and a March brown or two may still be popping here and there. If so, try fishing a Caddis Pupa dropper nymph. — Stillwater Anglers, Columbus.
Swan Lake — Pike have been the catch of the week. — Zimmer Tackle, Pablo.
Tiber Reservoir — The spawn is just about done. Bottom bouncing and jigging has been most effective. Using leeches and night crawlers has also been catching walleye. — Ru's Tiber Marina
Yellowstone Park — We received this year's park licenses and can start selling them. Montana's gates to the park and fishing season will get going June 1. — Montana Troutfitters, Bozeman.
Yellowstone River, Columbus — The river has still been running off-color through Columbus. If there's enough clarity, streamer fishing is probably the way to go. Try darker patterns. Trail a beadhead nymph of some sort off the back. For nymphing, try a Pat's Rubber Leg, Girdle Bug, Pepperoni Yuk Bug or dark stonefly pattern with a smaller beadhead nymph like a Poxyback March Brown, Hare's Ear, Prince, Batman, Optic Nerve, or Pheasant Tail, Midge or Lil' Spanker as a dropper. Don't hesitate to throw a dry fly in likely water or on the clearer edges even if there's no apparent activity. A Purple Haze, March Brown, small Stimulator or Jack Cabe with a Caddis Pupa nymph dropped off the back is a good setup. Look for calm, clearer, side-channel water. — Stillwater Anglers, Columbus.
Yellowstone River, Huntley — The water levels have gone down a bit due to the cooler weather while the clarity has been murky. The catfish bite has been very good. The baits of choice have been minnows, cutbait, and shrimp. The smallmouth bass bite has picked up a bit this week. — Huntley Bait and Tackle.
Yellowstone River, Livingston — The water blew up over the last few days and made it too high and muddy for any decent fishing. — Montana Troutfitters, Bozeman.
Wyoming
Bighorn River, Thermopolis — Mother's Day caddis and midges are hatching right now. Cicadas are being seen in the Wind River Canyon south from Thermopolis. Elk Hair Caddis, Magic Beetle (Cicada pattern), CDC Caddis, or Griffith's Gnats, small Sparkle Duns in olive or gray have been fished successfully. Nymphs are Midge Pupae, San Juan Worms, black North Fork Specials, and Sowbugs. Streamers like Zonkers, Peanut Envy, Sex Dungeons, Woolly Buggers have also been effective. — North Fork Anglers, Cody.
Clarks Fork — The water is somewhat fishable in the Clarks Fork Canyon downstream to the WY/MT state lines. The water quality is fair and flows are down from last week. The fishing action has been slow to fair. — North Fork Anglers, Cody.
East Newton Lake — The fishing has been fair using Leeches, Scuds, Pheasant Tails and North Fork Specials from pontoon boats and tubes. The shore fishing hasn't been very good due to the rising water. — North Fork Anglers, Cody.
Hogan Reservoir — The fishing has been fair to good. The callibaetis are hatching in the late morning until about 2-3 in the afternoon. Parachute Adams, Sparkle Duns in a tan or gray, and emerger imitations are fishing great on the surface. Smaller leech patterns, Pheasant Tails, Gold-Ribbed Hare's Ears, Prince Nymphs and Zebra Midges have been fishing well in the subsurface. — North Fork Anglers, Cody
Lower Shoshone — Fishing has been great below Buffalo Bill Dam downstream to Willwood Dam. The water flows are at 1,575 cfs with good clarity. The hatches are Mother's Day caddis, midges and some golden stones. Anglers should use nymphs or streamers while the hatch is going on. Hemingway Caddis (14), Wright's Royal and Olive Elk Hair Caddis are working well during midday through mid-afternoon. — North Fork Anglers, Cody.
North Fork of the Shoshone — The water is clear and fishable. The warmer weather this week should make the water too high to wade or float. Fish beadhead nymphs (8-12), Princes, Wade's North Fork Specials, Pat's Rubber Legs, and black Girdle Bugs for best results. Dry flies that are working are Chubby Chucks (10) in a purple or olive. Annual closure, April 1- July 1, from Buffalo Bill Reservoir up to Newton Creek. — North Fork Anglers, Cody.
Upper and Lower Sunshine Reservoirs — Both reservoirs are open. Leech patterns have been very effective. Beadhead nymphs stripped or slow trolled behind a kick boat or float tube also work well. Midges will be out, but the cutthroat have their minds on spawning. Do not expect much dry fly or emerger action. On the lower river, larger streamers are effective on the splake and tiger trout. In shallower water, Leeches, Scuds, beadhead nymphs, Zebra Midges and Wire Worms are working well. — Wea Market, Meeteetse.