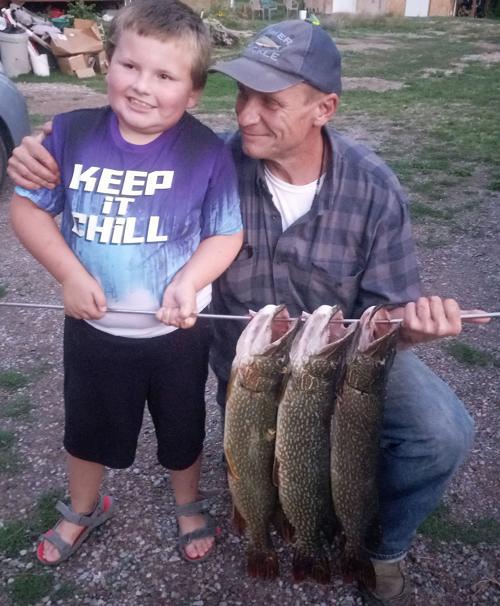 BILLINGS — As autumn approaches, fishing continues to improve.
Anglers are starting to catch a few fish while bank fishing at many of the lakes and reservoirs. In addition, cooler water temperatures in the area's rivers are cooperating.
Hoppers and droppers, along with Ants and Beetles, are still an option, and trout are also chasing streamers.
Here's the weekly report:
Top picks
Bighorn River — The entire river continues to fish well. Black caddis and PMDs are going strong from the afternoon into the evening hours. Nymphing has been very good lately with Poodle Sniffer Pupa, Pheasant Tails, Carpet Bugs, orange Scuds and Split Case PMDs. Hopper fishing has been hit-and-miss. — Bighorn Angler, Fort Smith. 
Blackfoot River — Still fishing great and has probably the most consistent Hopper fishing around right now. Not much for hatches besides a few Tricos in certain spots. On cloudy days you might find a BWO or two hatching, but for now it's all about terrestrials and droppers. Hoppers (10-12) with a deep dropper is the go-to setup. For droppers use San Juans, Jig Princes, Jig PTs, Perdigons and Red Copper Johns. — Grizzly Hackle Fly Shop, Missoula.
Canyon Ferry Reservoir — The walleye bite has been really good between Confederate and Pond 1 and south of Broadwater Bay while using bottom bouncers with green or white spinner blades and a worm in 10 to 15 feet of water. Perch are being picked up around Pond 1 by anglers fishing with walleye tackle. Rainbows are being caught from shore between Confederate and Duck Creek and while trolling in 15 feet of water with cowbells or spoons. As reservoir elevations continue to drop, ramps will become unusable. For the latest ramp information go to the BOR website at: https://www.usbr.gov/gp/boat/index.html. — FWP, Helena.
Glacier National Park — Fishing has been awesome. Foot traffic is starting to lighten up in the park. Bowman Creek is starting to fish well. The upper St. Mary River is fishing well. Panther Martins in No. 4 and any gold with a little bit of red smaller lure would work. Oldman Lake, Lake Isabel and Pitamakan Lake are fishing well. Gold spoons in ¼ to 3/8 ounce will work. Fly selection is pretty simple from black Woolly Buggers to Prince Nymphs, Parachute Adams and Renegades. On the North Fork of the Flathead River temps are cooling off and fishing is picking up. Use a tan Hopper (10-12), Griffith's Gnats and Parachute Black Gnats. On the Middle Fork, a tan Hopper, Parachute Adams, Griffith's Gnat and Parachute Black Gnats will work. Orange Elk-Hair Caddis are still working, but the October Caddis is hit-and-miss due to the weather. A few small PMDs (14-16) are coming off, but it is hit-and-miss. — Arends Fly Shop, Columbia Falls.
Holter Reservoir — Trolling on the lower end of the reservoir for rainbows has been good. Orange or brown crankbaits and cowbells have been working. Some perch are being found while pitching jigs in and around weed beds near Ming Bar. Smaller perch are being caught around the boat docks. A few walleye are being found while pulling bottom bouncers and crawler harnesses with leeches or crawlers on the lower end of the reservoir. — FWP, Helena.
Montana
Ackley Lake — A few tiger muskies were caught last week as anglers were trolling spinners. Shore anglers presenting bait are starting to catch some 18- to 20-inch trout, along with pan-size fish. — Sport Center, Lewistown.
Beaverhead River — The river is off-color by the dam and clearer by Pipe Organ. Use Craneflies in the evening and Hoppers during the day. Spanish Bullets are a good option. Worms, jig head Prince Nymphs (16) and olive Psycho May (18) are other options. For streamers, Zonkers and Sparkle Minnows are good choices. — Frontier Anglers, Dillon.
Bighorn Lake, Ok-A-Beh — More and more folks are switching to archery hunting. Smallmouth anglers could try a slower presentation with a Wacky Rig or a tube jig and throw paddle tail swimbaits. One can also try crankbaits. The fish may be moving a little deeper to try and find slightly cooler water. — Scheels, Billings.
Bitterroot River — We are finally seeing more bug activity. Try Tricos from 10 a.m. to 2-3 p.m. depending on how cold the nights are getting. We are starting to see a few hecubas and BWOs on cloudy days. Terrestrials in the afternoons are another good dry fly option. Tricos are the most technical dry fly fishing we do during the year. You'll need to be ready to fish light tippets, small flies and have perfect drifts to fool the big fish. Try size 18-22 CDC Trico Duns, Tucker's Twiggy's, Gould's Drowned Spinners, Organza Spinners and Hi-Viz Spinners tied off the back of a 18-20 Para-Wulff or P-Haze. A few Hecubas have been seen, so have a size 10-12 Brindle Chute, Beefcake Hecuba, Lazer Hecuba or P-Haze. In the afternoons after the trico hatch, throw a pink, tan or purple Hopper with a 14-16 Jig Beadhead dropper like a Spanish Bullet, Perdigon, Prince or PT. — Grizzly Hackle Fly Shop, Missoula.
Boulder River — Fishing well with the afternoon bite better than the morning. For the best fishing of the day fish a Hopper with a small, purple or black Copper John dropper. Shallow nymph fishing in the deeper pools is also effective; try Golden Stone nymphs with a small mayfly nymph. In addition, keep an eye out for trico spinner falls in the mornings. — Sweetcast Angler, Big Timber.
Clark Fork River, Missoula — Fishing well despite not seeing a ton of bugs out. That should change as we transition to, fingers crossed, more cloudy fall weather. Right now there are a some Tricos out in select spots and the Hopper-dropper fishing has been good on most days. Use Tricos (18-22) for the sippers in the back eddies and swirls. Drop a small Drowned Spinner off the back and let it marinate in those spots for some really nice fish. Switch to Hopper-dropper fishing in the afternoons with some fairly big Hoppers (10), either in pink, peach or tan. Drop a Stonefly Nymph off the back or a Jig Nymph and fish the likely spots. Small streamers in the early morning as the sun is coming up is a great option if you want to see some bigger fish. — Grizzly Hackle Fly Shop, Missoula.
Cooney Reservoir — Water temperatures were in the mid-60s this week. The water clarity is bad, at around 6 to 8 feet. Trout are still being caught, but not as many as last week. Trout and perch were biting on worms. Orange Wedding Rings are working for trout. Small jigs or hooks with half a worm are also effective. Walleye fishing has improved and better-sized fish came off the water this week. Most of the walleyes were caught trolling Rapalas. Fish were suspended in 25 feet of water. — Cooney State Park.
Deadman's Basin — Anglers are catching some 13- to 15-inch trout from shore with worms. Spin fishing is slow at Broadview Pond as there is quite a bit of moss. Fly anglers might do OK. Try a green dragonfly imitation.  — Cozy Corner Bar, Lavina.
Echo Lake — Bass fishing has been good in the late afternoon/evening. Top-water action has been fairly consistent this time of year. Hook up a Whopper Plopper for the chance at quality fish right before dark. — Snappy's, Kalispell.
Flathead Lake — Fishing has been very steady. Pre-spawn activities have started as the fish move into a bit shallower water. Cut bait and/or sausage links on a slip weight off the bottom has been working wonders. — Snappy's, Kalispell.
Fort Peck Reservoir, Big Dry Arm — Anglers are still catching walleyes south of the marina. The pike and bass bite is still on. Green and yellow are good colors. Use crankbaits. — Rock Creek Marina.
Fort Peck Reservoir, dam area — Overall, fishing remains slow. Lake trout action has picked up a little bit and a few chinook salmon were caught in the dam area over the weekend. For lake trout, troll spoons. A few folks are jigging. Flies and bait cups are the preferred method for chinook salmon. — Lakeridge Lodging & Bait Shop.
Fort Peck Reservoir, Fourchette Bay — Fishing has been slow. The water was dirty and had algae last week, so it probably turned over recently. One could try pulling a No. 7 Flicker Shad. Some were running bottom bouncers. — Sport Center, Lewistown.
Fort Peck Reservoir, Hell Creek — Fishing is fair to medium. Pike and bass anglers are doing well. Walleye action is still slow. — Hell Creek Marina.
Fresno Reservoir — The reservoir is beginning to be filled, but it is still hard to launch a large boat. Be careful. The bite is slow. — Roberts Bait & Tackle, Great Falls.
Gallatin River — Water temperatures have dropped into healthy, fishable temperatures. Full nymph rigs in the morning, with dry-dropper afternoons and evenings are a great call. Caddis, Rusty Spinners, Spruce Moths and terrestrials are all a great option for dries. For nymphs; a Mega Prince or Pat's Rubberlegs paired with a small beadhead attractor is a go to. Streamers are also working well on cloudy days, or early in the mornings. With clearer water, tan Sculpins of various patterns are a favorite. — Montana Troutfitters, Bozeman.
Georgetown Lake — A Balanced Leech paired with a Damsel Nymph under an indicator has been productive. Also try terrestrials, like Hoppers, Ants and Beetles. Small baitfish patterns in olive will be productive the rest of the season. — Flint Creek Outdoors, Philipsburg.
Hauser Reservoir — Fishing for rainbows from shore has picked up at the Causeway, Riverside and York Bridge. Floating jigs with night crawlers, PowerBait and Mepps spinners are working. Trolling cowbells and Wedding Ring combos Lakeside to the Dam is also producing good numbers of rainbows. Walleye and perch action has slowed down, but a few are still being picked up in and around the Causeway Arm while pitching jigs/vertical jigging or trolling crawler harnesses near points or weed beds. — FWP, Helena.
Hebgen Lake — Fishing pressure has been light. Fishing is fair for fly anglers. Most action is on nymphs. Fishing boats with outboard motors can still be launched. — Kirkwood Resort & Marina.
Helena Valley Regulating Reservoir — The snagging season for kokanee salmon opened on Sept. 1 and will run through Oct. 31. Limits are 35 salmon daily with 70 in possession. — FWP, Helena.
Kootenai River — The action is unbelievably good. Renegades, Parachute Adams, Parachute Black Gnats, PMDs, Parachute Pheasant Tails and tan Elk-Hair Caddis are good flies. If you want to use wet flies, try standard Prince Nymphs and Copper Johns. — Arends Fly Shop, Columbia Falls.
Lake Frances — Low, low, low. Put in on the east end by the dam. The bite is very slow. — Roberts Bait & Tackle, Great Falls.
Lake Koocanusa — Anglers are starting to catch more rainbows. The rainbows are deep at 40 to 100 feet and some 4 to 7 pounders have been caught. Dark blue, black or purple colors are working for rainbows. Not much has changed for kokanee anglers. Kokanee anglers are doing well at depths of 30 feet running silver flashers. Some anglers are running brass flashers on cloudy days. Pink maggots seem to work better than the white maggots. — Koocanusa Resort and Marina, Libby.
Lake Mary Ronan — The perch bite has been very solid this year, with less numbers but bigger perch. The target depth seems to be 18 to 24 feet and small crayfish plastics have been paying off. Rainbow trout have been caught while jigging for perch. — Snappy's, Kalispell.
Madison River, Lower — Thanks to recent storms and colder nights, temperatures have dropped to fishable ranges. If you are heading out this way, Hopper-droppers are the go to. Pink or yellow Morrish Hoppers or Water Walkers with a small flashy beadhead nymph, or a small tan Turkey Crayfish are the best options. Also, play around with where you are putting your flies as we have seen trout caught in all types of waters. — Montana Troutfitters, Bozeman.
Madison River, Upper — Fishing well. With all the recent storms and cloud cover the streamer bite has been awesome in the mornings. After the morning streamer bite has subsided, the Hopper-dropper rig has been the best bet. For droppers, anything small and flashy will get the job done: Green Machines, $3 Dips, Purple Deaths, Goblins, Copper John, Prince Nymphs, Perdigons, Worms, Shop Vacs, black and brown Rubberlegs, and your favorite Caddis Pupa are all good bets. Ants have also been in abundance, so fish are keying into those dropped off of a Hopper. One of the most underrated flies on the upper is a Drowned Ant. There has been a lot of big brown trout caught very early in the morning on big streamers. Streamer color has been variable, but typically black and olive are great colors on cloudier and rainy days and yellow and white are our favorites for sunny days.  — Montana Troutfitters, Bozeman.
Marias River — In the Loma area the river is low and fishing pressure is light. — Roberts Bait & Tackle, Great Falls.
Martinsdale Reservoir — Water levels remain very, very low. Anglers are trying to launch boats at points where there is gravel. Fishing is poor. — Mint Bar, Martinsdale.
Missouri River, below Holter — Perdigons are the nymph of choice. A Patriot and Gunner seem to be the big things. Hoppers and Ants are producing. For streamers try a Thin Mint on the edge of weed beds. A perch pattern will sometimes work really well. — Montana Fly Goods, Helena.
Missouri River, Fort Benton — The river is running moss and will be until there is a good, hard frost. — Roberts Bait & Tackle, Great Falls.
Nelson Reservoir — Anglers can still put any size boat in at the state park. Water levels are low but are creeping up slowly. Try pulling bottom bouncers for 17- to 20-inch walleyes. Some perch were also caught, along with some smaller northerns. Target depths of 20 feet. — Hardware Hank, Malta.
Noxon Rapids Reservoir — Water temperature is 68 degrees. Fish are in their summer patters, located in 8 to 20 feet of water in deep weed beds. Bass are being caught at a variety of locations with south classics. Pike have been caught on spoons and large crank baits. Walleye are being caught on bottom bouncing rigs in 12 to 20 feet on the main lake. Perch and bluegill are also biting on the main lake on night crawlers. Trout are biting at the mouth of the feeder creeks on inland spinners — Lakeside Motel and Resort. 
Pishkun Reservoir — Full, full. Northerns are biting a little bit. — Roberts Bait & Tackle, Great Falls.
Rock Creek (East) — The creek is running at 130 cfs this week with water temps in the low 60s in the mornings. The Hopper bite has been slowing. Anglers are fishing terrestrial patterns such as Ants and Beetles in the morning to afternoon. When trout stop looking at your terrestrials, Purple Haze (14-16) has been getting the job done. Small streamers have been great. Try Thin Mints and Grinches tossed into deep water or back eddies. Dries: Amy's Ant-purple, Crystal Stimulator-yellow (12), Dave's Callibaetis (14), Sparkle Dun (20), Trina's Carnage Green Drake (12), Purple Craze (14). Nymphs: Tungsten Copper John-chartreuse (14), Tungsten Jig Hare's Ears (16), JuJu Midge (18), MT Prince X-Mas (14), Trina's BubbleBack Emerger BWO (18). Streamers: Thin Mints, Grinches, Slump Buster-rust (6), Thin Mint (10), Coffey's Sparkle Minnow-light olive (6). — East Rosebud Fly Shop, Red Lodge.
Rock Creek (West) — Continues to fish well and the Hopper fishing on the upper stretches has really turned on. Don't be afraid to splat and twitch your Hopper to get more strikes. Drop a small beadhead nymph like a PT, Prince or Perdigon off the back if trout aren't coming up for the Hopper. Small streamers in the morning are getting chased, and this should only get better as the month progresses. — Grizzly Hackle Fly Shop, Missoula.
South Fork of the Flathead River — Tan Hoppers, Parachute Adams, Griffith's Gnats and Parachute Black Gnats will work. Orange Elk-Hair Caddis are still working, but the October Caddis is hit-and-miss due to the weather. A few small PMDs (14-16) are coming off, but it is hit-and-miss. Orange Stimulators will work. — Arends Fly Shop, Columbia Falls.
Spring Creek — Should be fishing well as the water is clear. Try using Grasshoppers. Nymphing is a good choice, too. Beadhead Pheasant Tail or Copper John would work. — Sport Center, Lewistown.
Stillwater River — Currently running at 350 cfs, with water temps peaking at 66 in the evenings. Hopper fishing has been alright. There still is a possibility for Hopper action on the lower portions of the river. With cooler weather, Purple Hazes and BWOs have been great, as well as small White Duns. Dries: Purple Haze (14), Dave's Parachute BWO (16), Blonde Wulff (16). Nymphs: Lucent PT-purple (16), BH Holo Batman (14), Blooms Zirdle-purple (8), Half Back (8). Streamers: Coffey's Sparkle Minnow-smoke/purple (4), Craven's Dirty Hippie-rainbow (6), The Grinch (6), Thin Mint (8). — East Rosebud Fly Shop, Columbus.
Tiber Reservoir — Fishing was a little bit slow, but some big fish were caught. A 34-inch walleye was caught on Friday. On Sunday, it was pretty windy. Jigs have been the ticket. The marina will close for the season on Sunday, Sept. 12. — Ru's Tiber Marina.
Tongue River Reservoir — Anglers are catching walleyes in 16 feet of water using worm harnesses with spinners tipped with leeches or worms. Some really fat bass have been caught off of Rattlesnake Point using Rapalas or Flicker Shads. A few northerns have been caught using spoons or live bait. — Tongue River Marina.
Yellowstone River, Big Timber — The river is fishing fairly well, considering the historic low flows. The water temperatures are good and the fish are healthy. Fish Hoppers in the afternoon; our favorites are tan and purple Feth and Moorish Hoppers with a PT dropper. If the fish won't come to the surface, try a shallow nymph rig with a Pat's Rubberlegs and a PT. On cooler, cloudy days try a black and yellow Woolly Bugger. — Sweetcast Angler, Big Timber.
Yellowstone River, Huntley — Bass and walleyes are hitting on different spoons and crankbaits. Catfish are hitting cut bait and minnows. — Huntley Bait and Tackle.
Yellowstone River, Livingston — The river has cleared up and is fishing well. If you find yourself out this way throw on a pink, yellow or tan Hopper of any variety and a small soft-hackle dropper. Or you can go a little bigger with a  Rubberlegs, Zirdle, Goblin or Mini Zonker. — Montana Troutfitters, Bozeman.
Yellowstone River, Miles City — Fishing well for catfish, walleyes, bass and sauger from the boat and bank. The river is clear. — Red Rock Sporting Goods, Miles City.
Wyoming
Bighorn Lake, Horseshoe Bend — The north narrows are producing bass. The water is up at Horseshoe Bend and channel cats are being caught from the bank all the way down to the opening of the canyon. The sauger are hitting between mile marker 55 and 49 on the eastern side with crankbaits. Horseshoe Bend Marina is closed. Fishing charters and campgrounds remain open. For information on these activities, call 307-899-1401. — Horseshoe Bend Marina.
Bighorn River, Thermopolis — The river is a little more weedy and mossy. Fewer fish, but bigger fish, are being reeled in. Flows are 1,074 cfs. For streamers, Zirdle Bugs, Slump Busters and Montana Mouthwash are the ticket. Nymphs to use include Ice Cream Cones, Midges, Sowbugs and Scuds. For dry flies, float Sparkle Duns, BWOs and Adams. —  North Fork Anglers, Cody.
Boysen Reservoir — Trout fishing is good. Some folks are reporting a few bigger walleyes being caught, but they are deep in the trees under the water on either side of the old river bed. — Boysen Marina.
Buffalo Bill Reservoir — Anglers shouldn't forget some of the local lakes in the region. Use basic spoons and spinners as trout should be more aggressive as we transition toward winter time. Anglers can use more aggressive presentations. — Rocky Mountain Discount Sports, Cody.
Clarks Fork — Water temperatures are cooling down and flows are 266 cfs. Try Bloody Mary, beadhead Pheasant Tails and Halfbacks. — North Fork Anglers, Cody.
Cody-area lakes — Pack Hoppers, Ants, Beetles, Balanced Leeches, Woolly Buggers, Chironomids, Parachute Adams, Sparkle Duns and gray Klinkhammers if fishing these lakes. — North Fork Anglers, Cody.
Lake DeSmet — Kokanee are hitting well. Use PowerBait or pink squids. Walleye anglers also did well. Trout are biting purple and pink marshmallows or PowerBait from shore. Panther Martin spinners in chrome and brass are another good option for trout. — The Lake Stop, Buffalo.  
Lower Shoshone — The water is cloudy and fishing has slowed down. Try Beadhead Pheasant Tails, Bloody Marys and Zebra Midges. For streamers, use Slump Busters and Woolly Buggers. — North Fork Anglers, Cody.
North Fork of the Shoshone — Flows are low, but the river is fishing well and clear. Anglers should target runs and deeper holes. Some fish are moving towards the reservoir. Try Hoppers. Other dry flies to use are Golden Stones, Chubby Chucks and Horrors. For nymphs, use Black Stone Nymphs, Copper Johns and Rubberlegs in deeper runs. — North Fork Anglers, Cody.
South Fork of the Shoshone — Flows are really low and one should look for pocket water, which will hold some fish. Try the same flies as the North Fork with the addition of Royal Wulff, Adams and yellow Humpies. — North Fork Anglers, Cody.
Upper and Lower Sunshine Reservoirs — Boats can't be launched. With cooling temperatures, bank fishing is good. — Wea Market, Meeteetse.
Yellowstone National Park — Water levels are still low in the northeast corner but Slough, Lamar and Soda Butte have all seen some good emergences of Drake Mackerels. Have with you Drake Mackerel Sparkle Duns (12-14) along with Drake Spinners (12). Usually this time of year there's a good chance of running into baetis, so be prepared with Baetis Sparkle Duns (18-20). Don't forget to have terrestrials when heading this way. Pink Morrish Hoppers (14), Gulp Beetles (12-16) and Toast Ants (14) have been some great patterns. The Gallatin is a good option and if fishing the upper park stretches you won't have to get out of bed too early. Temperatures at night have been cool, so your best window for fishing will be from 11 a.m. to 4 p.m. Hoppers, Beetles and Ants are a must have, but also have Royal Wulff Cripples (14-16), Perdigons (14-18), Little Green Machine (16-20), Zebra Midges (16-20) and Spanish Bullets (18). The Firehole is coming into shape with each passing day and is a good option to fish in the morning hours. The afternoon temps are a bit too warm still, so consider another afternoon option or try to keep above Midway Geyser Basin where the temps will be much cooler. White Millers will be the main hatch, so have some White Miller Razor Caddis (14-16) along with Micro Beeley's (16) and White Miller soft hackles (16). There's been a few anglers fishing the Madison in the park, and while the "runners" aren't yet abundant, there have been a handful of these fish migrating upstream. Your best bet is early before the sun gets too high and the water temps come up. We've had some luck with Hoppers and swinging Blew on Blues and September Songs. — Blue Ribbon Flies, West Yellowstone.