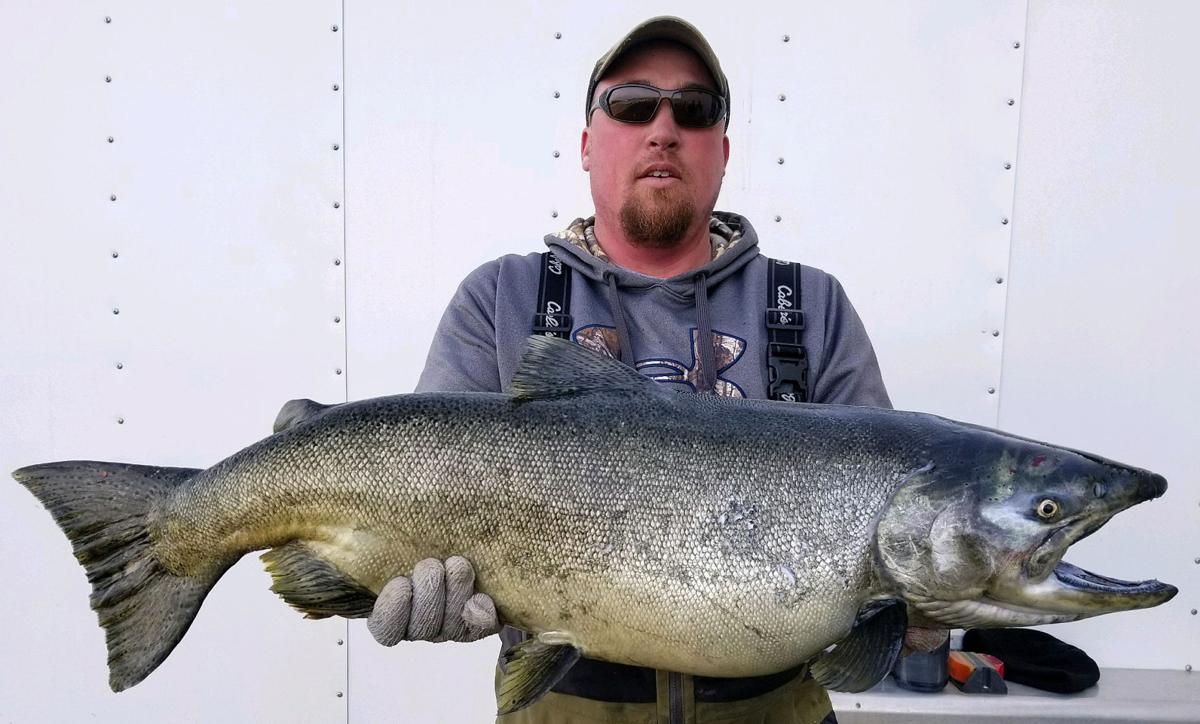 BILLINGS — Anglers are starting to get into chinook salmon in the bays near the dam at Fort Peck Reservoir.
Many people generally look forward to the chinook bite beginning in the late summer and early fall.
Smallmouth bass fishing has been exceptional at Bighorn Lake on the Ok-A-Beh end and sauger have been biting in the Horseshoe Bend south of the narrows.
This will be last fishing report of the season. Thanks for following along.
Top picks
Bighorn Lake, Horseshoe Bend — Sauger have been hitting hard out in the Horseshoe Bend south narrows area. The lake level is up and fishing has been pretty good lately with crankbaits. Just south of the Montana line is also another good place for sauger and smallmouth bass. Launch levels remain constant and the Horseshoe Bend boat ramp is open, as are the campgrounds. The marina, however, is closed for the season. — Horseshoe Bend Marina.
Bighorn Lake, Ok-A-Beh — Anglers are having a good time catching plenty of smallmouth bass. Minnows have been a good bait. The bass are really active and haven't been extremely picky. The water is clear. — Scheels, Billings.
Boulder River — Still fishing well; look for brown trout moving into the river for the spawning season. We've been fishing smallish Hoppers and beadhead droppers in the afternoon and various mayfly patterns in the morning. Try a small streamer for a little action as well. — Sweetcast Angler, Big Timber.
Fort Peck Reservoir, dam area — Anglers are starting to catch chinook salmon in the bays. Anglers are fishing from shore and tossing spoons and shallow-diving crankbaits. Snagging season for chinook opens Oct. 1. Lake trout are being caught at 90 to 110 feet of water, running downriggers or jigging. Walleye action is quiet. The few that have been caught have been reeled in by anglers pulling crankbaits in 15 to 30 feet of water. For northerns, fish the weed beds with spoons or cranks. Smallmouth bass are at depths of 25 to 35 feet of water near the rock piles. Pitch spoons or use slip bobbers and minnows. — Lakeridge Lodging & Bait Shop.
Noxon Rapids Reservoir — Water temperatures are at 63 degrees. The bass are moving back into the creeks. Larger fish are being caught on drop offs with a drop shot lure and Carolina rigs. Bluegill and perch anglers can experience success using crawlers on the main lake or backs of creeks. Trout are being caught using inline spinners. Walleyes are biting trolled crankbaits and bottom bouncing rigs at the mouths of creeks. Some pike are hitting large crankbaits and spoons out on the flats. — Lakeside Motel and Resort.
Montana
Ackley Lake — Anglers are catching some fat rainbows using flies, lures, PowerBait and crawlers. — Sport Center, Lewistown.
Beaverhead River — Waters are at historic lows. We are recommending people fish elsewhere. — Frontier Anglers, Dillon.
Bighorn River — Fishing has been very good lately on the entire river. Nymphing has been the ticket from the late morning till early afternoon with Frenchies, Perdigons, PT, grey Carpet Bugs and Ray Charles. We're seeing good numbers of fish up on Psuedos, tan Caddis and some black Caddis.  Streamer fishing has been very steady with smaller Buggers and Leeches like Grinch Buggers, Thin Mints, Hothead Leeches and Lil' Kims. — Bighorn Angler, Fort Smith. 
Bitterroot River — Very low and really great for wade fishers. You can still float, but it's boney and you'll do some scraping. The fishing has been good and we are seeing tricos, mahoganies, BWOs and hecubas, as well as hoppers, ants and beetles. It's fall dry fly time. — Grizzly Hackle Fly Shop, Missoula.
Blackfoot River — The water is cold in the mornings, so no need to rush out. We are starting to fish October Caddis nymphs and even getting a few to take the dry. This will continue to get better, so make sure to have them in your box. Tricos are out in certain spots as well as a few BWOs on cloudy days. Streamer fishing will continue to get better, but for now stick with small streamers swung deep in the runs. — Grizzly Hackle Fly Shop, Missoula.
Canyon Ferry Reservoir — Walleye fishing is fair with a few anglers having success while trolling bottom bouncers or Slow Death rigs from Goose Bay to Avalanche and in Hellgate Bay in 20 to 40 feet of water. Boat anglers are finding some rainbows as well, especially from mid-reservoir to the dam while using cowbells or crankbaits. Shore fishing is improving with rainbows moving in shallower and being caught throughout the reservoir on worms. Shore anglers are finding some yellow perch around the Silos and walleyes around Goose Bay. Worms are working best. As reservoir elevations continue to drop, ramps will become unusable. For the latest ramp information, go to the BOR website at https://www.usbr.gov/gp/boat/index.html . — FWP, Helena.
Clark Fork River, Missoula — Starting to fish well. We are seeing some more bugs like tricos, hecubas, BWOs and mahoganies. Look for tricos to start around 10-11 a.m. Have duns and spinners (18-22) ready. Mahoganies (14-16) and BWOs (18) will happen midafternoon or so. Duns and Cripples have been working best for these mayflies. Try a Hopper-dropper when the sun comes out with mahogany droppers like brown Spanish Bullets and Jig PT. Streamer fishing has been hit-or-miss, but stick with smaller jigging streamers like Mason's Junior, Baby Gonga's, Flash Minnows and Sparkle Minnows. — Grizzly Hackle Fly Shop, Missoula.
Cooney Reservoir — Anglers are catching fish. Bank anglers should bring rubber boots because of the mud. Water temperatures are 60 degrees and clarity is 10 feet. Trout are hitting worms or PowerBait. Walleyes are biting Rapalas at depths of 10 to 25 feet. Perch are at depths of 45 feet. Use small hooks and half a worm. The north shore boat ramp is the only one open, but is posted "Caution, launching may be difficult due to low water levels." — Cooney State Park.
Deadman's Basin — Anglers are catching a few trout and small tiger muskies (20 to 30 inches) while fishing from shore. For the tiger muskies, try Rapalas. At Martinsdale, fat rainbows are being caught from the bank while sinking bait. Martinsdale is still really low. — Cozy Corner Bar, Lavina.
Echo Lake — Smallmouth are on the feed. Jig fishing is the trick on the deeper holes. Using drop shot has been a solid option all season. — Snappy's, Kalispell.
Flathead Lake (North) — Anglers are catching lake trout at the delta and whitefish in the river as far up river as Columbia Falls. The overall number of whitefish caught is low, but should increase all through October. — Zimmer Bait and Tackle, Pablo.
Flathead Lake (South) — People are beginning to do better and better in the staging areas where the lake trout are getting ready to spawn. Black Point, Rocky Point and White Swan Point are all good areas. Target depths of 50 to 180 feet. Most anglers are jigging, but trolling is becoming more successful as the fish get closer to spawning. Perch fishing is improving and in the Elmo/Big Arm area anglers are catching some fat perch. For perch, fish at depths of 40 feet and use maggots and/or a combination of maggots and cut perch. — Zimmer Bait and Tackle, Pablo.
Flathead River, above the lake — A tan Hopper, Parachute Adams, Griffith's Gnat, black and red Woolly Bugger, and Prince Nymph will work. A purple Lightning Bug is another good fly. — Arends Fly Shop, Columbia Falls.
Flathead River, below Kerr Dam — Smallmouth bass are biting and the trout bite is getting better as the water cools. A whole night crawler with a hook above a bottom weight is a good way to go for smallmouth, as are small crankbaits in a forage fish appearance. Wacky setups and dark plastic worms will also work. Crayfish imitations are another option. — Zimmer Bait and Tackle, Pablo.
Fresno Reservoir — The reservoir is starting to be filled. The last we heard small boats could be carried down to the reservoir and launched. Fishing pressure has been light. — Roberts Bait & Tackle, Great Falls.
Gallatin River — With these recent frosty mornings Hoppers are no longer on the menu for fish. Mornings can be a slow start with the cold water temperatures, so a full nymph rig is the best option until the baetis come out. Baetis emergers and dries continuing throughout the day and the afternoon/evening hours with rusty spinners and small caddis. Smaller streamers are also working. Try a tan Sculpin or Sparkle Minnow. — Montana Troutfitters, Bozeman.
Georgetown Lake — The water is clear and water temps at midday are 55 degrees. Hatches include Callibaetis and midges. Fly patterns to use are Balanced Leeches, Hoppers, Ants, Beetles, Callibaetis Nymph and Parachute Callibaetis. — Flint Creek Outdoors, Philipsburg.
Glacier National Park — Lake McDonald is fishing very well for kokanee salmon, lake trout and cutthroat trout. Avalanche Lake is fishing well. Hidden Lake is fishing OK. The weather is supposed to start turning cooler, so fishing conditions could change. Royal Coachman, Parachute Adams, Prince Nymphs and Renegades will work on most lakes. The North Fork of the Flathead River is fishing well with Purple Haze, and orange Elk-Hair Caddis, Parachute Adams and Griffith's Gnat. A black and red Woolly Bugger is another good option. On the Middle Fork of the Flathead River, the October Caddis Nymph, Prince Nymph and a black and red Woolly Bugger, along with a Parachute Adams, will work. — Arends Fly Shop, Columbia Falls.
Hauser Reservoir — A few walleyes have been picked up recently while trolling crankbaits in Lake Helena and with floating jigs and leeches from the Causeway Bridge. Rainbow action continues to be great while trolling cowbells and Wedding Ring combos near Black Sandy and York Bridge. Shore anglers are having success for rainbows at the Causeway and below Canyon Ferry Dam. — FWP, Helena.
Holter Reservoir — Perch fishing has really turned on lately and anglers using small jigs tipped with crawlers around Log Gulch Bay and near Cottonwood Creek have been finding good numbers of perch. A few walleyes are being caught while jigging in the canyon and near other points and weed beds on the lower end of the reservoir. Rainbow fishing has been good while pulling silver or blue crankbaits or cowbells from Black Beach to Split Rock and in the Oxbow. Using plain crawlers from Departure Point and the Gates of the Mountains area is producing some trout as well. — FWP, Helena.
Kootenai River — Mahoganies are not showing yet with the inconsistent weather patterns. Parachute Adams are working. A beadhead Hare's Ear is fishing well. Many anglers are switching to streamer fishing. A black and red Woolly Bugger or a brown Woolly Bugger will entice trout. — Arends Fly Shop, Columbia Falls.
Lake Frances — Fishing is slow. Boaters must launch on the east end by the dam due to low water. — Roberts Bait & Tackle, Great Falls.
Lake Koocanusa — Kokanee salmon fishing is pretty much done for the year. The salmon still biting are under 9 inches. Rainbow fishing has been really good. The smaller fish are near the top. The bigger fish are hitting on dark colors with pink and red. — Koocanusa Resort and Marina, Libby.
Lake Mary Ronan — A really good bet for big perch and rainbows. The kokanee salmon are spawning. The perch and rainbows are feeding on kokanee spawn. Target 10 to 25 feet. Crawlers are a good bet, as are egg imitations. — Zimmer Bait and Tackle, Pablo.
Madison River, Lower — Hopper season has slowed down; be looking more toward smaller dries and using the Hopper as an indicator fly. Try running a Rusty Spinner or a BWO. For sub-surface, a small flashy beadhead nymph or a small tan turkey Crayfish are currently the best options. There is a minimal streamer bite starting, but weeds are beginning to be an issue. Also, play around with where you are putting your flies as we have seen them being caught in all types of water. — Montana Troutfitters, Bozeman.
Madison River, Upper — The streamer bite has been awesome in the mornings. After the morning streamer bite has subsided, full dropper rigs have been the best bet. For droppers, anything small and flashy will get the job done: Green Machines, $3 Dips, Purple Deaths, Goblins, Copper John, Prince Nymphs, Perdigons, Worms, Shop Vacs, black and brown Rubberlegs, and your favorite Caddis Pupa are all good bets. There has been a lot of big brown trout caught very early in the morning on big streamers. Streamer color has been variable lately, but typically black and olive are great colors on cloudier and rainy days and yellow and white are our favorites on sunny days.  — Montana Troutfitters, Bozeman.
Marias River — The river is low. A few anglers are floating it, but fishing is slow. — Roberts Bait & Tackle, Great Falls.
Martinsdale Reservoir — The reservoir is really low. Anglers are doing fair from the bank. — Mint Bar, Martinsdale.
Missouri River, below Holter — Anglers are presenting streamers and nymphs. There is a little bit of dry fly action. The flows were at 3,080 cfs on Monday and water temps were 59.5 degrees. Action should pick up as temperatures drop. — Montana Fly Goods, Helena.
Missouri River, below Morony Dam — At the big eddy below Morony Dam use salted minnows for catfish. — Roberts Bait & Tackle, Great Falls.
Missouri River, Fred Robinson Bridge — The river is pretty low and mossy. A few anglers are out, but overall fishing is slow. — Sport Center, Lewistown.
Rock Creek (East) — Flows are running at 105 cfs as of Monday with water temps in the low 60s during the morning. There has been a lot of small BWOs hatching in the cool mornings. In the evenings, PMDs have been a key fly. Small streamers have been great. Thin Mints and Grinches tossed into deep water or back eddies works. Nymphs: natural-looking patterns, like Flashback Pheasant Tails and Hare's Ears. Dries: Amy's Ant-purple, Crystal Stimulator-yellow (12), Dave's Callibaetis (14), Sparkle Dun (20), RS2 BWO (18), Purple Craze (14). Nymphs:  Tungsten Copper John Chartreuse (14), Tungsten Jig Hare's Ear (16), JuJu Midge (18), MT Prince X-Mas (14), Trina's BubbleBack Emerger BWO (18). Streamers: Thin Mints, Grinches, Slump Buster Rust (6), Thin Mint (10), Coffey's Sparkle Minnow-light olive (6). — East Rosebud Fly Shop, Red Lodge.
Rock Creek (West) — We are seeing October caddis, BWOs and mahoganies. Cloudy days really bring out the BWOs (18) and mahoganies (14-16). October caddis (10-12) is happening later in the afternoons. Make sure to have some of these if you want to be successful. Streamer fishing will start to pick up with fish being more aggressive as the water temps stay cool. Brown/yellow are our favorite streamer colors. — Grizzly Hackle Fly Shop, Missoula.
South Fork of the Flathead River — It is still fishing well, but the window of opportunity is from noon to 5 because it is the warmer part of the day. Fish Prince Nymphs, orange Elk-Hair Caddis and Purple Haze. When the weather cools, Purple Haze action will decrease. A black and red Woolly Bugger is producing. — Arends Fly Shop, Columbia Falls.
Spring Creek — Clear and fishing well. Try Panther Martins or Hoppers. — Sport Center, Lewistown.
Stillwater River — Flows were running at 350 cfs Monday, with water temps staying cool. Hopper fishing is almost nonexistent. Try downsizing to small Beetles or patterns such as Amy's Ants. The upper stretch, such as Moraine fishing access and old Nye, has been the place to be. Look to fish Purple Crazes (14)  throughout the day. The streamer bite has been great with Kory's Grinch being the ticket. Dries: Amy's Ant-purple, Purple Haze (14), Dave's Parachute BWO (16), Blonde Wulffs (16). Nymphs: Lucent PT-purple (16), BH Holo Batman (14), Bloom's Zirdle-purple (8), Half Back (8). Streamers: Coffey's Sparkle Minnow-smoke/purple (4), Dirty Hippie Cravens-rainbow (6), The Grinch (6), Thin Mint (8). — East Rosebud Fly Shop, Columbus.
Swan Lake — There have been good catches of lake trout. Action will be continually better as the fish move up on their spawning beds. — Zimmer Bait and Tackle, Pablo.
Tiber Reservoir — Fishing is slow for all species. — Roberts Bait & Tackle, Great Falls.
Tongue River Reservoir — There have been some perch, bass and a few walleyes caught. Water levels are receding and below winter averages. Power and water at the campsites will be turned on Oct. 4. Anglers can still launch boats, but exercise caution on the lake due to sandbars and rocks. — Tongue River Reservoir State Park.
Yellowstone River, Big Timber — Fish are taking small terrestrials with a dropper. We like a small purple Feth Hopper with a beadhead Pheasant Tail. Short nymph rigs with a Pat's Rubberlegs and a PT or Prince nymph have been pretty productive. — Sweetcast Angler, Big Timber.
Yellowstone River, Huntley — Fishing pretty well for catfish with cut bait and worms; and bass on jigs with minnows or crankbaits. We have not heard much on walleyes or sauger. — Huntley Bait and Tackle.
Yellowstone River, Livingston — Hopper season is coming to an end. Sub-surface will be your best bet with any variety of small soft hackle droppers, or you can go a little bigger with a Rubberlegs, Zirdle, Goblin or Mini Zonker. There have been sporadic and short baetis hatches. Be looking for the streamer bite to be on soon. — Montana Troutfitters, Bozeman.
Yellowstone River, Miles City — Water levels are still low. Anglers are doing well on smallmouth bass and sauger with jigs and minnows. — Red Rock Sporting Goods, Miles City.
Wyoming
Bighorn River, Thermopolis — The moss is thinning out and fishing is pretty good. The water is cooling down, so small dry flies like a Sparkle Dun or BWO would work. Griffith's Gnats also work well, and so do small, tiny Black Gnats. Firebead Sowbugs, Annelids, and Beadhead Pheasant Tails will work for nymphs. For streamers, start with black. A dark Bugger is a good choice. If dark colors don't work, switch to olive or white. — North Fork Anglers, Cody.
Boysen Reservoir — Walleye fishing has started to pick up some. The water temps are still around 65 degrees. There's been a few reports of crappie and perch being caught. The marina is still selling live bait and will be throughout the winter and will be open. — Boysen Marina.
Clarks Fork — Fishing fairly well. Try small stoneflies. Fish Halfbacks (12), dark Stones and Rubberlegs with a North Fork Special or Bloody Mary as a dropper. — North Fork Anglers, Cody.
Cody-area lakes — There hasn't been much fishing pressure as most anglers are fishing rivers as it's the best time of the year for it for dry flies. — North Fork Anglers, Cody.
Lake DeSmet — Anglers did well fishing for kokanee salmon. Use our homemade corn, or pink squids and pink shrimp. The trout bite is steady on worms. PowerBait is another good option for trout. — The Lake Stop, Buffalo.  
Lower Shoshone — The river is off color and there haven't been many people fishing here. — North Fork Anglers, Cody.
North Fork of the Shoshone — The river is low, but there are still fish being caught. Try a small Stone with a Bloody Mary dropper. San Juan Worms seem to work good this time of year. — North Fork Anglers, Cody.
South Fork of the Shoshone — Smaller nymphs and dry flies, like BWO and Parachute Adams, are working well. The river is really low, so most anglers are only fishing the pools. — North Fork Anglers, Cody.
Upper and Lower Sunshine Reservoirs — Both reservoirs are pretty low. — Wea Market, Meeteetse.
Yellowstone National Park — The Lamar, Soda Butte and Slough Creek are all fishing fine. As with most rivers this time of year, don't expect a lot of action in the morning. Your best window will be after noon. We've been seeing drake mackerals and baetis on all three of these bodies of water in the northeast corner. Have Drake Mac Sparkle Duns (12-14), Baetis Sparkle Duns (20-22) and Gulp Beetles (14-16) with you for dries. For droppers, have Zebra Midges (18-20), Radiation Baetis (16-18), and Perdigons (16-18) in black. The Madison in the park has picked up a bit and we're seeing a few more fish move up into the system. While the numbers are getting greater, you'll want to move around to get the best results. We have had some great fishing on the scuzzy days as you might expect but also on the sunny days as well. Totally opposite of many of the rivers in this area, you'll want to be on the water early as this has been when the runners have been the most active. Make sure to dress warm as the morning hours have been pretty cool lately. If swinging, have Shakey's, Blew on Blue's, Lucky Bucky's, Light Spruce and Soft Hackle Streamers. For nymphs, black Rubberlegs (8-10), Little Green Machines (18), Guide Dips (16-18), Shop Vacs (18) and Copper Zonkers (6). On cloudy days, don't forget to have a few baetis patterns with you. Baetis Sprout Emergers (18-20) and Baetis Sparkle Duns (20-22) will do the trick. The Firehole has been good and the water temps have stayed cool throughout most of the day. We have been seeing good hatches of both baetis and White Miller Caddis up on the Firehole and the soft hackle fishing has been consistently good over the past week. Have White Miller Razor Caddis (14-16), Baetis Sparkle Duns (20-22), and a few Zelon Midges (20-22) just in case. For soft hackles, have Micro Beeley's (16), Starling and Peacock (17), Hot Spot Soft Hackles (16) in mint, orange and bronze.  — Blue Ribbon Flies, West Yellowstone.