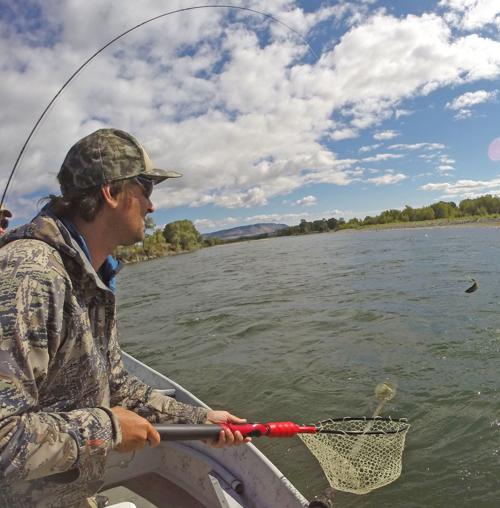 BILLINGS — Some anglers had a hard time getting out last week between the windy weather and storms, but if you were one of the lucky ones that wasn't blown off the water there were some opportunities to catch fish.
As is typical for early spring some rivers that were swelling last week are now much more fishable. Now is the time to enjoy the region's rivers and creeks before runoff.
Some of the rivers that look appealing this week are the Bitterroot, Blackfoot and Boulder. The Bighorn is always an option.
There were also opportunities for warmwater species last week as anglers had success for walleye and sauger on the Missouri River in the Fred Robinson Bridge area and also reeled in some sauger on the Yellowstone River toward the mouth of the Powder River.
Here's the weekly fishing report:
Top picks
Bitterroot River — The Bitterroot is dropping into great shape and the weather this week looks favorable. Skwalas are still out, but we are seeing more BWOs and March browns. Bring skwala patterns like Rogue Stones, Rastaman and Water Walkers, but don't forget your mayfly box. Size 16-18 P-Hazes, BWO Comparaduns, Adams for the BWOs and size 14 Para-Wulff, Parachute March browns and Brindlechutes for the March browns. Nymphing and streamers will work in the mornings, and switch to dry flies in the afternoons. Try 20 Inchers, Rubberlegs, Double Bead Stones, Perdigons, Jig PT and San Juan Worms under a bobber or under a Skwala. Fish streamers when the clouds are out; and keep them smaller like Mini-Dungeons, Cousin It, EP Minnows, Mason's Juniors and Zonkers. — Grizzly Hackle Fly Shop, Missoula.
Blackfoot River — The Blackfoot is coming into good shape and the subsurface fishing keeps getting better. This should be a good week to get out and fish. Stick to nymphs and streamers for now, although you could see some BWOs and March browns in the back eddies and foam lines. Try double nymph rigs with stonefly nymphs like Double Beads, Jig Princes, Rubberlegs and 20 Inchers. Throw a San Juan or Perdigon off the back. Dead drifting streamers like Zonkers, Squirdles, Zirdles and Sparkle Minnows could get you some big fish. — Grizzly Hackle Fly Shop, Missoula.
Boulder River — The lower river is fishing well. The flow bumped a little in the past week and the action has picked up. We've been catching fish on light nymph rigs using stonefly nymphs, San Juan Worms and small mayfly nymphs. In addition, the occasional fish will take a dry fly. Try a Midge Cluster or a BWO with a small Zebra Nymph. Keep an eye out for rainbow spawning beds and tread lightly around them so we have a strong population in the future. — Sweetcast Angler, Big Timber.
Missouri River, Fred Robinson Bridge — Anglers did really well on walleye and sauger the last two weekends. Some anglers are using minnows from shore, others are casting jigs, and some are vertical jigging or using crankbaits from a boat. Anglers could also try a crankbait from shore. The recent weather may muddy the river. As the water warms, catfish action should improve. — Sport Center, Lewistown.
Rock Creek (East) — The creek continues to be in excellent shape to fish. Cool temperatures this week will keep flows low and water color optimal. The best way to fish before runoff is with streamers. Standard Woolly Buggers in black, or olive as well as classic smaller streamer patterns like Thin Mints, Grinch and Sparkle Minnows will all draw brown trout. Oversized streamers will also fish well. Articulated streamer patterns include Galloup Dungeons, Silk Kitty's, Barely Legal and the Boogie Man. If using streamers, remember to fish shorter and much stronger leaders like 0X-1X. With Mother's Day just around the corner it's time to start fishing varied caddis nymphs. Those patterns include Beadhead Sparkle Pupa, Shop Vac or even a Hare's Ear. Most Caddis Nymphs can be fished in size 14. Additional nymphs to fish include stoneflies like a Pat's Rubberleg or North Fork Special in black or tan (8-12). San Juan Worms are also spring killers as water levels vary. Red or brown San Juans (8) can be a game changer. Fish standard beadheads like Prince Nymphs, Montana Prince in blue, red or chartreuse Copper John, Psycho Prince and Pheasant Tails (12-16). Dry fly fishing is just getting started. — East Rosebud Fly Shop, Red Lodge.
Montana
Ackley Lake — A big tiger muskie was caught last week. Try using smelt or dead suckers. Trout fishing is picking up. Try a half crawler and a marshmallow. Anglers are also catching a few trout using flies or lures as the fish are close to shore right now. — Sport Center, Lewistown.
Beaverhead River — The lower river cleared up and should be fishing OK, and on warmer days fishing will improve. Midges and baetis are your best bet. Try Sowbugs or San Juan Worms. — Frontier Anglers, Dillon.
Big Hole River — The river was high last week but should be coming back into shape. Try a San Juan Worm or Pat's Rubberlegs. — Frontier Anglers, Dillon.
Bighorn Lake, Ok-A-Beh — Some guys are beginning to target walleye jigging a Kit's jig with soft plastics. — Scheels, Billings.
Bighorn River — Recent unsettled weather has made for some inconsistent fishing. Expect the fish to get back on schedule as the weather stabilizes. Cotton Candy, Carpet Bugs, Black Quills, LBF and pink Sowbug patterns have been working. We're seeing an increasing amount of BWOs and some good midge fishing for the dry fly crowd in the afternoons.  There are plenty of big fish out there this season. — Bighorn Angler, Fort Smith. 
Canyon Ferry Reservoir — The ice is off the lake. Lake levels are low. The weather wasn't good for fishing this past weekend. Worms would work from shore for trout. From boats, for walleye and perch, try different jigs and change colors until you find one that works. — The Silos KOA Store.
Clark Canyon Reservoir — Fishing has slowed, but anglers are still able to get into trout. Try Chironomids or Leeches. — Frontier Anglers, Dillon.
Clark Fork River, Missoula — As of Monday, the river has been dropping the last few days and is fishable. Anglers are mainly throwing nymphs like Double Bead Stones, Lucent Stones, Rubberlegs, Jig Princes, San Juans and Perdigons. Fish the slower insides and drop offs. We should see some dry fly action this week with skwalas, BWOs and March browns (maybe even gray drakes).  If the water keeps dropping it'll be a good week. — Grizzly Hackle Fly Shop, Missoula.
Cooney Reservoir — There is some action on walleye, but overall the bite is fairly slow. — Scheels, Billings.
Deadman's Basin — Fishing has been slow. It might be a good time to try the Broadview Pond. — Cozy Corner Bar, Lavina.
Flathead Lake (North) — It is fishing OK for lake trout. Anglers are using cutbait and tube jigs. Fish off the delta at depths of 30 to 120 feet. Breakfast sausage will also work. — Snappy's, Kalispell.
Flathead Lake (South) — The perch bite hasn't started yet. Lake trout fishing is normal for this time of year. A sausage setup would work if fishing shallow, or try a whole fish setup, with a pivot depth of 50 feet. If going deep at a pivot depth of 275 feet use a heavier jig with a grub or Rattle-d-Zastor with a fly above it baited with a crawler, maggot, or a piece of cutbait. — Zimmer Bait and Tackle, Pablo.
Flathead River — The river is starting to come up and had a green tint to it as of Monday. Woolly Buggers, Panther Martins and Rooster Tails will work. In the sloughs try Husky Jerks for pike. Firetiger is a good pattern. — Snappy's, Kalispell.
Flathead River sloughs — Fennon Slough on the Flathead River has a decent perch and crappie population. At 25 to 35 feet anglers can catch perch, crappie or the occasional bull trout. There are pike and bass closer to the shoreline. — Zimmer Bait and Tackle, Pablo.
Fort Peck Reservoir, Big Dry Arm — Fishing pressure has been light with the windy, cold weather. When the weather stabilizes try trolling a Flicker Shad or Rapala in chartreuse or crayfish patterns. Water levels are down. The marina has its fuel and boat docks in and gas is available. The marina isn't fully open yet, but will be by May 1. New this year, both a fishing and recreation pontoon boat will be available to rent. — Rock Creek Marina.
Fort Peck Reservoir, dam area — Fishing was a little slow over the weekend with the change in weather. A few anglers are catching lake trout at a depth of 15 to 25 feet pulling crankbaits. Pike are also being caught using the same presentation. Pre-spawn walleyes are starting to take a jig and a minnow. A jig and a plastic is another good method for walleyes. Shore anglers are doing well on pike with minnows and smelt, with the occasional walleye being caught. — Lakeridge Lodging & Bait Shop.
Fort Peck Reservoir, Fourchette Bay — Fishing is slow. As the weather warms, fishing should improve. — Sport Center, Lewistown.
Fort Peck Reservoir, Hell Creek — Not too many anglers have been out. Some lake trout have been caught by boat anglers floating crankbaits. Shore anglers are having success for northerns presenting smelt. The Tough Guy Tournament is Saturday, April 17. — Hell Creek Marina.
Fresno Reservoir — The reservoir is still fairly low. Combined with the cold weather, fishing pressure has been light. — Bing N Bob's Sport Shop, Havre.
Gallatin River — The river has been shedding ice nicely in the upper sections. The area upstream of Big Sky intersection, for a few miles, is still frozen. Taylor Fork isn't puking mud at the moment. The water temps are still chilly above Big Sky. From the top of the canyon down the river is wide open and fishing well. Midges are still the only hatch going for now until water temps rise. Action on stonefly nymphs is getting better. Slow and deep is still where the fish are holding. In the coming weeks the rainbows are going to start feeling the need to spawn before runoff begins. Rainbows will start to increase their feeding just before migrating to spawning beds. — Montana Troutfitters, Bozeman.
Hauser Reservoir — Fishing from shore with PowerBait or crawlers has been fair for trout. — Sportsman's Warehouse, Missoula.
Holter Reservoir — Fishing for trout can be good in the spring with PowerBait, crawlers, marshmallows and spawn sacks. Fly fishers should try Woolly Buggers, Mohair Leeches, egg patterns and Scuds. — Sportsman's Warehouse, Missoula.
Kootenai River — Hatches are midges, BWOs, March browns, early caddis and little stoneflies. Patterns to use include Zebra Midge, Parachute Adams, Purple Haze, Bugmeister, olive Sparkle Dun, purple Chubby, BH Prince, soft SJ Worm, BH Pheasant Tail, BH Rubber-legged stonefly, big streamers in white, pink and olive, Circus Peanut, black Conehead Buggers. — Linehan Outfitting, Troy.
Lake Mary Ronan — The lake is ice free. Usually after the ice comes off fishing improves in 2-2.5 weeks for kokanee and rainbows. As it warms up, perch fishing will improve. — Zimmer Bait and Tackle, Pablo.
Madison River, Lower — This is the place for an early season float, although we have yet to hear of any shuttle services. The ramps are in great shape. With all the sun that is predicted, a flashy nymph will be highly visible. Most fish are hanging out in the slower, deeper water. As water temps rise the fish are starting to transition into slightly faster water. We have been fishing Scuds, soft hackles, Crayfish, Worms, Midges, Eggs and Sowbugs. If you find yourself on a calm, cloudy day look for fish rising to midges in the softer water and behind rocks. Keep an eye out for BWOs, as they are sure to be popping soon. The streamer bite has been day-to-day with smaller sculpin and baitfish patterns getting some hits. We've been having luck on more natural patterns like light olive and tan.— Montana Troutfitters, Bozeman.
Madison River, Upper — Most shelf ice will be in the Ennis area. Small and flashy is the name of the game if you decide to nymph: Green Machines, $3 Dips, Purple Deaths, Wire Worms, Shop Vacs, black and brown Rubberlegs and Zebra Midges are all good bets. It's crucial that your bugs are getting down fast. If not ticking bottom every cast, add some weight. Dry fly fishing has been pretty slow with the constant wind. Streamer fishing has been hit-or-miss the last week or two, but when it's on, action has been pretty good. Streamer color has been variable lately, but typically black, olive and white are our favorites. In between the lakes will have some deep snow in spots, but you can get in easily below the dam. If you want to fish lower toward Quake, you will need snowshoes or skis. — Montana Troutfitters, Bozeman.
Marias River — In the Loma area anglers are catching a few northerns, drum and the occasional walleye. Present minnows. — Roberts Bait & Tackle, Great Falls.
Martinsdale Reservoir — Some anglers are doing well, but for some it has been too windy. Boat anglers could try cowbells and a worm. — Mint Bar, Martinsdale.
Missouri River, below Holter — Baetis are starting. Nymphs in pink have been productive. Streamers are still picking up fish. Try a San Juan Worm. The flows were 3,580 cfs on Monday and the water temps were 42 degrees. — Montana Fly Goods, Helena.
Nelson Reservoir — All the wind kept anglers off the water. Anglers could try presenting jigs and a minnow or plastics for walleye. — D&G Sports & Western, Glasgow.
Noxon Rapids Reservoir — Some walleyes are being caught by the Thompson Falls bridge. — Lakeside Motel and Resort.
Rock Creek (West) — Nymphing is the way to go, but that could change as the water clears and we see more BWOs and March browns. Try double nymph rigs with Double Bead Stones, 20 Inchers, Jig Princes, Jig PT, Rubberlegs and San Juans fished in the slower inside bends and close to the banks where the water slows. Small streamers like JJ Specials, Polar Minnows, Sparkle Minnows and Cousin It will work.— Grizzly Hackle Fly Shop, Missoula.
Spring Creek — The creek is clear and should be fishing well. Fly anglers can try a streamer or a nymph. Panther Martin lures will also work. — Sport Center, Lewistown.
Stillwater River — The river is in excellent shape before runoff. April can be a good month to "pop" the rainbow trout of your year as there are definitely trout moving up from the Yellowstone to spawn. The best way to fish continues to be either using nymphs or streamers. Dry fly fishing is slowly coming on, but action-wise the game is still sub-surface. Nymph fishing can be achieved by either fishing your standard array of stoneflies, beadheads or a San Juan Worm. Caddis nymphs will be the ticket all the way up until runoff. Sparkle Pupas in tan or olive, Taylor's Gut Instinct Caddis or a Shop Vac (14), as well as a March Brown Soft Hackle in similar sizing will help you match the hatch under a bobber. Stonefly nymphs always fish on the Stillwater. Girdle Bugs, Rubberlegs and Humphrey Stones (8) garner a lot of attention from feeding trout. Zebra Midges in black or red (16-18) fish as an excellent dropper. Beadhead Bling like Copper John, Lightning Bugs and all of the varied bright Prince patterns work as trout get their seasonal game on. Standards like a Hare's Ear, Pheasant Tail or Red Fox Squirrel Nymph (10-14) are good when the going gets tough. Streamer fishing is fished either by dead drifting, swinging or stripping. Miscellaneous Conehead Buggers, Grinches, Slump Busters in black or olive, Home Invaders in white or tan, as well all of the Galloup patterns could get you into a nicer class of trout. Any area of depth or structure is where you want to present your streamer. On a rare calm and no wind day, try dry flies like a March Brown (14), Griffith's Gnat (16-18) or BWO (16). Caddis should be right around the corner. Attractors like a Royal Wulff, Purple Haze or Parachute Adams (12-14) will also bring up that early season trout. — East Rosebud Fly Shop, Columbus.
Tongue River Reservoir — Crappie are in 30 feet of water, and walleye and pike are in the bay areas in the shallows. Anglers are getting into all three species and fishing should pick up in the next few weeks. Minnows or worms are the best bait. A couple smallmouth have been caught, but the bite isn't hot and heavy. — Tongue River Marina.
Yellowstone River, Columbus — It's the time of year for varying water conditions. The Stone is still very fishable with your favorite nymphs and streamers and could start to see fish looking up any day. Get out and enjoy it before it blows. Fishing softer/slower seams with bigger Prince Nymphs and Stonefly Nymphs (8-12) with your favorite dropper (12-16) such as Pheasant Tails, Copper John, Caddis Pupa, and Worms should get you into fish. Don't forget your dry fly box as we have been seeing some BWO and March browns recently. Parachute Adams (12-16), BWO (16-18), and Caddis (14-16). With the water temperatures rising, the fish are getting more active on streamers. Bigger articulated patterns like Bond's Dragon, Galloup's Dungeons, and Boogieman, as well as smaller Woolly Buggers can trigger a big brown. — East Rosebud Fly Shop, Columbus.
Yellowstone River, Huntley — Catfish are starting to hit on minnows, cut bait or crawlers. Smallmouth bass are still hitting. The river is still low so boaters should be careful. No reports on walleyes or sauger. — Huntley Bait and Tackle.
Yellowstone River, Livingston — The river has been hit-or-miss. Nymphing has been the best bet, and streamers have been working on the right days. Even with lower flows a long leader is usually needed to reach fish at the bottom. If you plan on nymphing, keep it simple with Rubberlegs, Worms, Pheasant Tails, Eggs and your favorite midge. We find that water selection is more important than bug selection this time of year. The majority of the fish are still feeding in those slow, deep runs and tail outs. The water has been green on most days so don't forget to fish your bugs that have a little flash in them. Black, olive and white streamers have been working the best. Switch up your sizes until you find what is working. With warmer days ahead BWOs should be showing up. The best fishing for these little dries is in the back eddies and soft edges of seams. — Montana Troutfitters, Bozeman.
Yellowstone River, Miles City — Fishing for sauger on the Yellowstone toward the mouth of the Powder River has been decent. Try using crankbaits. With stormy weather the water may get dirty. — Red Rock Sporting Goods, Miles City.
Wyoming
Bighorn River, Thermopolis — Quite a few anglers are out catching some trout. Woolly Buggers trailed by a San Juan Worm, Midge or Scud will work. — White Horse Country Store & Canyon Sporting Goods, Thermopolis.
Boysen Reservoir — Fishing has been kind of slow for walleye, but anglers are catching plenty of trout. Minnows, worms or lures are all working. The reservoir is open. Anglers on the Wind River are fly fishing and doing well on trout. The river is low. — Boysen Marina.
Buffalo Bill Reservoir — The ice is gone. The water is still a little bit cold. With warmer weather fishing should improve. With cooler water, slow your presentation down. Live bait would be a good choice. If using Rapalas and plugs with movement, don't reel too fast. The dirtier the water, use a darker presentation, or the more flash you want in your lure. — Rocky Mountain Discount Sports, Cody.
Clarks Fork — With the cold weather flows are dropping and it is clearing. Fishing is OK. Use stonefly patterns and drop off a smaller beadhead nymph, like a Prince or a Bloody Mary. Fish an indicator and go deep. The flow was 383 cfs on Monday. — North Fork Anglers, Cody.
Cody-area lakes — The ice is off the lakes, but the water is really cold. Anglers are catching a few fish, but not a lot. Throw Woolly Buggers. — North Fork Anglers, Cody.
Lower Shoshone — The flows were increased and are at 1,027 cfs as of Monday. The water color is OK but the fish are adjusting to the new flow levels. — North Fork Anglers, Cody.
North Fork of the Shoshone — In the open section the fish are scattered. Throw a stonefly and a smaller dropper and fish the deeper runs. — North Fork Anglers, Cody.
South Fork of the Shoshone — The flows were 164 cfs on Monday and it is fishing really well. Try throwing streamers, Woolly Buggers or a tandem nymph rig with an indicator in the deeper runs. — North Fork Anglers, Cody.
Upper and Lower Sunshine Reservoirs — Fishing has been excellent. Some ice remains, but there is plenty of room to fish from shore on both reservoirs. — Wea Market, Meeteetse.