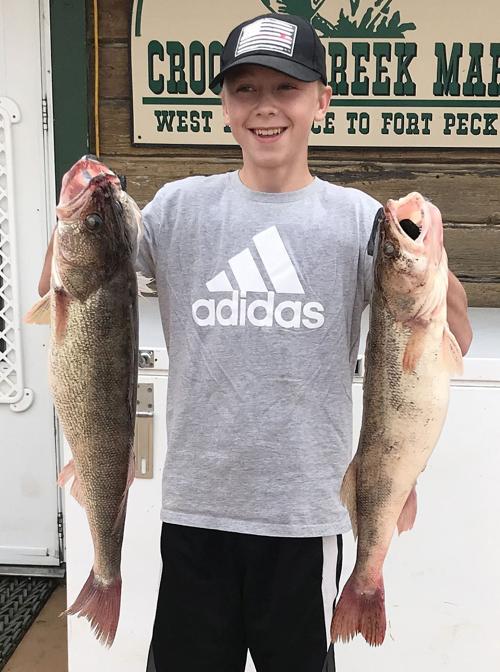 Cooler weather on Monday slowed angler activity across Big Sky country this week. With fall around the corner, get your hopper fishing in while the conditions are still good.
The Beaverhead has been all about terrestrials lately. With the hoot owl restrictions lifted, this river is definitely a go-to.
The Clark Fork trout fishing has been great using Hoppers and streamers in the early morning.
The wind slowed angler activity a bit at Crooked Creek on Fort Peck Reservoir but many anglers were still catching a variety of species by bottom bouncing and pulling crankbaits.
The Helena Valley Regulating Reservoir is open for kokanee snagging as of Sept. 1. Limited restrictions apply.
Top picks
Beaverhead River — We have hoppers, flying ants and craneflies around. You will find tricos up near the dam right now, and the best terrestrial fishing on the lower sections around Pipe Organ Bridge. Flows are dropping out of the reservoir as irrigation season is winding down. All hoot owl closures on local rivers have been lifted. Get your Hopper fishing in before the summer days wind down. — Sunrise Fly Shop.
Clark Fork River, Missoula — These waters are fishing well, probably our most consistent hopper fishing. A few tricos are out as well, and we should see more of that in the next week or so. Hoppers in tan, pink, purple and even yellow have been producing. Twitching them will get some violent strikes. Nocturnal stones are still hatching as well, so a Luna Negra, Black Chubby or Pete's CDC Stone are a good bet too. Don't forget to hang a dropper off the back of your Hopper or Stone about 3-4 feet down. Rubberlegs, 20 Inchers, Jig Nymphs, San Juans and PTs are good choices. Streamers early in the morning are getting chased. White/gold or olive/gold are great color combos. — Grizzly Hackle Fly Shop, Missoula.
Clark Fork River, St. Regis — The trout fishing has been great. Hoppers, Parachute Adams, and Purple Hazes have been working well. — Joe Cantrell Outfitting, St. Regis.
Fort Peck Reservoir, Crooked Creek — When the wind isn't blowing the fishing is phenomenal. Overall the fishing has been good. Walleye, northerns, crappie, sauger and smallmouth have been consistent. A lot of anglers are pulling crankbaits and bottom bouncers with a crawler in 15-25 feet of water. — Crooked Creek Marina.
Helena Valley Regulating Reservoir — The snagging season for kokanee salmon opened Sept. 1 and will run through Oct. 31. Limits are 35 salmon daily with 70 in possession. — FWP, Helena.
Montana
Ackley Lake — No reports of any fishing lately. The cold weather slowed angler activity. — Sport Center, Lewistown.
Big Hole River — Tricos are hatching in the morning and then flying ants in the afternoon along with the hopper fishing. The Ant fishing has been great recently. The cooler water temps have the fish active the entire day. Useful patterns have been: Thunder Thigh Hopper (12), Morrish Hopper (10), Little Kim Copper (4), Pat's Stone (10), and Flash Minnow (6). — Sunrise Fly Shop.
Bighorn Lake, Ok-A-Beh — The cooler weather slowed angler activity. Cranks and jigs were catching sauger and walleye. Tube baits and Twister Tails were used for smallmouth bass. Catfishers were on the hunt using very large minnows. — Scheels, Billings.
Bighorn River — Nymphing and streamer fishing with the recent cool down has been very productive. Sowbugs (Carpet Bugs, Ray Charles), Pheasant Tails, Caddis Pupa and Scuds are working well. The caddis have slowed down quite a bit with the weather shift, but there will be more Psuedos showing up. There are a few tricos, but not enough to get the fish looking up. Lots of big fish are still being caught and it continues to be very consistent. — Bighorn Angler, Fort Smith.
Bitterroot River­­ — We aren't seeing tricos like we should, but in spots there are some over the riffles. Hopper fishing has been good and so has the dropper fishing. We should start to see trico's and even some Hecuba's out in the next week. Hopper fishing will be king for now with pink, tan and even purple in sizes 10-14 being all you need. Don't be afraid to twitch your Hoppers to induce strikes. Tricos will be happening from 10 a.m. on, depending on how hot night temps are. Tucker's Twiggy's (18-22), Organza Spinners, Drowned Spinners on the back of a P-Haze (18-20) is a good option and 5x-6x tippet. If you see one Hecuba start fishing a Brindle Chute (10-12), Lazer Point Drake or Hecuba Cripple. — Grizzly Hackle Fly Shop, Missoula.
Blackfoot River — Hopper/dropper setups are still king in these waters. There are still a few tricos, they haven't gone off just yet. Hoppers in pink or tan with a San Juan, Prince, PT or Spanish Bullet has been the go-to rig. Fishing streamers in the early morning will get you into some big fish this time of year. Smaller streamers like Zonkers, Mason's Juniors, Sparkle Minnows and Complex Buggers twitched are good choices. — Grizzly Hackle Fly Shop, Missoula.
Boulder River — The water levels have dropped significantly. It is a great time to throw a dropper rig. A Chubby or Stimulator with an attractor mayfly nymph is a good bet. I wouldn't shy away from trying a small terrestrial up high. Good reports have coming in with the use of pink Hoppers and purple Water Walkers. Hoppers are out and about and are certainly worth a shot.— Montana Troutfitters, Bozeman.
Canyon Ferry Reservoir — The walleye action is still good while using bottom bouncers or jigs in 20 to 30 feet of water with green, chartreuse, yellow or pink being the colors of choice. On the west shore try from Hole-in-the-wall to White Earth, and on the east shore try from Snaggy Bay to Pond One. Some perch are being caught while fishing for walleyes. Some walleye, perch and trout are being caught from shore on worms at Confederate and the north point of the Silos. Rainbow fishing is improving with a few being caught while trolling crankbaits, spoons or cowbells 20 feet deep on the north end and from White Earth north along the west shoreline. Rainbows are also being caught from shore at Yacht Basin, Pond Four and Snaggy Bay on worms or PowerBait. — FWP, Helena.
Clark Fork River, Deer Lodge — Anglers fishing with Caddis and terrestrials has been effective recently. Good nymphs to use are Ray Charles (16), Sowbugs, Superflash Pheasant Tails (14-18), red or chartreuse Copper Johns (14), SJ Worms (14-16), Olive Scuds, Spanish Bullets (16). Streamers to use are Lemon Drop, Sculpzilla and Miller's Brew Time. Dries to use are Missing Link Caddis (16-18), Purple Haze (16-18), Rocky Mountain Mint (16-18) and Black Magic (10-12). — The StoneFly Fly Shop, Butte.
Flathead Lake — The whitefish bite has slowed. A few reports coming in from North and West shores. Somers Bay has been hot for smallmouth bass. Reports of lake trout being caught around the deep shelf edges. — Snappys Sport Senter, Kalispell.
Flathead River — Hopper patterns and a Purple Haze are getting the job done. Panther Martins or Mepps are producing for spinner rods. — Snappys Sport Senter, Kalispell.
Fort Peck Reservoir, Big Dry Arm — Action slowed down a lot due to the colder weather. No new reports recently. — Rock Creek Marina.
Fort Peck Reservoir, dam area — The fishing has slowed down. Some salmon were caught on Saturday using downriggers, flies, and spoons. Lake trout are being caught at 115-135 feet of water. Walleye, pike and bass are being caught in 15-40 feet of water. Walleye were mainly caught using crankbaits and crawlers. Smallmouth were caught with slip bobbers and minnows. The pike were mainly caught using cranks. — Lakeridge Lodging & Bait Shop.
Gallatin River — It is certainly dry-dropper season. Chubbies, Ants and Hoppers are great dries for this rig as they can hold up a fairly heavy nymph. For a dropper, fish are eating attractor mayflies, caddis, stones and soft hackles. Fishing a smaller Chubby with a Spruce Moth dry has produced some fantastic action. If you're not getting fish on the dead drift try twitching and skating those dries. Streamer fishing should pick up with colder temps in the forecast. Stick to smaller streamers in olive, white and black. — Montana Troutfitters, Bozeman.
Georgetown Lake — Best techinques: Stripping leech patterns, Callibaetis nymphs, Damselfly nymphs, Scuds, dead drifting Chironomids and Sowbugs. Try an Adams or Callibaetis pattern in a size 14. Anywhere you can put a fly will work. Sight fish in 1-3 feet of water. The best time to fish is early morning or late evening. — Flint Creek Outdoors, Phillipsburg.
Hauser Reservoir — A few rainbows are being picked up around White Sandy and Black Sandy while out trolling cowbells with Wedding Rings above suspended fish. Shore anglers are picking up a few rainbows around Black Sandy as well with plain crawlers and marshmallows. Very few walleye were seen over the weekend. — FWP, Helena.
Hebgen Lake — There is still some solid Callibaetis activity happening. Anglers should look for the warmest, calmest days in the forecast. On the Madison Arm you'll see tricos in the morning hours, and keep an eye out for ants also. Callibaetis Sparkle Duns (16), CDC Para-Spinners (16-18), Deer Hair Spinners (16-18), and Film Critics (16) as well as Trico Sparkle Duns (20) and CDC Para-Spinners will all be great choices. For ants make sure to have a CDC Flying Ant (16) or Shimazaki Ant (16). — Blue Ribbon Flies, West Yellowstone.
Holter Reservoir — The perch action is still pretty good. Anglers are doing well in the canyon around Mann Gulch and near Cottonwood Creek. Pitching jigs around weed beds in 12-20 feet of water is producing. Small green and black jigs tipped with crawlers are working well. Anglers trolling crankbaits from Black Beach to Split Rock are picking up rainbow trout. Firetiger-colored crankbaits are working well. Walleye fishing was slow. — FWP, Helena.
Kootenai River — Dry fly action is great throughout the entire day. Caddis and PMDs continue to pop. Fish will eat a Parachute Adams (14) or an Elk Hair Caddis. Look for fish in water 2-6 feet deep and especially in boulder gardens and deep riffles. Patterns: Parachute Adams, purple Chubby, red Chubby, hopper patterns, terrestrial patterns, Parachute PMDs, Rusty Spinner, Spent Caddis, Elk Hair Caddis, Caddis Pupae, and Prince Nymph. — Linehan Outfitting Company, Troy.
Lake Koocanusa — The kokanee fishing is fair and improving with the cooler weather. — Koocanusa Resort and Marina, Libby.
Madison River, Lower — Going from 90-degree days to overnight lows dipping into the 20s will most likely stun the fish for a while. Crayfish, Worms, soft hackles, Caddis Pupa, and attractor mayfly patterns are go-tos when nymphing the lower. — Montana Troutfitters, Bozeman.
Madison River, Upper — The upper has been fishing well these last couple days with nymphs, dries, and streamers. The bulk of the hatches are done and over until next year. If we are lucky, we will start to see BWOs hatching into the end of next week. Small and flashy is the name of the game if you decide to nymph. $3 Dips, Purple Deaths, and Zebra Midges are all good bets. A dry-dropper rig has been a great method lately. Hoppers, stones, ants and caddis are all out, depending on what stretch of the river you are on, but this could change quickly with colder weather. Streamer fishing should improve with colder water temps and rain. — Montana Troutfitters, Bozeman.
Martinsdale Reservoir — The fishing was slow this week due to the cooler weather. A lot of water is being dumped due to irrigation, this may also have some negative effect on fishing. — John Scally, Martinsdale.
Rock Creek (East) — Keep throwing Hoppers as long as you see them. Fish the classics like a Joe's, Dave's or Parachute Hopper, or fish the new patterns like Pink Pookies, Chubby Chernobyls, More or Less Hoppers or the Donkey Kong Hopper. Most hopper patterns can be fished in sizes 8-12. Additional dries to fish include Caddis (14), Stimulators (12-16) in yellow or orange, or Fall Baetis (18). Attractor dry flies like a Parachute Adams, Purple Haze or a Royal Wulff in sizes 12-16 will always be effective. Stonefly nymphs like Rubberlegs, Red Fox Squirrel Nymphs, Girdle Bugs or North Fork Specials in black all fish effectively. Most Stonefly nymphs can be fished in sizes 8-16. Standard nymph classics like a Hare's Ear, Pheasant Tail or Prince Nymph still catch plenty of fish. More contemporary patterns like the Perdigon Nymph is popular for a reason and that's because Euro nymphs catch a lot of trout. Copper Johns, Psycho Princes and the infamous Batman Nymph, all in similar sizing, round out our nymph suggestions. — East Rosebud Fly Shop, Billings.
­Rock Creek (West) — Terrestrials have been the go-to, especially on the upper creek. Small Hoppers, Ants and Beetles have been getting some fish. Attractor dries like P-Hazes, Stimulators, Royal Wulffs and Para-Wulffs are great too. Streamer fishing early in the morning with JJ Specials, Sparkle Minnows or Complex Buggers jigged in the deeper water will get the bigger fish to commit. — Grizzly Hackle Fly Shop, Missoula.
Spring Creek — Overall, the fishing has been really good. Rainbow and brown trout have hitting on Hoppers and nymphs. — Sport Center, Lewistown.
Stillwater River — This time of year, there's no hurry to get out on the water. It's best to let things warm up a bit. Hopper fishing will still continue to be good most afternoons. Big dries like PMXs, Stimulators, Jack Cabe, smaller size Chubbys (10-14) and hopper patterns like Fat Franks in peach, purple, gold, olive and tan have been working well. Other patterns like a smaller Otter Hopper or Parachute Hopper are good choices, too. Dropper nymphs have been successful with smaller size Prince Nymphs, Pheasant Tails, red Copper Johns, and Lil' Spankers picking up fish. Straight nymphing with a double nymph setup of a bigger rubberleg like a Girdle Bug or Pat's Rubberleg along with a smaller beadhead nymph like a Prince or Batman has been productive. Later in the afternoon look for caddis. A smaller size stimulator or Jack Cabe should get some action. Another good combination has been to fish a double dry setup with a Purple Haze as a lead spotter fly trailed by a Jack Cabe (14) or Stimulator. Searching likely water with a smaller dry fly like a Purple Haze, Royal Wulff or Parachute Adams will likely produce. — Stillwater Anglers, Columbus.
Yellowstone River, Columbus — The Hopper bite should continue to be good to excellent most days in the afternoon. Try nymphing in the morning before the hoppers get going around lunch time. Hopper patterns like a Fat Frank, Yellowstoner Hopper, Water Walker or Chubby (6-10) in peach, olive, purple, pink, red or tan have been working well. Try fishing a double Hopper setup with a larger top pattern and a smaller trailing Hopper pattern like an Otter Hopper, Parachute Hopper, Micro Chubby, or Fat Frank. Space them well apart to cover different lines of current on the water. During the afternoon, fishing a double dry fly setup of a Jack Cabe and a Purple Haze is a good option as well. Nymphing early with a bigger lead fly like a Girdle Bug, rubberleg Prince Nymph, or Batman with an Optic Nerve or Hare's Ear as a trailer should produce. Also try dead drifting Buggers. Now's the time to start think about streamer fishing, and The Grinch and Electric Goldfish are always good choices. There may be some tricos on the water in the morning, so look for risers in the slicks and foam back eddies. A small Parachute Adams or Purple Haze might do the trick. Sometimes there are pods of small whitefish rising. — Stillwater Anglers, Columbus.
Yellowstone River, Huntley — Cat fishing has slowed down a bit. The sauger fishing has been excellent using minnows, crankbaits, and big spoons. The bass fishing continues to produce well using minnows and crawlers. — Huntley Bait and Tackle.
Yellowstone River, Livingston — Hoppers, Stoneflies, Caddis, Ants, Beetles, Tricos and attractor dries are all on the menu, depending on which section you are in. We have had some good reports from anglers getting fish on streamers as well, especially early in the mornings. Try stripping small and flashy streamers through the faster water. Streamer fishing will improve significantly when water temperatures start dropping. The evening dry fly bite has been great and will have lots of fish looking up. Shorter nymph rigs with some split shot have also been productive. Dead drifting a Sculpin or Baitfish under a bobber has resulted in some big fish hitting the net. — Montana Troutfitters, Bozeman.
Wyoming
Bighorn River, Thermopolis — Nymph and streamer fishing is the name of the game with some dry action later in the day on caddis, midge pupae and dropper patterns. Anglers are having a lot of success on float trips at Wedding of the Waters to Thermopolis. Nymphs: Zebra Midges, San Juan Worms, and Yum Yum Scuds. Streamers: Leeches, Woolly Buggers, and Cone Head Zonkers, Double Bunnies and Muddler Minnows. Hatches are tricos, caddis and midges. Dries: Griffith's Gnats, Rojo Midge, Parachute Adams, Hemingway Caddis, Elk Hair Caddis, Dave's Hopper, Wade's Yellow Ho Candy, and Wade's Natural Horror. — North Fork Anglers, Cody.
Clarks Fork — Hoppers are everywhere. The fishing is slow to fair. Tie on a Hopper and pound up some trout or whitefish. Tricos and caddis are also flying around. Evening fishing is better than midday. The water is flowing at 237 cfs. — North Fork Anglers, Cody.
East and West Newton Lakes — The East is fishing fair except early morning or late in the evening. The West Lake is much more full compared to past years. Cutthroat are the only species of trout in the lake. Callibaetis, midges, caddis and damselflies are active on both lakes. Ants, beetles, and hoppers are the terrestrial insects on the lake. — North Fork Anglers, Cody.
Lower Shoshone — The water quality as well as the fishing is very good to Willwood Dam. Caddis, and PMDs are hatching. PMD Sparkles, Compara Duns, Rusty Spinners, Elk Hair Caddis, Royal Trudes and Hoppers are working. Ants and beetles are also on the river. Wet flies: Purple and Peacock Prince, San Juan Worms, Pat's Rubberlegs, black Girdle Bugs and black or tan North Fork Specials. Streamers: Orange Blossom, black, brown or dark olive Zonkers, darker colored Sculpinators, JJ Special Conehead, Black Peanut Envy, dark Sex Dungeons, black or brown Crystal Buggers and other dark streamers that have a lot of hackle or movement. — North Fork Anglers, Cody.
North Fork of the Shoshone — The water flows are at 347 cfs and are almost too low to successfully float. Hatches: caddis and very small tricos. Wet flies: tan or black North Fork Specials (10-14), especially the black bodied red or purple tungsten bead versions, Fat Bastard, Epoxy Stone, Double Beaded Stones, Pat's Rubberlegs, Girdle Bugs, bead head or regular Prince, Copper Johns, Hare's Ear or Peacock Soft Hackles. Dries: Tan, purple or gold Chubby Chucks (6-12), Wade's Ho Candy yellow or purple (8-12), Gray Drake and or Royal Wulffs (10-16), Parachute olive or gray (14), Natural Horrors (8-12), Panty Dropper Hoppers (10), Dave's Hoppers (4-12), yellow Stimulators (8-16), yellow or red Humpys (10-16), Royal Trudes (8-14), yellow Sallies (16), Elk Hair Caddis (12-18). — North Fork Anglers, Cody.
Upper and Lower Sunshine Reservoirs — Leech patterns are very effective. Beadhead nymphs stripped or slow trolled behind a kickboat or float tube also work well. Scuds are effective fishing the bottom near the shoreline. Damselflies are out on upper now. Trout are also taking Callibaetis, Parachutes Adams, Hoppers, Ants, Beetles and Elk Hair Caddis. Fish Damsel Nymphs, soft-hackled Bloody Marys and Midge Pupae for best results on the upper. Some imitations that do well for dry fly anglers are: Ho Candy yellow, Joe's Hopper, Chubby Chuck gold, Parachute Adams, Foam Beetles, Magic Beetle, and red or black Ants. On the lower, larger streamers are effective on splake and tiger trout in the lake. In shallower water, Leeches, Scuds, beadhead nymphs, Zebra Midges, Bow-Tie Midges and Wire Worms work well, as do Hoppers and larger ant or beetle patterns. — North Fork Anglers, Cody.
Yellowstone National Park (Slough, Lamar, Soda Butte) — These waters continue to fish well with Drake Mackerel and Baetis emergences along with the usual terrestrial activity. If you're heading this way be sure to have Drake Mackerel Cripples (12) and Sparkle Duns (12), Baetis Sparkle Duns (22) and cream Almost There Baetis (20), pink or yellow Thunder Thighs (10) and Morrish Hoppers, Longhorn Beetles (10), cinnamon Arrick's Para-Ants (14) and Ant-Acids (14), and Gulp Beetles (12-14). — Blue Ribbon Flies, West Yellowstone.