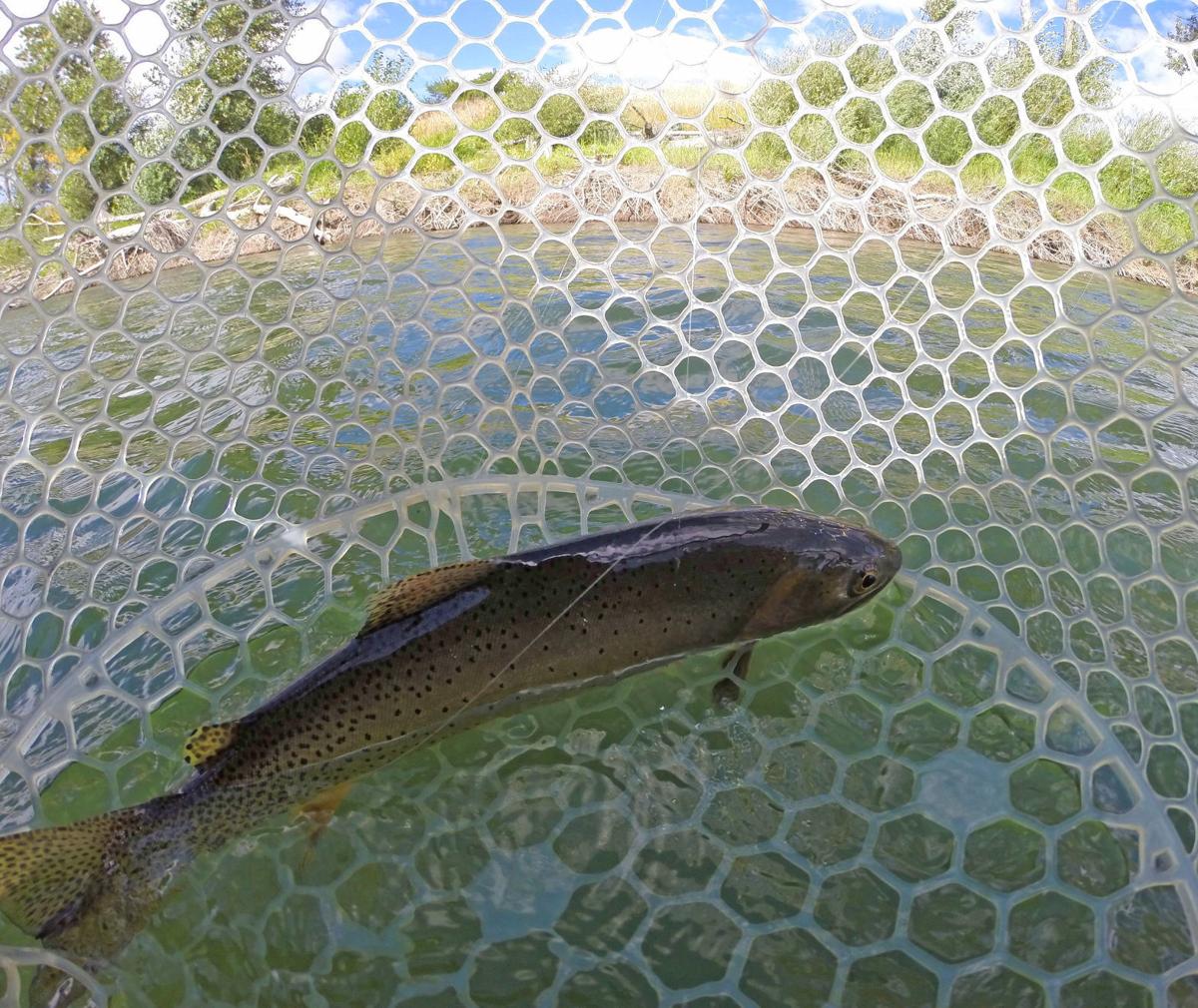 BILLINGS — While wet snow and storms visited some areas recently, anglers were still able to experience success for a variety of fish ranging from sauger, ling, catfish and smallmouth bass on the lower Yellowstone River to lake trout and some perch on Flathead Lake.
Although it has been windy and chilly on some days, there have been reports of some dry fly fishing opportunities on the Stillwater River and anglers on the lower Madison are already looking for caddis.
Here's the weekly report:
Top picks
Boulder River — The river is fishing well below the Natural Bridge as some of the Yellowstone rainbows have moved up the river. Fish a light nymph outfit with a Golden Stone Nymph or a Red Worm with a small beatis nymph (like a Pheasant Tail).  As always, stay off the spawning beds as you wade. The upper river in the national forest has been a little more stingy with late winter conditions.   Try a Pat's Rubberlegs with a dark Copper John for a little action.— Sweetcast Angler, Big Timber.
Canyon Ferry Reservoir — The rainbow trout bite is picking up on the north end as fish are cruising the shorelines. Rainbows are being caught from shore between the Outhouse and Kim's Marina using Leech flies, beadhead nymphs, egg sacks or PowerBait. Other areas producing trout are Shannon Ramp, Court Sheriff, Confederate Bay and Broadwater Bay at the Silos. A few walleyes are being caught around the river channel south of the Silos while using jigs or trolling crankbaits. — FWP, Helena.
Madison River, Lower — This stretch has been fishing great. The lake has been a bit of a wild card with cold weather and high winds. It seems to be flipping every few days and adding some cold color to the water. Crayfish are starting to go and the San Juan Worm is still a good bet on the dirty water days. If the clouds are in and the wind is calm, the BWOs have been out in force. Watch the edges of the river for heads coming up in the afternoon. We should start to see weird things happening with the flows in the next week or two, so keep an eye on the gauge. It won't be long for the caddis, as well. This is a great time for the lower Madison. — Montana Troutfitters, Bozeman.
Stillwater River — The river continues to fish well. Cool temperatures have kept the river wadeable and clear. This last week has brought on reports of some dry fly fishing. March browns and Elk-Hair Caddis (12-14) is how you should start your spring dry fly season. There are some midges and mayflies, which can be fished in sizes 16-18, however it's the March brown and caddis time of year. A Royal Wulff, Parachute Adams or a Purple Haze (12-14) can also produce some surface flash early in the top-water season. If you want to catch one of those big rainbow spawners you will likely have do it subsurface using a big stonefly nymph. Stones to fish include Girdle Bugs, Twenty Bomb, Heater Bomb, Pat's Rubberlegs or North Fork Special in black. Stoneflies can be fished bigger, in a size 8, or even down to a size 12. The Perdigon Fly rage is very legit. Standard Perdigon Nymphs or Red Tag Nymph patterns when fished properly with a Euro rod setup is super boring, but effective. Caddis nymphs like Sparkle Pupa in tan or olive, or a Hare's Ear or Pheasant Tail can all cover your caddis or March brown nymph bases. Streamer fishing is effective especially early morning to early afternoon. Sparkle Minnows, Thin Mints, Slump Busters in black or olive as well as Conehead Buggers in similar colors are all you really need. Of course, throwing the big streamers like Galloup's Dungeons, Boogieman, or a Drunk and Disorderly will all garner attention from bigger trout. — East Rosebud Fly Shop, Columbus.
Yellowstone River, Miles City — Fishing has been decent for sauger. The water is still cold, so it is a real slow bite, but anglers are catching them. Minnows and crankbaits have been good. The water is low so you need to be careful if going in a boat. We do have minnows in stock. — Red Rock Sporting Goods, Miles City.
Montana
Ackley Lake — Anglers are chasing tiger muskies. A few trout have been caught using spinners or worms. Most action is on the shore. Water levels are a little lower. — Sport Center, Lewistown.
Beaverhead River — The lower river is clear and should be fishing OK. Midges and baetis are your best bet. Try Sowbugs or San Juan Worms. On warmer days, the water clarity could be affected on the lower river. — Frontier Anglers, Dillon.
Big Hole River — The river is coming into shape. Try a San Juan Worm or Pat's Rubberlegs. — Frontier Anglers, Dillon.
Bighorn Lake, Ok-A-Beh — Not too many anglers headed this way last week. Try jigging with minnows to get into walleye or sauger. — Scheels, Billings.
Bighorn River — Fishing remains a bit up and down with changing weather conditions. Plenty of big fish are still being caught. BWOs are increasing in numbers and we should have some more dependable dry fly fishing shortly. Nymphing with Carpet Bugs, LBF, Softhackle Sowbugs, Graveyard Midges, Quill nymphs and various Midge Pupa has been productive. Streamer fishing has been OK, not great. — Bighorn Angler, Fort Smith. 
Bitterroot River — With the warmer days, flows will start to increase. The river was fishing great last week. Dry fly action is happening and there are March browns, BWOs, skwalas and a few gray drakes. Skwala/dropper setups in the morning with Water Walkers, Chubby, Miller's Hi-Viz and Dancing Ricky's with a Perdigon, Jig Prince, Jig PT or Rubberlegs off the back. In the afternoons, cut off the dropper. If there are any rising trout look for BWOs (16-18) and March browns (14) on the water (bright sun isn't ideal, but when the clouds are out, it will be on fire). If you happen to see gray drakes, a size 12-14 will do the trick. Streamer fishing is an option early when the sun is low in the sky, or if there are clouds. — Grizzly Hackle Fly Shop, Missoula.
Blackfoot River — The Blackfoot was in great shape on Monday. Warmer days could increase flows. A few BWOs and March browns are out, so be ready with some Comparaduns, P-Haze, Adams, Flash Cripples and Para-Wulff in the appropriate sizes. Skwala/droppers are another good option with bigger skwalas like Chubby, True Skwala, Miller's Hi-Viz and Water Walkers. Drop a Perdigon, Rubberlegs, 20 Incher or San Juan off the back. Streamers on cloudy days are an option. Go low and slow with your streamers as the water is still cold. — Grizzly Hackle Fly Shop, Missoula.
Clark Canyon Reservoir — Fishing has slowed, but anglers are still able to get into trout. Try Chironomids or Leeches. — Frontier Anglers, Dillon.
Clark Fork River, Missoula — The river was fishable as of Monday. On warmer days flows could be up. Try throwing nymphs like Double Bead Stones, Lucent Stones, Rubberlegs, Jig Princes, San Juans and Perdigons. Fish the slower insides and dropoffs. There could be dry fly action with skwalas, BWOs, March browns, and maybe even gray drakes. — Grizzly Hackle Fly Shop, Missoula.
Cooney Reservoir — The water temperature is in the low 40s with some mid 40s in the bays. Trout fishing has been hit-or-miss. Worms with a marshmallow have been producing some rainbows from shore. The boaters that did well were trolling Needlefish around 2 mph. This past week some 4-pound brown trout came out of the water. A few groups caught perch while using worms; these were the first perch we've seen since ice fishing season. The walleye bite has been slow. Jigging or dead sticking still seems to be the best method to catch fish. A slow presentation and lots of patience is key. A few small walleyes were caught using a slip bobber and a worm last week. — Cooney State Park.
Deadman's Basin — No new reports, but anglers could try worms or PowerBait from shore. Anglers are catching some brown trout on the upper Musselshell River. Broadview Pond is always a good spot first thing in the spring. — Cozy Corner Bar, Lavina.
Flathead Lake (North) — Anglers have been catching big lake trout off the delta at 60 to 100 feet. Try jig fishing with Zimmer's Rattle D'zasters or large whole fish. Try near where the Swan River dumps in for some fat rainbows and go a little deeper (40 to 50 feet) for some good lake trout and pike. — Snappy's, Kalispell.
Flathead Lake (South) — Anglers are getting into perch. There aren't many perch being caught, but the ones being caught are big. The standard setup is a bottom weight with two hooks above it. The Smile Series painted hooks work well. Lake trout fishing is a little slower than normal. The pivot depth is 250 feet and lake trout are being caught as deep as 300 feet. — Zimmer Bait and Tackle, Pablo.
Flathead River, below Kerr Dam — Anglers could fish for smallmouth bass on the lower river and browns and rainbows on the upper part. Get your fishing in now before runoff starts. A Thomas Cyclone or Panther Martin will work. A Blue Fox Vibrax Spinner or smelt will work for pike. A big night crawler fished slow will be the best for smallmouth. — Zimmer Bait and Tackle, Pablo.
Fort Peck Reservoir, Big Dry Arm — Northern pike are taking live bait, with most action on minnows. Walleyes are also striking minnows. Target 12 to 15 feet and structure for walleyes. The water is lower than normal for this time of year, but anglers can still launch boats. The docks are out. Gas is available and water is available at the campground. The best walleye action is on the points. Walleye are also biting at Little Bug toward Nelson Creek. Exercise caution while boating, as some rocky structures are just below the surface. — Rock Creek Marina.
Fort Peck Reservoir, Crooked Creek — Overall, bank fishing is slow and most action is on boats off the points. Fishing is halfway decent for catfish. Northern pike fishing is off and on. The water is super low, approximately 10 feet lower than last year at this time, and there is limited bank to fish off. Depths at the ramp are 1.5 feet, at the Musselshell is 4 feet and Musselshell Point is 6 feet. Be careful of debris in the water. Some anglers are launching small aluminum boats or jet boats. Anybody with a bigger boat needs to trim the motor way up and exercise caution. — Crooked Creek Marina.
Fort Peck Reservoir, dam area — With the cold weather, fishing was sporadic. At the Tough Guy tourney at Hell Creek there were 50-plus teams and 114 walleyes were measured. Jigs and minnows or jigs and plastics worked. Pike were caught the same way. For lake trout, pull cranks or jig for them. — Lakeridge Lodging & Bait Shop.
Fort Peck Reservoir, Hell Creek — The cold weather slowed everything down. In the Dry Arm and Fourchette areas in the spawning grounds anglers are catching some walleye. Some northerns are still spawning, but are starting to bite. We are 10 days to two weeks from a good bite. Bank anglers are catching a few northerns. A few anglers are chasing lakers and doing well. — Hell Creek Marina.
Fresno Reservoir — No new reports on the actual reservoir, but below the spillway and all the way to Dodson Diversion Dam on the Milk River anglers are fishing for northern pike, walleyes, catfish and rainbows. Try minnows. — Stromberg Sinclair, Havre.
Gallatin River — The river has been fishing well. Due to some cooler temps and nights, the river is a nice greenish color and flows have been consistently at or below 400 cfs. Midges and some occasional BWOs (as water temps increase and when conditions are right) can be spotted throughout. Subsurface fishing will continue to be the most productive tactic. Lead with a simple stonefly pattern like a Pat's Rubberlegs or Delektable Hurless and trail behind a Midge, small Pheasant Tail, purple Spanker or even a Dirt Snake. Maybe just a little early yet but try to keep an eye out for those spawning beds; it's good practice to avoid disturbing those areas. — Montana Troutfitters, Bozeman.
Hauser Reservoir — Rainbow fishing has been great at York Bridge. Fly fishing with egg or leech patterns has been working well. Night crawlers and egg sacks are also producing some fish. Trollers are picking up a few trout out from Black Sandy, Riverside and Lake Helena with cowbells, or orange/chartreuse crankbaits. Walleye fishing in the Causeway Arm and Lake Helena is slow but warmer temps should turn them on soon. — FWP, Helena.
Holter Reservoir — Rainbows are showing up at Gates of the Mountains, the BLM boat ramp, Log Gulch and Departure Point. Successful shore anglers are doing well with Woolly Buggers, beads, San Juan Worms, spawn sacks or PowerBait. Boat anglers are catching some big rainbows while trolling bright crankbaits along the shorelines. Not many walleyes or perch are being picked up yet as the water temps are still pretty cold. — FWP, Helena.
Kootenai River — As of Monday the discharge from Libby Dam is 4,000 cfs. Flows are expected to remain low until runoff. During the spring months it's possible to experience fluctuations in flows. In-flows to Lake Koocanusa were 6,800 cfs on Monday and the water temperature at Libby Dam was 40 degrees. Hatches are midges, blue-winged olives, March browns, early caddis and little stoneflies. Recommended patterns are Zebra Midge, Parachute Adams, Purple Haze, Bugmeister, Olive Sparkle Dun, purple Chubby, BH Prince, soft SJ Worm, BH Pheasant Tail, BH Rubberleg Stonefly, big streamers in white, pink and olive, Circus Peanut and black conehead Buggers — Linehan Outfitting, Troy.
Lake Mary Ronan — It has been approximately two weeks since the ice came off and kokanee fishing should kick in any day. It will be about a month before perch fishing picks up. — Zimmer Bait and Tackle, Pablo.
Lake Koocanusa — Salmon fishing is still slow because of the cold temperatures. Rainbow fishing is fair with the recent storm activity. Anglers had been running plugs in black, black and silver and black and gold. When it warms, try trolling flies. — Koocanusa Resort and Marina, Libby.
Madison River, Upper — Small and flashy is the name of the game if you decide to nymph; Green Machines, $3 Dips, Purple Deaths, Worms, Shop Vacs, black and brown Rubberlegs and Zebra Midges are all good bets. It's crucial that your bugs are getting down fast. If you're not ticking bottom every cast, add some weight until you do. Dry fly fishing has been pretty slow with the constant wind. Streamer fishing has been hit-or-miss, but when it's on, it's been pretty good. Streamer color has been variable lately, but typically black, olive and white are our favorites. In between the lakes there is some deep snow in spots, but you can get in easily below the dam. The sweet spot seems to be the Three Dollar area with excellent streamer, dry and nymph opportunities. Just watch that weather, wind can be the kiss of death for the dry fly fishing up this way.  — Montana Troutfitters, Bozeman.
Marias River — In the Loma area anglers continue to catch a few northerns, drum and the occasional walleye while using minnows. — Roberts Bait & Tackle, Great Falls.
Martinsdale Reservoir — Fishing was pretty good from shore last week. — Mint Bar, Martinsdale.
Missouri River, below Holter — The river is fishing well and the flow was 3,800 cfs on Monday. Water temps were 42 degrees. Nymphs and streamers will attract trout. There is some baetis from time to time, but fish aren't paying attention to the top much yet. Below Hauser, anglers are fishing for spawning fish. The north end of Canyon Ferry is a good spot, too. Try Balanced Leeches and egg patterns. — Montana Fly Goods, Helena.
Missouri River, Fred Robinson Bridge — At the PN Bridge, fishing is decent for walleye and catfish. Try a jig and a minnow for walleye. The water clarity was good over the weekend. — Sport Center, Lewistown.
Noxon Rapids Reservoir — The water looks good and there isn't a lot of debris. Water levels are starting to come up. Anglers are out fishing for walleyes by the Thompson Falls golf course. — Lakeside Motel and Resort.
Rock Creek (East) — There are finally some surface bugs. Water levels continue to be stable and clear. Caddis, mayflies and midges have been seen. Dry fly fishing will be in the later morning to early afternoon if the cool mornings continue. However, now is still the time to cast some dries. Recommended dry flies between now and runoff are a tan or olive Elk-Hair Caddis (14), Griffith's Gnats, as well as smaller parachute mayfly patterns (16-18). Attractor dries like a Parachute Adams, or Purple Haze (12-16) can all work well as days continue to get longer and hopefully warmer. Nymph fishing will continue to be effective through spring and all through the season. Caddis pupa like Sparkle Pupas, Shop Vacs and Taylor's Gut Instinct Caddis Emerger (14) will take care of what you need when representing caddis subsurface. Classic stonefly nymphs like a Girdle Bug or Pat's Rubberlegs (8-10), as well as San Juan Worms in red or brown in similar sizing are all excellent spring bugs. Beadheads like Prince Nymphs, Hare's Ears or Pheasant Tails (12-14) can all work great. Attractor beadhead nymphs like red or chartreuse Copper John, Lightning Bugs or Montana Prince in blue round out nymph suggestions. If you want to "pop" a big trout fish streamers. Standard and effective patterns to fish include Sparkle Minnows, Conehead Buggers, Grinch, Yuk Bugs (4-6), as well any of the articulated Kelly Galloup patterns including Dungeons, Silk Kitty's, and Circus Peanuts. Focus on black, white or olive. — East Rosebud Fly Shop, Red Lodge.
Rock Creek (West) — On warmer days flows will be up. As of Monday, nymphing is the way to go. That could change if the water clears and we see more BWOs and March browns. Try double nymph rigs with Double Bead Stones, 20 Inchers, Jig Princes, Jig PTs, Rubberlegs and San Juans fished in the slower, inside bends and close to the banks where the water slows. Small streamers like JJ Specials, Polar Minnows, Sparkle Minnows and Cousin It should work. — Grizzly Hackle Fly Shop, Missoula.
Spring Creek —  Last week the water was clear and anglers were doing well fly fishing. — Sport Center, Lewistown.
Tongue River Reservoir — Anglers got into some largemouth and smallmouth bass. Anglers could throw spinner baits, tube baits or Senkos Wacky Rigs. No news on walleye or crappie. — Scheels, Billings.
Yellowstone River, Columbus — The river is still low and clear, but could temporarily see some off-color water with the recent rain and snow. We have been seeing March browns, blue-winged olives and some caddis; and hearing of some anglers catching fish with dry flies, but all weather dependent. Streamer fishing has been the hot ticket, but always good to have your nymph setup ready for those slower days. Woolly Buggers, Galloup's Dungeons, Bond's Dragon, or whatever streamer you have confidence in should get you some fish. For nymph anglers try Pat's Rubberlegs in a bigger size (8-10) or San Juan Worms with your favorite dropper such as Prince Nymphs, Pheasant Tails, or Copper Johns fished in a smaller size (14-18) will also work. — East Rosebud Fly Shop, Columbus.
Yellowstone River, Huntley — Smallmouth bass fishing is pretty good fishing with jigs. A few ling, up to 3 or 4 pounds, have been caught on cut bait and minnows. Catfish are hitting cut bait. No reports on walleye or sauger. River levels could drop a little as the ditches have been opened. — Huntley Bait and Tackle.
Yellowstone River, Livingston — Nymphing has been your best bet, and streamers have been working on the right days.  If you plan on nymphing keep it simple with Rubberlegs, Worms, Pheasant Tails, Eggs and your favorite Midge. We find that water selection is more important than bug selection this time of year. The majority of the fish are still feeding in those slow, deep runs and tailouts. The water has been green on most days so don't forget to fish your bugs that have a little flash. Black, olive and white streamers have been working the best. Switch up your sizes until you find what works. With warmer days ahead, blue-wing olives should be showing up soon. The best fishing for these little dries is in the back eddies and soft edges of seams. Keep an eye on flows. A little rain or warm weather can get the mud pumping. — Montana Troutfitters, Bozeman.
Wyoming
Bighorn River, Thermopolis — Flows have been pinched way back. Water temps were in the high 30s to low 40s as of April 16. Nymph and streamer fishing is the name of the game with some dry action using BWOs and Midges. For nymphs use Zebra Midges, San Juan Worms, Yum Yum Scud, small Pheasant Tails, Scuds, pink Soft Hackle Sowbug, Yuk Bugs, Pats Rubberlegs, Jig-head nymphs, Midge Pupa, Wwire Worms, smaller North Fork Specials, black or tan. For streamers use Zirdles, Leeches, Woolly Buggers and conehead Zonkers, Double Bunnies and Muddler Minnows. — North Fork Anglers, Cody.
Boysen Reservoir — Boat and bank anglers are still catching trout with much of the action on worms. Rainbow trout are spawning right now. The key to walleye fishing is hitting the right spot at the right time. Perch are few and far between. — Boysen Marina.
Clarks Fork — On the lower river fishing was slow to fair. Nymphing is going to be your best bet. Some dry fly action on the warmer days with small BWOs and midges hatching. There are no frozen areas now. Some muddy water is coming into the river just above Eidelweiss and at Pat O'Hara and Paint Creeks near the Beartooth Ranch. Nymphs: Beadhead Prince, Pheasant Tails, Gold-Ribbed Hare's Ears, Pat's Stones, Spanish Bullets in black, pearl or purple and North Fork Specials (10 or smaller). Streamers or going deep with weighted nymphs is recommended. — North Fork Anglers, Cody.
Cody-area lakes — As of April 16 the lower road into East Newton is blocked due to road damage. There is also a new parking lot to access West Newton Lake. Getting a boat launched at either lake can be challenging. Both lakes are open. Fishing is slow to fair. Flies to use would be Woolly Buggers, Seal Buggers, Midge Pupa, beadhead Midges or small beaded nymphs. Midges are hatching with some trout responding to Griffith's Gnats, small Parachute Adams and dark-bodied Smoke Jumpers. At Luce and Hogan, both lakes are completely open and are fishing fair to good. Access to Luce is from the Hogan Reservoir parking lot off County Road 7 RP. If the road is dry, access is no problem. If it has been snowing, four-wheel drive might be required. Please make sure to fasten the gate to Luce to prevent cattle from escaping. Also, there have been sightings of grizzly bears on these lakes. Pack bear spray. — North Fork Anglers, Cody.
Lake DeSmet — The ice is off and fishing is usually good. The Lake Stop opens for the season on May 1. — The Lake Stop, Buffalo.  
Lower Shoshone —Flushing flows have started and will be ongoing for the next few weeks. Fish the edges with streamers and nymphs for the best success. With any luck this will clean the river bottom and create better fishing conditions for the future. — North Fork Anglers, Cody.
North Fork of the Shoshone — Don't forget the lower North Fork is closed to fishing April 1-July 1 annually from the west arm of Buffalo Bill Reservoir up the river to Newton Creek. Above Newton Creek the North Fork is open with no closures in place. Some fish are above Newton Creek. Use smaller stonefly nymphs in clear, slow water and big rubber leg nymphs as the flows rise. Wet flies: black North Fork Specials with silver, red, hot orange or purple beadheads (6-12); Pat's Rubberlegs, black Stonefly nymphs (6-10); Prince Nymphs (8-12); soft hackle jigs (10-14); black Girdle Bugs or Bitch Creek nymphs (6-10). — North Fork Anglers, Cody.
South Fork of the Shoshone — Tan or black North Fork Specials (10-14) are working well, especially the black-bodied red or purple tungsten bead versions. Other wet flies include beadhead or regular Prince, Copper John, Bloody Mary, PTs, Gold-Ribbed Hare's Ears, and gray or peacock soft hackles (8-18). For dries use Midges, small para Adams, Purple Haze or Griffith's Gnats. For streamers use Woolly Buggers, Muddler Minnows, Zonkers and similar imitations (2-10). — North Fork Anglers, Cody.
Upper and Lower Sunshine Reservoirs — The ice is off and the water is cold. Fishing is still good from shore. Crawlers are the ticket. — Wea Market, Meeteetse.