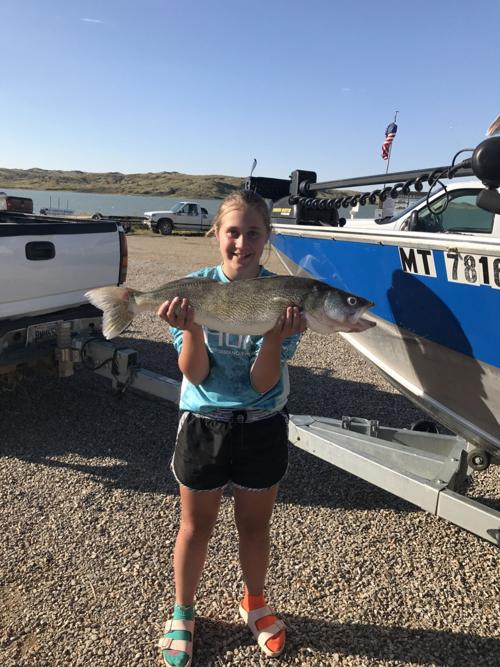 BILLINGS — Even with the heat, the Big Hole River is offering fantastic brown trout fishing. 
If you are in the Yellowstone Park area, head to Hebgen Lake for the opportunity to catch some large brown and rainbow trout.
Rock Creek is fishing great. The water couldn't be any better as flows are perfect, wadeable and clear. Your chances of catching a fat trout using a variety of flies are second to none.
For the chinook salmon bite, the Fort Peck Dam area has been fishing decently throughout the hot conditions.
Several nice, 30-inch walleye have been caught in the Crooked Creek area at Fort Peck Reservoir. A 30-inch walleye was reeled in by Attison Craig bottom bouncing with a purple Smiley Blade worm harness.
Top picks
Big Hole River — We have been enjoying fantastic fishing here recently. Currently the flows around Melrose are 1,230 cfs. We are having hatches of PMDs, caddis, yellow Sallies and nocturnal stoneflies. Dry fly fishing in the early morning hours on nocturnal stoneflies has been good and then PMDs around 10 a.m. have had the fish looking up. You will have yellow Sallies midday and caddis in the evening. Streamer fishing in the shallow riffles is producing great brown trout right now through the day and even in the bright sun. — Sunrise Fly Shop, Melrose.
Gallatin River — The river from Gateway to Big Sky is the place to be. The water flows are down and the fishing has been solid. If you head this way you can get them on streamers, nymphs, and dries. However it's certainly dry dropper season and this is a tough rig to beat this time of year. Chubbies, ants, and hoppers are great dries for this rig as they can hold up a fairly heavy nymph. For a dropper, fish are striking attractor mayflies, caddis, PMDs, stones and soft hackles. We are also starting to see the first of the nocturnal stones and spruce moths should pop any day. If you are planning to go down low on this river please stick to fishing it in the early morning as the water temps in the afternoon have peaked above safe fishing temperatures. — Montana Troutfitters, Bozeman.
Fort Peck Reservoir, dam area — The chinook salmon are biting decently with Brad Bait Cups and Beevis Trolling Flies. Lake trout are biting at 80-100 feet of water with spoons and Beevis Trolling Flies. The walleye are being caught in 14 feet of water using crawlers and leeches. — Lakeridge Lodging & Bait Shop.
Fort Peck Reservoir, Crooked Creek — The walleye fishing has been phenomenal. Three 30-inch walleyes were caught over the weekend. From shallow 3-8 feet deep to 18-30 feet deep the fishing is terrific. Anglers are bottom bouncing with night crawlers. The hot color this week is purple. Anglers were also puling cranks successfully. The fish are deep right now due to the rising temperatures. Anglers are very pleased. — Crooked Creek Marina.
Rock Creek (East) — These waters are in prime form right now. The flows are wadeable, clear and fishing dry flies so get out there. A fly Angler can fish anyway he or she chooses right now and that includes Dry's, Nymphs or Streamers. Recommended Dry Flies in late July include tan or olive Caddis (size 14), Yellow Sallies (16), as well as orange or yellow Stimulators (12-16). Hoppers are beginning to work so dust off your Pink Pookies, Chubby Chernobyl's, and Parachute Hoppers and drift some big bugs. Most Hopper sizes can be fished in sizes 8-12. Summertime Nymphs: Stone Fly Nymphs like Girdle Bugs, Bitch Creeks and Red Fox Squirrel Nymph all in sizes 8-10. A Hare's Ear, Pheasant Tail in sizes 8-14 or Caddis Sparkle Pupa (14) never disappoint. Of course Copper Johns in red, or chartreuse, Prince Nymphs, or the famous Bat Man Nymph are all solid recommendations. Euro Nymphs like Perdigon and Red Tag patterns are more effective than any traditional fly patterns. Streamers are an extremely effective way to catch the brown trout of your season. Sparkle Minnows, Sex Dungeons and Barely Legal Streamer patterns are all you need. — East Rosebud Fly Shop, Billings
Montana
Ackley Lake — The muskie action is improving. Spinner and crankbaits have been working really well. — Sport Center, Lewistown.
Beaverhead River — The waters have reached their crest. The mornings fished well all through the period as irrigators needed more water in the hot July sun and rising flows hit at midday. The afternoons were off, as debris and some downright large pieces of wood entered the water column by afternoon. The river dropped a little today, and the fish responded with gusto. Expect high but stable flows over the next week, and dropping flows with stellar dry fly fishing as we enter August and throughout the month. — Frontier Anglers, Dillon.
Bighorn Lake, Ok-A-Beh — The smallmouth bite has consistent on tubes and top water baits such as: Poppers, Frogs and Spooks. — Scheels, Billings.
Bighorn River — These waters are getting into prime summer mode. The PMDs have made their appearance providing for some excellent dry fly fishing. We're starting to see some caddis as well, and expect that to get better and better. Nymphing has been very good with Carpet Bugs, Split Case PMDs, Pheasant Tails, Ray Charles and Eddie Vedders. — Bighorn Angler, Fort Smith.
Bitterroot River­­— It's going to be a hot week this week. This river has plenty of water so that should help, but getting out early will be the key to better fishing. Evening fishing will be tough with temps in the 90s. The upper river is still fishing well and will have cold water in it through this heat wave. Some Bitterroot Stones still around, yellow Sallies, PMDs and caddis. The middle river to Missoula is more of a hopper/dropper game with a few PMDs and caddis still around. Fish are starting to take small hoppers like Yeti, More or Less, Morrish and Chernobyl Hoppers with a Perdigon dropper. A few PMD spinners will be around if you see fish sipping something, throw on a rusty spinner or PMD spinner. — Grizzly Hackle Fly Shop, Missoula.
Blackfoot River — Spruce moths are out. It's one of our favorite hatches of the summer. This is a morning thing when the moths come out of the trees to go to the water. The fish love them. Put on a spruce moth in the morning like Potter's Moth, MFC's Spruce Moth or even a yellow PMX. Later in the day switch to a Hopper/Dropper rig.  We are starting to fish small hoppers even. Drop a Perdigon, Hollow Point or Spanish Bullet off the back. A few PMDs are still around and in the evening we should see caddis, until it gets really hot next week. — Grizzly Hackle Fly Shop, Missoula.
Boulder River — The water flows are good for the wade fisherman. PMDs, yellow Sallies, caddis flies, spruce moths and terrestrials are all good choices. — Sweetcast Angler, Big Timber.
Canyon Ferry Reservoir — The walleye fishing continues to be good mid-reservoir around White Earth and Goose Bay in 20-30 feet of water while using bottom bouncers or crankbaits with chartreuse and green being the colors of choice. The ponds are also producing a few walleyes. A few rainbows are being caught while trolling cowbells or crankbaits 20-25 feet deep around White Earth and the north end. An occasional rainbow is being caught from shore while using worms around White Earth and Goose Bay. — FWP, Helena.
Clark Fork River, Deer Lodge — Anglers fishing with caddis and terrestrials has been effective recently. Good nymphs to use are Ray Charles (16), Sow Bugs, Superflash Pheasant Tails (14-18), red or chartreuse Copper Johns (14), SJ Worms (14-16), Olive Scuds. Streamers to use are Lemon Drop, Sculpzilla and Miller's Brew Time. Dries to use are Missing Link Caddis (16-18), Purple Haze (16-18), and Rocky Mountain Mint (16-18). — The StoneFly Fly Shop, Butte.
Clark Fork River, Missoula — It's going to be hot this week. If you're going fishing, get out early to get the best fishing of the day. We have plenty of water to help through this hot spell, but it's still good to get out early. Evening fishing will be tough with the temps in the 90s. Hoppers are becoming more of an option with Morrish, More or Less, and Rainy's Grand hoppers. Drop a Perdigon, Jig Prince, PT, Rubberlegs or Tungsten Reckoner off the back.  A few PMDs are still out with some spinners being sipped and caddis are an option as well. We will see if the heat affects them at all. — Grizzly Hackle Fly Shop, Missoula.
Clark Fork River, St. Regis — The river is fishing decent. The water blows out in the afternoon. Anglers should try get out as early as possible for optimal fishing. — Joe Cantrell Outfitting, St. Regis.
Cooney Reservoir — The water level on the reservoir is going down, the water temperature remains in the upper 60s. It seems the trout have stopped biting. The afternoon bite has been productive for walleye and perch. Leaches are still doing the trick. Rapalas or jig raps are producing in deeper waters. Not many groups are catching limits, just one fish every couple hours. The recreational boaters are out in force, so try later in the evenings or at night. — Cooney State Park
Flathead Lake (North) — Lake trout are biting cut plugs with maple sausage. Anglers troll in about 30-60 feet of water. The whitefish are starting to bite in a few areas so be sure to have some whitefish jigs at the ready. — Snappys Sport Senter, Kalispell.
Flathead Lake (South) — Huge bass have been reported at Rocky Point. The perch bite has been picking up along East Shore and at Elmo and Big Arm (25-30 feet of water) as well. Finley Point is also producing using whole fish setups. Dead Man's Point is sporadically producing lake trout in 45-60 feet of water along with some whitefish using Green Rattle D Zastors. Cromwell East and Blue Bay in 40-60 feet of water is producing lake trout. City Docks (closest to bridge) has been producing smallmouth bass using small Rattles and Flicker Shads. Bottom weight setups are producing perch as well. Big lake trout are hitting at Safety Bay in about 160 feet of water. Yellow Bay is producing smallmouth bass and cutthroats are being caught where the creek comes in with Mepps and perch setups. — Zimmer Tackle, Pablo.
Flathead River — The waters above the lake are still high and muddy. Smallmouth bass have been reported at Sloan's Bridge.— Zimmer Tackle, Pablo
Fort Peck Reservoir, Big Dry Arm — The northern pike bite has been best boating south while presenting crankbaits. The walleye have been elusive and are migrating north right now.  — Rock Creek Marina.
Fort Peck Reservoir, Hell Creek — The water conditions are good. The pike and bass bite has been great bottom bouncing, jigging and trolling. The walleye fishing has slowed a bit. — Hell Creek Marina.
Fresno Reservoir — Preferred fishing methods on the reservoir are: fly fishing, spinning and bait casting. The best times to fish are late evening to early morning (10 p.m.-2 a.m.). — Hook and Bullet.
Georgetown Lake — Overall, the kokanee, brook and rainbow trout fishing has been fair to decent. Best techniques are stripping leech patterns, or using callibaetis nymphs, Damselfly nymphs, Scuds, dead-drifting Chironomids and sow bugs. The southeast shoreline is open. The wind has been picking up midday but calms down in the evenings. — Flint Creek Outdoors, Phillipsburg.
Glacier National Park — The west entrance to the park is open to Avalanche Creek. Expect temporary closures at either Lake McDonald Lodge or the foot of Lake McDonald due to full parking lots and congestion. Non-motorized boats are allowed only. Areas of the North Fork, including the roads to Kintla and Bowman Lakes are open as well. The following areas are closed to fishing: Kintla Creek between Kintla Lake and Upper Kintla Lake, Upper Kintla Lake, Akokala Lake, Bowman Creek above Bowman Lake, Logging Creek between Logging Lake and Grace Lake, Cracker Lake, Slide Lake and the impounded pond below the lake. The following creeks are closed for their entire length: Ole, Park, Muir, Coal, Nyack, Fish, Lee, Otatso, Boulder, and Kennedy Creeks, North Fork of the Belly River, North Fork of the Flathead River within 200 yards of the mouth of Big Creek. For more regulations information, visit https://www.nps.gov/glac/planyourvisit/fishing.htm — GNPS
Hauser Reservoir — A few walleye are being picked up by anglers slip bobber fishing from shore at the Causeway and pitching jigs or trolling crawler harnesses inside the Causeway Arm. Anglers trolling cowbells and Wedding Rings tipped with crawlers around 15-20 feet down are catching some nice rainbows between York Bridge and White Sandy. Boat anglers are picking up a few walleye below Canyon Ferry Dam while pitching perch pattern jigs along the shorelines near weed beds. — FWP, Helena.
Hebgen Lake — The lake has been good the last few days, with positive reports from both the Madison and Grayling Arms. Look for a warm, calm day, and expect to see plenty of large rainbows and browns gulping on the surface. Callibaetis Sparkle Duns, Deer Hair Spinners, Razor Mayflies and Foam Spinners all in a size 16 will continue to be go-to patterns, with Driskill's Callibaetis Nymphs and Split-Case PMDs in size 16 being excellent choices for dropper nymphs. — Blue Ribbon Flies, West Yellowstone.
Holter Reservoir — Some nice rainbows are showing up in the canyon near Gates of the Mountains. Anglers trolling cowbells or crankbaits above suspended fish are doing well. Anglers fishing weed beds are finding some nice perch while pitching small jigs tipped with crawlers into the weeds in 10-20 feet of water on the lower end of the reservoir. The walleye action has slowed a bit but a few are still being picked up while tolling bottom bouncers, running slip bobbers and leeches or vertical jigging near Cottonwood Creek and on the lower end of the reservoir. — FWP, Helena.
Kootenai River — Discharge from the Libby Dam is now at 10,000 cfs and the river is in great shape. The water temps are terrific. Dry fly action is outstanding throughout the entire day. Caddis and PMDs continue to pop later in the afternoon each day depending on the section. If you see bugs, you'll likely see rising fish. And they're hungry this time of year. Make a good presentation and they'll eat a Parachute Adams (14) or an Elk-Hair Caddis (14) perfectly well. You could surely run a dry/dropper rig all day if you wanted.  Depending on what stretch your fishing, you will see bugs. A Purple Chubby (12), or Bugmeister with a BH Pheasant Tail (16) will roll nicely if that's your preference. Nymphing is off the charts. Water temperatures are warming up and trout are feeding more aggressively. Remember to get bugs down and keep them down. Keep a keen eye on your indicator and if you notice even the slightest change in speed, lift. Look for fish in slower currents, buckets, tailouts, and especially around cover and down rocky runs. Slip your bugs above and especially below boulders in the cushions as fish will be concentrated in soft pockets. Also, water temps will likely be a few degrees warmer as you get downstream from the Libby Dam. Be brave and confident. Get out the bigger rods and throw streamers. Fish streamers slowly with a pulse now and again to make them look like struggling baitfish. — Linehan Outfitting Company, Troy.
Lake Frances — Fishing is still slow due to the muddy conditions. — Roberts Bait & Tackle, Great Falls.
Lake Koocanusa — The rainbow fishing is slow. The kokanee bite is fair. There is really no hot color right now (bait). The fishing overall has slowed up a bit. — Koocanusa Resort and Marina, Libby.
Lake Mary — The kokanee bite has improved this week. — Zimmer Tackle, Pablo.
Madison River, Lower — The lower is running at 69 degrees out of the dam and much warmer around Blacks Ford. If you do happen to head this way please fish early, get fish in quickly and handle fish as little as possible. Pinching your barbs to get a quick release is a good call also. Dry fly fishing early with hoppers, attractors and Caddis should get you into fish and keep you out of the moss. Crayfish, worms, soft hackles, caddis pupa, and attractor mayfly patterns are our best option when nymphing the lower. The tube hatch is in full force also, so plan accordingly. This is the first year for hoot owl restrictions from July 15 to Aug. 15. The daily closure will run from 2 p.m.-midnight. This closure covers Warm Springs fishing access down to the confluence. This closure doesn't include Bear Trap canyon. — Montana Troutfitters, Bozeman.
Madison River, Upper — The upper has been fishing well these last couple days with nymphs, dries, and streamers. The river is getting low and clear. Focus more on mid-river structure to find the nicer fish. Fish have lots of food options right now, so this is the time of year when it pays off to switch up flies often until you find what they are keying in on. A Dry Dropper rig has been a great method. Don't be afraid to go small with your dropper nymph, it can sometimes be the difference between catching fish and simply fishing. Hoppers, stones, ants, yellow Sallies, caddis and PMDs are out depending on what stretch of the river you are on. Streamer fishing has been hit or miss but if the clouds roll through there should be some nice fish on the chase. Varney Bridge is open to traffic. — Montana Troutfitters, Bozeman.
Marias River — Water conditions are improving as is the fishing. — Roberts Bait & Tackle, Great Falls.
Martinsdale Reservoir — The fishing has been slow this week. The expected cooler weather should bring in better opportunities. — John Scally, Martinsdale.
Missouri River, below Holter — The river is fishing really good right now. We still have some PMDs around, but tricos and caddis are the main hatches going on right now. Nymphing has been steady. The fishing at the Gates of the Mountains (LOG) has been steady. Tailwater Sow Bugs and PMD nymphs are working the best in the river and Black Balanced Leeches and Chironomids in the lake. Dries that are working the best are: Film Critic PMD (16), Challenged PMD (16), and Ninch's Handman PMD (16). Nymphs and Streamers: 3-T Jigged Mosassin A-PMD (14-18), 3-T Jigged Mosassin A-MFG (14-18), and Psycho May PMD (14-18). — Montana Fly Goods, Helena.
Missouri River, PN Bridge — Catfish, sauger and walleye have recently been caught here. Night crawlers have been the bait of choice this week. — Sport Center, Lewistown.
Pablo Reservoir — The pike and bass action is doing well using dark tubes. The weeds are up. Dark plastic worms and night crawlers are also working well. — Zimmer Tackle, Pablo.
Polson Bay — The water is still running high and fast. Big perch have been reported, just not a lot of them. Bait fish setups are working best. Smallmouth bass in various sizes are there but being elusive. The perch are biting at 25-feet of water anywhere there is lake trout. — Zimmer Tackle, Pablo.
­Rock Creek (West) — These waters will fish well into this heat wave with plenty of water in it and the water staying colder than our bigger rivers. Spruce moths are out in the mornings and making for some great dry fly fishing. Potter's Moth, MFC's Spruce Moth or a cream Elk Hair fished in the mornings is doing the trick. In the afternoons switch over to a small hopper/dropper rig with a Morrish hopper (18) and Tungsten Jig Nymph. Caddis in the evenings are still going off. We will see if the heat does anything to them. — Grizzly Hackle Fly Shop, Missoula.
Spring Creek — The water is clear has been fishing really well. Browns and rainbows have been caught using nymphs and dry flies. — Sport Center, Lewistown.
Stillwater River — The water flows continue to drop. The upper river is pretty bony for float fishing, so is only recommended for a light load and experienced oarsmen. The fish are eating the big dries like PMXs, Stimulators, Jack Cabe and smaller size chubbies in the early morning to midafternoon. Dropper nymphs like smaller size Prince Nymphs and Red Copper Johns, and Lil' Spankers are picking up fish as well. Straight nymphing with a double nymph setup of a bigger rubber leg like a Girdle Bug or Pat's Rubberleg along with a smaller beadhead nymph has been productive as well. Some PMDs have been sporadically coming off midmorning, so a PMD nymph as a dropper is picking up fish as well as a small dry pattern dropper. There may be an afternoon lull in the heat of the day. Later in the afternoon, look for caddis. A smaller size stimulator should get some action. Another good combination has been to fish a double dry setup with a Purple Haze as a lead spotter fly trailed by a Jack Cabe (14) or stimulator. Stillwater fish love the Jack Cabe. The rubberleg variant has been effective as a big dry pattern. The water temperatures on the lower river are heating up, so play and land fish promptly. — Stillwater Anglers, Columbus.
Swan Lake — The pike fishing has been slow recently. — Zimmer Tackle, Pablo.
Tiber Reservoir — The walleye bite has improved. While crankbaits, spinners, and leeches have been the baits of choice. — Ru's Tiber Marina.
Yellowstone River, Columbus — The fish have been eating the big bug. Hopper patterns like a Fat Frank or Chubby in peach or tan size 6-10 have been working well. Try fishing a double hopper setup with a smaller hopper pattern like an Otter Hopper or parachute hopper trailed off of the bigger pattern. During the afternoon, fishing a double dry fly setup of a Jack Cabe and a Purple Haze searching likely water will produce. Nymph fisherman should have success with a big rubberleg fished down deep. Also try dead drifting buggers. Fish are being found for the most part in moving water that has some definition and along gravel bars.  Now is a good time to hit the Stone and fish hoppers before the fish have been inundated with them. Water temperatures are heating up, so play and land fish promptly. — Stillwater Anglers, Columbus.
Yellowstone River, Huntley — These waters are in great shape. Catfishing is very good. Minnows, shrimp and cut bait are working best. Bass fishing in the Huntley area is picking up. Jig minnows and crankbaits for bass. — Huntley Bait and Tackle.
Yellowstone River, Livingston — This river is running around 4,690 cfs but still proceed with caution when floating as wave trains and hydraulics will be nasty in some sections. Please check water temperatures before you float, as certain areas are getting up to 70 degrees. Hoppers, Stoneflies, caddis, drakes, PMDs and worms are all on the menu depending on which section you are in. Midday has been fishing a little tough with the high sun and lack of clouds lately. Morning Chubbie-droppers for the Nocturnals, and afternoon hopper-dropper rigs tight to the bank have resulted in some nice fish hitting the net, along with lots of whitefish on the dropper. We have had some good reports from anglers getting fishing on streamers as well. Try stripping small and flashy streamers through the faster water. The evening caddis hatch has been great and will have lots of fish looking up. Shorter nymph rigs with some serious split shot have also been productive. Also don't overlook seams below islands, as lots of fish will be holding there. Before you go, be sure to check out your boat ramp options, most are in good shape but some tend to change quite a bit after the runoff. — Montana Troutfitters, Bozeman.
Yellowstone River, Miles City — The catfish bite has been consistently good. The sturgeon have been hitting on worms. — Red Rock Sporting Goods, Miles City.
Wyoming
Bighorn Lake, Horseshoe Bend — The water is clear. Dock fishing has produced trout, smallmouth bass, sauger and plenty of catfish. Near the state line, anglers are still catching walleye and bass. Minnows are the best bait right now. — Horseshoe Bend Marina.
Bighorn River, Thermopolis — Nymph and streamer fishing is the name of the game with some dry action later in the day on caddis and midges. We are having great success on float trips at Wedding of the Waters to Thermopolis now. Lots of grass and moss now due to the increasing water temps. This can be a nuisance but we deal with it every year July through September. The water flows are at 1,403 cfs. Flies: Nymphs, Zebra midges, San Juan Worms, Yum Yum Scud, pink Soft Hackle sow bug, Yuk Bugs, Pats Rubberlegs, Jig-head nymphs. midge pupa, wire worm, and small North Fork Specials in black or tan. Streamer patterns, Leeches, Woolly Buggers and Cone-Head Zonkers, Double Bunnies, Sex Dungeons and Muddler Minnows are also taking trout. The hatches popping right now are caddis and midges. Cicadas and hoppers are getting attention in the Wind River Canyon area and now on the float into Thermopolis. Dries: Griffith's Gnats, Rojo Midge, Parachute Adams, Hemingway caddis, Elk-Hair caddis, Dave's Hopper, and Wades Natural Horror. — North Fork Anglers, Cody.
Buffalo Bill Reservoir — Copper and silver spoons and spinners have been effective. — Rocky Mountain Discount Sports, Cody.
Clarks Fork — The (upstream from Painter Bridge to Montana state line) main stem of the river is dropping in flow and much more fishable. The upper river is still swift and difficult to wade in many places once you get below Crazy Creek. Please do not try floating this section, even in a kayak. There are waterfalls and drop-offs one cannot see from the road. Above Crazy Creek, the river is much easier to navigate for wade fishermen. Beadhead nymphs (8-14) are working well. There is dry fly action on attractor patterns such as large royal trudes, parachute Adams, royal Wulff and yellow stimulators. — North Fork Anglers, Cody.
Lower Shoshone — The water flows are at 1,080 cfs. Buffalo Bill Reservoir is completely full, so the BuRec has to release more water to keep the dam from breaching. The water quality is getting better as the flows drop and Buffalo Bill Reservoir waters clear. Fish the canyon and the section through town. Wade carefully if in the canyon or swifter sections through town. Rafts, not driftboats, are recommended at these flows. Caddis, and golden stoneflies are out in the canyon. Some action on these flies in the slower sections. Not much dry fly action due to flows below town. Wet flies: Purple and Peacock Prince, San Juan Worms, Pat's Rubberlegs, black Girdle Bugs and black North Fork Specials. Streamers: Orange blossom, black, brown or dark olive Zonkers, dark Sculpinators, JJ Special conehead, Black Peanut Envy, dark Sex Dungeons, black or brown crystal buggers and other dark streamers that have a lot of hackle or movement. — North Fork Anglers, Cody. 
North Fork of the Shoshone — The water flows are at 1,060 cfs and are rapidly dropping on the river now. The water quality is improving. Guided trips have done well even though the water is still high. The river has cleared, but flows are swift and heavy in the Wapiti Valley. Hatches: Green Drakes, caddis, yellow Sallies, golden stoneflies. Hoppers are out on the lower river through Wapiti Valley. Evening caddis and Yellow Sally activity is good the entire length of the river. Flies: Wet — larger black North Fork Specials, Fat bastard, Epoxy stone, double beaded stones, Pat's Rubberlegs, Girdle Bugs, all in sizes 2-8. Dries: Tan, purple or gold Chubby Chucks, Green Drake Wulffs, Parachute Green Drakes, Royal Trudes, Royal Wulff. — North Fork Anglers, Cody. 
Upper and Lower Sunshine Reservoirs — Leech patterns have been very effective this time of year. Beadhead nymphs stripped or slow trolled behind a kick boat or float tube also works well. Scuds work best if fishing the bottom near the shoreline. Damsel flies are out right now. Anglers should fish damsel nymphs, soft hackled bloody Mary and midge pupae for the best results. On the lower, larger streamers are effective on the splake and tiger trout. In shallower water try, leeches, scuds, beadhead nymphs, Zebra Midges, Bow-Tie Midges, wire worms, hoppers and larger ant or beetle patterns. — North Fork Anglers, Cody.
Yellowstone National Park — The Yellowstone above the falls have been mixed. The water is still on the high side, and it seems the hatches have been inconsistent here, with some PMDs and green drakes providing good fishing on certain days, while other days not much seems to happen. The good news, however, is that when the hatches are on, anglers are reporting that there seem to be plenty of fish in the river. Try PMD Sparkle Duns (16) and PFD Parachutes (16), Green Drake Sparkle Duns (12) and CDC Para-Spinners (12), (10) purple and (14) pink Chubby Chernobyls, pink Thunder Thighs (10-14), and Longhorn Beetles (10). The Slough, Lamar and Soda Butte continue to fish well. It sounds like PMDs are the main hatch here, but a few Green Drakes continue to trickle off and provide some solid fishing, too. It's definitely terrestrial time here also, so have plenty of foam flies. #10 Longhorn Beetles (10), Stubby Ants (12-14) and pink Thunder Thighs Hoppers (14) and Morrish Hoppers will all be great choices, along with PMD (16) and Green Drake Sparkle Duns (12) and Razor Mayflies. — Blue Ribbon Flies, West Yellowstone.
Be the first to know
Get local news delivered to your inbox!