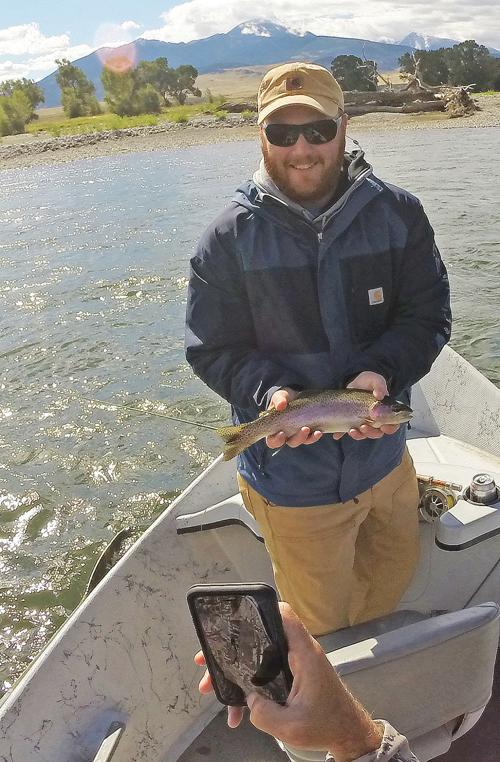 BILLINGS — It's early in the spring, so water flows and clarity may fluctuate somewhat with warmer weather or showers, but now is a prime time to fish.
Anglers are having fun pursuing trout on many of the area's blue ribbon streams, with most of the action on nymphs or streamers. As the weather warms there will be more opportunities for floating a dry fly.
Most of the reservoirs we report on are now ice free, and anglers have had success on waters such as Lake Koocanusa and Tongue River Reservoir.   
Top picks
Bighorn River — Fishing has been very solid. An anglers' best bet is nymphs. Any pink sowbugs are working well, along with your favorite midge or baetis patterns. The water temps are still pretty cold. — Bighorn Angler, Fort Smith. 
Boulder River — The river is still low and clear. The recent warm days bumped the river a small amount. The fish still seem to be in the deep, slower pools eating midges and small nymphs. Fish a dry-dropper rig with a Midge Cluster and a Zebra Midge or nymph fish a small Pheasant Tail/Zebra Midge combination. The spawning rainbows should be working their way upstream from the Yellowstone soon. Remember to step around any clear gravel patches as they may be spawning beds.  — Sweetcast Angler, Big Timber.
Lake Koocanusa — Rainbow fishing is still decent with some big fish being caught. Anglers are having to work for the bigger rainbows, but black and silver, black and gold or black and purple are good colors. Troll in 10 to 30 feet of water at 2 to 3 mph and run a broken-back Rapala or plug. Some pan-size fish can be caught from the bank. Kokanee fishing should pick up in May. — Koocanusa Resort and Marina, Libby.
Missouri River, below Holter — It's fishing well. Most action is on streamers and pink nymphs. Try a pink Pill Popper. Zebra Midges will work by the dam. The river was flowing at 3,710 cfs as of Monday. — Montana Fly Goods, Helena.
Stillwater River — Warmer temperatures over the last week have caused an uptick in flows and that means not perfectly clear water. Nymph fishing has improved using Caddis Pupas in tan or olive (14). A Beadhead Caddis Sparkle Pupa is a great fly to fish as caddis begin to emerge. Like any time of the year, stonefly nymphs like Girdle Bugs, Pat's Rubberlegs or North Fork Specials in black or tan all fish well. Most stones are fished in sizes 8-12. Zebra Midges in red or black (16) or a Hare's Ear, Pheasant Tail (12-16) are all spring standards. Attractor nymphs like Copper John, Prince Nymphs, Lightning Bugs, or of course the Batman Nymph work. Euro nymphing can be a win. Standard Perdigon and Red Tag Nymphs fish as well as anything sub-surface. With the increase in temperatures, dry fly season has begun. March Browns or a tan Caddis (14), as well as attractors like a Purple Haze, Royal Wulff, or Parachute Adams (12-16) can all bring a trout to the surface. A Griffith's Gnat or Parachute BWO (16-18) round out dry fly recommendations. Streamer fishing is really where it's at. You can drift or retrieve anything from small Leeches, to articulated streamers. Recommended patterns include: Fruit Rollups, Slump Busters, Sparkle Minnows, Galloup Dungeons, Thin Mints or standard Woolly Buggers. — East Rosebud Fly Shop, Columbus.
Montana
Ackley Lake — People were targeting tiger muskie last weekend. Some tiger muskie were just starting to strike at dead baits. — Sport Center, Lewistown.
Beaverhead River — Pink Sowbugs are giving way to black Zebra Midges on sunny days. The afternoons are producing good baetis hatches with some fish rising on cloudy days. Keep in mind the river is closed from the dam downstream to Pipe Organ Bridge until May 15. — Frontier Anglers, Dillon.
Big Hole River — The river is fishing well. Small worms, 1mm, olive Pat's Stones and a variety of size 14-18 olive nymphs have been producing. Expect rising waters with the warm temperatures. Once flows stabilize, some of the best fishing of the year will be on. — Frontier Anglers, Dillon.
Bighorn Lake, Ok-A-Beh — Some ling have been caught jigging a minnow. On the Barry's end, anglers got into smallmouth bass and rainbows. Water temps are still pretty cold. — Scheels, Billings.
Bitterroot River — As of Monday, the river came up a lot over the last couple of days and is still rising. The upper river is fishable, but be careful as the flow is moving pretty good. We should see the river crest and start to drop with colder nights. Right now nymphing is the way to go, or a Skwala/dropper rig with San Juans, Rubberlegs, Princes and Jig PTs. Streamer fishing is a good option with flashy patterns like Polar Minnows, Jewel Thieves, Dungeons and Skiddish Smolts. — Grizzly Hackle Fly Shop, Missoula.
Blackfoot River — As of Monday the river is rising and pretty muddy. Check with the shop for updates as it crests and drops. — Grizzly Hackle Fly Shop, Missoula.
Canyon Ferry Reservoir — The ice is almost totally off, but watch for icebergs. The lake is really low. Make sure when using the Broadwater Bay boat ramp to stay in the straight and narrow of it. Rainbow fishing is good between Duck Pond No. 1 and Duck Pond No. 4. Anglers are catching smaller perch and walleye, but not in big numbers. — The Silos KOA Store.
Clark Canyon Reservoir — Some fat browns and rainbows have been caught. Fish are taking small, neutral-colored Marabou jigs with Chironomid Larvae droppers. The biggest challenge lately has been strong winds. — Frontier Anglers, Dillon.
Clark Fork River, Missoula — The river is big and muddy, as of Monday. Check with the shop for updates. — Grizzly Hackle Fly Shop, Missoula.
Cooney Reservoir — Some walleye have been caught jigging soft plastics. Some quality walleye have been mixed in the catch. The ice is gone. — Scheels, Billings.
Deadman's Basin — Anglers are using worms and hooking into the occasional 14-inch rainbow from shore. On the upper Musselshell River, anglers are catching a few brown trout. — Cozy Corner Bar, Lavina.
Flathead Lake (North) — It is fishing OK for lake trout. Anglers are using cut bait and tube jigs. Fish off the delta at depths of 30 to 120 feet. Breakfast sausage will also work. — Snappy's, Kalispell.
Flathead Lake (South) — For lake trout, anglers should target deep water in the trough, on the east side of the lake with a 220-foot pivot depth. Near Melita Island fish a 50- to 70-foot depth toward Elmo Bay. In the Big Arm, the fish are feeding on forage fish. Fish inside or outside of the weeds. As water temperatures rise the fish will move deeper. Try dead sticking with a whole baitfish or jigging with a tube jig. Rattle DZastors , Glo Grubs, and Leadagators with flies have been a good method. A green chartreuse glow has been a good pattern. Rocky Point is getting a lot of pressure because of Mack Days. At East Bay, when the water temperatures reach 50 degrees, the perch bite will kick in. Some pike, brown and rainbow trout have been caught on the Flathead River below Kerr Dam. For trout, use spoons, spinners or Woolly Buggers. Smelt will catch pike. — Zimmer Bait and Tackle, Pablo.
Flathead River — Cutthroat, rainbow and whitefish are biting. Prince Nymphs or Woolly Buggers, Rooster Tails or Panther Martins will also work. Black or gold is a good color. — Snappy's, Kalispell.
Fort Peck Reservoir, Big Dry Arm — All the ice is gone. Fishing pressure is light. The north boat ramp dock is in. The marina will open May 1. — Rock Creek Marina.
Fort Peck Reservoir, Crooked Creek — The ice is off, but the marina is closed until the first part of May. The water is pretty low. We wouldn't advise launching boats at this time. There are some bank anglers, but action is slow. — Crooked Creek Marina.
Fort Peck Reservoir, dam area — Fishing is slowly picking up. A few anglers are catching lake trout at a depth of 15 to 25 feet pulling crankbaits. Pike are also being caught using the same presentation. Pre-spawn walleyes are starting to take a jig and a minnow. The ice is completely gone. Shore anglers are doing well on pike with minnows and smelt, with the occasional walleye being caught. We are stocked with minnows, crawlers and tackle. — Lakeridge Lodging & Bait Shop.
Fort Peck Reservoir, Hell Creek — The entire bay is open and water temperatures are 43 degrees in the back of the bay and 40 degrees at the mouth. Fishing is slow. There is a little bit of a pike bite. The walleye are pretty deep. Lake levels are low, but the dock at the main ramp is in. It is a little muddy backing into it, but people can launch boats. — Hell Creek State Park.
Gallatin River — The river has been shedding ice nicely in the upper sections. The area upstream of Big Sky intersection, for a few miles, is still frozen. Taylor Fork isn't puking mud at the moment. The water temps are still chilly above Big Sky. There is a decent amount of snow along the banks. From the top of the canyon down the river is wide open and fishing good. Midges are still the only hatch going for now until water temps rise. Action on stonefly nymphs is getting better. Slow and deep is still where the fish are holding. In the coming weeks, rainbows are going to start feeling the need to spawn before runoff and will start to increase their feeding just before migrating to spawning beds. — Montana Troutfitters, Bozeman.
Georgetown Lake — Georgetown Lake is closed to fishing until May 15. Try Rock Creek nearby. — Flint Creek Outdoors, Philipsburg.
Hauser Reservoir — The Causeway is open. People have been picking up a few walleye pitching some soft plastics tipped with worms. The trout bite is starting to pick up at York Bridge. Try marshmallows, spawn or Marabou jigs. For fly patterns, try Balanced Leeches, spawn patterns or Ice Cream Cones. — Sportsman's Warehouse, Helena.
Holter Reservoir — The LOG has been producing some nice fish. Trout fishing has been great, and walleye fishing is picking up. Lower Holter is opening up quickly and anglers are starting to catch some fat rainbows. — Sportsman's Warehouse, Helena.
Kootenai River — The discharge from Libby Dam was 4,000 cfs as of Monday and flows are expected to remain low until runoff begins. The water temperature at Libby Dam was 38 degrees. In-flows to Lake Koocanusa were 4,200 cfs. Hatches are midges, blue-winged olives, March browns, early caddis and little stoneflies. Patterns to use include Zebra Midges, Parachute Adams, Purple Haze, Bugmeister, Olive Sparkle Dun, purple Chubby, BH Prince, soft San Juan Worm, BH Pheasant Tail, BH Rubber-legged Stonefly, big streamers in white pink and olive, a Circus Peanut and black Conehead Buggers. — Linehan Outfitting, Troy.
Lake Frances — The lake is open. — Roberts Bait & Tackle, Great Falls.
Madison River, Lower — Most fish are hanging out in the slower, deeper water, but as water temps rise the fish are starting to transition into slightly faster water. We have been fishing scuds, soft hackles, crayfish, worms, midges, eggs and sowbugs. If you find yourself on a calm, cloudy day look for fish rising to midges in the softer water and behind rocks. Keep an eye out for BWOs, as they are sure to be popping soon. The streamer bite has been day-to-day with smaller sculpin and baitfish patterns getting some action. Try natural patterns like light olive and tan. — Montana Troutfitters, Bozeman.
Madison River, Upper — Small and flashy is the name of the game if you decide to nymph: Green Machines, $3 Dips, Purple Deaths, Wire Worms, Shop Vacs, black and brown Rubberlegs and Zebra Midges are all good bets.  It's crucial that your bugs are getting down fast on the upper. If you're not ticking bottom every cast, add some weight. Dry fly fishing has been pretty slow. Streamer fishing has been hit-or-miss, but when it's on, it's on. Black, olive and white are our favorite colors for streamers. — Montana Troutfitters, Bozeman.
Martinsdale Reservoir — Fishing is good with worms from the shore. At Lake Sutherlin, over the weekend the water was open on the edges and anglers could bank fish. — Mint Bar, Martinsdale.
Missouri River, Fred Robinson Bridge — Anglers are fishing for walleye and catfish. Try a jig and a minnow for walleye and your typical catfish baits. — Sport Center, Lewistown.
Nelson Reservoir — They are letting water into the reservoir and filling it. No reports on the fishing. — D&G Sports & Western, Glasgow.
Noxon Rapids Reservoir — The reservoir is ice free. By the golf course near Thompson Falls anglers are catching some walleye. The Clark Fork has been a little bit low, so not all the docks are in yet, and launching a boat can be tough. — Lakeside Motel and Resort.
Rock Creek (East) —  Warmer temperatures bumped flows this week. Nymph fishing is the way to be productive. As we march towards Mother's Day, caddis will be on the trout menu. Beadhead Sparkle Pupa in tan or olive, Caddis Shop Vac's, or Taylor's Gut Instinct in tan or green (14) will cover you. San Juan Worms (8-10) in red or brown can work exceptionally well during the period of variable water levels. Of course, stonefly nymphs like Red Fox Squirrel, Humphrey Stones or Pat's Rubber Leg (10-12) are all excellent lead flies in a two-fly setup. It's tough to beat a red Copper John, Prince Nymph, Hare's Ear or Pheasant Tail (12-16) as your dropper nymph. Warmer weather will increase dry fly opportunities. March Brown and tan or olive Caddis are what you want to have in your fly box. Both of these staples can be fished in a 14. Griffith's Gnats or varied BWO patterns (16) complete your "natural selection." Parachute Adams or an old-school Royal Wulff can also be effective in the early stages of dry fly season. Attractor dry flies can be fished in sizes 12-16. If you want to catch a big brown, stick with a streamer all day. Whether it's a standard Conehead Bugger in black or olive, or the amazing Sparkle Minnow, streamers crush it. Kelly Galloup patterns like Dungeons, Barely Legal, or the Boogieman are worth putting in the time and dedication to get good at streamer fishing. — East Rosebud Fly Shop, Red Lodge.
Rock Creek (West) — Rock Creek had been rising but is dropping a bit as of Monday. Upper stretches are much more fishable, although the current is pretty swift. Fish tight to the banks and anywhere the water slows down. Try nymphing with Double Bead Stones, San Juans, Rubberlegs, 20 Inchers, Jig Princes and PTs. White or black streamers are a good option. — Grizzly Hackle Fly Shop, Missoula.
Tiber Reservoir — It is open. — Roberts Bait & Tackle, Great Falls.
Tongue River Reservoir — The marina opened April 1 and has minnows, crawlers, tackle and groceries. The ice is off. On Saturday, quite a few anglers were out and some did well with crappie in 30 feet of water while vertical jigging with a minnow. The crappie were suspended between 2 to 7 feet off the bottom. For northerns, target the shallows presenting spoons, minnows or smelt. The smallmouth bass bite is decent. — Tongue River Marina.
Yellowstone River, Columbus — Warmer temperatures over the last week have triggered an uptick in flows and that means not perfectly clear water. Get out and enjoy the rest of April before the river blows. Nymphing is the productive option with bigger stoneflies like the Pat's Rubberlegs or a big Prince Nymph, as well as San Juan Worms; paired with your favorite dropper such as a Pheasant Tail, Batman or Copper John (14-18). Stripping streamers has been a little slow for the river but should be getting very good soon.  Bigger, articulated streamers can always be good, but don't underestimate the smaller buggers like Woolly Buggers, The Grinch, Sparkle Minnows and Zirdle Bugs. Bring your dry fly box also as we have been seeing some March browns and BWOs and should start to see some caddis soon. Parachute Adams and Royal Wulffs (12-16), as well as a tan Caddis (14). Midge dries like a Griffith Gnat or Buzzball (18) can be a winner.  — East Rosebud Fly Shop, Columbus.
Yellowstone River, Huntley — The smallmouth bass fishing is really good. Try jigging a minnow or throwing plugs for bass. The river is really low, so boaters should be careful. Catfish action is a little slow. — Huntley Bait and Tackle.
Yellowstone River, Livingston — Nymphing has been effective and streamers have been working on the right days. If you plan on nymphing, keep it simple with rubberlegs, worms, Pheasant Tails, eggs and your favorite midge. We find that water selection is more important than bug selection this time of year. The majority of the fish are still feeding in those slow, deep runs and tailouts. Black, olive, and white streamers have been working. — Montana Troutfitters, Bozeman.
Wyoming
Bighorn River, Thermopolis — Fishing has been mediocre. The water is really low and clear. Woolly Buggers and streamers seem to be working the best. — White Horse Country Store & Canyon Sporting Goods, Thermopolis.
Boysen Reservoir — The ice is nearly off. Some trout and walleye have been caught by bank anglers. — White Horse Country Store & Canyon Sporting Goods, Thermopolis.
Buffalo Bill Reservoir — The ice is off the Southfork Arm. There might be some ice remaining on the main body of the lake on the west side. The reservoir is fishing well. Fly anglers are catching cutthroat, browns, rainbows, and cutbows using dark Woolly Buggers or streamers with a lot of action. Big and dark flies would work the best. Krocodile spoons or bright spinners should work. For trout, try crawlers from shore. Anglers are trying for lake trout with jigs and/or sucker meat. A couple walleye have been caught. Try a jig and a minnow. If an angler catches a walleye, the regulations say the walleye must be immediately killed. The lake is closed April 1 to July 14 from Rattlesnake Creek across the lake to Sheep Creek to Gibbs Bridge to protect spawning trout. — Rocky Mountain Discount Sports, Cody.
Clarks Fork — Near Clark, Wyoming, the river is low and fishable. Warm weather will probably change water conditions to higher flows and dirty water. Beadhead nymphs like those used on the South and North Forks of the Shoshone are recommended. Hatches are midges and some blue-winged olives near the Clark Fish Hatchery. — North Fork Anglers, Cody.
Cody-area lakes — Luce and Hogan reservoirs, along with West and East Newton lakes, are fishing well with black, brown or pearl Ice Cream Cone midge pupae, black, brown or olive Zebra Midges, Freakin' Red midges and tan or olive Scuds (12-16). Hatches are midges. Griffith's Gnats, Renegades, small Parachute Adams and Bow-Tie midges work best (16-22). Streamers are Balanced Leeches in blood, black or olive, Rickard's Seal Buggers in brown or olive/brown (8-12) and black, brown or olive Woolly Buggers (4-12). — North Fork Anglers, Cody.
Lake DeSmet — As of Monday the ice is still on the lake, but is deteriorating and not safe to fish on. — The Lake Stop, Buffalo.  
Lower Shoshone — Below Buffalo Bill Dam, flushing flows are scheduled and river flows are going up in preparation for the irrigation season. Water clarity will be changing from fishable to questionable. Hatches are blue-winged olives and midges. Dry fly action will slow until the flushing flows are over. Once the increased water flows have settled down, the trout will be responding to dries, nymphs and streamers. Fish somewhere else April 5-10. — North Fork Anglers, Cody.
North Fork of the Shoshone — The river is closed April 1-July 1 from the west arm of Buffalo Bill Reservoir up the river to Newton Creek inside the Shoshone National Forest. Above the Newton Creek closure, fishing is slow to fair. Use Beadhead North Fork Specials, Beadhead Prince, Pat's Rubberlegs, Bitch Creek nymphs, Bloody Marys and Beadhead Halfbacks (6-10). Streamers work, too. There are no hatches to move trout to the surface. Water temps are 38-40 degrees. — North Fork Anglers, Cody.
South Fork of the Shoshone — Blue-winged olives and midges are hatching. Some skwalla stoneflies. For dry flies, use BWO Sparkle Duns, Parachute Adams and Purple Haze (16-20). For nymphs use North Fork Specials, black, tan, purple, red; Soft-Hackled Prince, Pheasant Tails, Gold-Ribbed Hare's Ears (6-16). For streamers, use Galloup's Peanut Envy, black or brown/yellow Woolly Bugger, Zonkers in white, black and olive. — North Fork Anglers, Cody.
Upper and Lower Sunshine Reservoirs — The ice in the middle of the lakes is still there. On the lower and upper, people are fishing from shore and doing well. Cut bait or crawlers are a good choice. — Wea Market, Meeteetse.