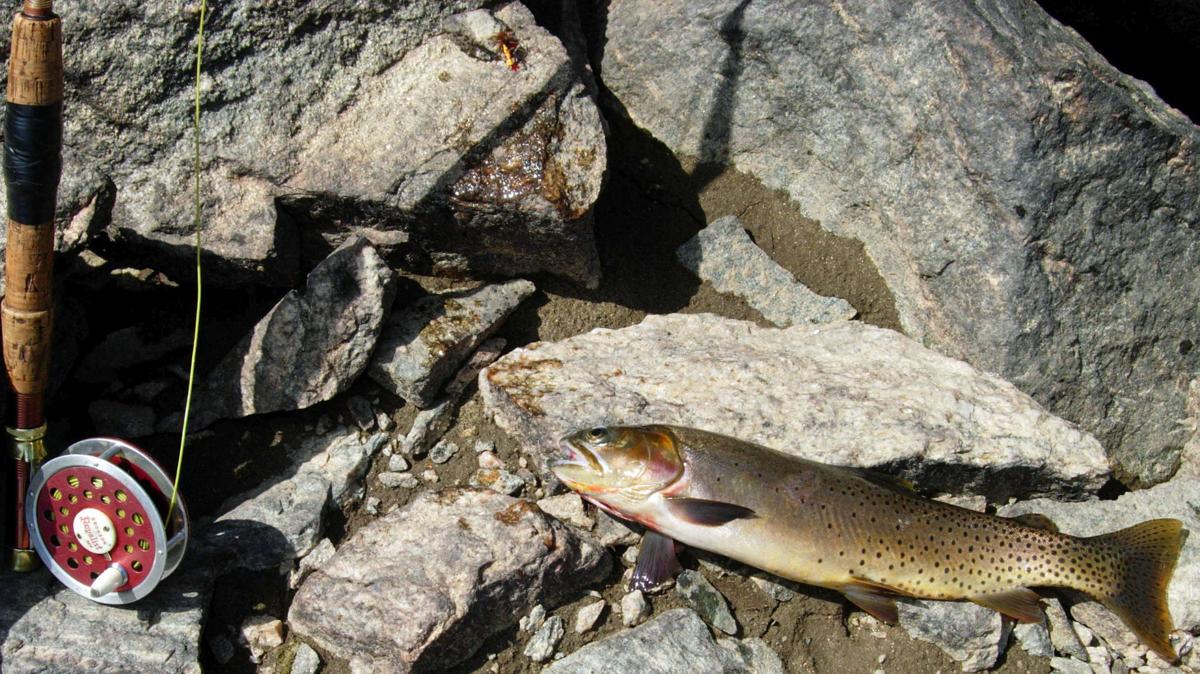 BILLINGS — Fly fishing enthusiasts are enjoying fishing terrestrial patterns during these dog days of summer.
Whether tying on an Ant, Cricket, Beetle or Hopper, anglers have the chance to experience the excitement of the fight when a hungry trout sips their fly. So check your fly box to make sure you have these summertime staples.
If you're a spin angler and want to get in on the fun, catch a live hopper, hook it and present it below a bobber. Or, try floating these flies below a bobber. Remember, trout can be spooky so be stealthy approaching the water.
Here's the weekly report:
Top picks
Bighorn Lake, Ok-A-Beh — The bass bite is still good. There is the possibility of getting into crappie while trolling crankbaits. A size 5 Flicker Shad would be a good option for crappie. — Scheels, Billings.
Bighorn River — Hatches of PMDs and black caddis continue to provide good dry fly fishing from the early afternoon to evening hours. Nymphing is still productive with Ray Charles, Carpet Bugs, Split Case PMDs, Frenchies and Worms. Water temps are still in the mid-40s during the morning hours and low 50s by the end of the day. The river has been gin clear, but there is still a bit of moss down lower. — Bighorn Angler, Fort Smith. 
Flathead Lake (North) — Anglers are catching lake trout along with whitefish, but most anglers are fishing for whitefish. If one goes out beyond where the whitefish are and puts down a whole fish (9-11 inches), some big lake trout have been caught. There is the potential for a trophy lake trout if one gets beyond the whitefish. The lake trout are feeding on perch and small whitefish. — Zimmer Bait and Tackle, Pablo.
Flathead Lake (South) — Whitefish action is contingent on hitting the water when waves of little perch come in. The key is finding where the small perch are located. Most of the whitefish being caught are lake whitefish, but there is an occasional mountain whitefish caught. — Zimmer Bait and Tackle, Pablo.
Kootenai River — The river is in great shape and the current discharge from Libby Dam is 7,000 cfs. The water temperature at Libby Dam is 56 degrees. Hatches are: midge, caddis, PMDs and nocturnal stoneflies. Patterns:  Zebra Midge, Parachute Adams, Yellow Haze, Parachute PMD, Rosenbauer's Rabbit Foot Emerger, KPPT, Water Walker, Purple Haze, purple Chubby, red Chubby, Bugmeister, X-Caddis, Caddis Pupa, Bloom's Caddis, tan Sparkle Dun, purple Chubby, BH Prince, soft SJ Worm, BH Pheasant Tail, BH Rubberleg Stonefly, big streamers in white, pink and olive, Circus Peanut, black conehead Buggers. — Linehan Outfitting, Troy.
Montana
Ackley Lake — Ackley is producing a few trout for fishers using night crawlers or trolling crankbaits. The lake is getting pretty low. — Sport Center, Lewistown.
Beaverhead River — Fishing conditions are a little tougher than last week. There is still some decent Hopper fishing. Poindexter Slough is fishing well on terrestrials. — Frontier Anglers, Dillon.
Bitterroot River — The entire main stem of the Bitterroot is on hoot owl restrictions. Water levels are getting low and water temps are high on the lower end. We'd suggest fishing on the upper end to find cooler water. Get out at sun up and be off the water by 1-2 p.m. It's terrestrial time with hoppers, ants and beetles and a few Spruce Moths out. Make sure to have a few different colors and sizes of hoppers. We like Yeti, Morrish, Thunder Thighs and Sweetgrass hoppers. Drop a beadhead nymph like a dark Perdigon, Spanish Bullet, Duracell, San Juan or Rubberlegs off the back to double your chances. Attractor dry flies like Stimis, Hippie Stompers, Amy's Ants, P-Hazes and Royal Wulff are another way to get fish to come up in the mornings. — Grizzly Hackle Fly Shop, Missoula.
Blackfoot River — Fishing well. Water temps on the lower end are starting to get up there. There are spruce moths on the river and fishing has been good, although spruce moths are around one day and the next they aren't to be found. However, keep throwing Spruce Moths even if you don't see them as fish are looking. Hopper-dropper fishing has been good with a deep dropper. Change up your dropper to see what the fish like. Perdigons, Spanish Bullets, Princes, Rubberlegs and San Juans are a good bet. Ants and attractor dry flies will bring fish up. In the mornings fish are looking up. — Grizzly Hackle Fly Shop, Missoula.
Boulder River — Fishing well. Fish are taking Golden Stone dries and nymphs and Hoppers on the lower river and terrestrial and attractor patterns up high. Try small beadhead droppers like a Pheasant Tail or Copper John for best success. — Sweetcast Angler, Big Timber.
Canyon Ferry Reservoir — The hot bite has slowed down for all species. Walleyes and perch can still be found between the river mouth and Pond 4 in 10 feet of water and between Confederate and Goose Bay in 25-30 feet of water. The best action has been using bottom bouncers with green, orange or white/silver spinner blades tipped with either a worm or leech. A few rainbows are being caught in deeper water around Confederate Bay while trolling cowbells. Shore fishing has been slow for all species. — FWP, Helena.
Clark Fork River, Missoula — We suggest fishing where you can find cooler water, like below tributaries that are putting cold water in. Hopper-dropper is the way to go with only a few PMDs still hanging around. It's terrestrial time, so make sure to have those with you. Attractor dries like Brindle Chutes, P-Hazes, Adams, Royal Wulff, Stimis and PMX are another great way to get into fish looking up. — Grizzly Hackle Fly Shop, Missoula.
Cooney Reservoir — Water temperatures were in the mid-70s. With the hot temperatures the fish have gone deeper. The few groups that caught walleye focused on 25 to 40 feet. They had success using green Jig Raps. The perch are biting on worms in 10 to 15 feet. Occasionally they'll grab a small Rapala. The trout have been hit or miss; some days folks are catching their limits, other days nothing. Shore anglers seem to be doing the best. PowerBait or worms have been working. As of Monday, all three boat docks are still in. Ramps are operational, but water levels are dropping fast. — Cooney State Park.
Deadman's Basin — No new reports. — Cozy Corner Bar, Lavina.
Flathead River, above the lake — Cutthroat action has been very consistent. Purple Haze flies and Hoppers have been a staple to the cutthroat diet. — Snappy's, Kalispell.
Flathead River, below Kerr Dam — There have been good catches of smallmouth bass, and a few rainbow and brown trout. Some northern pike have been caught. For smallmouth, Rooster Tails have been working well. — Zimmer Bait and Tackle, Pablo.
Flathead River sloughs — This time of year, the weeds have grown all summer long so an angler will be fighting them. However, there are fish to be had if one wants to battle the vegetation.  — Zimmer Bait and Tackle, Pablo.
Fort Peck Reservoir, Big Dry Arm — Walleyes are deep and anglers are catching some. Head north toward the dam. Box Creek is a good area for northerns and bass. Anglers are fishing with a bottom bouncer and pulling a worm harness. Depths are anywhere from 20 to 30 feet of water for walleyes. The northerns and bass are running anywhere from 8 to 15 feet. — Rock Creek Marina.
Fort Peck Reservoir, Fourchette Bay — There is a kids fishing day Saturday at Fourchette Bay for children 6 or older. Be down there by 9 a.m. There are prizes and boat fishing opportunities. — Sport Center, Lewistown.
Fort Peck Reservoir, Hell Creek — Angling has slowed down and the walleye and northern bite has moved deeper. Try depths of 25 to 30 feet. The bite is spotty, but the fish being caught are decent. Bass fishing is great. The bass bite is at depths of 10 to 30 feet. — Hell Creek Marina.
Fresno Reservoir — The main boat dock has been pulled as the reservoir is super low. — Bing N Bob's Sport Shop, Havre.
Gallatin River — There have been some storms that have colored up the water, but overall there is some visibility and the fishing has still been great in the canyon. Even with the recent restrictions in the valley, the Gallatin in the canyon up into Yellowstone National Park still has good water conditions. Lots of oxygen is created for the fish in the riffles above Big Sky and down through the rapids in the canyon. Fishing mornings and evenings with a Spruce Moth, Rusty Spinner, Caddis or general attractor pattern is a good option. As the sun rises, try a terrestrial Ant or Beetle with a small flashy beadhead nymph dropper. If looking to nymph, try a McCunes Sculpin dead drifted with a tan Pat's Rubberleg or any small flashy nymph of your choice. — Montana Troutfitters, Bozeman.
Georgetown Lake — The fly hatch includes: damselflies, callibaetis, caddis and tricos. Patterns to fish are: Damsel dries and nymphs, Callibaetis nymph, parachute Callibaetis, Drifter Midges and Goddard Caddis. Water conditions are clear and the water temps at midday are 70 degrees. — Flint Creek Outdoors, Philipsburg.
Glacier National Park — The North Fork and Middle Fork of the Flathead River are fishing well. Use Black Flying Ants, Purple Haze, red Parachute Madam X and orange Elk Hair Caddis on the North Fork. Peacock Elk Hair Caddis, Black Flying Ants, and Purple Haze will work on the Middle Fork. Lake McDonald is getting too hot to fish. Bowman Creek is fishing well with Renegades and Royal Coachman. Action at Bowman Lake has slowed down with warming water temps. The Belly River is fishing well with grasshoppers. Upper Two Medicine is fishing great. Hidden Lake is fishing well, but check for bear closures before you go. Elizabeth Lake is fishing phenomenal for grayling, but people need an overnight pass from the Park Service. — Arends Fly Shop, Columbia Falls.
Hauser Reservoir — The rainbow bite is good in the early morning hours while trolling cowbells and Wedding Ring combos between the York Bridge and the dam. Using lead core line and having at least four colors out while trolling has been working well. Most walleyes continue to be picked up in the Causeway arm and from the Causeway Bridge. Successful walleye anglers have been pitching jigs/vertical jigging near points or weed beds or using floating jigs and leeches/crawlers from shore. Green, orange, chartreuse or white jigs have been popular colors. — FWP, Helena.
Hebgen Lake — Fishing remains really slow. The lake is still slowly dropping. Boats can be launched at Kirkwood. — Kirkwood Resort & Marina.
Holter Reservoir — Good numbers of rainbows continue to be picked up on the lower end of the reservoir. Most anglers are doing well while fishing during the early morning or late evening hours. Trolling cowbells and Wedding Ring combos around 30 feet down in the water column has been working. Some walleyes and perch are being caught while pitching jigs or vertical jigging in the Canyon near the Gates of the Mountains and other weed beds or points in the middle and lower sections of the reservoir. Shore anglers are finding a few perch around the boat docks at Log Gulch boat ramp. Chartreuse, green, orange or white colored jigs tipped with leeches or crawlers have been popular. Some anglers are finding some fat trout while fly fishing from a float tube near the Gates of the Mountains. — FWP, Helena.
Island Lake— Perch are fired up and ready to cooperate. Target 15 to 18 feet of water with a small green jig. — Snappy's, Kalispell.
Lake Frances — The water is low and anglers have to put in at the dam end. — Roberts Bait & Tackle, Great Falls.
Lake Koocanusa — Fishing is slow. The salmon are at depths of 30 to 50 feet. Try maggots. — Koocanusa Resort and Marina, Libby.
Lake Mary Ronan — Perch are biting. Kokanee fishing has good possibilities for approximately two weeks, but then the kokanee will go into spawning mode. Try crawlers and perch meat for bait for the perch. Try depths of 15 to 25 feet. — Zimmer Bait and Tackle, Pablo.
Madison River, Lower — Even with the recent rains and the dam pumping water daily, the flows are still low and have extremely hot water temps during fishable hours. It's probably best to leave this river alone till things cool down in September. If you do decide to fish the lower, go very early in the morning, use barbless hooks, get your fish in as soon as possible, and do not take your fish out of the water as this exponentially increases mortality. — Montana Troutfitters, Bozeman.
Madison River, Upper — The upper stretch has been fishing good. With all the recent storms and cloud cover, the streamer bite has been awesome in the mornings. After the morning streamer bite has subsided, a Hopper-dropper has been the best bet. For droppers, anything small and flashy will get the job done: Split-case PMD, Green Machines, $3 Dips, Purple Deaths, Goblins, Copper John, Prince Nymphs, Perdigons, Worms, Shop Vacs, black & brown Rubberlegs, and your favorite Caddis Pupa are all good bets. Ants have also been in abundance on the upper, so fish are keying into those dropped off of Hopper. One of the most underrated flies on the upper is a Sunken Ant. There has been a lot of big brown trout caught very early in the morning on big streamers. Streamer color has been variable lately, but typically black and olive are great colors on cloudier and rainy days and yellow and white are our favorites for sunny days. — Montana Troutfitters, Bozeman.
Marias River — In the Loma area, action is slow and fishing pressure is light. The water is mossy. — Roberts Bait & Tackle, Great Falls.
Martinsdale Reservoir — Fishing is poor. The lake is really low. Anglers are catching a few fish at Deadman's. — Mint Bar, Martinsdale.
Missouri River, below Holter — Flows were running at 2,950 cfs on Monday and water temps are 65.5 degrees in the mornings. There has been quite a bit of fishing pressure. Hoppers and Ants are working and the opportunity is there for a trico bite. — Montana Fly Goods, Helena.
Missouri River, Fort Benton — The river is mossy and with the heat nobody is fishing. — Roberts Bait & Tackle, Great Falls.
Nelson Reservoir — Anglers can still launch boats at the state park, however, it is tough to launch a bigger boat. Water levels are slowly creeping up as water is no longer being released for irrigation. No new reports on fishing activity as it was fair week in Malta. — Hardware Hank, Malta.
Noxon Rapids Reservoir — The reservoir is fishing great. Pike and walleyes are being caught at depths of 15 to 25 feet on perch crankbaits, or your favorite crankbait. Bottom bouncing rigs with a 2-3 ounce weight is working for walleyes. Bluegills can be caught with small jigs and crawlers around weed beds. For bass, use crankbaits and soft plastics in 8 to 20 feet of water. Bass are in their summer patterns. The surface water temperature is 75 degrees. Where the creeks enter the reservoir, trout are being caught in deeper water. Try inline spinners or floating dry flies like grasshoppers. — Lakeside Motel and Resort.
Pablo Reservoir — Anglers are still fishing and catching bass and pike. The bass have a tendency to not be good eating under the current hot summer conditions. The pike are still tasty, though. — Zimmer Bait and Tackle, Pablo.
Rock Creek (East) — Flows were running at 218 cfs on Monday. So far on Rock Creek there are no hoot howl restrictions, but make sure to check the Montana Fish, Wildlife & Parks website for updates. Fishing has been good, however hopper action is starting to slow down with the rain and cooler temps we have seen. Look for PMDs to start popping along the creek. During the day look to fish smaller terrestrials such as Beetles or Ants. The streamer bite is pretty decent, look to throw Slump Busters in brown. Dries: More or Less Hoppers, peach (12), Purple Haze (14), Hippie Stompers-orange or royal (14). Nymphs: Montana Prince-tan (16), Hare's Ears (14), Tungsten Zebra Midge-red (18). Streamers: Complex Twist Bugger-black, Slump Buster-brown, Thin Mint. — East Rosebud Fly Shop, Red Lodge.
Rock Creek (West) — Water temps are still staying cooler than most area rivers, but afternoons are getting up there. Get out early and off early. Spruce moths are out and depending on the day it has been good. Make sure to have a box with Andy's Moth, Spruce Almighty's or Yellow PMX. Hopper-dropper is another good option if you don't see any spruce moths out. Try small Hoppers with a beadhead nymph (16) like a Perdigon, Duracell, Prince or PT. Attractor dry flies are another good option if you're committed to the dry. Royal Wulff, PMX, Humpies, Hippie Stompers, P-Hazes and Para-Wulff will work. — Grizzly Hackle Fly Shop, Missoula.
South Fork of the Flathead River — Black Flying Ants and parachute Purple Haze will work. Beadhead Flashback Pheasant Tails are also working. — Arends Fly Shop, Columbia Falls.
Spring Creek — Fishing well using grasshopper flies or nymphs. The fish are tucked tight against the banks. — Sport Center, Lewistown.
Stillwater River — The river was running at 624 cfs on Monday. We do have hoot owl restrictions on the lower Stillwater from Absaroka fishing access down to the confluence of the Yellowstone River. Stillwater River Road is closed from Absarokee up due to the Trout Creek Fire. The closer to the Stillwater canyon the safer your fishing will be. Hopper eats have been great lately; fish are taking Club Sandwiches and More or Less Hoppers in pink. Dries: More or Less Hopper (8),  Pookie-pink or peach (10), Club Sandwich (8). Nymphs: Rubberleg Copper John (12), BH Wonder Woman (16), Lucent Pheasant Tail (14) purple. Streamers: Slump Busters-black, Grinch, Thin Mints. — East Rosebud Fly Shop, Columbus.
Swan Lake — No new reports. However, action traditionally begins to pick up when the weather cools for lake trout. Right now would be a good time to target kokanee as the fish are aggressive as they prepare for spawning mode. — Zimmer Bait and Tackle, Pablo.
Tiber Reservoir — Fishing was good over the weekend with several walleyes over 30 inches boated. Bottom bouncing and jigging worked. Use worms and leeches at depths of 6 to 25 feet. Orange and gold are good colors. — Ru's Tiber Marina.
Tongue River Reservoir — This time of year fishing gets slow. The bass bite is decent pitching Rapalas or using Senkos. A few northerns have been caught. Try a Five of Diamonds lure. To target walleye, try to fish outside of the weed beds by either dragging a jig tipped with a worm or a leech. — Tongue River Marina.
Yellowstone River, Big Timber — As of Monday the Yellowstone was blown out and running muddy for multiple days and it looked like this would continue through at least a portion of the upcoming week. Until the mud from a slide upriver clears, fishing will remain poor. — Sweetcast Angler, Big Timber.
Yellowstone River, Huntley — Catfish continue to hit cut bait. Bass and walleyes are taking jigs with a worm or minnow. Anglers have had some luck with plastics. — Huntley Bait and Tackle.
Yellowstone River, Livingston — As of Monday the recent rains have colored up the river pretty badly, hopefully we are on the tail end and will see it clearing soon. As the clarity returns, Hoppers are the main game over here. Some fish are still swiping but if you have the right Hopper fly there are some big fish looking for them. Yellow or light pink seem to be two colors the fish have been most interested in. Running a dropper has been effective to get into fish between dry fly action. The high sun can definitely change the dry fly bite, but smoky days are giving fake cloud cover. Some fish are keyed on a short dropper imitating an emerger. Some fish are hugging bottom and the best way to get into them is a full nymph rig. Sally and PMD nymphs are getting steady action. The Yellowstone has gone on hoot owl fishing restrictions from the YNP boundary to the bridge in Laurel. — Montana Troutfitters, Bozeman.
Yellowstone River, Miles City — Water levels are still very low. If you are boating, you need to be careful. The fishing has been good. Anglers are catching catfish, smallmouth bass, sauger and walleyes. Crankbaits, jigs and plastics have been effective. Also, minnows have been working. — Red Rock Sporting Goods, Miles City.
Wyoming
Bighorn Lake, Horseshoe Bend — Bank fishing is producing sauger, smallmouth bass and channel cats. The south narrows by Abercrombie is the best place to go for cats at the moment. Crooked Creek Bay and the north narrows produced bass last week. — Horseshoe Bend Marina.
Bighorn River, Thermopolis — The flows were 1,144 cfs on Monday. Sparkle Duns, BWO, Sowbugs, Ice Cream Cones, Beadhead Pheasant Tails, and dark streamers are working. —  North Fork Anglers, Cody.
Buffalo Bill Reservoir — The lake is a little dirty on the north end where the river is flowing in. Slow your presentation down and run some darker or flashier lures. Anglers may want to add some scent to their lures. — Rocky Mountain Discount Sports, Cody.
Clarks Fork — The river is clearing. — North Fork Anglers, Cody.
Cody-area lakes — Water temperatures are still too high to fish. — North Fork Anglers, Cody.
Lake DeSmet — For kokanee salmon, try trolling at 1.8 to 2.2 mph. Present chrome and chartreuse flashers with a small pink or blue squid. Put a glow bead in front of the squid. — The Lake Stop, Buffalo.  
Lower Shoshone — Fishing really well. Bloody Mary, North Fork Specials, Prince Nymphs, beadhead Pheasant Tails, Griffith's Gnats, Smokejumper Baetis, Sowbugs and San Juan Worms will work. — North Fork Anglers, Cody.
North Fork of the Shoshone — As of Monday the water was muddy. Go deep with a tandem nymph rig. — North Fork Anglers, Cody.
South Fork of the Shoshone — It is fishable. Hoppers and droppers are the norm for early August. — North Fork Anglers, Cody.
Upper and Lower Sunshine Reservoirs — Anglers are still catching fish using bait. On the lower reservoir the fish are deep and on the bottom. Try floating a worm 1 or 2 feet off the bottom. On the upper reservoir the fish are still really aggressive. — Wea Market, Meeteetse.
Yellowstone National Park — The Lamar should be fishing well with Hoppers, Beetles and Ants. Tie on an Amy's Ant (14) in purple or a Gulp Beetle (14) and work the riffles or heads of pools. Dropping an Attract-Ant (16) off the back might not be a bad idea either. Please take care in the proper handling of fish in the Lamar Valley as the water is quite warm even before 2 p.m. Grebe Lake continues to fish well for those willing to make the hike. Try a Black Para Ant (14), Royal Wulff Cripple (16) or purple Chubby Chernobyls (14). You won't find any giants in here, but there are plenty of healthy fish in the 10- to 14-inch range more than willing to take a dry. Although you can fish the lakes all day, this one has fished best from about 9 a.m. to 2 p.m., which gives you plenty of time to hike out and still beat the park traffic to dinner. — Blue Ribbon Flies, West Yellowstone.