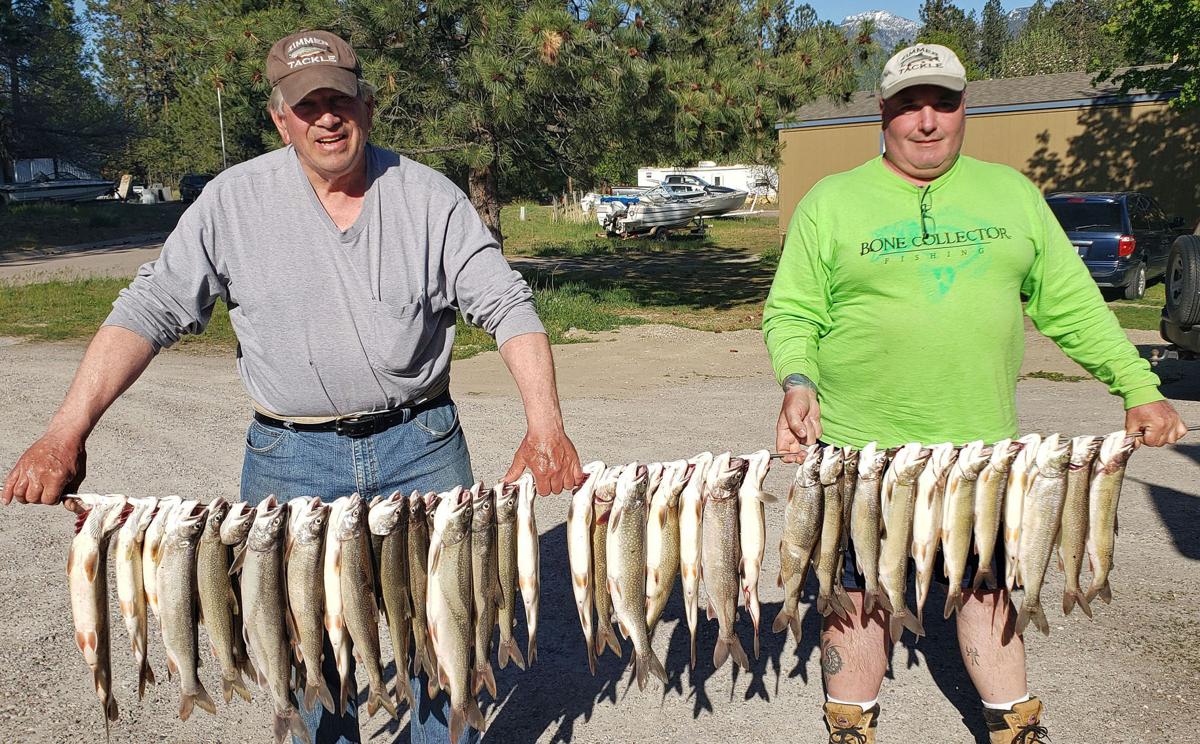 BILLINGS — For many, their first big camping and fishing trip of the season occurs over Memorial Day weekend.
So if you plan on fishing your favorite spot this weekend, there may be a few more people than normal out enjoying the moment with you.
Like many people, the fish were thrown for a little bit of a loop with the wet, stormy weather last week. With the cooler temperatures fishing pressure was light at many locations, thus the sample size for information at some bodies of water was a little smaller.
However, plenty of good tidbits and guidance can still be found in the weekly fishing report.
Enjoy your angling opportunities this weekend.
Top picks
Bighorn River — Flows were down to 2,000 cfs over the weekend. Fishing remains "technical" but good. We're seeing very good dry fly fishing with baetis on the cloudy days and big fish looking up. Nymphing has been good with mainly baetis and midge patterns, with a few fish caught on Sowbugs. We are preparing for another low water year on the Bighorn. — Bighorn Angler, Fort Smith. 
Fort Peck Reservoir, Hell Creek — Overall it is fishing well. The best walleye fishing has been between Timber Creek and Snow Creek. Smallmouth bass fishing is turning on. Anglers are catching a few smallmouth all over; the best bite is toward Timber Creek as bass are moving into their spawning beds. Northern pike are in the shallow water, and anglers are finding them all over. Some northerns are even biting in the main lake. — Hell Creek Marina.
Hauser Reservoir — Anglers fishing from shore for rainbows around Black Sandy, the Causeway, York Bridge and Riverside have been doing well. Night crawlers and marshmallows have been producing the most fish. Anglers trolling for rainbows around Black Sandy are finding some fish using cowbells and Wedding Ring combos tipped with crawlers. Most walleyes have been showing up in Lake Helena and a few in the Causeway arm. Crankbaits and bottom bouncers with crawler harnesses or leeches have been working well for walleye. — FWP, Helena.
Missouri River, below Holter — The river is fishing really well. The flows were 3,900 cfs on Monday and water temperatures were 50 degrees. There are baetis and caddis out. March browns are hanging around. Most action is nymphing and fishing streamers. — Montana Fly Goods, Helena.
Noxon Rapids Reservoir — A bass tourney was held this past weekend and some fat largemouth were caught. Runoff has started. Water levels are holding steady and the water is getting a little murky. There isn't much debris in the water. — Lakeside Motel and Resort.
Montana
Ackley Lake — Fishing was slow here due to the snow. Trout have been biting at Hanson Dam and upper Carter Pond. — Sport Center, Lewistown.
Beaverhead River — The upper seven miles from Clark Canyon Dam downstream have fished very well since the opener. — Frontier Anglers, Dillon.
Big Hole River — Recent snow and rain has the river on the rise. It is time to chuck streamers and San Juan Worms. The river should stabilize mid-week and we will have good fishing opportunities. If we have some warmer temperatures you will find hatches of caddis. — Sunrise Fly Shop, Melrose.
Bighorn Lake, Ok-A-Beh — Smallmouth bass are biting crankbaits. Paddle tail swimbaits would be another option. — Scheels, Billings.
Bitterroot River — The Bitterroot is going back up and unfishable right now. Tributaries are open, creating more local options to fish. Get out and explore. — Grizzly Hackle Fly Shop, Missoula.
Blackfoot River — Runoff blues take over. — Grizzly Hackle Fly Shop, Missoula.
Boulder River — The Boulder is running high, yet periods of clear water are occurring as the cooler weather allows. Wade fishing is hazardous, but fish can be found on the deep, slow seams. Fish Pat's Rubberlegs and San Juan type worms for best results. As always, be very cautious when wading or rafting the Boulder during high water. — Sweetcast Angler, Big Timber.
Canyon Ferry Reservoir — Very few anglers made it out last weekend due to the weather. Fishing was slow for all species. A few rainbows are being caught from shore on the north end while using worms or PowerBait. Boat anglers are picking up a few while trolling cowbells or crankbaits from White Earth to the dam. Some walleyes are being caught around the Ponds on crankbaits or bottom bouncers. — FWP, Helena.
Clark Fork River, Missoula — Big and muddy. Tributaries are now open. — Grizzly Hackle Fly Shop, Missoula.
Cliff and Wade lakes — Fishing well and there has been some good dry fly fishing, mainly on Cliff. Keep an eye out for callibaetis. It's most likely that you won't run into many people on these two lakes, so if it's solitude you want this is a great place. — Blue Ribbon Flies, West Yellowstone.
Cooney Reservoir — With the variable temperatures fishing slowed down quite a bit. Water temperatures ranged from the mid-50s to the low 60s. The few shore fishermen to brave the weather did catch a few trout. PowerBait or a worm with a marshmallow was working the best. A few perch were caught using worms. Walleyes have started to target leeches along the rocky points. A slip bobber with a small glow hook tipped with a leech is going to be a great method to catch fish the next few weeks. All the docks are in the water for the summer and the fish cleaning station has been opened as well. — Cooney State Park.
Deadman's Basin — Fishing is slow. Anglers are doing well at Broadview Pond. In the Melstone area on the lower Musselshell River anglers are catching some catfish. — Cozy Corner Bar, Lavina.
Flathead Lake (North) — Runoff is in full swing. Lake trout are concentrated along the muddy water. Some of the best lake trout fishing on the lake happens when runoff is heavy. Try sinking Rapalas in perch and pike minnow patterns. One can also use a tube jig or dead stick a whole fish. Potentially one can catch bull trout, lake trout and northern pike. — Zimmer Bait and Tackle, Pablo.
Flathead Lake (South) — There has been very little pressure as most anglers are gravitating to the north end. In the East Bay some large perch are being caught and equal numbers of smallmouth bass. Troll crankbaits, or fish with a Wacky setup (a 3-inch Gary Yamamoto Senko, and a jig head, and hook the Senko in the middle rather than the end). Both perch and smallmouth will hit the Wacky setup. Or use a standard setup with a bottom weight and two hooks above it baited with a crawler. In the Polson area lake whitefish, mountain whitefish, smallmouth bass, the occasional cutthroat, northern pikeminnows and lake trout are being caught using sausage by the piers. — Zimmer Bait and Tackle, Pablo.
Flathead River, above the lake — The river is fast and muddy and hard to fish. Until runoff is over there are better places to fish. Runoff will probably last at least another two weeks. — Zimmer Bait and Tackle, Pablo.
Flathead River, below Kerr Dam — It is producing smallmouth bass in the backwaters. The bass are running 2 to 5 pounds. Use a crawler below a bobber. There is the possibility of also catching pike. — Zimmer Bait and Tackle, Pablo.
Flathead River sloughs — At Fennon and Church, largemouth bass, pike, crappie and perch are biting. The sloughs aren't as muddy as the river, but are murky. — Zimmer Bait and Tackle, Pablo.
Fort Peck Reservoir, Big Dry Arm — Fishing was a little slow with the rainy weather. Despite the wet weather South Rock Creek Road is still in good shape. The pike are still biting, but have moved a little deeper. Crankbaits are the best method for pike. When the weather improves, fishing will, too. A 28-inch walleye was reeled in inside Rock Creek Bay. Smallmouth are still being caught. Jigging along main-lake points with a minnow is working best for bass. — Rock Creek Marina.
Fort Peck Reservoir, Crooked Creek — Fishing was pretty slow over the weekend, mainly because of the rainy weather. A few little walleyes and northerns were caught at depths of 20 feet. From the bank, a few two-pound catfish and some 14- to 15-inch walleyes were reeled in. — Crooked Creek Marina.
Fort Peck Reservoir, dam area — Walleye fishing has been a little tougher this week with the weather fronts coming through. Fish are being found by pitching jigs and minnows or plastics. Pitching to shore lines or vertical jigging at 15 to 25 feet is effective. Pulling cranks has netted some walleye in 12 to 18 feet. Pike and bass are being caught as well with these patterns. Pike fishers have been doing well back in the bays by casting spinnerbaits, spoons and cranks. Bass anglers have been doing alright pitching jigs and minnows to shallow rock piles; slip bobbers with minnows has also been working well. Lakers have been caught by jigging for them in 45 to 90 feet on humps and steep drops. Pulling cranks in 10 to 35 feet has worked as well. Downriggers have been working well for targeting lakers at 65 to 100 feet depths pulling spoons and some flashers with Beavis trolling flies. — Lakeridge Lodging & Bait Shop.
Fort Peck Reservoir, Fourchette Bay — Watch the weather, as access roads could be muddy from the recent rainfall. — Hardware Hank, Malta.
Fresno Reservoir — The recent rainy, snowy weather has kept anglers off the reservoir. Before the storms a few walleyes and small saugers were caught below the spillway all the way to Chinook on the Milk River. — Bing N Bob's Sport Shop, Havre.
Gallatin River — The window on the river was short. Recent weather has the river rising and brown again. — Montana Troutfitters, Bozeman.
Glacier National Park — The standard fishing season for all waters in the park begins the third Saturday in May and runs through Nov. 30. Lake fishing is open year round. Check out https://www.nps.gov/glac, click on "Plan Your Visit," then "Things To Do," and choose "Fishing" for more information. — Glacier National Park.
Georgetown Lake — Check the regulations for the closure on the SE shoreline. Bring your best leech and chironomid game. Slow stripping leeches in 1 to 5 feet of water will pick up fish. — Flint Creek Outdoors, Philipsburg.
Hebgen Lake — The lake has fished well over the past week and the midge emergences continue to get stronger as each day passes. Chironomid fishing with Driskill's Midges, Ice Cream Cones and red Copper Johns has remained productive. If the wind stays down you can be assured you'll find rising fish on the north shore as well as the Madison Arm and Southern Arm. Our best dry for this has been the Scotty's Midge and also a Parachute Adams (16) with a Zebra Midge or red Copper John dropper. Stripping Rickard's Seal Buggers in rust, Boufaces in black and olive, and a ClawsR Crawfish has also been a great option. Fishing for these large trout is a ton of fun, so even if you're not a stillwater fan we encourage you to give it a shot at least for a couple of hours. — Blue Ribbon Flies, West Yellowstone.
Holter Reservoir — Anglers are having success for rainbows near the Gates of the Mountains and on the lower end of the reservoir around the Boat Loft or in the Black Beach to Split Rock area. Worms and marshmallows have been producing the most fish from shore. Boat anglers are doing well while running crankbaits, Thomas lures or cowbells tipped with a spinner and night crawlers. A few walleyes have been picked up recently while pitching jigs to shore in shallow water. — FWP, Helena.
Kootenai River — The river will be big with spring runoff and sturgeon augmentation flows until the end of May. What does this mean? It means that conditions will be fair through most of May. When the Kootenai is running at full power house capacity it's not that you can't fish, it's just really big. It may run clear but for sure it's float fishing exclusively. When the river is this big, look for fish in off current areas, soft pockets below islands, big cushions, and walking speed current with depths of 3-6 feet. Keep in mind trout will seek refuge out of big current and will be spread out and not necessarily concentrated. — Linehan Outfitting, Troy.
Lake Koocanusa — Fishing pressure was light last weekend because of the cold, wet weather. Prior to the storms anglers were doing well fishing for rainbows. Dark plugs were working the best. — Koocanusa Resort and Marina, Libby.
Lake Mary Ronan — Perch fishing should be steadily improving, however, people are finding kokanee but not finding many perch. Kokanee fishing will be more and more an early morning, late evening and into the night event. Anglers should be aware there is a developing pike fishery. — Zimmer Bait and Tackle, Pablo.
Madison River, Lower — This last weekend has been a tough one on the lower with water temperatures dropping and flows jumping up and down. Your best bet is to throw some larger patterns under a bobber like Zirdles, Pat's Rubberlegs, Worms and bright Buggers. Hopefully flows stop fluctuating and we can get some more predictable weather and fishing. It's spring in Montana. — Montana Troutfitters, Bozeman.
Madison River, Upper — The upper has been fishing great overall. We have seen a good number of caddis and March browns. The clarity and conditions have been changing day-to-day. Small and flashy is the name of the game if you decide to nymph; Green Machines, $3 Dips, Purple Deaths, Worms, Shop Vacs, black & brown Rubberlegs, and your favorite Caddis Pupa are all good bets. You can also have some success dead drifting a Sculpin under a bobber. Dry fly fishing has been good if you stay late in the day. An Elk-Hair Caddis trailed behind a Purple Haze has been our go-to when fish are eating on top. We have had good reports of anglers doing well on BWOs near Raynolds and Three Dollar Bridge when there are some clouds and low wind conditions. There has been some fat fish coming on the streamer recently, cloudy days have been better. Streamer color has been variable, but typically black, olive and white are our favorites. We have had reports of anglers getting better streamer action near Lyons Bridge and below. The sweet spot seems to be the Three Dollar area with excellent streamer, dry and nymph opportunities. Just watch that weather, wind can be the kiss of death for the dry fly fishing up this way. — Montana Troutfitters, Bozeman.
Martinsdale Reservoir — Anglers are doing well trolling cowbells. From the shore action is slow with quite a few suckers being caught. — Mint Bar, Martinsdale.
Missouri River, Fred Robinson Bridge — Action was good for paddlefish. No news on catfish or walleyes as most people fishing were targeting paddlefish. — Sport Center, Lewistown.
Nelson Reservoir — With the poor weather not many anglers ventured out. Try pulling crawler harnesses or jigging. Crankbaits would be a good option for northerns. Chartreuse is always a good color. — Hardware Hank, Malta.
Pablo Reservoir — The bass are in pre-spawn mode. Some of the female bass are protective and aggressive. Many anglers will release fish that are spawning in a conservation effort. There is always the possibility of catching pike. Ninepipe and Kicking Horse reservoirs would be good options for bass and pike. There are some brown, rainbow, and the occasional brook or cutthroat trout in Kicking Horse. — Zimmer Bait and Tackle, Pablo.
Rock Creek (East) — Rock Creek is experiencing the start of runoff. Water clarity is diminishing drastically. Streamers and nymphs have been effective and will continue to be with rising waters. Fish dark flies in slack water on the lower sections. The West Fork or Main Fork up above the confluence has many advantages this time of year, one being cleaner water. Up there look for fish in the back eddies behind the massive boulders that scatter the stream. Dries: orange Stimulator (10), Para Sipper BWO (18), Parachute Adams (16-18). Nymphs: BH Rubberleg Prince (14), BH Holo Batman (14), black Jig Head Girdle Bug. Streamers: Complex Twist Bugger-black, Galloup's Mini Dungeon-black, Slump Buster-black — East Rosebud Fly Shop, Red Lodge.
Rock Creek (West) — Big, but fishable near the banks. It will be hard to wade, but you can fish from the banks or hit side channels in certain spots. People are starting to float, so be careful. The name of the game right now will be nymphing big stonefly nymphs and San Juans or throwing streamers. We should see salmonflies toward the end of the month, depending on the weather and water temps. — Grizzly Hackle Fly Shop, Missoula.
Spring Creek — The creek is clear as of Monday and fishing well using nymphs or spinners. — Sport Center, Lewistown.
Stillwater River — Runoff is hitting with a slow push to start this year and may keep the river high for a minute. With the river growing and getting dirty it is time to break out attractor patterns such as Articulated Sparkle Minnow in black, Silverman's Para-Crystal Stimulator in purple and Sparkle Stone in black. The upper section of the Stillwater above Nye should have some cleaner, more manageable water. Fish close to the bank as the water will be calmer, holding more fish that will be on the feed. Dries: Black Elk-Hair Caddis (14-16), Smoke Jumper BWO (18), Carlson's Purple Craze (16-18). Nymphs: Trina's Montana Prince-black (12-14), Sparkle Stone-black (8), BH Holo Batman (14). Streamers: Complex Twist Bugger-black, Articulated Sparkle Minnow in black, Tungsten Thin Mint — East Rosebud Fly Shop, Columbus.
Swan Lake — Lake trout fishing is good. The trout are tasty and healthy. Try jigging with a combination of green chartreuse and white glow, baited with green cut bait scented with shrimp. Fish a fly above the bottom jig. Fish at depths of 50 to 90 feet. Another option for lake trout is to fish at Holland Lake and Lindbergh Lake, which are on the headwaters of the Swan drainage. — Zimmer Bait and Tackle, Pablo.
Tiber Reservoir — The marina opens Thursday. — Ru's Tiber Marina.
Tongue River Reservoir — Water levels are slowly coming up. The marina is stocked and ready for Memorial Day weekend. There have been some walleyes caught between 12 and 16 feet of water. Anglers have been pitching jigs tipped with minnows. Some anglers are catching crappie in 20 to 30 feet of water. Vertical jig or troll slowly with leeches or minnows. Quite a few northerns have been caught either pitching spoons or while fishing for bass. The bass bite is really good. Target structure and throw jigs or jerk baits. — Tongue River Marina.
Yellowstone River, Columbus — The river looks like chocolate milk and is running high. Be careful if fishing the river. Along with that the boat ramps at Carbella and Springdale are closed. If the Yellowstone is your only option for fishing, look for slower back eddies or slower water up along the bank where fish can get some relief from all the sediment. Dries: Black Elk-Hair Caddis (14-16), Stimulator-orange (10), Royal Trude (12). Nymphs: Trina's Montana Prince-black (10), Sparkle Stone-black (10), Davie's Lightning Stone-purple (8). Streamers: Complex Twist Bugger-black, Jig Bugger-Black, Crystal Bugger-black, Coffey's Sparkle Minnow Sculpin — East Rosebud Fly Shop, Columbus.
Yellowstone River, Huntley — The river continues to rise. Catfish are still hitting on minnows, cut bait and night crawlers. — Huntley Bait and Tackle.
Yellowstone River: Intake — On May 22, 76 paddlefish were processed at the Intake cleaning station, which brought the season total to 171. Two paddlefish were reeled in at Intake on May 22, the rest were from Sidney Bridge or Richland Park. There was an estimated harvest of 215 paddlefish for the season as of May 22. — Intake Paddlefishing/Yellowstone Caviar Facebook site.
Yellowstone River, Livingston — The Stone is in full runoff. We will let you know as soon as we are back to safe and good fishing levels. — Montana Troutfitters, Bozeman.
Yellowstone River, Miles City — Water levels have risen quite a bit. Anglers are getting geared up for paddlefish. They are starting to catch a fair amount of them. Catfish and sturgeon are also biting. — Red Rock Sporting Goods, Miles City.
Wyoming
Bighorn Lake, Horseshoe Bend — Anglers are catching mostly smallmouth bass south of Barry's Landing toward Devil Canyon. Currently there's no activity at Horseshoe Bend other than river access due to low water. The runoff should be coming in pretty soon to fill up. At Crooked Creek people have been catching sauger. — Horseshoe Bend Marina.
Bighorn River, Thermopolis — Anglers were catching some fish, but the river is a little mossy. — White Horse Country Store & Canyon Sporting Goods, Thermopolis.
Boysen Reservoir — Fishing was slow over the weekend due to the poor weather. Before the storms the walleye fishing was improving. Anglers were either jigging or using bottom bouncers. Worms or minnows are good bait. Trout anglers are still doing well. No news on sauger or perch. — Boysen Marina.
Buffalo Bill Reservoir — We had a good amount of moisture recently and it did get cold and is now warming up. There will be some dirtier and higher water. Try throwing spoons for rainbow trout and lake trout. Sucker meat would be good for lake trout. The lake trout are in the deeper water. For walleyes, throw plugs or plastics. When an angler catches a walleye, they are required to immediately kill and retain the fish. — North Fork Anglers, Cody.
Clarks Fork — High and muddy. Try and find some cleaner water. Darker flies would be a good option. — North Fork Anglers, Cody.
Cody-area lakes — Damselflies are starting. One can also try Callibaetis nymphs, leech patterns and chironomid flies. — North Fork Anglers, Cody.
Lake DeSmet — Anglers seem to be catching trout from the bank, and most action is on crawlers. No news on walleye. The Buffalo Lions Club is hosting its annual fishing derby beginning Saturday and running through Monday. — The Lake Stop, Buffalo.  
Lower Shoshone — Try fishing streamers and the edges of the river or softer water flows. — North Fork Anglers, Cody.
North Fork of the Shoshone — Try streamers, buggers or Bloody Marys and be aware of the spawning closure. The water has the potential to rise based on the weather. — North Fork Anglers, Cody.
South Fork of the Shoshone — If the weather stabilizes the river could start clearing up. Try nymphs. There is a caddis hatch coming off. North Fork Specials, Bloody Mary and any caddis imitation would be an option. Tungsten Prince Nymphs are a good option. — North Fork Anglers, Cody.
Upper and Lower Sunshine Reservoirs — Upper is fishing excellent. Try crawlers off the bottom or under a bobber. Anglers on the lower reservoir were doing well with bait 1 to 2 feet off the bottom. — Wea Market, Meeteetse.
Yellowstone National Park — The fishing season opens Saturday. The weather looks to be perfect for the Firehole and we expect it to fish well. If it is nasty outside there will be baetis. On warmer days, try PMDs or swing soft-hackles unless there is a good emergence. If the weather is pretty nice there will be White Miller Caddis. — Blue Ribbon Flies, West Yellowstone.