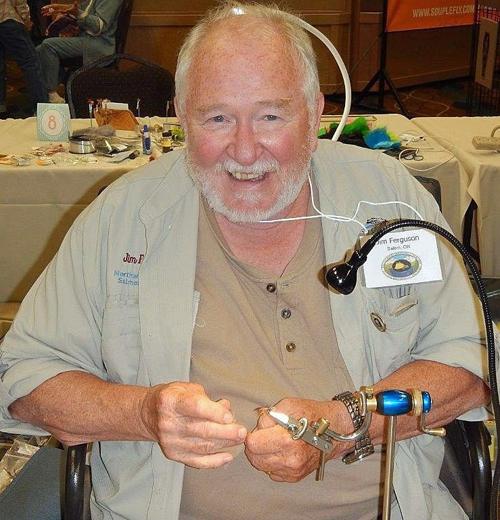 Friday and Saturday I attended the regional conclave of the Western Rocky Mountain Council of the International Federation of Fly Fishers (IFFF). There were a number of nationally known fly tyers at the event and I managed to watch a number of the tyers create some very impressive flies.
It dawned on me that many of the tyers were contemporaries and that they had witnessed some great changes in fly tying over the decades. I posed a question to them, "What do you consider the three greatest innovations in fly tying in your lifetime?"
Of course I had some preconceived opinions on the topic but I wanted to see if my opinions were valid. Some of the answers were in line with my thoughts and others took me by surprise. Some of the respondents had a hard time of thinking of three innovations; while others had a hard time limiting there responses to three.
Frank Johnson listed thread as the number one innovation. He felt that in the early 1970s there was very little variety and there were no fine threads. "Heck, 6/0 thread didn't come out until the mid-70s and that piled up quickly on a size 18 dry fly," Johnson stated.
Johnson also felt that hackle quality has dramatically improved over the years. "Back in the 70s we only had India or Chinese necks to tie with. The number of usable hackles we got from one neck was pretty sparse. You were lucky if you could tie six dozen flies from a neck. It was darned near to impossible to find a neck that had size 18 or 20 dry fly hackle."
Johnson also mentioned that the synthetic dubbing materials sure changed fly tying.
Bob Jacklin said, "The creation of a sturdy vise that held the hooks and that was durable was the most important innovation I saw. The vises we had in the early 70s didn't last very long and they broke easily and the jaws wore out. Today we have vises that last for years and years."
Jacklin also felt that genetic hackle that Metz and Hoffman created were very important. His third choice was the volumes of "how to" books, videos and CDs that are out there. He said, "The fly tying manuals available in the 60s and early 70s just listed the materials needed for the tail, body, hackle, wings, and ribbing and didn't really tell you how to tie the fly."
When I asked asked Al and Gretchen Beatty about their thoughts on fly tying innovations, Al listed Antron, beads, and genetic hackle. Gretchen thought the rotary vise, synthetic dubbing materials and poly yarn were the tops.
Lee Sieckmann stated that genetic hackle was number one on his list while the development of reliable vises—Regal, Dyna-King, Renzetti were second in line for him. He felt that synthetic materials (foams and fibers) were his third choice; then he listed hooks as his fourth choice. "Back in the 70s, there was only one major hook manufacturer and the variety they had was wanting as well as the quality. Nowadays we have plenty of good hooks on the market that are well tempered and are laser sharp."
John Newbury felt that inventing articulated flies was number one for him (John invented them!). Secondly, he listed genetic hackle; third was synthetic materials; fourth was beads; and fifth was tools.
John Kimura thought that synthetic materials were number one in his book while genetic hackle was number two. He felt that the changes made to hooks was number three. "There are so many different types of hooks nowadays as there are manufacturers. The hooks have different tempering and coatings. Of course, they are very sharp."
I couldn't hold Jim Ferguson to three choices because he felt that there were a number of innovations that needed to be mentioned. He listed genetic hackle, synthetic materials, hook quality, variations and options; information that is available; dyed hackle; replacement feathers for endangered species; and threads.
Though my buddy, Paul Dubas wasn't at the meeting in Coeur d'alene, Idaho, Dubas ranks as a contemporary and has tied a ton of flies. Dubas held that the development of quality vises was number one on his list. He thought the development of a great variety of threads was number two while genetic hackle was number three. Number four was head cements; while synthetic materials and hook innovations rounded out the list.
Well, there you have it. After looking at all the fly tying innovations that have occurred in my lifetime, I find that each contributor reminded me that fly tying has come a long ways in the past 70 years and I'm sure that there will be more innovations.