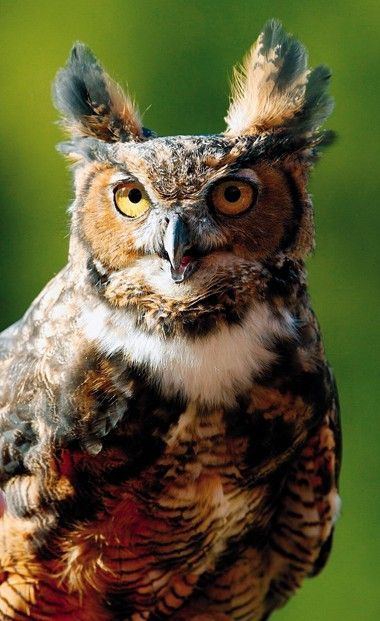 Great horned owls, along with many other species of owls, are regular visitors to backyards all over America. If you hear, "Who's awake? Me Too!" congratulations, you have just learned the typical five-noted call of a great horned owl.
Odds are good that you do have a pair of these large and long-lived owls living nearby. Able to thrive in virtually any habitat found in North America, they are equally at home in wilderness or suburban settings. This amazing diversity is the result of their superior physical and behavioral adaptations which enable them to survive under almost any condition.
Superbly adapted for hunting at night with large "night vision" eyes, acute hearing, silent flight and strong talons, and it's not picky about what it eats. It has the most varied diet of any North American hawk or owl and has been known to feed on invertebrates, fish, amphibians, reptiles and even other birds. A wide variety of mammals, including skunks and porcupines, makes up the largest portion (up to 90 percent) of its typical diet.
But life for the great horned owl is not always easy. Mortality rates during the first year of life can range from 30 to 60 percent depending on local food conditions. But if a fledging owl can survive to become an adult, it has the longest potential life span of any species of owl in North America. Bird-banding studies confirm owls living well into their 20s with the record bird being more than 27 years old.
Join the Audubon Center staff for some nature-filled nights to listen for the owls. Visit them at http://mtaudubon.org/center/for more information. Happy hooting!
Kathy Haigh and her husband, John, own and operate the Wild Birds Unlimited, located in Billings. She is a Certified Bird Feeding Specialist, and is past-president of the Yellowstone Valley Audubon Society.