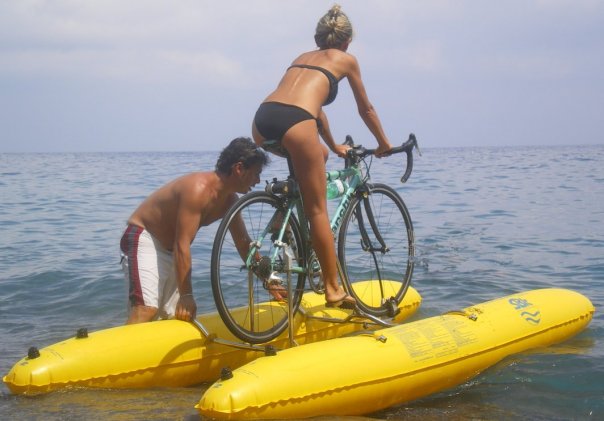 It looks a little unstable, but an Italian inventor has developed a new way to bicycle on the water. Here's a YouTube video of the craft.
The SHUTTLE BIKE adapts a bicycle into a two-pontoon boat. A propeller is hooked to the front fork, allowing propulsion through all gears as well as the ability to steer.
I could see this craft navigating a stretch of calm river or a mountain lake -- it would be cool to go trolling with it but I wonder how difficult it would be to land a fish from the platform. Although the manufacturer claims you can jump off, go for a swim and get back on, it seems like it would be pretty tippy, because of the high center of gravity, for any rough water.
The kit is all self-contained in a backpack. There's even a pump that allows you to peddle to inflate the pontoons. The manufacturer claims it can be assembled in 10 minutes, which would probably take 30 minutes the first time.
Although the product has been on the market since 1992, I've never heard of them. The one price I found was about $700, not sure if that includes shipping, but probably not. Anybody out there ridden or bought one? Let us know.