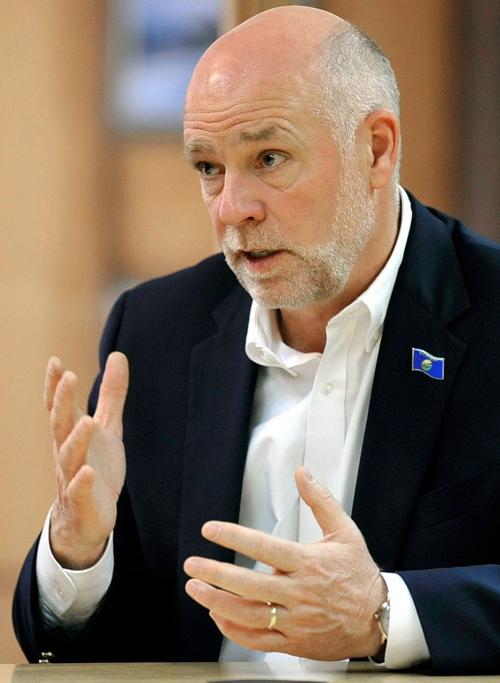 Montana Fish, Wildlife and Parks is "at war with the landowners in the state, trying to extract access and they're using extortion to do it," Republican gubernatorial candidate Greg Gianforte told a Malta gathering in February.
Gianforte's remarks came in response to a question from an audience member about what the businessman thought about FWP. The talk was held at Malta's First State Bank on Feb. 10. Recorded outtakes of Gianforte's comments were provided to The Billings Gazette by the Montana Democratic Party.
His comment didn't sit well with a representative of the Montana sporting community.
"That's wedge politics, pure and simple," said Montana conservationist Jim Posewitz, of Helena.
Posewitz said Montana's landowners, sportsmen and women have a long history of working together to preserve wildlife as well as hunting and angling opportunities and to allocate the opportunities to pursue game and fish as democratically as possible.
"So the relationship between private landowners and hunters is not of the fortress mentality that Gianforte is describing," Posewitz said.
Gianforte is seeking to unseat incumbent Democratic Gov. Steve Bullock, in the general election this November.
Making hay
The Democratic Party seems more than willing to drive a wedge between Gianforte and Montana hunters and anglers. Although the recorded comments were from February, the party only decided to release the outtakes this week.
"Given recent news that Greg Gianforte sued the people of Montana to block stream access on his property, these comments about FWP provide more evidence why he is out of touch with Montana's outdoors community," wrote Jason Pitt, communications director for the Democrats, in an email
Gianforte told The Gazette Thursday that the lawsuit was not about denying or blocking public access to the East Gallatin River on his Bozeman-area property. It was about correcting an error in how an easement had been filed. Once that error was fixed, the lawsuit was dropped. He accused the Bullock campaign of either having its facts wrong or "outright lying."
Background
FWP's policy of providing game damage assistance only to those landowners who allow access to the public for hunting was created in statute in 1987 after being formulated by a legislative committee.
"Part of the genesis of that was from resident landowners being impacted by amenity properties," said Alan Charles, FWP landowner-sportsmen coordinator, referring to an increase in the number of nonresidents purchasing land in Montana and not providing any public hunting access.
Included in the statute's administrative rules is the statement that: "General hunting seasons are the primary tool to deal with animals causing or having the potential to cause game damage."
"The state wants to control the population of elk, and without adequate access they can't do it," said John Gibson, of the Public Land/Water Access Association, an access advocacy group.
Gibson, a Billings resident, said the blame often lies with landowners who restrict access to hunting on their land to sell private hunts to out-of-state residents for thousands of dollars. Those hunters only take a few trophy bulls, leaving the cow elk herds to grow.
More hunting
FWP has attempted to address the issue most recently with the creation of what it is calling elk shoulder seasons, which allow cow elk hunting on certain private lands earlier in the fall and later in the winter in an effort to trim burgeoning elk populations.
Gianforte said this latest effort didn't go far enough since it's not applicable to all regions of the state. Instead, he said he would have signed a bill allowing the reinstatement of a late cow elk hunt. Bullock vetoed that bill to allow FWP to create the more targeted elk shoulder seasons.
No matter the program, FWP is reliant on the cooperation of landowners to provide hunter access, something that's not always forthcoming from out-of-state landowners who purchase property specifically for their own recreational pursuits like hunting. Landowners have also rightfully denied public hunters access after property has been damaged, unsafe shooting has occurred or following quarrels with hunters.
"I mean, I hear stories over and over again that hay stacks are getting eaten by wildlife and the only way you can get a damage permit for an elk is to open up your land to hunting through Block Management or whatever," Gianforte told the Malta crowd. "It shouldn't be that way."
He referred to the situation as a taking of private property rights.
"That sounds like something we commonly hear from outfitters and landowners selling bull elk," Gibson said.
One problem in resolving the issue is that landowners who allow public hunting often suffer from their neighbor's actions. Elk will move to where they aren't hunted during the season and then return to raid fields and haystacks after the hunting pressure has eased. It's been a frustrating problem that FWP has long struggled to correct, but without the cooperation of all landowners the agency's efforts can prove futile.
Land buy
When questioned about where he stood on FWP's acquisition of land to provide public access — a policy that was strongly backed during Gov. Brian Schweitzer's administration but that has been limited to the purchase of conservation easements only under Gov. Bullock — Gianforte said he did not support the state purchase of large tracts of land.
"I do think there are some specific situations where, if we needed river access, or something where there's an easement that's necessary to put a river access in a certain place for access for sportsmen or something like that," Gianforte said.
He then recounted a story Sanders County commissioners communicated to him about FWP purchasing a private ranch and then locking the public out by creating a wilderness study area.
"Access has been cut off and it's out of the property bid. It's out of the tax base. They already have enough public land in Sanders County. They don't need any more public land out there. So that's a concern. I think this is indicative of the leadership we have in Helena right now," a leadership that is comprised of "political insiders" who are "environmental extremists."
Gianforte had some of his facts wrong. The state cannot create a wilderness study area, only the federal government can. Gianforte said he may have used the wrong words, but the commissioners were nonetheless angry about the acquisition in a county that already has plenty of public land.
FWP did purchase the Full Curl Ranch in 2013 to provide a winter safe haven for a herd of about 300 bighorn sheep in the area. The 438 acres, which sold for $425,000 and included a donation from the landowner, was turned into a wildlife management area, for which FWP pays property taxes and provides public access except when the region is closed to protect the bighorns in winter.
Funding for the purchase came from an account fed by the annual auction of one bighorn sheep license to the highest bidder. The Full Curl WMA is one of four WMAs in Sanders County that provide wildlife habitat.
"It's an incredible legacy," said Jim Williams, FWP's Region 1 supervisor.
Despite his critical comments about FWP and its work, Gianforte said his goal as governor would be to bring a diverse group of people together toward a common goal.
"We've had way too much controversy in this state," he said.
"I don't want to add divisiveness to the process."