A Montana GPS mapping company has identified 9.52 million acres of inaccessible public lands in 13 western states, including 1.52 million in Montana and 3.05 million in Wyoming — the largest of any of the states analyzed.
The "overwhelming majority" of the landlocked acreage in Montana is overseen by the Bureau of Land Management — 1.4 million acres, according to Bryan Tutt, who led the data crunch for onX, a Missoula-based firm. Next in line is the Forest Service with 76,000 acres.
The figure for Montana is lower than the 1.9 million federal acres reported landlocked in a 2013 Center for Western Priorities report. That same year, Montana Fish, Wildlife & Parks calculated that 1.2 million acres of state land was inaccessible to the public.
Within the 13 states, the BLM holds 93 percent of the acreage that is inaccessible, the report said. The other states included in the analysis were California, Colorado, Oregon, South Dakota, Nevada, Arizona, Idaho, North Dakota, New Mexico, Washington and Utah.
The BLM acquired some of those isolated parcels when homesteaders abandoned their property following the Great Depression.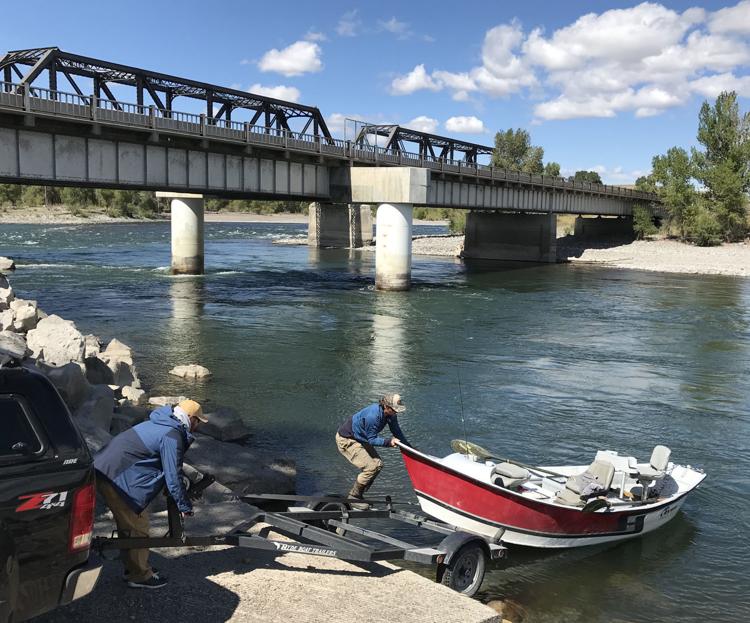 New numbers
The new report, "Off limits but within reach," was released to the public last week and can be viewed online. The Theodore Roosevelt Conservation Partnership, in league with onX mapping, produced the document.
"There's a reason the BLM doesn't have this information of what public lands are available," said Eric Siegried, onX founder. "It took our GIS guys eight months to work through the intricacies."
Not included in the analysis were areas accessible by water, or walk-in access provided by conservation easements, Tutt said.
Detailed in the report is onX's claim that there are 898,000 landlocked federal acres in southeastern Montana's Region 7 hunting district alone. The largest inaccessible parcel of public land was 10,650 acres located in central Montana.
Lobbying leverage
The thrust behind the document is to urge Congress to provide full and permanent funding for the Land and Water Conservation Fund. The annual appropriation for the fund will expire on Sept. 30 unless renewed by Congress.
You have free articles remaining.
Sen. Steve Daines, R-Mont., spoke at a gathering of TRCP's board members and members of the media in Bozeman on Sunday, in part noting his support for full and permanent reauthorization of LWCF, which would total $900 million annually.
"It has to be bipartisan work to get conservation efforts passed," Daines said, noting that the Senate is split between 51 Republicans and 49 Democrats. "Or you can't get something done."
Daines said he didn't think Congress would approve full appropriation for LWCF this year, but said it's important to keep "chipping away, keep the pressure on.
"As you see these conservation bills that have been passed, it's been through a lot of hard work over a lot of years," Daines said.
Montana's other congressmen, Sen. Jon Tester and Rep. Greg Gianforte, have also gone on record supporting reauthorization of LWCF. The sticking point for passage seems to be some GOP senators' disdain for acquiring any more federal lands. Secretary of the Interior Ryan Zinke has also said no more lands should be acquired until the backlog of maintenance at existing national parks can be reduced.
Oil, gas funds
LWCF's funding, acquired from money paid by oil and gas companies with offshore drilling leases, is divided between states in part to help pay for acquisition of lands to be used by the public, such as fishing access sites.
"LWCF is a critical tool for addressing this issue," said Joel Webster, director of the Center for Western Lands.
In Montana the federal dollars have helped projects led by conservation groups like the Trust for Public Lands or the Rocky Mountain Elk Foundation. Groups such as these can step in more quickly to purchase lands and then turn them over to federal or state agencies once LWCF dollars are allocated.
"Public access isn't fast but there's a serious urgency to it," said Jennifer Doherty, director of lands for RMEF.
As an example, in 2013 RMEF purchased a 40-acre parcel in the Big Snowy Mountains that provided access to 18,000 acres of forest land. The group then sold the land to Montana Fish, Wildlife & Parks. That's just one project of many that RMEF has used to secure access to 250,000 acres through LWCF dollars, Doherty said.
East of Missoula the Trust for Public Lands is working on the Beavertail to Bearmouth corridor, purchasing 6,140 acres from Stimson Lumber Co. to then pass on to the Lolo National Forest, provided 2019 LWCF dollars are approved. Phase one of the project was completed last year and acquired 1,900 acres of checkerboard inholdings.
OnX founder Siegfried, who grew up in Miles City and used to be a hunting guide, said the whole idea behind his company's GPS mapping technology was to help the public access their lands, calling it a "game changer" in navigation.