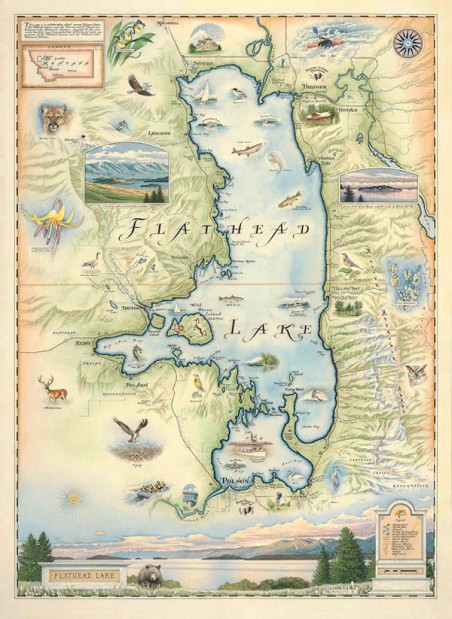 YELLOW BAY – Dick Siderius and Jack Stanford happily posed with the obligatory big fake checks Wednesday morning as an October fog lifted over Flathead Lake.
Then Greg Robitaille reached in his coat pocket and dug out the real things – "You might want these," Robitaille said – two smaller, cashable checks for $2,500, one made out to the Flathead Lakers (Siderius is its president) and one for the University of Montana's Flathead Lake Biological Station (Stanford is its director).
It's the start of what they all hope will be more than $20,000 split between the two from sales of a signed, limited-edition map of the lake that binds them all together – money the Lakers will use to battle the threat of invasive and dangerous aquatic species, and the biological station will use to push the monitoring of Flathead's water quality to never-before-seen levels.
It's not just any map of Flathead – no one is going to roll this up and stick it in their glove box for future reference – but one completely hand-drawn and hand-lettered, old-world style, by Robitaille's artist-brother Chris.
It's more art than it is map.
Across the map's bottom, a bear lumbers through a color sketch of perhaps the most iconic view of Flathead, from the south looking north toward the Narrows, the group of islands that separate Polson Bay from the "big lake."
Two other similarly detailed drawings are inserted up above, one looking out toward Wild Horse Island and the Mission Mountains, the other showing a snow-covered Swan Range at the northern end of the lake.
Dozens of other smaller, detailed color sketches on the map celebrate all that is Flathead – its cherry blossoms, wildlife, fishery, recreation, history, and even its myth (yes, that's the Flathead Lake monster poking its head out of Big Arm Bay).
At least two dozen creeks – No-See-Um, Hellroaring, Talking Water and the like – creep out of the mountains and into the lake, each hand-lettered.
There exist only 309 to 311 of these maps.
Three hundred of them are the limited and signed, numbered prints. Greg Robitaille says he also made eight to 10 more both for display purposes, and so the biological station and Lakers could each have one.
The prints sell for $300 apiece. If they all sell – and 165 of the 300 already have been sold or spoken for – Xplorer Maps has promised to split $20,000 of the $90,000 it would bring in between the Lakers and the biological station.
Wednesday's $5,000 presentation was the down payment on that total.
It was timed, Greg Robitaille admits, to draw attention to the auction of the original, where bidding ends Nov. 1.
That, too, will benefit the work of the biological station and the Lakers. The minimum reserve is $4,000, and Robitaille says to commission such a work would cost twice that.
Whatever the original fetches, it will be split 50-50 between Xplorer Maps and the two groups, and be above and beyond the other $20,000 promised if all the prints sell.
"I've been closely connected to the lake since I moved to Montana 20 years ago," Robitaille says. "It's a place I'm passionate about, and a project like this has a lot more meaning when you partner with two great stewards of the lake. We promised $20,000 to them in return for their research, input and the marketing opportunities it provides."
For the Lakers, it will allow them to expand their efforts to keep Flathead free of devastating zebra and quagga mussels.
The invasive species hitchhike their way from one body of water to the next on recreation equipment – boats are the most obvious, but even a fisherman's gear can be a carrier – and, once established, they can wipe out fisheries and cause untold damage to intake valves and pipes on everything from private lakeside homes to municipal water systems.
"We're doing a lot of education and outreach," says Robin Steinkraus, executive director of the Lakers. "The best way to keep zebra and quagga mussels out is to make sure people know their impacts. And we've had volunteer inspectors stationed at boat ramps around the lake."
Monies from map sales will help fund the hiring of an invasive species consultant to aid the efforts to keep Flathead free of aquatic invaders, she says.
The biological station has extra reason to celebrate its share of map sales, Stanford says.
"It gets doubled, because we have a million-dollar challenge grant from an anonymous donor that's a dollar-for-dollar match," he says.
That money is being used to take monitoring of Flathead's water quality to unheard of heights, according to Bonnie Ellis, research assistant professor at Yellow Bay.
The biological station is already benefiting from a previously funded project that deployed two buoyed automated lake profilers in Flathead Lake, one off Woods Bay in 310 feet of water, and another off Yellow Bay that goes 360 feet.
"They measure water quality every 25 centimeters of depth from top to bottom, and send the information back to us in real time, four to six times a day," Ellis says. "Prior to the buoys, we'd go out to our mid-lake site 15 times a year and measure it once each time. Now that we're getting data four to six times a day every day, it's just phenomenal."
The new donations will be used to manually sample more sites around the lake as well as give UM's scientists a picture of the lake's water quality they've never had before.
It's more involved than scooping up water in a jar.
"There's the labor involved, going out in the field and operating sophisticated equipment," Ellis explains. "There's analyzing, counting and identifying zooplankton and fitoplankton and Mysis shrimp. It takes a lot of time to organize the data, and we'll use it all to create of model of the interactions between the lake's nutrients and its species."
Xplorer, begun by the Robitailles in 2010, is rapidly unveiling hand-drawn old-world-style maps of places both big and relatively small around the planet, after debuting ones of Montana and Yellowstone National Park in 2010.
Glacier Park was added in 2011, and the company has produced maps of Yosemite, the Grand Canyon, Flathead Lake and the University of Montana campus this year.
Some are mass produced and sell for $25 on the website. The Flathead and UM campus ones are signed limited editions that go for $300 and are used as fundraisers (the UM Alumni Association shares in proceeds from the UM campus map).
Chris, an oil painter, lives in Abu Dhabi, where his wife is an educator at a British school. He's also lived in Kenya and China.
The artist has visited the Flathead area numerous times, and came three times in the two years prior to drawing the Flathead map specifically to do research and photograph the area.
His maps, brother Greg says, "are entirely hand-drawn and hand-lettered, which is pretty unique in the digital world we live in."
"They're pen and ink-illustrated," he goes on, "and multi water-colored washes are layered in throughout the process. It's hard to describe, because he won't even tell me exactly how he does it."
The brothers, who grew up in Toronto, plan on unveiling similar maps of the San Francisco Bay area, Olympic National Park, and the states of Alaska and Hawaii in 2013.
They're always interesting to research and produce, Greg says, but when they partner with groups like the Lakers and places like the biological station, "It's been so much more rewarding."