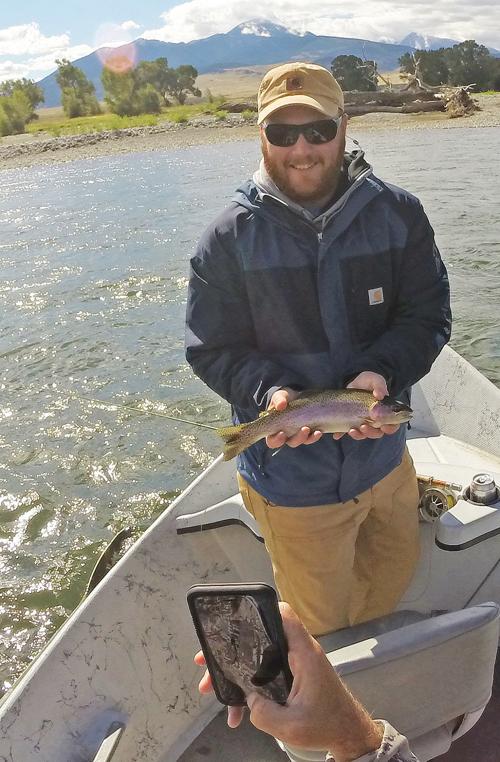 Welcome back to an unusual start to the 2020 fishing season.
Due to the coronavirus pandemic, some fishing piers, group facilities, campgrounds or boat launches may be closed. Before you cast a line, check to see if there are any restrictions concerning the body of water you want to fish.
Fish, Wildlife & Parks is also asking anglers to keep their distance from fellow recreationists. For more information on FWP's response to COVID-19 visit http://fwp.mt.gov/covid19.
Top picks
Beaverhead River — Blue wing olives are hatching. We have been doing well on dries and nymphs lately. Look for your best fishing during the heat of the day. Remember that the river is closed from the dam to Pipe Organ Bridge till the third Saturday of May. The fly shop is closed due to the coronavirus outbreak. — Sunrise Fly Shop, Melrose.
Bitterroot River ­­— The skwala hatch has begun. Fish have been responding quite well to the new food source. Dry fly fishing is popular at the moment. The weather is very favorable for fishing to continue. Favorites are the Purple or Peacock Anorexic Chubby (size 10-12). Another one you might want to have handy is the Plan B (12-14). We have these in several different custom colors but purple, olive and original are my favorites. If you must go underneath; Worms, 20 Inchers, rubber legs or tungsten beads will be your best bet. Hang them off a big dry 2 to 3 feet and cut them off after you've had a few eats on top. This will save the fish from being foul hooked and improve your casting ability. The fish are really spread out, if it looks "fishy" it probably is. — FreeStone Fly Shop, Hamilton.
­Rock Creek — Best technique: Nymphing, headhunting for midge and skwala sippers. Cast your nymph into faster water just above the dumps to get it down quicker. Nymph deeper pools where the fish aren't rising. There may be fish rising to midges or skwalas. Keep an eye out! Best time to fish is early morning or late afternoon. The entire creek is fishing well. — Flint Creek Outdoors, Philipsburg.
Flathead Lake (South) — Jig fishing is better than trolling right now. Shore fishing is doing well off the dock using a link sausage. Perch fishing off the East Bay is getting better, 10-13 inch perch. Smallmouth bass won't bite until temps get to about 50 degrees. Fishing at night along Polson Bridge is optimal. — Zimmer Bait & Tackle, Pablo.
Boulder River — Fishing is fair. The river is still cool and low, with winter conditions prevailing. A few midges are hatching with the blue wing olives and March browns set to hatch soon. Try lightweight nymphing with Zebra Midges and small mayfly or stonefly nymphs or a Worm as the water begins to rise. Smaller streamers are also a good choice. — Sweetcast Angler, Big Timber.
Ackley Lake — The lake is open but there is ice everywhere. The water is still really cold, exercise caution.  — Sport Center, Lewistown.
Big Hole River — Nymphing and streamer fishing has been good lately. We have been using San Juan Worms, Skwala nymphs and Midge nymphs. The skwalas should start crawling and hatching in the next week or so as things warm up on the lower river. Streamers in darker colors have been the best. The river is still frozen above the Wise River. The best fishing right now is below Melrose. — Sunrise Fly Shop, Melrose.
Bighorn Lake, Ok-A-Beh — Closed until further notice. Still primarily ice covered as of last week, Catfish have been caught. — Pryor Creek Bait Co., Laurel.
Bighorn River — Closed to non-Bighorn County residents. — Bighorn Angler, Fort Smith.
Blackfoot River — No local runoff, rotten ice, lakes are not fishable, local antiviral restrictions are in place. — Blackfoot Angler and Supplies, Ovando.
Canyon Ferry Reservoir — Ice is unstable. Try fishing below the dam for active rainbows. Anglers drifting worms or spawn will catch a fish or two. — Sportsman's Warehouse, Helena.
Clark Fork River, Deer Lodge — Here are some fly recommendations: For nymphs try Ray Charles (16), Sowbugs, Superflash Pheasant Tails (14-18), Copper Johns (14, red, chartreuse, copper), San Juan Worms (14-16) and Olive Scuds. For streamers try: Lemon Drop, Sculpzilla, Sparkle Minnow, Sex Dungeon, Miller's Brew Time. — The StoneFly Fly Shop, Butte.
Clark Fork River, Missoula — Look for walking pace water with a depth of 3 to 6 feet. Try for soft insides and look for structure. Break out your best nymph rig. San Juans, Girdle Bugs or Copper Johns will get you fish. For dry flies try a Griffith's Gnat (18-22). Nymphs that should work include stonefly imitations like a Pat's, (10), Prince (12), Pheasant Tails (16), Tungsten Salvation Nymph (14). For streamers go olive or natural in a Zonker pattern (6), Sparkle Minnow (6), olive or black Beadhead Buggers (8). Don't forget a few big pike flies and metal leader. —Blackfoot River Outfitter, Missoula.
Clark Fork River, St. Regis — The flow was 247 cfs. Use Copper Johns, rubber legs down deep, Blue Wing Olive and March Browns. Best March fishing in some time. — Joe Cantrell Outfitting, St. Regis.
Cooney Reservoir — Ice is rotting and deemed unsafe. — Cooney State Park.
Flathead Lake (North) — Lake trout fishing with spoons, Krocodiles, Kamloops. Northern pikeminnow and peamouth minnow being fished on the break at 15-30 feet deep. —Snappys Sport Senter, Kalispell.
Flathead Lake — Due to COVID-19 fishing has become restricted due to social distancing. Nothing new to report until further notice. — Outcast Guiding and Outfitters, Kalispell.
Fort Peck Reservoir, Big Dry Arm — Ice is melting. Cannot drive on to ice. Shore fishing primarily. — Rock Creek Marina.
Fort Peck Reservoir, Crooked Creek — Ice is coming off. People can shore fish. Camping is available. Water level is extremely low so be cautious when loading or unloading your boat. — Crooked Creek Marina.
Fort Peck Reservoir, dam area — No report due to COVID-19 restrictions. — Lakeridge Lodging & Bait Shop.
Fresno Reservoir — Not much fishing going on right now. Reservoir is not very hospitable, but is open. — Bing and Bob's Sport Shop, Havre.
Gallatin River — Fishing has gotten better with the warmer water temps. The canyon is about nymphing more than anything else. Valley fishing has been getting better but is crowded at most access points. There is a small amount of snot breaking loose in the canyon. Big and little Stoneflies are being eaten in most of the canyon stretches, Snowmelt is flushing worms out of the bank lines. Mayfly nymphs are beginning to work more and more as the weather becomes warmer. — Montana Troutfitters, Bozeman.
Georgetown Lake — Ice fishing is still the best technique. Try a Balance Leech or Chironomids. Not ice fishing? Try Rock or Flint creeks nearby. No hatches at this time. Fly patterns include Leeches, Scuds, Sowbugs, Chironomids, and baitfish patterns. Morning and late afternoon are the best times to fish. — Flint Creek Outdoors, Phillipsburg.
Hauser Reservoir — Trout fishing from shore is good where you can access the water. A marabou jig or a Leech pattern fly will do the trick. — Sportsman's Warehouse, Helena.
Hebgen Lake — The marina is not open until Memorial Day. — Kirkwood Resort & Marina.
Holter Reservoir — Gates of the Mountains is open and trout fishing has been decent. Fat rainbows are being caught by anglers fishing Leech pattern flies or marabou jigs. Night crawlers, PowerBait, and spawn are also productive. — Sportsman's Warehouse, Helena.
Kootenai River — The discharge from Libby Dam was 4,000 cfs. The inflow from Lake Koocanusa is about 1,600 cfs. Hatches include midge, baetis and March browns. Nymphing is still the most consistent technique this time of year. Look for fish in slower currents, pools, tailouts, and especially around cover. — Linehan Outfitting Company, Troy.
Lake Frances — Ice is patchy. Pressure ridges are open. — One Stop Conoco, Valier.
Lake Koocanusa — Catching rainbow (4-10 pounds).  Jigging 25-40 feet down for kokanee and rainbow. — Koocanusa Resort and Marina, Libby.
Madison River, Lower — Nymph bite has been more consistent with the recent cold front. Pink seems to be the hot color for nymphs. The crayfish bite is starting to pick up, as well. It pays off to hike a little bit. — Montana Troutfitters, Bozeman.
Madison River, Upper — Fish are feeding on a variety of bugs. More are on a mixed nymph diet including stoneflies and midges, and they are now starting to look at big mayflies. Better fishing the higher you get. Hard to beat the upper-Maddison during the pre-runoff phase.— Montana Troutfitters, Bozeman.
Marias River — Catfish have been caught recently. — Roberts Bait & Tackle, Great Falls.
Middle, North Forks of the Flathead River — The Middle Fork is running at 591 cfs. The best stretch to fish is Teakettle to Presentine. The North Fork is running at 550 cfs. The best time to fish is midday. Use the Teakettle access. — Glacier Raft Company, West Glacier.
Missouri River, below Holter — Streamers are working well. Olive colors have been best. Nymphing has been steady using pink stuff. Above the dam anglers have been catching fish at Gates of the Mountains and York Bridge. — Montana Fly Goods, Helena.
Missouri River, Fort Benton — Have not heard anything. — Roberts Bait & Tackle, Great Falls.
Rock Creek — Trout are pooled up and easy to target with a standard nymph, including Copper Johns, Lightning Bugs, Psycho Princes, and Montana Princes in blue, and the famed Batman Nymph. Stonefly patterns, including Bitch Creeks, work well. Nymphs (10-14) can be fished. If you don't want to drift an indicator, streamers fish fantastic. Streamers to fish include Buggers, Buggers and more Buggers. Sparkle Minnows, Grinch's and Complex Twist Buggers can all be effective. — East Rosebud Fly Shop, Billings.
Spring Creek — Fishable. Creek is off color. Browns and rainbows are biting. Mepps or Panther Martin for lures. — Sport Center, Lewistown.
Stillwater River — Good fishing all the way up to Absarokee. Hitting streamers (Sparkle Minnows, gold, smoke, pearl). Nymphing has been good (Copper Johns). Red San Juan Worms and Smethurst 20 Bomb work really well. — East Rosebud Fly Shop, Columbus.
Tongue River Reservoir — Ice is coming off. Within a week the reservoir should be wide open. There is still some ice on the north end as of Monday. — Tongue River Marina.
Yellowstone River, Columbus — Fishing well with streamers (Circus Peanut, Mini Dungeons, Burgin Bugger). — East Rosebud Fly Shop, Columbus.
Yellowstone River, Livingston — Flows are still at winter level and are good for walk wading. No shuttles are running yet so bring two rigs. Above Livingston has the best color and clarity. Lower tribs have been dumping some color. A big dark stonefly with a mayfly trailing behind is a rig to start with on most days. During the second half of the day some browns have targeted streamers for a better meal. Sculpins in dark and natural colors seem to be getting the job done. — Montana Troutfitters, Bozeman.
Yellowstone River, Miles City — Smallmouth bass, sauger and walleye are biting. — Red Rock Sporting Goods, Miles City.
Bighorn River, Thermopolis — Action is good on San Juan worms and scuds with flows at 2,400 cfs. — White Horse Country Store & Canyon Sporting Goods, Thermopolis.
Boysen Reservoir — Fishing at dock. No boating. — White Horse Country Store & Canyon Sporting Goods, Thermopolis.
Clarks Fork — Fishing is slow. — North Fork Anglers, Cody.
Cody-area lakes — East Newton lake: Water is backed up over the parking lot. Underground springs have the lake rising. — North Fork Anglers, Cody.
Lower Shoshone — Flows increased from 150 cfs to 561 cfs which has injected a significant amount of floating debris into the river.  If flows stabilize we should have good fishing by the end of the week. If the flows keep rising it might be some time before you'll be able to get a clean drift and the fish get active again. BWOs and Midges (size 20) below the dam and through town to Corbett Bridge area. Hatches best midday, or noon to 3 p.m. Streamer and nymph fishing is spectacular right now. We have also been seeing some caddis moving around on the river lately. This is a month earlier than usual. Smaller soft-hackle nymphs have been working well midday. — North Fork Anglers, Cody.
North Fork of the Shoshone — Water has dropped and fish aren't moving. We started to see a few fish migrating up the river. The lower section closes April 1. Flies: North Fork Specials, Sparkle Stones, Pat's Rubber Legs, Halfbacks, 20 Inchers, Soft Hackle Jigs, Trout Pupa. The flow was 163 cfs. — North Fork Anglers, Cody.
Upper and Lower Sunshine Reservoirs — Ice covered. Edges are dicey. No boats. — Wea Market, Meeteetse.