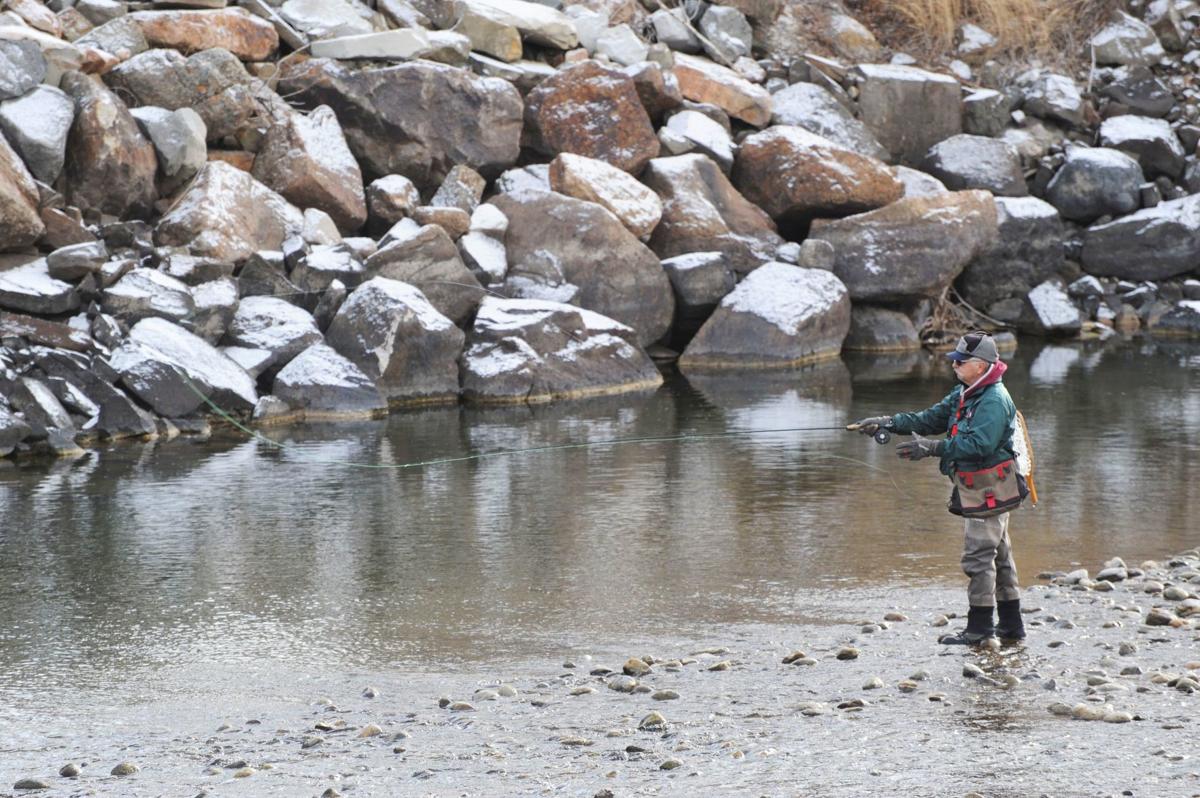 Accompanying the warming trend, the Yellowstone River has seen flocks of anglers fanning out.
Please be advised and use social distancing when fishing more popular bodies of water. Overpopulated streams and lakes may be subject to closure if restrictions are not followed.
If traveling to fish, do your homework and call first to ensure the waterway, as well as local shops, are open.
Local residents of some isolated fishing destinations are frowning upon cross-county travel to fish because of possible coronavirus contamination.
If spring fever is just too much and you need to cast a line, here is your weekly fishing report:
Top picks
Big Hole River — The lower Big Hole is almost completely ice-free and fished well in March. Because of the colder water temperatures we haven't seen many skwalas yet, but during the warmer parts of the day the subsurface fishing has been solid. Most of the fish have come in the slower tailouts on a San Juan Worm, Pats Rubberleg, BWO nymph, or a Zebra Midge. Between 2 and 6 p.m. has been the most productive time of the day. The shop is closed until further notice. — Sunrise Fly Shop, Melrose.
Clark Fork River, Missoula — The streamflow is 2,460 cfs below Missoula. Visibility is about 5 feet. The river is hatching midges. The best time to fish is in the afternoon at any access site along the river. Rainbows, cutthroats, cut-bows, browns, and whitefish have been caught. Break out your best nymph rig. San Juans, Girdle Bugs or Copper Johns will get you a fish. — Blackfoot River Outfitter, Missoula.
Madison River, Upper — River conditions can't get much better than they have been this past week. The fish are responding accordingly and feeding on a variety of different things. You can toss a streamer and start to get some fish. More are on a mixed feed eating stones, midges and big mayflies. If it stays calm check the soft pockets for fish eating dry midges up higher. Varney Bridge construction should be completed in April. Text Varney to 22828 for construction alerts. — Montana Troutfitters, Bozeman.
Yellowstone River, Livingston — Water flows are still at winter levels and good for wading. Over the last week a ton of the shelf ice melted away and some folks have begun to float. No shuttles are running. Above Livingston has the best color and clarity. Lower tributaries have been dumping some color. A big dark Stonefly with a Mayfly trailing behind is a rig to start with on most days. Fish are still holding in the soft tailouts and deeper runs. During the second half of the day some browns have targeted streamers for a better meal. Sculpin patterns in dark and natural colors seem to be best. The streamer bite has been tough on colder and sunny days. On these days go low and slow or toss some bigger nymphs. — Montana Troutfitters, Bozeman.
Stillwater River — The river and banks have cleared of ice and snow. The water temperature remains very cold. As it warms the lower river may have some color. Nymph with small beadheads like a red Copper Johns or a midge pattern. Try a jig hook Optic Nerve Hare's Ear or Pheasant Tail as a lead fly with no split shot in the shallower water and drop the smaller nymph off the back. Keeping nymphs clean can be a challenge due to all the rock snot. There have been midges on most afternoons, so look for sippers on the edges and in back eddy pools. BWOs may also be coming off in the afternoons if the wind doesn't knock them down. Try a parachute BWO (18), Parachute Adams, or Purple Haze along with a smallish size emerger. Also try fishing a small streamer like a Grinch with a beadhead nymph like a Prince, Hare's Ear, Copper John or Pheasant Tail dropped off the back. Look for March Browns to start showing up as the water temperature warms a bit. You can float the lower river but be prepared to drag your boat in three to four spots. — Stillwater Anglers, Columbus.
Montana
Ackley Lake — The lake is open, clear of ice and was recently stocked with rainbow trout. Anglers should see more success in the next few months. A lot of shore fishing been reported using marshmallows with a night crawler tip. — Sport Center, Lewistown.
Beaverhead River — Due to the coronavirus epidemic there has been no fishing and the shop is closed. — Frontier Anglers, Dillon.
Bighorn Lake, Ok-A-Beh — Closed until further notice. Lake is still primarily covered with ice. — Pryor Creek Bait Co., Laurel.
Bighorn River — The Afterbay and 3 Mile access points are closed. Access points from Bighorn down are open, but fishing has been spotty as recent snowmelt has contributed to off-color water. — Bighorn Angler, Fort Smith.
Bitterroot River­­ — The skwala hatch has finally begun and the fish have responded very well to the new food source. Dry fly fishing is popular. Favorite flies are the Purple or Peacock Anorexic Chubby pattern (size 10-12). Another one you might want to have handy is the Plan B (12-14). We have these in several different custom colors but purple, olive and original are favorites. If you must go underneath use Worms, 20 Inchers, Rubberlegs or tung beads. Hang them off a big dry 2 to 3 feet and cut them off after you've had a few eats on top. This will save the fish from being foul hooked and improve your casting ability. — Fly Shop, Hamilton.
Blackfoot River – There will be a browning up of the river in the near future. The water is still a little too cold for any productive fishing. — Blackfoot Angler and Supplies, Ovando.
Boulder River — Water flow is still low and cold. The fishing action has been fair with little dryfly action reported. Try a small Mayfly and a Midge nymph. Using a beadhead Hare's Ear has also been effective. — Sweetcast Angler, Big Timber.
Canyon Ferry Reservoir — The south end is opening up more and more each day. Trout can be caught from shore with spawn or PowerBait and worms. Fly anglers should fish a Woolly Bugger or a Balanced Leech under a strike indicator. — Sportsman's Warehouse, Helena.
Clark Fork River, Deer Lodge — For fishing with nymphs use: Ray Charles (16), Sow Bugs, Superflash Pheasant Tails (14-18), Copper Johns (14), chartreuse or copper San Juan Worms (14-16) and Olive Scuds. If you are using streamers try: Lemon Drop, Sculpzilla, Sparkle Minnow, Sex Dungeon, and Miller's Brew Time. — The StoneFly Fly Shop, Butte.
Clark Fork River, St. Regis — Water is flowing at 247 cfs. Use Copper Johns, Rubberlegs down deep or Blue Wing Olives and March Browns for best results. — Joe Cantrell Outfitting, St. Regis.
Cooney Reservoir — The lake is still frozen over. There are a few spots open to wet a line around the dock area. — Cooney State Park.
Deadman's Basin — Nothing to report. Nobody has come through. Possibly due to the coronarirus. Basin is open and ice is off. — Cozy Corner Bar, Lavina.
Flathead Lake (North) — Fishing has been pretty good for lake trout off the delta. Fish at the break at about 30 feet in with a northern pike minnow. If you want to fish deeper try a Zimmer Jig about about 60-80 feet. — Snappys Sport Senter, Kalispell.
Flathead Lake (South) — Due to the coronavirus all fishing has been shut down. — Zimmer Tackle, Pablo.
Flathead Lake — Due to the coronavirus all fishing has been shut down. — Zimmer Tackle, Pablo.
Fort Peck Reservoir, Crooked Creek — Overnight use of campground is closed, day use only. Catching northerns off the bank. Water is still pretty low for walleye. — Crooked Creek Marina.
Fort Peck Reservoir, dam area — Adequate shore fishing has been reported as long as ice isn't blowing over. Reports of people fishing down below in the tailrace and off the face of the dam. Shop is open and fully stocked with minnows and crawlers. — Lakeridge Lodging & Bait Shop.
Fresno Reservoir — No reports of any catches. Ice is just now coming off. Looking at about another week before better ice conditions. — Bing and Bob's Sport Shop, Havre.
Gallatin River — Fishing has gotten better with the warmer water. The canyon is more nymphs than anything else. Some fish have been eating a dry Midge but they have been few and far between. The valley fishing has been getting better but it has been very crowded at most access points. Hiking a bit is the only cure for the crowd. There is a small amount of rock snot breaking loose in the canyon. Big and little Stoneflies are being eaten in most of the canyon stretches. Snow melt is flushing worms out of bank lines. Mayfly nymphs are beginning to work more as we get into warmer weather. — Montana Troutfitters, Bozeman.
Georgetown Lake — As of March 22 ice fishing was still possible. If not, try Rock or Flint creeks. Best time to fish is morning or late afternoon. The whole lake fishes well. Best access point is Red Bridge or Stuart Mill Bay. Reports of rainbow, brook trout, and kokanee biting. — Flint Creek Outdoors, Phillipsburg.
Hauser Reservoir — Trout fishing from shore is good where you can safely access the water. A Marabou jig or a leech pattern fly will do the trick. Anglers are catching rainbows on worms, spawn sacks, and PowerBait at the causeway. — Sportsman's Warehouse, Helena.
Hebgen Lake — Closed until Memorial Day weekend. — Kirkwood Resort & Marina, West Yellowstone.
Holter Reservoir — Gates of the Mountains is open and trout fishing has been decent. Fat rainbows are being caught by anglers fishing leech pattern flies or with Marabou jigs. Night crawlers, PowerBait and spawn are also productive. Some walleye have been caught, mostly deeper. As the water warms up look for the walleye to be in shallower water. — Sportsman's Warehouse, Helena.
Kootenai River — River flows remain stable at 4,000 cfs. March browns have started to pop later in the afternoon each day. Dry fly fishing is still minimal but if you see bugs you will likely see rising fish. Make a good presentation and they'll eat a size 14 Parachute Adams every time. Nymphing is still the most consistent technique to fish this time of year. Don't be too aggressive with your strike. Trout are feeding slowly, so their bite will be soft. Be brave and get out the big rods and throw streamers for big fish. — Linehan Outfitting Company, Troy.
Lake Koocanusa — Kokanee and rainbow fishing has slowed down due to the colder weather. Jigging is working at 40 feet for some kokanee. — Koocanusa Resort and Marina, Libby.
Lake Mary Ronan — Use a Silver Spinner, Glo Hook (8), worms and a can of yellow corn to fish for salmon. For trout try a fly rod or troll with a fly setup. — Camp Tuffit, Proctor.
Madison River, Lower — The river has been a great place to fish lately. The nymph bite was more consistent until the recent cold front, but as things warm up we should start to see a few more heads popping for midges on calm days. Pink seems to be the hot color for nymphs. Fishing Midge Emergers with a soft hackle has made for some fun fishing. The crayfish bite is starting to pick up, as well. When it's calm there are fish eating midges on the surface occasionally. It pays off to hike a little bit, as we have seen many anglers with spring fever hitting the water. — Montana Troutfitters, Bozeman.
Martinsdale Reservoir — No ice reported. Reservoir is open. — Ray's Sport, Harlowton.
Middle and North Forks of the Flathead River — Middle Fork: River visibility at 60 inches. Water condition is clear. Best time to fish is midday. Best stretch to fish is Teakettle to Presentine. Best access point is Teakettle. River flowing at 731 cfs. North Fork: Water visibility at 60 inches and flowing at 737 cfs. Best time to fish is midday. Best stretch to fish is Teakettle to Presentine. Best access point is Teakettle. Water temperature midday is around 42 degrees. — Glacier Raft Company, West Glacier.
Missouri River, below Holter — Streamers are working well. Olive colors have been the best. Nymphing has been steady using pink stuff. Spawning has begun at the Gates of the Mountains. York Bridge has reports of fish biting. — Montana Fly Goods, Helena.
Missouri River, Fort Benton — Fishing has picked up. Catfish, walleye, and northern pike have been reported. — Roberts Bait & Tackle, Great Falls.
Newlan Reservoir — Still covered with ice. — Ray's Sport, Harlowton.
Rock Creek (East) — The creek is in prime early April shape. Flows are low and water clarity upstream from the town of Boyd is crystal clear. The most effective way to fish is with nymphs and streamers. Dry fly fishing will be right around the corner with BWOs, Caddis and March Browns, but it's not there quite yet. Recommend nymphs include Stoneflies, naturals and attractor patterns. Rubberlegs, 20 Incher's, North Fork Specials in black and Bitch Creeks are all acceptable stone's to drift (8-10). A Hare's Ear, Pheasant Tail, or Shop Vac (12-16) will represent your natural patterns. Attractor nymphs include Copper John, Montana Prince, Batman or Psycho Prince in blue or purple (12-16). The absolute best way to fish is with streamers. Nothing will move a brown trout like a Woolly Bugger. Fish Sparkle Minnows, Krystal Flash Buggers and Grinches and you can leave the rest of your flies at home — East Rosebud Fly Shop, Billings.
­Rock Creek (West) — Best technique to fish is nymphing or headhunting for midge, and skwala sippers. Winter water flows are good. Some shelf ice is still around. Midges, skwalas, and March browns should be active in the coming weeks. — Flint Creek Outdoors, Philipsburg.
Spring Creek — The creek has been fishing well with nymphs and streamers. Brown trout have been hitting. — Sport Center, Lewistown.
Tiber Reservoir (Lake Elwell) — More boaters are hitting the water and are mainly catching walleye. — Roberts Bait and Tackle, Great Falls.
Tongue River Reservoir — No fishing to report. Ice is completely off the reservoir. — Pryor Creek Bait Co., Laurel. 
Yellowstone River, Columbus — Nymphing with a Pat's Rubberleg with a smaller Midge or Lil' Spanker as a dropper has been picking up fish in most runs and around gravel bars. For streamer anglers allowing the Grinch to sink and stripping it slowly has been working. There may be BWOs coming off mid-afternoon so look to fish a smaller size Purple Haze or BWO dun pattern with a Cripple, Emerger, R&S lure or Smoke Jumper trailed off of it by 12 inches. Midges are likely to appear, as well. Look for sippers in the foam back eddies. — Stillwater Anglers, Columbus.
Yellowstone River, Huntley — Ling fishing has been awesome. Catfishing has started to come on. Walleye and smallmouth bass are slow. — Huntley Bait and Tackle, Huntley.
Yellowstone River, Miles City — Catfish, bass and saugers have been caught. Jig and plastic worms and crankbaits are working. Due to the warming trend, ice hasn't been a problem. — Red Rock Sporting Goods, Miles City.
Wyoming
Unnecessary interstate travel should be avoided due to the potential spread of the coronavirus.
Bighorn River, Thermopolis — The river just finished it's spring flush and is coming back down to normal levels. Water is flowing at 2,300 cfs. Standard spring hatches in the evening. Rainbows are in full spawn. Watch for spawning beds. Best time to fish is in the morning and late afternoon. — White Horse Country Store & Canyon Sporting Goods, Thermopolis.
Boysen Reservoir — Where the lake is not closed to protect spawning trout boaters have done well trolling the shoreline for trout and walleye. Fishing in the deeper water boaters have been dropping bait or lures to 30 or 40 feet for lake trout. — North Fork Anglers, Cody. 
Buffalo Bill Reservoir — North bank has been full of action for brown trout and walleye. Worms, mealworms, and PowerBait have been used successfully.  — Rocky Mountain Discount Sports, Cody.
Clarks Fork — No one has reported fishing. Have to be up above Newton Creek to be legal above the closure. Water flow is at 268 cfs. Water is murky due to runoff. — North Fork Anglers, Cody.
East Newton Lake — Fish with flies and lures only. Some action reported using Midge Pupae while fishing deep. Scud patterns and smaller streamers are also catching fish. Be advised: catch and release only. — North Fork Anglers, Cody.  
Lower Shoshone — The Bureau of Reclamation has increased flows. The river fishes well below the dam through Cody with streamers and beadhead nymphs. Hatches are sporadic due to increased flows. Water quality deteriorates where snowmelt is running in from tributaries.  — North Fork Anglers, Cody.
Luce Reservoir — Better fishing has been reported from the shore or using belly boats. Smaller beadhead nymphs stripped slowly work best. As the water warms streamers have been working well. Be advised: catch and release only. — North Fork Anglers, Cody.
North Fork of the Shoshone — Closed to protect spawning trout from the west arm of Buffalo Bill Reservoir all the way up the river to Newton Creek. West of Newton Creek fishing is allowed. Try nymphs and streamers. Some dry fly action late in the day on March Browns and smaller Stoneflies. — North Fork Anglers, Cody. 
Upper and Lower Sunshine Reservoirs — Still frozen over so no recent fishing has been reported. — Wea Market, Meeteetse.