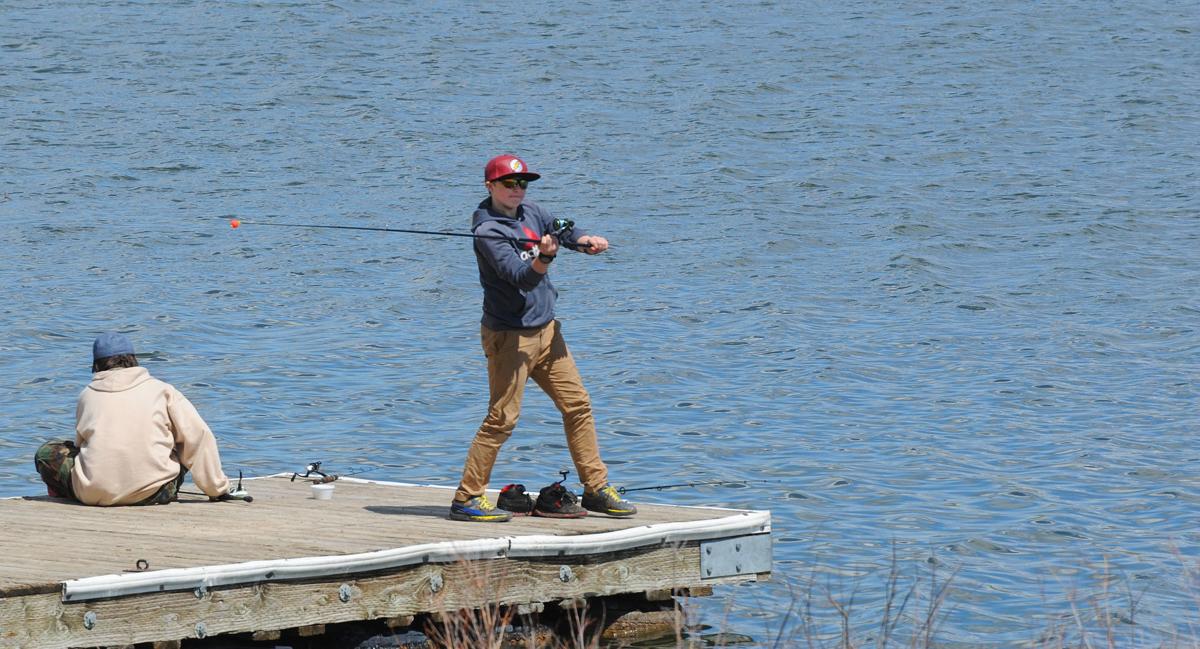 Rain has made fishing conditions tough across the state. Water flows have risen and clarity has been compromised.
During this runoff season the best places to fish have been the Missouri River, reservoirs, and other still waters.
If you are looking to wade fish, the Bighorn River is the place to be.
Walleye and pike fishing has picked up at Fort Peck's Big Dry Arm, with reports of larger walleye and pike being caught.
Over at Lake Mary Ronan, the salmon bite has been great. To the south at Tongue River Reservoir big northern pike have been hitting.
Top picks
Big Hole River — The river is in great shape and has been fishing really well. Streamers and San Juan Worms have been the most successful method. The water from Jerry Creek downstream to the confluence has been fishing the best. The Mother's Day caddis should be starting soon. — Frontier Anglers, Dillon.
Fort Peck Reservoir, Big Dry Arm — A 30-inch walleye and a 45-inch pike were recently caught. Anglers over the week were pretty satisfied. A lot of minnows and worms were used. — Rock Creek Marina.
Flathead Lake (North) — Painted Rocks to McGovern Bay the fishing has been decent. The big fish are moving into shallower water to spawn. Lake trout are being caught jigging or using a bottom bouncer. Anglers were also trolling flatfish out of Angel Point a week ago. — Snappys Sport Senter, Kalispell.
Hauser Reservoir — A few rainbows are still being picked up while cruising the shorelines around York Bridge, Black Sandy and Riverside. Shore anglers have been doing well using leech patterns, PowerBait, egg sacks or night crawlers and marshmallows. The walleye bite has been good at night around the Causeway. Floating jigs and leeches are working well. Lake Helena is still producing a few walleye. Boat anglers are trolling small perch-colored or silver cranks. Bottom bouncers and crawler harnesses are also working. — FWP, Helena.
Tongue River Reservoir — This past weekend fishing seemed to pick up with multiple walleye being caught in about 15-20 feet of water using jigs or worm harnesses tipped with live minnows or worms. The crappie bite is still not on fire but the water did produce some fat crappies using live minnows or worms. The northern bite was phenomenal using spoons, minnows, smelt and worms. The bass bite, like always, has been pretty good using jerk baits or live bait. — Tongue River Marina.
Montana
Ackley Lake — A lot of muskie action lately using cutbaits or smelt. — Sport Center, Lewistown.
Beaverhead River — The outflow from Clark Canyon Reservoir is at 424 cfs. You will find the fish eating soft-hackle Sowbugs, Scuds, and the occasional Worm. Streamer fishing might be pretty good since the fish haven't had pressure. The river is fishing well from Pipe Organ Bridge to Grasshopper Creek. Below Grasshopper Creek the river is off color and not fishing well from low elevation snow runoff. We have been doing well on BWOs, Sowbugs and Midges above Grasshopper Creek. — Sunrise Fly Shop, Melrose.
Bighorn Lake, Ok-A-Beh — The Ok-A-Beh Marina remains closed, and there is no fuel available on the lake.— Bighorn Canyon NRA.
Bighorn River — The water flows are back down to around 2,500 cfs and making for some great wade fishing. The weekend was quite busy, so if you can avoid it, it is best to fish on the weekdays. The cloudy and calm days provided some excellent dry fly fishing with Baetis and Midges. Nymphing has been good with Cotton Candies, Green Weenies, Zebra Midges, Lil' Uglies, Jellybean Sowbugs, and Ray Charles in a tan or grey (16-18). — Bighorn Angler, Fort Smith.
Bitterroot River — Lots of rain this week made fishing conditions tough. The creeks are all open now and are fishing well. — Grizzly Hackle Fly Shop, Missoula.
Blackfoot River — The river flows have gone up with the rain. Looks like it is going to be a muddy week. Creeks are open and fishing well. — Grizzly Hackle Fly Shop, Missoula.
Boulder River — The water is rising. This is causing the lower river to become muddy and to fish poorly. The upper river remains fishable until the snowmelt begins. Fish larger nymphs and look for March browns and BWOs in the soft waters. Waders and floaters should be cautious. — Sweetcast Angler, Big Timber.
Canyon Ferry Reservoir — Rainbow fishing from shore has continued to slow down as the trout move into deeper water. Yacht Basin, Shannon and the Outhouse are producing rainbows from the shore using worms, marshmallows and orange Powerbait. A few walleye are being caught around Hole-in-the-Wall and between ponds one and three in 10 to 15 feet of water while trolling Slow Death Rigs, crankbaits or jigs. Chartreuse, pink or white are the colors of choice for walleye action. An occasional perch is being caught from shore north of the Silos on worms. — FWP, Helena.
Clark Fork River, Deer Lodge — Anglers fishing nymphs should try a Ray Charles (16), Sowbugs, Superflash Pheasant Tails (14-18), Copper Johns (14), chartreuse or copper SJ Worms (14-16), and Olive Scuds. If you are fishing with streamers use Lemon Drop, Sculpzilla, Sparkle Minnow, Sex Dungeon, and Miller's Brew Time. Dries that are working are Missing Link Caddis (16-18), Purple Haze (16-18), and Rocky Mountain Mint (16-18). — The StoneFly Fly Shop, Butte.
Clark Fork River, Missoula — Rain is making the flows rise and the clarity dirtier. This week fishing looks like it will be a no go. — Grizzly Hackle Fly Shop, Missoula.
Clark Fork River, St. Regis — The water is at about 20,000 cfs and is expected to go to 47,000 cfs. Fishing conditions are not good right now. — Joe Cantrell Outfitting, St. Regis.
Cooney Reservoir — This week the water has really cleared up but we are not expecting it to last long. Surface temperatures range from 53 to 57 degrees across the reservoir. The walleye bite is improving with the warmer water. Fish are starting to target leeches and worms. This week soft plastics seemed to do the best with purple or green being the popular color. The perch-colored Rip-N-Glide worked for some groups. The perch are biting on Rapalas. Anglers are catching trout from shore using worms. — Cooney State Park.
Deadman's Basin — Worms are still catching trout. — Cozy Corner Bar, Lavina.
Flathead Lake (South) — Anglers are accessing East Bay, Yellow Bay and Big Arm. All state accesses are open. — Zimmer Tackle, Pablo
Flathead River — The river is restricted to Montana 15 license plate residents. — Zimmer Tackle, Pablo.
Fort Peck Reservoir, Crooked Creek — Fishing has been slow on the bank but has been picking up. The warmer weather should bring more anglers in. Boaters were jigging for walleye and the bass bite has really turned on. Every day the flavor has been different. Come prepared. Some were bottom bouncing. The fish seem to be at about 10 to 15 feet of water. Fish are also biting on minnows. The northern bite is also starting to pick up. A 22-pounder was recently caught. — Crooked Creek Marina.
Fort Peck Reservoir, dam area — It was a good day on the water Friday and Saturday. Lake trout, walleye, smallmouth and pike were biting. Anglers were fishing lake trout with crankbaits and spoons from 10-50 feet out. The walleye were biting on jigs and plastics pitched from the shore and vertical jigging at about 15-28 feet out. Pike were also being caught casting crankbaits and spoons at the shore line. Smallmouth bass were caught by pitching jigs and cranks to the rock piles. Bank anglers did well on pike by casting spoons and cranks. — Lakeridge Lodging & Bait Shop.
Gallatin River — The water has come down substantially over the last few days and it looks like we have a short window before runoff is once again upon us. This is a good window to work the banks with heavy nymph rigs such as dark-colored Stoneflies and Worms. Streamers are also a solid option. — Montana Troutfitters, Bozeman.
Holter Reservoir — Rainbows continue to be picked up near shore at Gates of the Mountains and the BLM boat ramp areas. Boat anglers are catching a few rainbows while trolling cowbells with a crawler trailer. Successful shore anglers are doing well with plain night crawlers or egg sacks. Anglers using leech patterns are still picking up a few trout, as well. Walleye and perch fishing has been fairly slow. — FWP, Helena.
Kootenai River — The water is flowing at about 17,500 cfs and may increase due to runoff. The water temperature is at 39 degrees. Anglers may see some color downstream from the tributaries, but for the most part the water clarity is perfect. Hatches in the river are midge, baetis, March browns, caddis, and stoneflies. Some useful patterns to fish with are Zebra Midge, Midge Pupa, Parachute Adams, Bullet Head and Bullethead Skwala. The stretch from Libby dam downstream to Highway 37 Bridge/Fisher River is now closed for spawning until June 1. Below Highway 37 the river is open to all angling. From now until the middle of June the water will likely offer fair conditions at best. March brown flies, caddis, and stoneflies have started to pop later in the afternoon each day. Dry fly fishing is spotty. If you see bugs, you will likely see rising fish.  Nymphing is still the best way to fish. Nemoura stoneflies have been active as well as early caddis. A Rasta Skwala (12), Purple Chubby, or Bugmeister with a Pheasant Tail (16) will roll nicely.  — Linehan Outfitting Company, Troy.
Lake Frances — The lake has been fishing well recently. The walleye, northern and some perch have been caught using leeches, night crawlers and salted minnows. — Roberts Bait & Tackle, Great Falls.
Lake Mary Ronan — Quite a few salmon have come in using Swedish Pimples with a Glo Hook strung below it. Shrimp, corn and maggots have been effective fishing in about 24-30 feet of water. — Camp Tuffit, Proctor.
Madison River, Lower — The lower section is a great option during runoff. The nymph bite has been good with worms, crayfish, and small mayfly patterns. It seems that fish are moving around quite a bit. With this warmer weather we have seen explosions of caddis. Some days we have seen awesome dry fly fishing, and other days the caddis have been blanketing the river, but the fish aren't always taking notice on top. Wind and weather play a big factor in fish eating dries. Streamer fishing has been OK but is quickly getting better. The biggest issue lately has been the wind in the afternoon. — Montana Troutfitters, Bozeman.
Madison River, Upper — The West Fork is no longer pumping in mud. Clarity is best up high, but below the West Fork has a nice green color to it and is fishing well. This is the time of year it pays off to switch flies often until you find what they are keying in on. Nymphing has been the most productive way to get into fish. Stonefly nymphs, Worms, Caddis Larvae, Baetis, soft hackles and larger mayfly attractors are all working subsurface. If it stays calm out while you are on the river you will likely see some fish eating dries in soft water. Streamer fishing seems to be getting better daily. White seems to be the hot color. — Montana Troutfitters, Bozeman.
Marias River — The sturgeon bite has picked up with cut bait and night crawlers. — Roberts Bait & Tackle, Great Falls.
Missouri River, below Holter — The river is starting to fish well, but after some rain we will see what happens as the Dearborn River and Prickly Pear Creek drain in. Right now we are seeing good dry fly fishing below Craig with caddis, BWOs, March browns and even a few skwalas hanging around. Come with an assortment of dries like X-Caddis, BWO Flash Cripples, P-Hazes and Adams. Nymphing has been good. Mayfly nymphs are starting to be an option, your standard Sowbugs and Scuds have been the best. Streamer fishing this week should be great. Smaller streamers like Jewel Thieves, Baby Gongas, Mason's Juniors, Laser Legals, Mini Dungeons, Complex Buggers and Woolly Buggers. — Montana Fly Goods, Helena.
Missouri River, Fort Benton — The walleye have been biting on jigs and minnows — Roberts Bait & Tackle, Great Falls.
Missouri River, Fred Robinson Bridge — Anglers are finally snagging paddlefish. Catfishing has been good using worms, cut bait, and minnows. — Sport Center, Lewistown.
Rock Creek (East) — This week's warmer temperatures should push the river into full-blown runoff. The best strategy during runoff is to nymph or streamer fish. Recommended nymphs include San Juan Worm patterns, large Stonefly nymphs and larger-sized attractor patterns. San Juan's (8) in red, orange, wine or brown. Stonefly patterns include Rubberlegs, Girdle Bugs and Bitch Creeks. Stoneflies (8-10), Big Prince nymphs, Hare's Ear or Pheasant Tails in sizes (8-10) as well as Copper Johns, Lightning Bugs and Psycho Princes (12) round out our runoff nymph recommendations. Of course the Euro style nymph patterns like a Perdigon or Red Tag (14) can be highly successful as the trout move to obvious holding water during rising flows. Streamers are excellent high water bugs to fish in May. Sparkle Minnows, Grinches and Krystal Flash Buggers in black or olive continue to be all you need right now. — East Rosebud Fly Shop, Billings.
­Rock Creek (West) — This creek is an option during runoff, but flows are rising. It is time to start nymphing the big bug as they will be here soon. Salmonfly nymphs like a Yuk Bug, Double Bead Stones, and Rubberlegs with a San Juan or PT off the back where the water slows down. — Grizzley Hackle Fly Shop, Missoula.
Stillwater River — The warmer weather has water flows on the rise and adding some color. The upper river is probably the best bet for clarity. Caddis have been coming off the last week or so. The upper river has them thick in areas. There are still a few March browns out there, as well. Try fishing a dry/dropper setup with a smaller Stimulator, Jack Cabe, Purple Haze or March Brown with a Caddis Pupa dropper nymph. Nymphing has also been productive with everything from Girdle Bugs, stonefly patterns, to a San Juan Worm and beadheads like a Red Copper John, Optic Nerve, Batman, North Fork Special, Lil' Spanker or midge patterns. In higher off-color water, fish with bigger Rubberleg patterns or the San Juan Worm. Streamer anglers have had success as well using the Grinch. In the off-color water, try a darker body color streamer for contrast. — Stillwater Anglers, Columbus.
Tiber Reservoir — The bite for walleye and northerns has been mediocre. The bait of choice when they are biting has been leeches, minnows and night crawlers. — Ru's Tiber Marina.
Yellowstone River, Columbus — The river has been running off-color through Columbus. The warmer weather has flows on the rise. Look for caddis coming off, and if there is a foot or so of visibility on the edges it's enough to fish. Most anglers have been streamer fishing. The Grinch allowed to sink and stripped slow has been the best method to use. Trail a beadhead nymph of some sort off the back. Anglers who are nymphing should try a Pat's Rubberleg, Girdle Bug, Pepperoni Yuk Bug or a dark stonefly pattern with a smaller beadhead nymph like a Poxyback March Brown, Hare's Ear, Prince, Batman, Optic Nerve, or a Pheasant Tail, Midge or Lil' Spanker as a dropper. Don't hesitate to throw a dry fly in likely water or on the clearer edges even if there isn't any apparent activity. A Purple Haze, March Brown, small Stimulator or Jack Cabe with a Caddis Pupa nymph dropped off the back is a good setup. — Stillwater Anglers, Columbus.
Yellowstone River, Huntley — The river is not in bad shape.  Catfish action has been up using cutbait, minnows or shrimp. — Huntley Bait and Tackle.
Yellowstone River, Livingston — With the cool days and colder nights the flows have dropped all the way back down to 7,000 cfs. Clarity is about as good as you could ask for in mid-May. It's time to break out the streamer rods and sink tips. Caddis are thick, but the fish aren't keying in on them on top. However nymphing Stoneflies, Caddis, Worms and attractors will get you into fish in the soft water. — Montana Troutfitters, Bozeman.
Yellowstone River, Miles City — The conditions remain muddy, but if you love catfish this is the place. Minnows, night crawlers, and leeches are the bait of choice for catfish. Shrimp and liver has also been effective. — Red Rock Sporting Goods, Miles City.
Wyoming
Bighorn River, Thermopolis — The Mother's Day caddis and midges are hatching. Imitations to use are Elk Hair Caddis, CDC Caddis, Griffith's Gnats, small Sparkle Duns in olive or gray. Nymphs that are working are Midge Pupae, San Juan Worms, and Sowbugs. Zonkers, Peanut Envy, Sex Dungeon and Woolly Buggers are excellent streamers right now. — North Fork Anglers, Cody.
Clarks Fork — The water quality is poor and flows are up. The river is somewhat fishable in the Clarks Fork Canyon downstream to the Montana/Wyoming state lines. — North Fork Anglers, Cody.
Hogan and Luce Reservoirs — The fishing has been fair to good. Hatches of calibaetis are occurring in the late morning to about 2-3 in the afternoon. Parachute Adams, Sparkle Duns in a tan or grey and Callibaetis dry and emerger imitations are fishing great in the surface. Fishing the subsurface try smaller leech patterns, Pheasant Tails, Gold-ribbed Hare's Ears, Prince Nymphs and Zebra Midges. — North Fork Anglers, Cody.
Lake DeSmet — A beautiful 15 pound lake trout was caught deep trolling. Many fat rainbows were caught off the shore using lures and spoons. We also had good reports with anglers using worms or PowerBait off the bottom. — The Lake Stop, Buffalo.  
Lower Shoshone — The fishing has been great below Buffalo Bill Dam downstream to Willwood Dam. Water flows are at 1,600 cfs and looking great. Hatches right now are Mother's Day caddis, midges, and some golden stones. Fish nymphs or streamers when the hatch is not going on. Hemingway Caddis (14), Wright's Royal and olive Elk Hair Caddis are working during the caddis hatch midday through afternoon. — North Fork Anglers, Cody.
North Fork of the Shoshone —The water is high and off-color from the runoff. Fishing has been tough above the annual closure. — North Fork Anglers, Cody.
Upper and Lower Sunshine Reservoirs — The fishing has been good and picking up. Lake trout and rainbows are biting on sucker meat and earthworms. — Wea Market, Meeteetse.