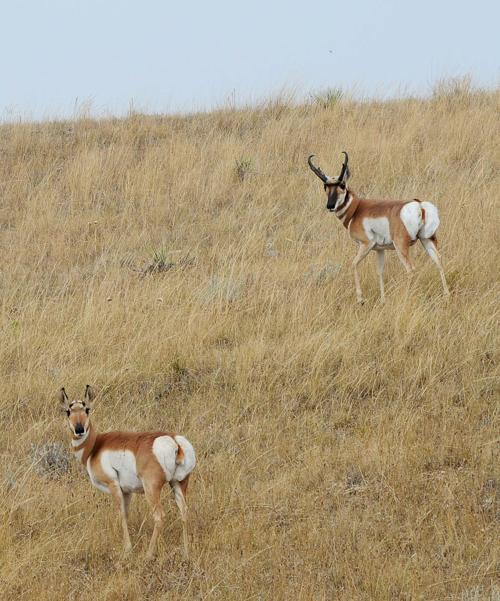 Montana's first big game rifle season of the year opens on Saturday with pronghorn hunting.
Dry weather means hunters should take extra precautions while afield to ensure they don't ignite a grass fire.
Here are Montana Fish, Wildlife & Parks' reports on antelope populations across the state.
Southeast
"Antelope populations are variable across southeastern Montana," according to wildlife biologist Ryan DeVore. "Herds in central and Eastern Montana were hit hard by harsh winters in the late 2000s and early 2010s. The rate of recovery since then has been mixed in southeastern Montana."
Antelope numbers in the southern half of the region (primarily HDs 704 and 705) continue to be strong. During summer surveys biologists observed more than eight antelope per square mile in the very southeast corner of the state, which transitioned to approximately three to four antelope per square mile in the more northerly portions of HD 705, and fewer than two antelope per square mile throughout most of HDs 700, 701, 702 and 703.
Northeast
In general, antelope populations have been slowly increasing across the region. While some survey areas have observed increased numbers and are at or above their long-term averages, there are still a few areas where antelope are still below their long-term average.
Antelope licenses are distributed through the drawing system. Major reductions in licenses were seen following the winter of 2010-11, however some increase in licenses have been seen since then. Those who have drawn licenses should have a good opportunity to harvest an antelope. Remember to ask first for permission to hunt on private land.
South-central
Antelope numbers measured by biologists this summer are generally below average – but stable and similar to last year – throughout south-central Montana. The exception is HD 570 between Columbus and Harlowton, where antelope numbers remain slightly above average.
North-central
Surveys suggest that antelope are recovering from the tough winters of 2017 and 2018 across the area. Numbers are still below long-term averages, but fawn production was good, especially in areas with more cropland.
Antelope fawn production has been good in the last few years and herds have either been steady or increasing around the Little Belts and east Big Belts.
Antelope population numbers in the Golden Triangle are mixed. Near the Sweetgrass Hills, antelope are well under long-term averages, resulting in no increase in license numbers, but sufficient to provide good hunting opportunities for those fortunate enough to draw a license, especially in the southern half of HD 401 on private land where permission to hunt from the landowner is required.
In the heart of the Golden Triangle district of HD 404, antelope numbers have seen a steady increase from lows in 2017, and license numbers have been increased to reflect that rise.
Southwest
Biologists observed lower-than-expected fawn production in pronghorns in HD 371. But overwinter survival appears to be good, and antelope fawn production was good in districts 380 and 390.
Antelope hunting districts managed by the Butte area wildlife biologist are surveyed every other year. This year HDs 341, 350 and 370 were flown. Populations in HDs 341 and 370 are robust while in HD 350 numbers are down slightly with a noticeable decline in fawn numbers, while the buck segment appears robust at 40 bucks per 100 does.
Hunters with antelope HD 318 and 329 licenses are reminded that the boundary between these two districts has been changed and should check the regulations for the new boundary.
Recent pronghorn counts in the Lima Peaks (HD 301) and East Pioneers (HD 310) have been above average, and the long-term trend indicates stable (HD 301) to increasing (HD 310) numbers. Fawn production counts are highly variable but do show an increase over time in HD 301.
In contrast, fawn production counts have been slightly below average in HD 310 in recent years. Recent pronghorn surveys in HD 300 and HD 329 show continued population declines. These declines are associated with similar declines in fawn production. Definitive information concerning the causes for declining pronghorn numbers and fawn production is lacking. However, these declines may be related to habitat degradation. Conifer encroachment into sagebrush habitat may be reducing habitat quality and/or quantity.
The pronghorn population on the west side of the Tobacco Root Mountains (HD 320) remained low following significant winter mortality during early 2019. Pronghorn hunting licenses remain reduced in response to the change. The majority of pronghorn in the hunting district will be found in the southern half of the district between Sheridan and Virginia City. Pronghorn surveys of HD 321 showed some decline relative to two years ago. However, the population remained above the long-term average.
Biologists observed lower-than-expected fawn production in antelope HD 371. But overwinter survival appears to be good, and antelope fawn production was good in districts 380 and 390.
Billings Gazette Outdoors editor Brett French provides a few tips on how to process a deer in four videos.