The hike into Passage Creek Falls during summer months is a nearly flat, five-mile round-trip jaunt that leads into a small canyon that's a great place to escape the heat. 
The chill deepens in the winter, and the waterfall pool is no longer a place to dip your sweaty feet. But winter is no reason to abandon such a scenic spot. Passage Creek Falls takes on an ethereal character, as if Mother Nature couldn't decide between crafting an ice sculpture or waterfall. 
Like so many winter trips, the hike doesn't become easier with snow on the ground. During the later fall and early winter just boots can get the job done. 
But the road is gated not quite three miles from the trailhead, and cross country ski tracks are usually well-etched into the snowy road section. Keep alert for all sorts of travelers, from snowmobiles to sled dogs. 
Skis can become a bit unwieldy on the more narrow trail, but snowshoes are always a good deep snow option. 
You have free articles remaining.
The trail meanders along Passage Creek before a fork. Take the right fork, avoiding Wallace Creek. The biggest climb comes about two miles in, up to a small overlook near private land and cabins. 
The trail turns sharply left here and soon begins descending steeply into the waterfall canyon. This can become treacherous in the winter; use good judgement about what you and you're gear can handle in slick and unstable conditions. 
In this section, full evergreen trees return, untouched by the fire that swept through much of the area in 2006. Snow or low clouds that often obscure mountaintops in the winter no longer impede the view. 
If the ice is just the right thickness you can still see the falls flowing underneath. It's a beautiful foil to the springtime spout or calmer late-summer flow.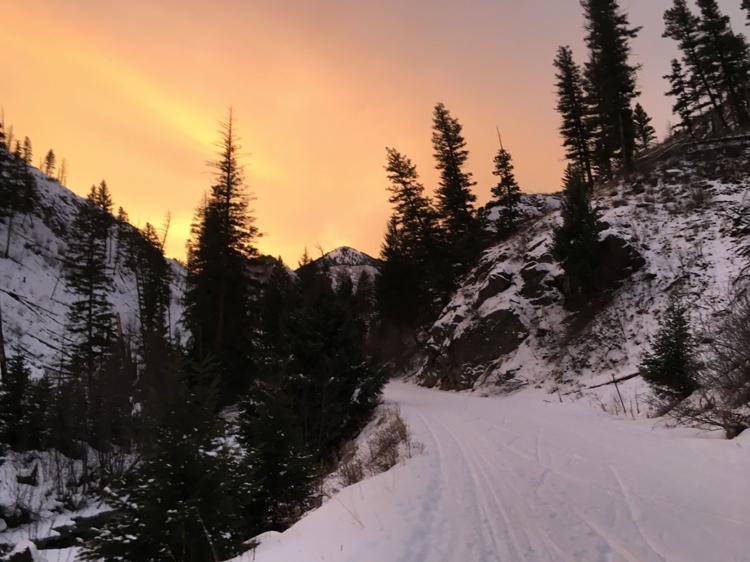 Keep in mind the scant winter daylight. The road is easy enough to navigate with a headlamp, but as dusk sets in the low light can trick your eyes into seeing a false gate shimmering like a desert oasis. 
But sunset can have its benefits as the white snow takes on oranges and purples before it trickles away into cold winter nights.