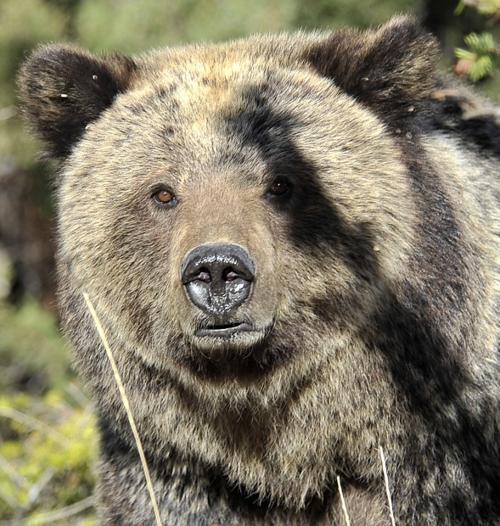 Reports of grizzly bears have increased along the expansive and rugged Beartooth Front in the past few years, possibly a side effect of a healthy grizzly population pushing outward from the protected confines of Yellowstone National Park.
So are there more bears, or more people exploring grizzly country and therefore more bear sightings?
"It's hard to say if there are more people out, or if (grizzly bears) are expanding their range," said Barb Pitman, wildlife biologist with the Beartooth Ranger District in Red Lodge. "We haven't really explored why sightings are up."
But Chris Servheen, grizzly bear recovery coordinator for the U.S. Fish and Wildlife Service, said grizzly bear sightings are increasing in the region simply because there are more bears. At last count, an estimated 600 grizzlies were living in the Greater Yellowstone Ecosystem.
"They're just pushing out in all directions," he said.
Traditionally, the grizzly bears that disperse farthest are subadult males — somewhat similar in temperament and mindset to human teenage boys.
"They're just wandering around checking things out," Servheen said.
So it's not inconceivable that the bear that Jerry Kruschensky saw bolt across the road in the Pryor Mountains in May was a young male grizzly.
"He came right out of the bottom, right out of the timber. He was running and then, boom, he was back in the timber," Kruschensky said.
It was only a quick glimpse, but Kruschensky said he has been around bears his whole life, and this one had a distinct hump rising above its front shoulders — a grizzly's hump.
Kruschensky never reported his possible grizzly bear sighting to the Forest Service or Fish, Wildlife and Parks for follow-up and confirmation. That's not unusual.
"When people see something, they don't always think to call us," Pitman said.
Kruschensky was in the Pryors this summer working on a project to rebuild the Crooked Creek Road. The Pryors are known to be good black bear habitat, with deep canyons pocked with caves and thick with brush. Wild berries and plums — favorite bruin fare — are abundant.
But the relatively small mountain range is fairly isolated geographically. To the south of the range is the deep gouge of Bighorn Canyon and its half-mile-high cliffs. In all other directions there is open prairie, farms, ranches, roads, a state highway and scattered creek drainages.
Yet the Pryors are only about 30 miles east of the Beartooth Front — the area where grizzly bear sightings have been increasing. There's also the Clarks Fork River that passes within about 15 miles of the Pryors. Such riparian habitat is known to be a favorite travel corridor for bears — providing cover, food and water. What's more, the Clarks Fork River's headwaters are nestled within the Greater Yellowstone Ecosystem — prime grizzly bear habitat.
Servheen said it's not impossible that a grizzly bear might travel far enough eastward from the Beartooths to rediscover the Pryors.
"I'm not saying it will never happen," he said. "Historically, they were in much of Eastern Montana."
Fish, Wildlife and Parks wildlife biologist Shawn Stewart agreed, but noted that it's a pretty long trek.
But in the last two years, a few bold grizzly bears have wandered twice that far after emerging from the Rocky Mountain Front in northwestern Montana. Long treks, although unusual, are not unheard of. This summer, FWP officials recounted the tale of a 4-year-old female grizzly that had swum up to 7 miles while vigorously exploring Flathead Lake and the surrounding environs, including an island. Over the course of about 14 months, the bear traveled 1,200 miles, according to data collected by satellite from its GPS collar.
"We're certainly getting bears using that kind of (Pryor's) environment," Stewart said. "It's not impossible that grizzly bears could get there, but it's not going to happen rapidly."
"Bar tales" that federal or state officials are dumping problem bears, including grizzlies, in the Pryor Mountains are just that — tall tales, Servheen said.
"Those stories are B.S.," he said. "We're not going to put bears in areas completely outside their range."
Should a grizzly wander into the Pryor Mountains, though, officials would leave the animal alone as long as it didn't cause any problems, Servheen said.