Vandalism angers landowners
Shot-up signs, litter anger wildlife management area neighbors
After seeing 11 bullet holes in a sign on the Yellowstone Wildlife Management Area last week, Tony Brilz was prepared to make a stand.
"Right over the hill is Annie's house," he said. "That's the one that hurt my heart.
"I was ready to go up there, put a chain across the road and get arrested."
Brilz, 70, and his 79-year-old neighbor, Annie Rowe, have lost their patience with members of the public who visit the neighboring wildlife management area and shoot signs, litter and build fires — all of which are illegal activities.
"They shoot up everything," Rowe said. "After my husband died about five years ago I started sleeping on the couch and got a dog for protection. I'm scared at night, and people are coming and going all day and night."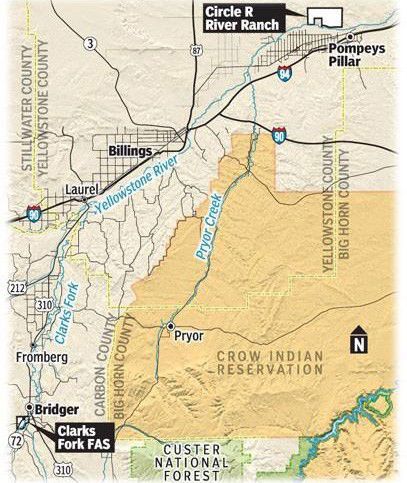 Public land
The Yellowstone Wildlife Management area is located about 30 miles east of Billings on the north side of its namesake river. Access to the area is via Bundy Road that passes just west of Pompeys Pillar.
Purchased in 2008 by Montana Fish, Wildlife and Parks for $5.3 million, the former Circle R River Ranch is almost 4,000 acres and adjoins state and Bureau of Land Management property to provide access to another 5,400 acres of once-isolated public lands.
Pheasants Forever grows crops along the irrigated river bottom to provide habitat and food for wildlife. Although a campground was once considered for the river bottom, the idea was shelved.
According to FWP's Teri Walters, traffic counters at the WMA average about 200 vehicles a month, which she termed "pretty low."
Enforcement issues
FWP's warden captain, supervisor and parks staff are familiar with Brilz's and Rowe's complaints. The two have protested the WMA since before it was created.
"We've met them, actually Annie and Bill (Rowe's deceased husband) have been heavily involved since before the department first started to look at buying the land," said Harold Guse, FWP's Region 5 warden captain.
Guse acknowledged there has been vandalism at the WMA, but that's the case at many rural public sites — everything from destroyed outhouses to picnic tables chopped up for firewood. In one case, the Fish and Wildlife Commission took the extreme measure of shutting down a fishing access site along the Missouri River near Great Falls over the summer after continued reports of vandalism, underage drinking and violence.
"Vandalism is pretty widespread," Guse said, usually perpetrated by locals. "People don't drive miles and miles to vandalize stuff."
Guse called it a crime of opportunity — one committed when no one else is around to report the criminal act.
More patrols
A larger enforcement presence would seem to be the easy answer. Yet there are only 14 wardens to cover FWP's entire Region 5, an area that stretches from the Sweet Grass County line in the west to the Treasure County line to the east and from the Wyoming border north to Petroleum County. So wardens are spread thin. Since the site is open 24 hours a day, disturbances can occur at any time.
Brilz said closing the WMA at night would help ease his concerns — he'd even offer to man the gate. But Guse said such a closure is difficult on a WMA where hunters may arrive before first light and leave after dark.
FWP wildlife technician Jay Watson said he spends more time than most FWP employees at the WMA and said use is fairly low — four to five people a day — except for the opening of deer and pheasant seasons when traffic swells.
Watson also said that most of the signs that have been shot up at the Yellowstone WMA haven't been replaced, so damage that is visible has occurred over eight years and not just recently.
"It's not cost-effective to replace them after they get bullet holes in them," he said. "It's not a huge problem in my book."
Changed neighborhood
Rowe grew up on her family's ranch that was first settled by her Czechoslovakian grandfather in 1906. The ranch borders the WMA. The road to the site passes close to her home. Since the property has opened to the public she said gas has been siphoned from her trucks, cattle have been hit by vehicles and shots have whizzed overhead while she was outside.
"It's like Wal-Mart — open 24 hours — but without the checkers," Brilz said. "People come and go as they want."
But neighbors also reported having their mailboxes shot up before the WMA was formed, according to comments submitted to FWP in 2008 when the wildlife management area was first proposed. Anyone who has driven down a county road in Montana has seen signs riddled with bullet holes and shotgun pellets, as if it were a common state pastime.
That's why Guse said it's up to the public to denounce such activity and come forward when they witness others performing such illegal acts.
"People know what's going on," he said. "They need to speak up to law enforcement or speak out against the activity."
Rowe, for one, is afraid to turn in troublemakers for fear of retaliation. She said a friend who reported a poacher had his garage shot up.
Public land
On Friday Billings bird hunters Chaz Tafolla and his friend Ryan Benton drove to the WMA. Tafolla said he's been visiting the area for about a year to hunt birds and prairie dogs. He usually only sees one or two other people, although that increases in the fall, and he's never seen anyone shooting up signs or vandalizing the site.
"We continue to try and work with the situation," said Barb Beck, Region 5 supervisor. "We've told them we'll be patrolling to the best of our ability and if they feel threatened to call 911 so someone responds."
But she added that the wildlife management area is a public resource.
"And along with that comes people who may not act responsibly," Beck said.
Such comments do little to salve Brilz and Rowe's concerns.
"This is getting too close and too much," Brilz said. "There are too many people living out here now.
"This is one of the reasons ranchers have closed off their land" to public hunters, said Brilz, a hunter, angler and trapper himself. In fact, that's how he first met the Rowes, while looking for a place to hunt 35 years ago.
Now that he has a little piece of paradise overlooking the Yellowstone River and the wildlife management area, he can't rest as easy as he once hoped. Neither can Rowe.
"My husband and I came out here for a peaceful retirement," Rowe said.
Brilz said he doesn't want the WMA closed, "but our lives matter, too," he said.