Smith River rationale: Why boaters love this Montana stream so much
In the orange glow of a warm evening campfire, with the hushing sound of the Smith River rushing past, my son's friend talked of his love for this relatively small Montana stream.
Given the opportunity, he said he would take out at the usual end point 60 miles downstream from the start and drive the long route around to launch again, floating the river over and over until the flows were too low to go.
Why? And why the Smith River? What special quality does it hold that seems to inoculate some boaters with such a ferocious love of this one short stretch of Montana water?
Reasoning
I pondered these questions one afternoon after setting my tent up on a small grassy bench overlooking the flat landing area, our colorful blue, red and purple boats lining the bank. Everyone in our party of 15 was busy at a task: setting up chairs, chopping wood, erecting tents, putting together portable tables. It was a bustle of cooperative activity, underscored by a hum of excitement for the evening's dinner and simple festivities: a Beersbee tournament, a twirling twinkle light show, a group song led by the trip's captain, and stories, lots and lots of stories punctuated by laughter.
Such activities could occur on any river trip.
What I believe sets the Smith River apart is this: Because it is floatable by permit only in the spring, early summer and late fall — a very narrow window of opportunity — the trip is more coveted, extra exceptional. Make something rare and it's more valuable, whether that's gold, diamonds or a Smith River or Grand Canyon float trip.
One man I met at the Camp Baker launch, outside the small town of White Sulphur Springs, had driven five hours from Driggs, Idaho, to float the river — twice this spring. I met Washington folks, too, and my fellow floater had flown in from Portland, Oregon, just for this occasion — a buoyant bachelor party.
But most of the flotillas on the day we launched were from Montana, their dry bags, coolers, chairs, cases of beer and dry boxes lined up along the muddy road above the boat launch. It is always hard to believe all of that gear will fit in a boat, but it does, although stacked head high behind the rower. Most were excited to start their float, some giddy with anticipation.
Get rhythm
Because the Smith River's permitted length of 60 miles requires most floaters to commit to a four-day, three-night trip, folks must take more than a couple of days off work. That larger chunk of time can breed a camaraderie and esprit de corps as the floaters help each other load boats, haul gear, set up tents, share food, coffee, tales and adult beverages. Life is more communal, tribal and basic.
There's a routine and rhythm to this muscular life that melts away the stresses of the outside world. Zero cellphone service helps too. A tsunami could wipe out the entire West Coast, and floaters would be ignorant until they reached the takeout at Eden Bridge. Instead, everyone is focused on whether it will rain or snow, how many clothes to put on and which bag holds the sunscreen.
The downside can be if someone doesn't get along with another crew member, they're stuck together for days on end. That can mean the permit holder is very selective about who he or she invites. Outsiders may be viewed warily until they prove their worth to the clan.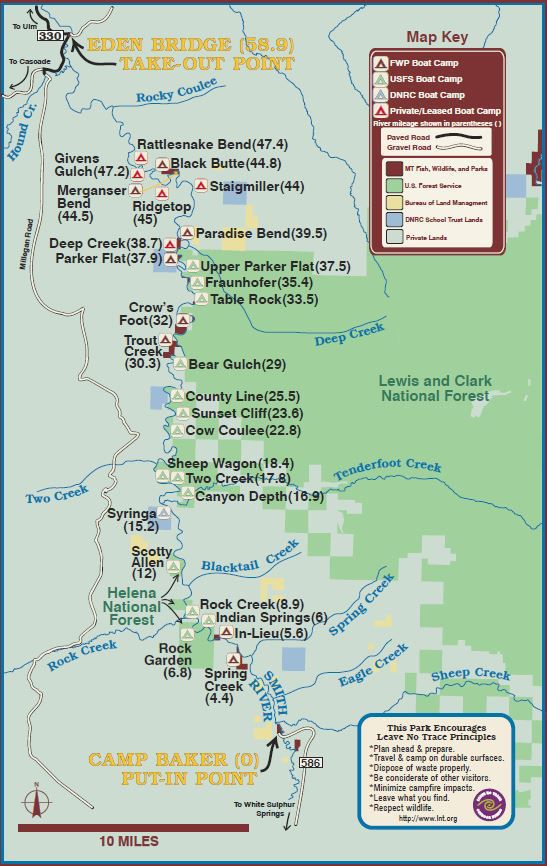 Beauty and the beast
The final, and maybe most important, value of the Smith River is the bare-rock beauty of the canyon. On a sunny day, which can be rare in the always-changing mountain environment, a floater could almost sunburn the roof of their mouth while craning, head back and jaw agape, to view the colossal cliffs climbing straight above.
On a clear night, the star show over large meadow campsites is intimidating, reminding viewers of how tiny they are in the universe. With a full moon, the surroundings are lit as if a UFO were landing, floodlights ablaze. A bald eagle flyover raises cheers and choruses of patriotic songs. An aerial battle between a dive-bombing falcon and an eagle prompts oohs and aahs. The sharp smell of wild mint contrasts sharply with the sewage smell of mucky mud.
Carrying visitors through all of this beauty is the Smith River — a small stream by Montana's river standards, born in the Big Belt, Little Belt and Castle mountains. It's not muscular like the Gallatin nor broad like the Missouri, but around each of its many serpentine bends the Smith carries boaters through a labyrinth of splendor.
American Indians were the first to appreciate the uniqueness of the place, leaving behind red ochre handprints and drawings of wolf-like animals, turtles and symbols on the cliff walls and in large, hard-to-reach caves overlooking the river and forest beyond. At Indian Cave it's a view worth the blood, sweat and sharp rocks that get lodged into river sandals to scale the limestone cliffs to view the pictographs and panorama. The wild, ancient setting provides an excuse to throw your head back for a primal howl. It's one more reason to visit the Smith River, one more reason the waterway breeds in some boaters an allegiance and bond.