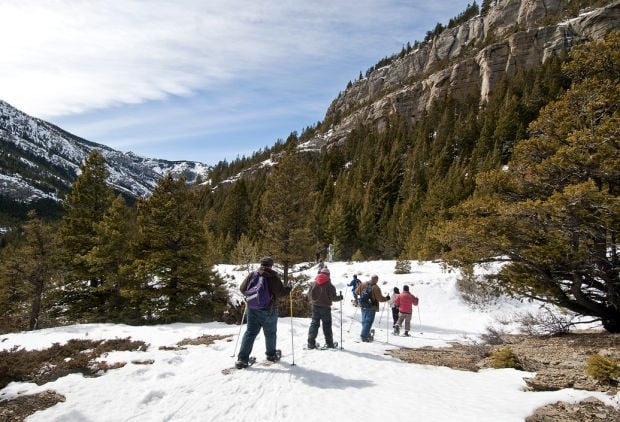 AUGUSTA — What exactly the devil was doing in Devil's Glen, God only knows.
Maybe he's an angler, or just likes to get away from the fire and brimstone on occasion.
"I don't understand the name," joked Lisa Frank of Great Falls. "I'm not even certain what 'glen' means here."
In the dictionary, a glen is a secluded, narrow valley. Along the Dearborn River, Devil's Glen comprises more of a fissure in the middle of a spacious basin. Names aside, it's a bit of heaven.
Visiting it on snowshoes on a recent Saturday, Frank had a few other ways to describe this bit of the Rocky Mountain Front.
"It reminds me of Billings' Rimrocks a little bit, with all those deep rims of eroded shale," she said. "It also reminds me of God's beauty. He knows exactly how many trees are in here."
To reach Devil's Glen, take the Stearns-Augusta Road where it heads northwest off of Montana Highway 200 shortly after Rogers Pass, or come in from Augusta southwest on the same road, heading for Bean Lake. Either way, the dirt road is in good condition as long as it's not blowing snow or rained out (either of which are possible options at any time of year).
Those coming from the Rogers Pass side get to cross the historic Dearborn High Bridge. This dramatic structure dangles above the river in a narrow rock cleft. It's one of the last "half-deck truss" bridges left standing in the United States and doesn't look like any other bridge you've ever crossed.
The road heads into the mountains and past several guest ranches and private cabins. The trailhead has a spacious parking lot surrounded by private land. The initial mile follows an easement across this private property until it reaches a stock bridge across the Dearborn. From there on, the trail stays on national forest land.
Those next three miles make an easy climb into the basin. In the snow recently, deer, elk, mountain lion, wolf and a monster moose left their tracks along the trail. The water runs rarely more than a few dozen yards away, but it's cut a channel so deep in the rock, it's nearly invisible.
The Dearborn River burbles over a remarkable amount of Montana geology as it drains the mountains. It originates at about 6,000 feet above sea level in some 1.5 billion-year-old Precambrian sedimentary rock, known as the Belt Supergroup. That hard, metamorphic rock forces the water into tight channels and gorges.
Shortly after reaching Bean Lake, the river cuts into softer sedimentary Cretaceous formations, between 65 million and 145 million years old. Its final reach, most popular with floaters, corkscrews 18 miles through the 50 million-year-old volcanic Adel Mountains to the Missouri River.
The first set of cascades become visible about two miles up the trail from the stock bridge. The actual Devil's Glen sits below an open meadow about three miles in. A big tree and an old stone fire ring mark the best spot to climb down to its terraces.
"I was struck by those aqua pools of water," said Kathy Meier of Great Falls. "Every time I'm down there, I see something unexpected. Seeing it snow-covered was spectacular."
Meier came with a quartet of "Girls in Glacier" trail mates from Great Falls. The group, which has members ages 20 to 70-plus, formed two years ago to spend time in the mountains together. After numerous hikes in the Glacier National Park area, they started adding Rocky Mountain Front trailheads to the schedule.
"I try to go on every single hike," Meier said. "I'm a walker, but I didn't know how to prepare for hiking – what to bring, where to go, where the trailheads were? Lately we've expanded into snowshoes and cross-country skis."
Snowshoes were a new twist for several hikers on the recent outing. Heather Gowers of Great Falls and Billie Sunderland of Cascade, and their respective husbands, were taking their first winter trek into the mountains. While the two couples had done a fair amount of camping and fishing in the warmer months, this was their first time on snowshoes.
"Montana has a lot of offer," Gowers said. "We always want to go somewhere new."
"I loved it when we got into the very center, where the sky opened up and all the rocks on both sides and the water pools," Sunderland said.
The Dearborn also flows through one of five proposed wilderness areas in the Rocky Mountain Front Heritage Act, which seeks to protect 67,000 acres of wilderness along with 208,000 acres of mixed-use conservation areas. While originally drafted by retired U.S. Sen. Max Baucus, current Sens. Jon Tester and John Walsh, both Democrats, have each pledged to push the bill. U.S. Rep. Steve Daines, R-Mont., has not.
Devil's Glen sits in one of the larger chunks of proposed wilderness in the bill. It's in an area known as the Silver King-Falls Creek Addition, 16,711 acres on the edge of the Scapegoat Wilderness.
"The Rocky Mountain Front is so raw, with the sheer cliffs and rugged rock formations and scenic views," Meier added later. "At every turn there is something new to discover – spectacular views at every turn, sparkling waterfalls, unusual geological formations. And in summer, a beautiful carpet of wild flowers all tucked away just outside our backyard. It's hard to believe that such beauty exists less than an hour and a half away from our busy lives."