Harold McCracken embodied contradiction: a "restless and bored student" who lectured at universities and received honorary doctorates; an explorer who was a homebody; a reckless adventurer who was a thoughtful writer about Western art.
"You'd take him for a schoolmaster," one writer of his era observed, "… or maybe a scientist. Bald-headed, spectacled, and so skinny you'd think the frost would finish him off the first cold night."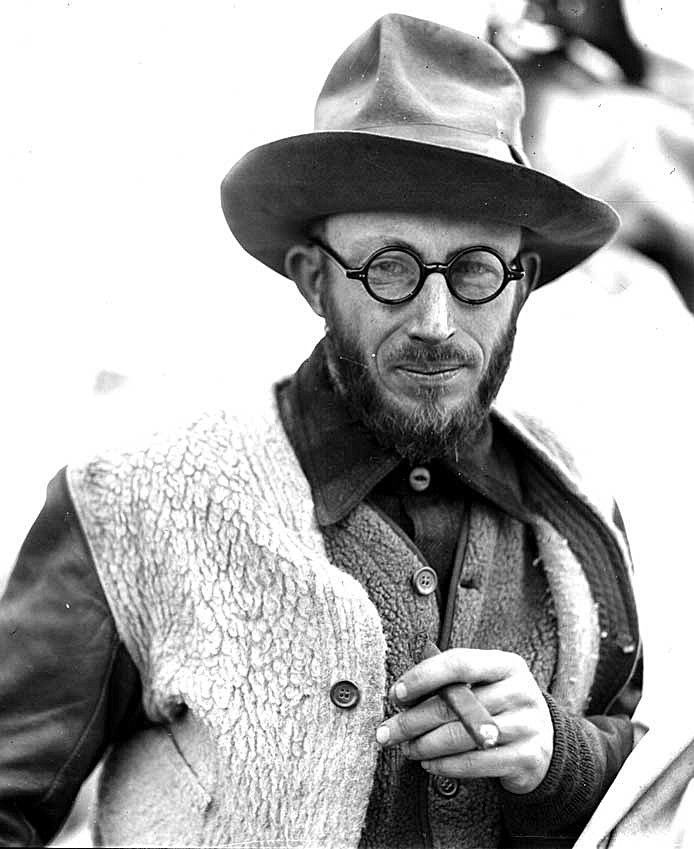 McCracken, the first director of the Buffalo Bill Center of the West — from 1969 to 1974 — is being honored in an exhibit at the Cody, Wyoming, museum as part of the center's 100th anniversary celebration. As part of her research to create the display, Mary Robinson, Housel director of the museum's McCracken Research Library, has become captivated by the man.
"He's a really interesting character," she said. "He came out of obscurity to capture the attention of the East Coast audience in the 1920s. He was a true outdoorsman interested in doing serious things and contributing to science."
His rise to prominence took place in an era of unusual discoveries, Robinson pointed out in an article she wrote about McCracken for the spring edition of "Points West," the center's publication. Polar explorers Robert Peary and Roald Amundsen were introducing the masses to the rigors of the world's arctic regions, while the burial riches of King Tutankhamun were discovered in Egypt. The public was hungry for adventure.
"There's a lot to say," Robinson said. "His story takes you many places."
Self-starter
McCracken was born in 1894 in Colorado. His father was a newspaper writer and his mother an artist. After a bad investment, the family moved to Payette in western Idaho where the youngster once killed and skinned a skunk, leaving it hanging in a tree where it "stunk out the whole town," recalled his daughter, Marjorie Goppert, 86, who still lives in Cody.
"He loved the outdoors," Goppert said. "He was always hunting."
After learning to live in the woods from Cree Indians, his family moved to Ohio where McCracken dropped out of high school to travel to British Columbia at the age of 17, lured by the Yukon-based novels of Jack London.
"He always liked to adventure," Goppert said. "His mother sewed all of his money into the back of his shirt collar."
In 1916 at the age of 21, McCracken had enough credibility and self-promotion ability to get the museum board in Columbus, Ohio, to back his expedition to the St. Elias region of Alaska, where he would collect wildlife specimens for display. Now a national park, the region is known for its glaciers, rugged terrain and some of the largest volcanoes in North America. He also told reporters that he would make a first ascent of 19,551-foot Mount Logan, the second highest peak in North America.
Weeks after trudging into the Alaskan backcountry his party of explorers straggled out of the wilderness "looking pretty bad," Robinson said. Broke and abandoned by his comrades and the butt of locals' jokes, McCracken was stranded in Seward, Alaska. Down but not out, Robinson said the resourceful McCracken eventually found work on the railroad and trading furs. He ended up spending almost two years in Alaska, part of that hunting Alaskan brown bears, one of which is in the museum's exhibit.
"When I was a little tiny girl, I would get on the head of the bear and slide down. That's how small I was," Goppert recalled.
"He was in Alaska when World War I broke out," Robinson said. "He left in 1918. He wanted to be a fighter pilot but got involved with Columbia University and got a taste for the city life. So the guy was able to make all kinds of contacts. He was a big networker."
Writing career
During his adventures in Alaska, McCracken began his writing career, penning tales for "Hunter-Trader-Trapper" magazine.
In the April 1917 issue of the magazine, McCracken wrote the first of a two-part story about the difficulties of hunting Dall sheep in what the publication referred to as the St. Elias Alps.
"It is a joy inestimable for one who has hunted game in a country where game is scarce, whether it be big or small, to have the good fortune of sojourning in a land which is a veritable Nimrod's garden," he wrote in the opening sentence of the article.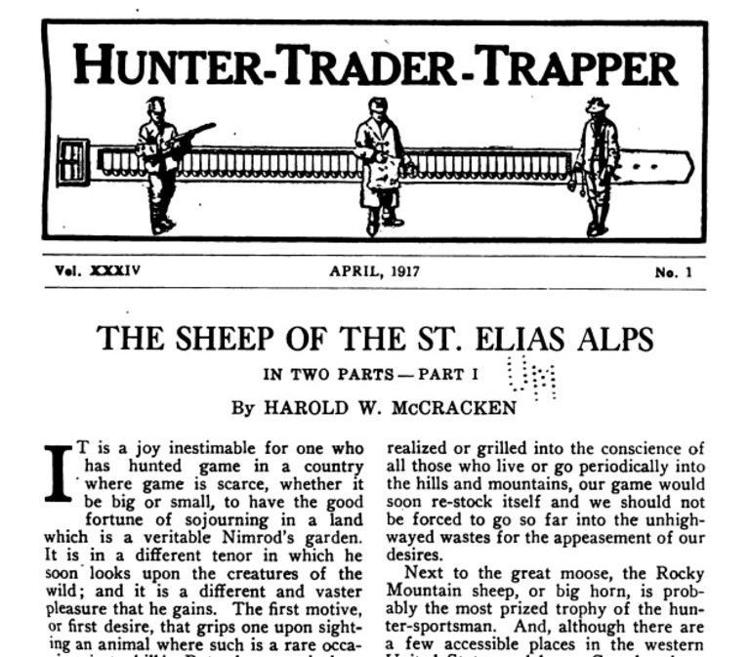 On that trip, McCracken was guided by Jimmy the Bear, who lived on porcupine for two days while looking for a route to Mount Logan. He was accompanied by a benefactor, Dr. E. C. Sherman of Ohio, who upon arrival in Alaska got to sleep on the only bed, indicating his higher status in the group.
It was such writing that eventually sent McCracken down the path to becoming a writer and associate editor at "Field and Stream" magazine.
Wild at heart
McCracken's wild nature was also evident when he strapped himself on to the wing of a biplane to film stunts.
"He was kind of crazy," Goppert said.
"He was trying to figure out how to make the adventurous life he loved pay," Robinson said.
McCracken had received a cutting-edge film camera made for use in the field — an "Akeley" 35mm Motion Picture camera — while guiding a rich Ohio client on an Alaskan bear hunt.
"He was out filming some of the wildest things you can imagine," Robinson said, some of which was used in newsreels distributed by Pathe News.
"Simply put, Roaring Twenties audiences sought novelty — and Harold McCracken delivered," Robinson wrote.
Because of his films of Alaskan brown bears in the wild, "By 1924, McCracken was considered a leading authority on the Alaskan grizzly, and in 1925, he was inducted into the Explorer's Club," Robinson wrote. He also highlighted the native people, Aleuts and Inupiat, as well as their customs in his movies.
One program from the National Geographic Society for the 1923-24 lecture season observed that McCracken's "pictures rank with the most thrilling and informing wild life reels yet shown."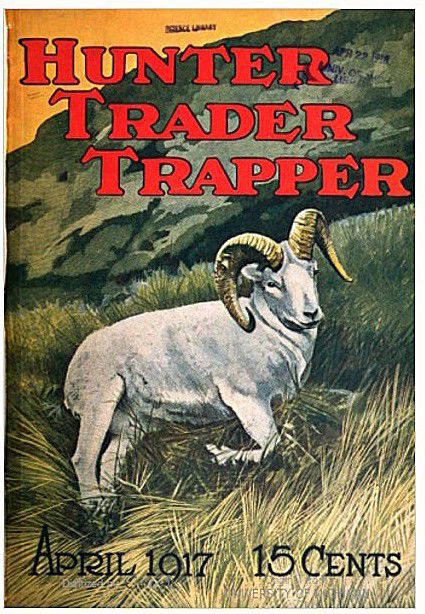 Perhaps McCracken revealed a bit of regret at his youthful enthusiasm for hunting in this paragraph from his article in "Hunter-Trader-Trapper" about one of the Dall sheep he had shot during the 1917 Alaska adventure: "He was a fine specimen, stretched there on the trail which he had no doubt helped to cut into the mountain side — no more to roam his beautiful heath. There was a bit of pathos in the big, glassy eyes, which even the most unemotional could not help but see, and which I do not like."
Expedition
With such notoriety McCracken was able to team up with attorney and explorer Charles H. Stoll, who financed and led the 1928 Siberian Arctic Expedition to collect specimens for the American Natural History Museum. The adventure was meant to explore for relics linking the Bering Land Bridge to the first people crossing from Asia to the Americas.
While on that trip the men found a mummified native in a grave. The Reading Times newspaper in Pennsylvania said the grave contained a "stone man" along with three "grave escorts," and that the discovery may rival King Tut.
"In the end he didn't always know what he was talking about," Robinson said, noting that McCracken's writings about those discoveries have to be viewed through the lens of that time. "He was a little over his head."
It may have been on that trip that he froze his feet. Goppert recounted that her father stayed up three nights during one cold expedition because his frostbitten feet were gangrenous and one of the men with him wanted to cut them off to try and keep him from dying of infection.
"That didn't discourage him from continuing to explore," she said.
Settling down
Family would do what frostbite couldn't. McCracken's arctic adventures were soon limited as his marriage to Angelyn Conrad produced the first of two children, Conrad, in 1928.
"He would wander off and do an adventure and then come back and take up the relationship," his daughter said. "They were very close. They had a wonderful relationship."
He was a "faithful" writer, Goppert said, getting up at 5 a.m. each day to go into New York City and returning home to write his first books.
"Every free minute he would write."
In between he somehow found time to study at Ohio State, where he received five honorary degrees but never graduated.
"He always said if he'd gone to college he wouldn't have had anything to write about," she said.
The family was run on such a tight budget that when McCracken was invited to speak at the White House he dyed his brown shoes black, Goppert said.
"Explorers don't make a million dollars."
Goppert described her father as very lean, of average height and quiet.
"That came with being alone so much as a young man.
"He wasn't a party boy. He was a homebody."
Over the course of his life, McCracken penned 30 books. The first, "Iglaome: The Lone Hunter," was published in 1930, followed by "Beyond the Frozen Frontier" in 1936. But it was his writings about Western painters such as Frederic Remington and Charles Russell — artists held in low esteem by Eastern art society — that would once again change the course of his life and set him off on a new adventure.
Cody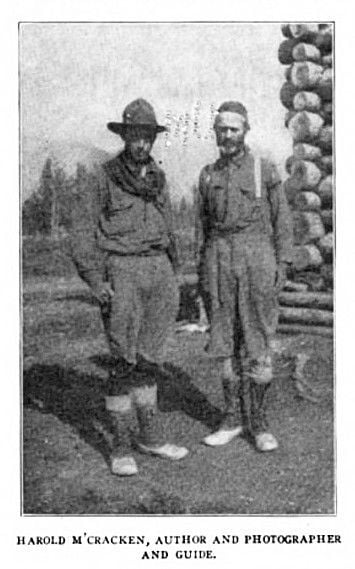 It was Goppert's future father-in-law, Ernie Goppert, who encouraged McCracken to move to Cody. Mr. Goppert had also convinced C.V. Whitney to donate money to build the Whitney Gallery of Western Art in the small Wyoming town. Starting in 1959, McCracken's new job was to fill the gallery with art.
"He was the most well-known Western art scholar around," Robinson said.
"The Whitney Collection includes original paintings, sculptures, and prints that trace artistic interpretations of the West from the early nineteenth century to today," according to the Center of the West's website. Artists featured include George Catlin, Alfred Jacob Miller, Thomas Moran, Albert Bierstadt, Frederic Remington, Charles M. Russell, Joseph Henry Sharp, N.C. Wyeth, and many others.
At the museum McCracken was referred to as Dr. Mac, even though he didn't have a degree.
His relocation to Cody also led to his daughter moving to the small northwestern Wyoming town.
"I was 30 years old when I came out," Goppert said, noting that it was Ann Simpson, the wife of former U.S. Senator Alan Simpson, who introduced her to her future husband — also named Ernest Goppert and the son of her father's benefactor. "It didn't take. He was more interested in his dogs than getting serious with a woman," she added.
Mummy Joe
In 1963 McCracken undertook some work that is now viewed in a less favorable light.
That was when he launched the museum on a search for archaeological sites in the Rocky Mountains by hiring Bob Edgar, founder of the Western-themed Old Trail Town in Cody. Nearby, along the North Fork of the Shoshone River, Edgar and McCracken were involved in the excavation of what's now known as Mummy Cave, a site rich with prehistoric American Indian artifacts. One of the finds during excavation work that spanned three years was the mummified remains of a native man dated to about 800 A.D. Other evidence of occupation at the site was dated back 9,000 years.
When unearthed, the man — referred to as Mummy Joe — was put on display in what was then called the Buffalo Bill Historical Center. The mummy is no longer on display, in deference to American Indian tribes.
"Some of the things he did we wouldn't consider doing now, such as displaying human remains recovered from Mummy Cave," said Mike Bies, a retired Wyoming Bureau of Land Management archaeologist.
According to Bies, McCracken also quashed the publication of an archaeologist's findings for the site while promoting his own writings about the discoveries.
"His is extremely misleading," Bies said. "He got a bunch of stuff mixed up. From an archaeological perspective, if McCracken's was the only document, you didn't use it."
In 2002 the National Park Service finally published the scientific paper written by Wilfred Husted with credit to the original work done by Edgar, McCracken's hired hand.
"It took quite a bit of doing to get permission, even after McCracken died," Bies said.
McCracken also was behind the removal of large stone slabs containing aged petroglyphs. The pecked and scraped images that included buffalo warriors were taken from public and private land at the base of the Bighorn Mountains south of Greybull, Wyoming. The removed stone panels were displayed at the museum, Bies said. Such desecration is frowned upon by archaeologists now, although they were more common in decades past.
"There was some stuff I certainly can't rationalize," Robinson said. "They weren't good practices. But he was pretty determined, and once he decided to do something you couldn't dissuade him."
Epitaph
McCracken died in 1983 leaving behind what has become a premier museum not only in Wyoming, but the West. In 1980 his memory was honored with the dedication of the museum's McCracken Research Library.
Despite his humble beginnings, through a lot of grit and determination, McCracken left behind a wide-ranging list of deeds and a legacy that now helps define the cultural life of Cody.
"I've come to like him," Robinson said. "He's very candid about some of the mistakes and goofy things he did. He's such a name dropper, but he really did know everybody," including Amelia Earhart, the tragic female pilot who disappeared in her attempt to fly around the world.
"He certainly was a promoter," Bies said. "I don't think the Buffalo Bill Center of the West would be any more remarkable than the Greybull Museum if it wasn't for his promotion. He went out and recruited money relentlessly. He did things that brought in exhibits that aren't typically found in a museum."