The ad for summer interns didn't include these facts: job may include having to crawl through hundreds of needle-sharp cactus spines and large piles of packrat poop, or dislodge from your body up to 10 wood ticks a day.
"I had crawled into one hole and Kara yelled, 'Snake!'" said Carl Froslie of his colleague. "I thought it was inside so I grabbed a rock. I thought I was going to have to fight it."
Froslie, Kara Posso and Jenna Kaplan were the core of a unique exploration group this summer. The trio were charged with searching the Pryor Mountains, south of Billings, to document caves for the Bureau of Land Management and Forest Service, the two federal agencies that own abutting land in the island mountain range just north of the Montana-Wyoming border.
"We've found a lot of areas where there are no caves," joked Dan Seifert, a geologist for the Beartooth Ranger District in Red Lodge, who helped coordinate the program. "Mainly what they've been finding is a lot of rock shelters."
Rock shelters differ from caves in that they are not very deep. Caves can run hundreds of feet or even miles deep underground. The federal Cave Resources Protection Act of 1988 defines caves as "anything large enough to permit a person to enter." Under the federal rule, any cave that doesn't allow a person to enter would be considered a rock shelter.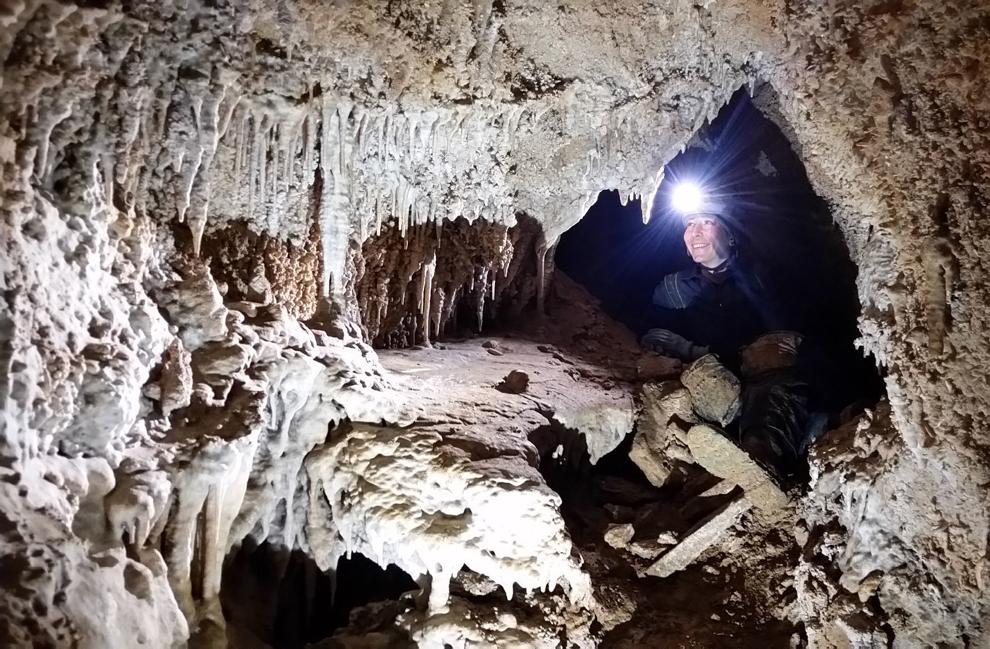 GPS points
The program began last November with a helicopter overflight of the mountain range. Each time a possible cave was sighted, the crew punched a GPS to record the general location. In all, more than 1,000 points were logged.
With combined funding, the agencies hired their three-person cave resource crew — Froslie, Posso and Kaplan — who started work in May and wrapped things up before the end of August. Froslie and Posso were hired by the Montana Conservation Corps. Kaplan was an intern through the Forest Service's GeoCorps program.
"Frankly, we're just trying to get a baseline," said Jenny Alexander, BLM outdoor recreation planner for the Billings Field Office.
The information will help inform the agency's Resource Management Plan on subjects like bat habitat in the mountains. Seifert was seeking more information on caves in the Forest Service portion of the Pryors to fill in a large blank spot in the agency's knowledge.
"These guys are out ground-truthing those GPS locations," Alexander said.
The cavers were also on the lookout for any signs of white nose syndrome, a disease that kills bats and has spread from the East Coast all the way to Wyoming and South Dakota.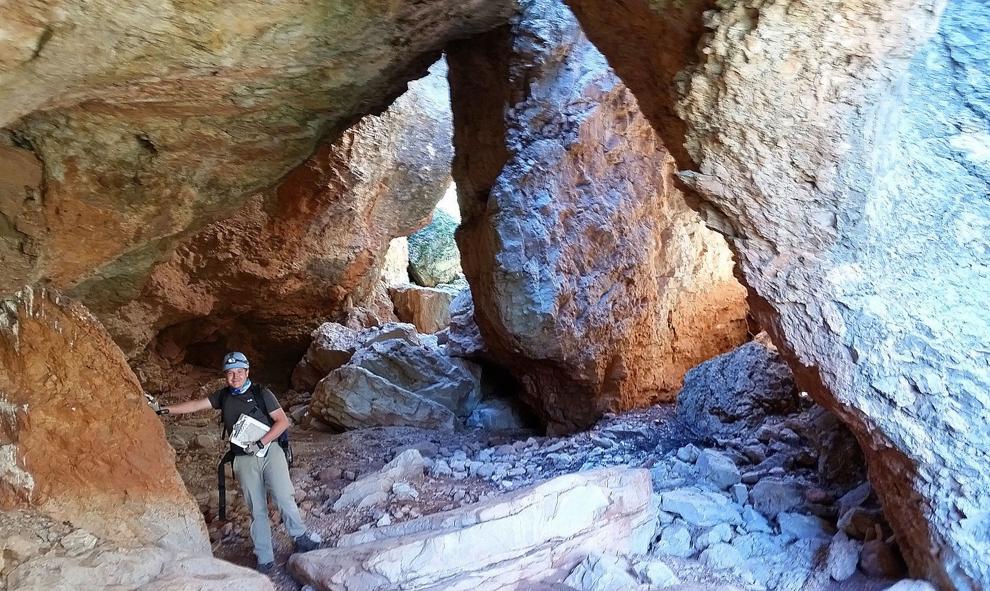 Know-how
Part of the job requirement was that the crew had to have some climbing and caving experience, although experts also tagged along on different hikes to help out with things like instructions in identifying a bat hibernation cave or goshawks, a rare but defensive species that they were warned would dive bomb them in an attempt to slash their eyes. One trip to Utah included a cave rescue course, where they learned how to evacuate an injured caver.
"It really provides you an extra bit of awareness," said Posso, 27, of Austin, Texas, and a recent university geology graduate. "It's hard enough to move through a cave when you're healthy."
"It made me never want to get hurt," Froslie said. "It took five hours to go 500 feet with eight people moving one person."
"It definitely makes you hyper aware of safety, even on steep terrain," Posso added.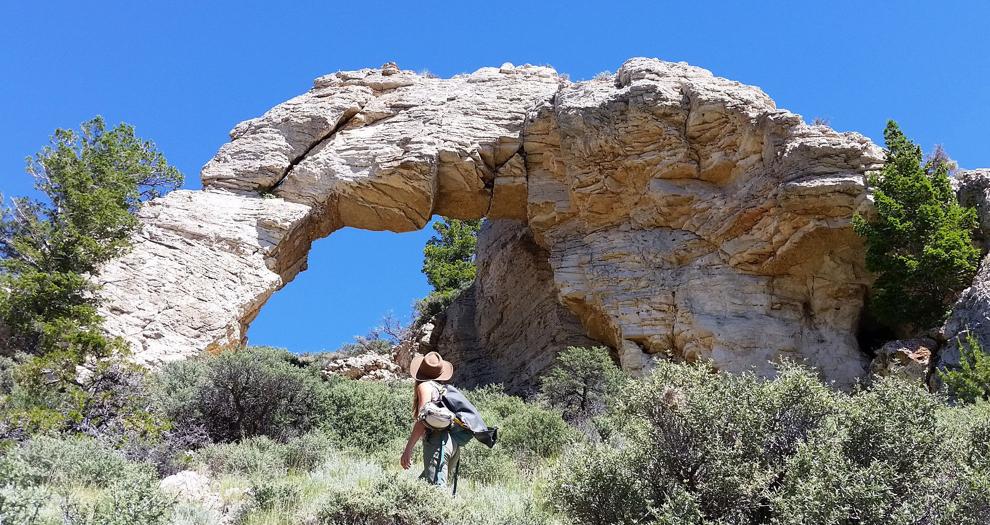 Big cliffs
Some of that steep terrain involved rappelling down 400 foot cliffs into canyons so thick with undergrowth that a machete would have been helpful, Posso said. Even holes high up on cliff walls were searched by lowering one of the explorers down.
In all, they searched 140 of the waypoints marked by the GPS. Of those, only three were considered significant for reasons like the geology or because of bat habitation. They also found one old crude stone tool outside a rock shelter.
"It's pretty nice to be a part of something that will be passed on," Posso said. "It's almost legacy like."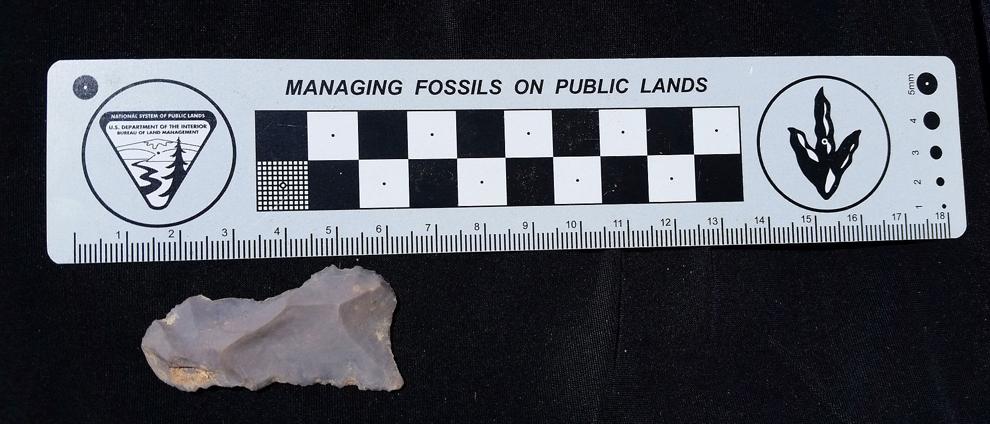 Lots of holes
Prior to this summer's research, it was known that the Pryor Mountains contain at least 150 caves, the longest over one mile and the deepest at 261 feet, Froslie said. The largest lake in the Pryors is underground — a 100-foot by 50-foot impoundment 8-to-10 feet deep. The third largest bat roosting area in the state is Mystery Cave in the Pryors, containing about 500 bats who use the site as a winter resting place. Little Ice Cave is also in the top 10 hibernacula in the state.
"A lot of stuff we explored goes 20 feet and stops, but we have to crawl through a lot of rat poop," Froslie said, laughing. "You get rat poop stuck in your ear or a poop mustache. You stick your face in poop and all of your facial hair holds the poop dust."
Luckily at the end of the day the crew could return to Britton Springs, a BLM facility at the base of the Pryor Mountains, to shower.
"It was a huge morale boost," Froslie said.
They slept in tents on the grounds of the BLM property.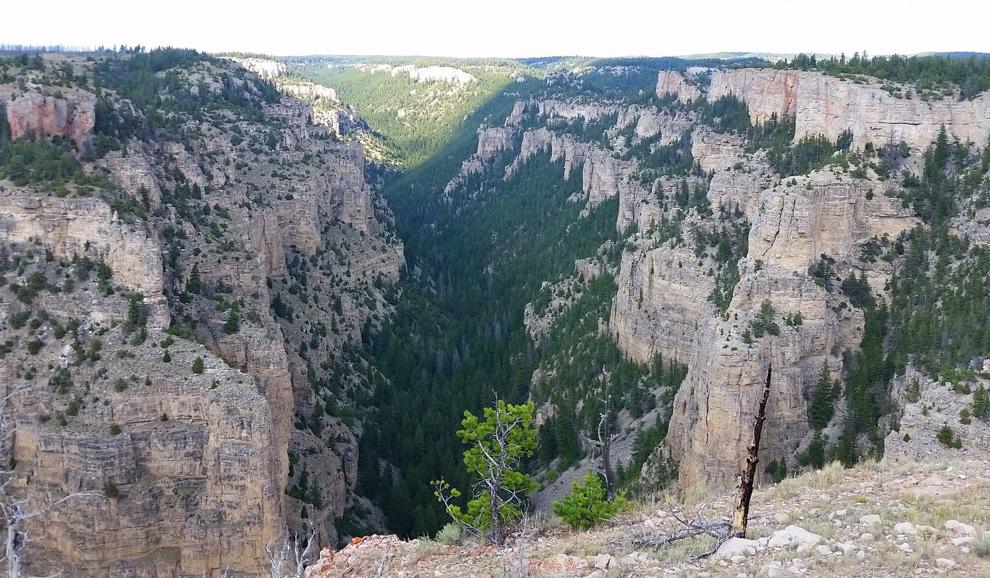 Cave comrades
Hiking, climbing and crawling together for 10 hours a day, four days a week created a bonding experience for Posso and Froslie.
"We're doing a lot of technical rope work, so you have to trust that they did it right," Posso said. "There's a lot of high risk situations, you get pretty close that way."
Sharing the fun of crawling through cactus spines, and helping pick out those spines afterward, also built camaraderie.
"Diving back through that hole knowing what would happen was really hard," Posso said of the cactus-spine filled tunnel.
They held rocks in their hands to crawl without getting impaled by the spines. Froslie had so many spines stuck into his clothing one time that he couldn't move without being jabbed.
"I just held my arms out."
"We carried tweezers with us the rest of the summer after that," Posso said.
Just another day at the office for these three summer interns. Yet despite the hardships, they loved the country they explored and all of the new information they gathered along the way from a variety of mentors.
"I will never do anything cooler for pay in my life," Posso said she told the BLM's Alexander.
---
Photos: Exploring for Pryor Mountain caves