ALTA, Wyo. — This isn't right.
Cyclists are not supposed to be pedaling through leafless aspen trees on a groomed snow trail in winter, or coasting downhill around banked turns past frosted white pines. These are habitats normally confined to Nordic skiers. Yet the hum of the fat 5-inch knobby tires on the hard packed snow could not be denied.
We were doing this. We were snow biking. And it was a blast!
Swimming upstream
Fat-tire biking was an oddity about 20 years ago, practiced mainly by hardcore riders who lived in Alaska or Minnesota and refused to stow their bikes in winter. The original models were handmade Frankenstein constructions that expanded the forks to allow larger tire rims — sometimes two rims welded together — to provide more tire surface area for greater traction in snowy and icy conditions.
Slowly that has changed. First the bike style caught on about a decade ago with a few pioneering manufacturers, like Surly and its trend-setting Pugsley model. A few years ago the big names in cycling — Trek and Specialized — stepped into the market and began building fat-tired bikes. Now they are mass-produced by Mongoose and can be purchased at large discount stores for under $300 and even come in children's sizes. That's a substantial step down in cost from other bike manufacturers, who typically start their products at more than $1,000. Traditionally, the lighter the bike the more it costs.
With all of these changes, an activity that was once edgy and extreme may finally plow into the mainstream, and in some respects it's surprising that it has taken so long.
Big is beautiful
Fat bikes, by their pudgy nature, attract instant attention. Put them outside an outdoor shop at the base of a ski hill and they are bound to turn some admiring heads. Ride them through the plaza past warmly dressed skiers buckled into heavy boots and you'll hear all kinds of surprised and admiring comments. Biking, after all, is supposed to be a warm weather sport.
Yet, Grand Targhee Ski Resort in Wyoming has embraced the burly bikes to an unusual extent, even grooming four miles of wooded single track trail next to its Nordic ski trails for winter mountain biking, as well as allowing access to 15 kilometers of groomed Nordic trails. Grand Targhee claims it is the "first ski resort in the United States to embrace and endorse winter fat bikes" on its Nordic trail system.
You have free articles remaining.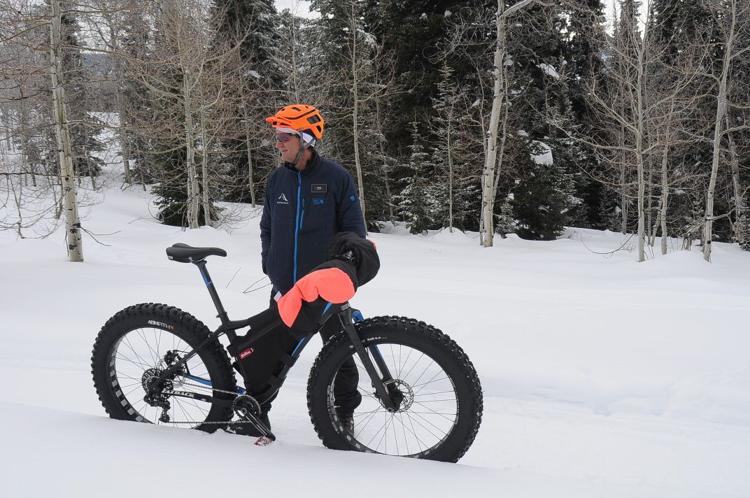 Longtime cyclist Andy Williams has helped launch the sport at the ski area hugging the western edge of the Teton Mountains. Two weeks ago, he patiently led me on my first fat bike ride.
Long and lean, he easily pedaled the motorcycle-sized tires uphill while I wheezed and sweated 10 yards behind him, my heart hammering at maximum speed. Low gears or not, it's still a lot of work to pedal up a snowy trail, especially considering that these bikes are heavy — ranging from about 30 to 45 pounds. I was also dressed in a couple of layers of warm clothes, a ski helmet, heavy winter boots and carrying a backpack, so probably an extra 10 to 15 pounds of gear that didn't make the activity any easier.
An elevation of 7,800 feet was also messing with my excessive air extraction from the icy universe that surrounded us. Williams kindly stopped frequently to let me catch up — and catch my breath. I felt less out of shape when a rider half my age struggled past us, wheezing.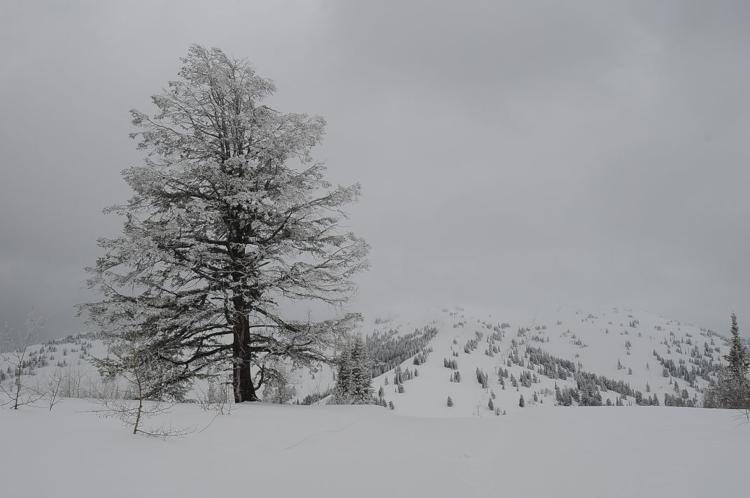 Bouncing downhill
Such descriptions of the arduous climb probably aren't going to win a lot of converts to snow biking. But like any cycling the fun is in freewheeling downhill, banking around tight turns and bouncing through dips and ruts.
The fat tires, since they are run at very low air pressures to provide traction — around 5 to 15 psi depending on conditions — provide a buoyant ride. Imagine sitting on one of those large exercise ball chairs and you will get an idea of the cushion-y comfort. In contrast, a road bike's skinny tires may take 110 psi or more with the rigidity jarring cyclists.
The one instruction that Anderson stressed was to stay in the middle of the packed single track. Venture off to the side and the bike would instantly sink into the hip-deep snow, he warned, a fact he later demonstrated by hugging the inside of a turn too tightly and auguring sideways into the snow.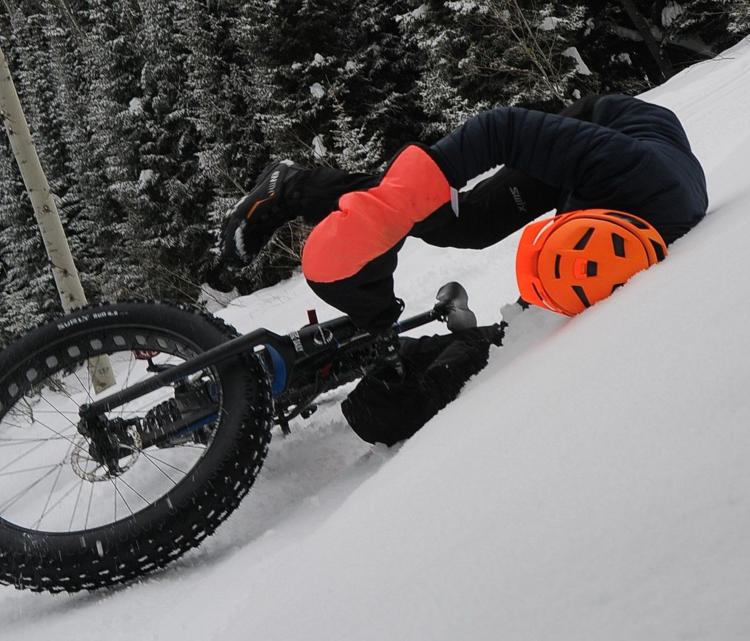 "Luckily it's a soft landing," he said as he dug snow out of his ear and chuckled. He left a perfect impression of his sideways self in the snow — a snow-angel biker?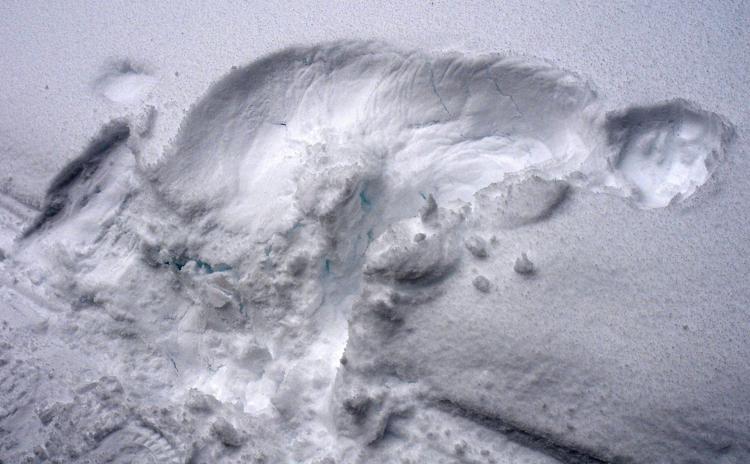 For Anderson, the fat tire bikes are simply another way to enjoy winter by traveling quietly into the woods. If the bikes continue their slow rise in popularity, though, riders will run into opposition. Like skiers disdain for snowboarders when they first hit the slopes, snow bikers have been and will continue to be challenged by more traditional users like snowmobilers and Nordic skiers who share the same routes. Yellowstone National Park has already said it won't allow the bikes on its winter trails.
Maybe if these other users had a chance to ride downhill on one of the bouncy beasts, then snowmobilers, skiers and park officials would see the joy the bikes can bring to winter riders. For now, they still remain a curiosity, but what a fun one.