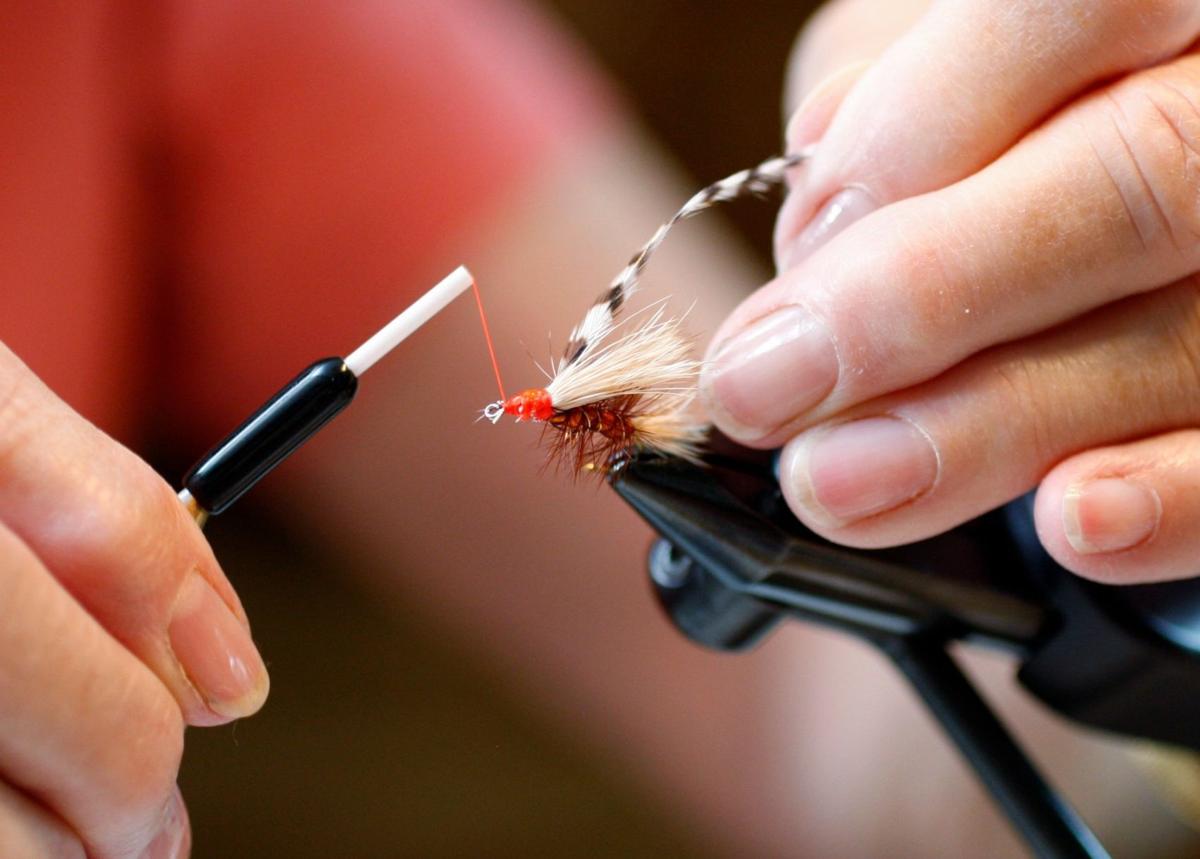 HAMILTON — Tony Tomsu wasn't sure he heard the boy right.
It was a few years back and the neighbor's son had just wandered over to his place to ask the nationally known fly tyer for a pattern that had been working very well on the West Fork of the Bitterroot.
The salmon fly hatch was in full swing and Tomsu had been supplying them with his realistic version of both the Salmonfly and Golden Stone patterns.
The well-spoken boy asked for something that sounded to Tomsu like "Slamon flies."
Tomsu guessed that he was mispronouncing the word "salmon," as sometimes young boys do.
"Ben," Tomsu said with a smile, "do you mean the Salmonflies?"
The boy's response was immediate.
"No, I mean those Slammin' Flies because the fish really kill those things," he said.
Turns out the boy had been fishing with his dad and uncle the week before and the trio had renamed Tomsu's pattern because trout that spotted them floating on the surface slammed right into them.
That wasn't a surprise to Tomsu.
Over the last 20 years, he's become a nationally recognized leader in the development of realistic-looking flies made from foam through his firm River Road Creations, Inc., which is based on the banks of the Bitterroot River just north of Stevensville.
Later this month, Tomsu will share some of the secrets he's perfected over the course of years with the release of a new book titled, "Creations from the River Road: Practical Realism for Tying and Fishing Foam Trout Flies."
The 212-page, color book published by Stevensville-based Stoneydale Press offers step-by-step photographs on how to tie 20 of Tomsu's favorite trout patterns.
"Tony Tomsu has been known in fishing circles worldwide for many years as a leader in the development of the use of foam materials for fishing both trout and warm water flies," said Stoneydale publisher Dale Burk. "It's only natural that he would share his expertise in creating and fishing these flies through the medium of a new book."
A longtime fly fisherman and fly tyer himself, Burk said Tomsu holds nothing back.
You have free articles remaining.
"Tony reveals every trick, tip, tool and technique he has developed over his 20-year history in the trade, including recently developed techniques that will allow his readers to easily add unprecedented levels of realism to their flies," Burk said.
Tomsu owns and operates a business out of his riverside home that creates Montana-made wing and foam body cutters for fly tyers, which have developed a legion of international followers.
Up until now, information about the business's products has been spread mostly by word of mouth.
"Fly tyers are kind of gadget heads," Tomsu said. "Once someone gets something new that no one else has, they can't wait to show it to everyone else."
The secret to becoming a successful fly tyer is being consistent. Tying flies with foam that's consistently cut in the same pattern over and over again is a good way to start developing consistency.
Foam has other benefits too.
"It's bombproof," Tomsu said. "It's extremely durable. And it will float all day. You don't have to keep putting a floatant on it all day long."
But beyond all that, the foam allows tyers to create patterns that are very realistic.
"It's radically different than traditional tying," Tomsu said. "When you drop one of my hoppers in front a fish, they don't have to think about what they're seeing. They know what it is."
Tying with foam isn't something that's brand new. People have been using the material for years.
"But this is the first time that I'm sharing all my techniques with the public," Tomsu said.
The book offers instructions on how to tie beetles, ants, caddisflies, hoppers, damselflies, dragonflies, cicadas, mayflies and several types of stoneflies, including the Slammin' version.
Famed fly-fishing author Doug Swisher, whose 1971 book "Selective Trout" was considered a landmark in the fly tying world, spends time every year fishing with Tomsu and his wife, Kathi.
Swisher, in the book's foreword, said: "One thing about Tony, he doesn't keep secrets to himself. Instead, he shows such things as his unique coloring system and awesome technique for bending legs. He's light years ahead of his time. This book will get your creative juices going."
The book is scheduled to arrive just after the first of the year.