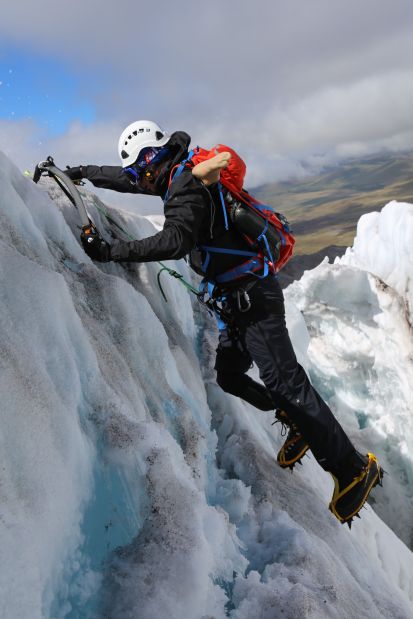 It almost sounds like a setup to a joke: What do you call a guy with one foot, missing fingers and a bad back who's climbing Everest?
It's no joke. The answer is one highly motivated Marine.
This Marine in particular is Staff Sgt. Charlie Linville of Boise, who leaves for Everest base camp this month.
Linville was serving in Afghanistan in 2011 when an explosion caused his injuries. Linville was defusing a bomb planted by insurgents when a hidden one beneath it blasted him into the air and dropped him into the newly formed blast crater.
He suffered severe foot injuries, lost several fingers, and the blast and subsequent landing injured his back.
After numerous surgeries and attempts to rehabilitate his foot failed, it was amputated in 2012, and he still suffers bouts of severe back pain.
Linville, 28, was an infantry Marine who re-enlisted and volunteered for an elite explosive ordnance disposal team whose job is defusing bombs planted to kill Americans.
Linville served in Iraq and Afghanistan before he was medically retired from the Marines. Had he also retired to the couch, no one would have blamed him. But sitting on the sidelines doesn't suit his personality.
Last month, Linville summited Aconcagua, the highest peak in South America which tops out at 22,841 feet. It was a warmup for Everest.
So how does a Marine and amputee go from Iraq to Afghanistan to Everest?
An unlikely story gets a little stranger. A crazy biker, former Hells Angel and adventurer named Tim Medvetz crashed his Harley on Sept. 10, 2001. He lay in a hospital bed while the Twin Towers fell.
During his long rehabilitation — and after hearing doctors predict he would never walk again — Medvetz hatched an unlikely plan to climb Everest. After years of rehabilitation, training and two attempts, he reached the summit in 2007.
He thought his experiences might help others, so he founded a nonprofit, The Heroes Project, to help injured veterans push themselves by climbing mountains.
To date, he's helped veterans with amputations reach six of the Seven Summits, the tallest peaks on each continent.
Linville and Medvetz met on the Santa Monica Pier in California during a fundraiser for The Heroes Project, and Medvetz was impressed by Linville's drive and his story.
But what really clinched the deal was Linville's persistence.
The morning of Linville's operation to have his foot amputated, Medvetz' phone rang. It was Linville, who'd just come out of surgery.
"There he was during one of the biggest moments of his life, the day he's losing a limb, and he was calling me to say 'I'm your guy,' " Medvetz said.
There's also Linville's military resume. Making life-and-death decisions is a daily occurrence for someone who defused bombs, not to mention that he volunteered for that position.
"He could have taken a hundred other jobs in the Marine Corps," Medvetz said.
Despite all Linville has been through as a Marine and a recovering amputee, Medvetz said Everest will likely be his toughest challenge, but "it's the mentally tough guys who are successful on Everest." 
Linville understands the opportunity, the challenges, and the bigger picture. He's not only representing other wounded veterans, he's showing what they can still accomplish.
If he's successful, he will complete the Seven Summits for The Heroes Project.
"It's pretty powerful," Linville said. "It's not just a journey for me, it's for the other guys climbing those other six peaks, too." 
When describing his successful climb on Aconcagua last month, Linville focused more on the practical than the personal or emotional.
Climbing with a prosthetic leg (he's a below-the-knee amputee) meant lifting his foot higher with each step than his other foot, putting extra strain on his good leg.
Mountaineering boots don't fit a prosthetic limb as well as a foot, so he had to carefully focus on his foot placement because he doesn't have feeling there, and the prosthesis can easily slip.
He barely mentions the physical exertion required of climbing to nearly 23,000 feet, or that a storm blew in and it was a whiteout shortly after he reached the summit, or that people died on the mountain while he was there.
Linville is not naive to what he's facing on Everest. That mountain kills people, but so does war.
"I've educated myself about the mountain and what to be prepared for," he said.
But he hasn't read about all the tragedies on Everest.
"What's the point of reading the horror stories?" he said.
His wife, Mandi, supports his decision to attempt Everest, and said it's no surprise.
"He's always been a gung-ho adventurer," she said. "He's always been interested in doing more than just average." 
She's treating the trip like another military deployment. She will take care of their two daughters, ages 3 and 6, while he's away.
She said it sends a strong message to their children about what's possible to achieve, even if you've suffered setbacks.
"It's an adventure for the whole family," she said. "I think it's good for all of us. It's giving us this great perspective on life."
It will also keep veterans in the spotlight, something that's important to the couple, whether it's wounded veterans climbing mountains or trying to get adequate medical care.
Will this be the last big adventure for this 20-something couple?
They gave each other a conspiratorial grin and mention Richard Branson is planning civilian space flights.
"He's going to space next," she joked.
Or maybe she isn't joking.