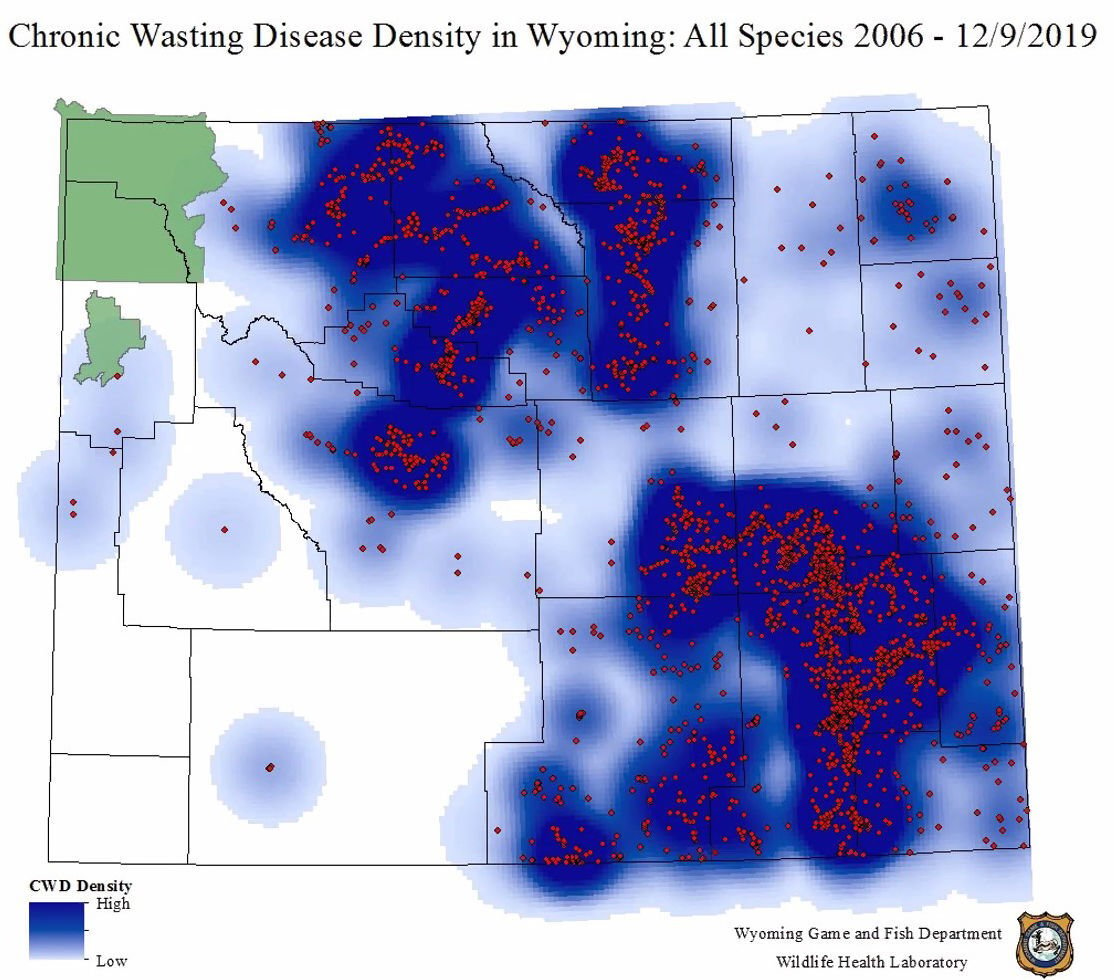 Wyoming hunters could see extended seasons, late hunts or more tags for mature bucks as a means to help control or slow the spread of chronic wasting disease in the state's deer populations.
The Wyoming Game and Fish Department outlined some of the details of its draft CWD plan, which had been crafted over the past year, to the Game and Fish Commission on Thursday in Rawlins.
Following debate and a recess to enter executive session to receive some legal advice, the commissioners approved the plan in a 6-1 vote. The lone dissenting vote came from Commissioner Mike Schmid, of Labarge, Wyoming.
"Chronic wasting disease has population impacts," Scott Edberg, deputy chief of the Wildlife Division, told the commissioners, adding that doing nothing is no longer acceptable. "This is the right time for this plan to move forward … based on science and not emotion."
WGFD is also moving to develop a separate plan for addressing chronic wasting disease on elk feedgrounds. That process will start with six public meetings this fall. The information gathered from the meetings will inform the next phase of the process — identifying issues and finding solutions — which would begin in March 2021.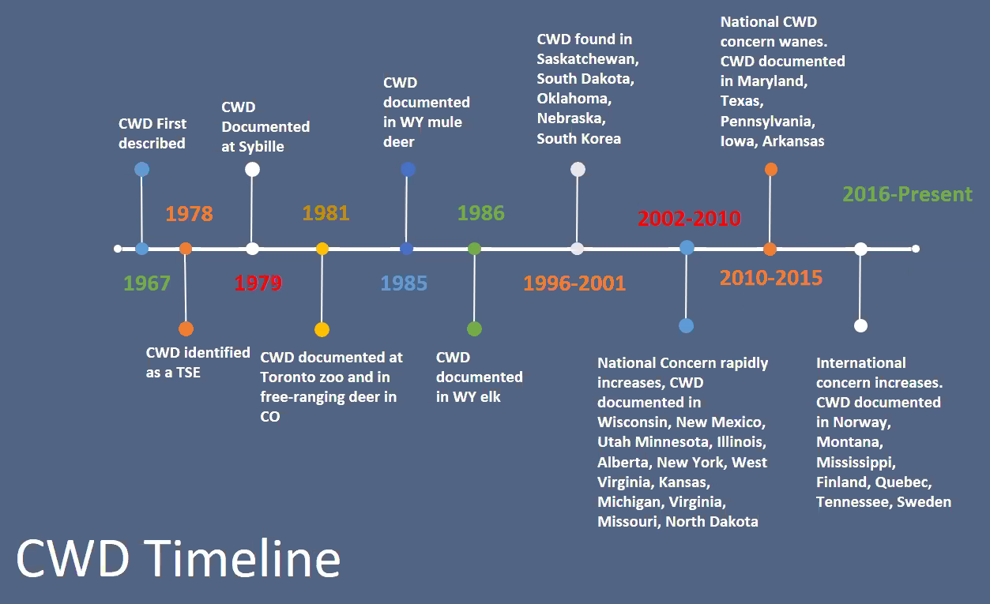 Spread
The state has seen prevalence of chronic wasting disease slowly spread since it was first detected in the southeast corner in 1985. More recently, a 2019 CWD surveillance area near the Wind River Indian Reservation found a 57% infection rate — 44 out of 77 adult mule deer bucks tested positive.
Testing of elk has shown a much lower prevalence, from no CWD to only 1% in three 2019 test areas.
There's been no documentation of the disease infecting humans who eat an infected animal, although the Centers for Disease Control and Prevention recommends not consuming an infected animal.
Via testing information, WGFD has established that bucks are more likely to contract the always fatal disease, especially mature bucks; that whitetail deer can contract the disease at the same rates as mule deer; prevalence in elk doesn't vary by sex like it does with deer; and elk don't exhibit infection rates as high as deer even where their habitat overlaps with infected deer.
In 2019, WGFD surveillance tested more than 5,000 animals through which infections were identified in three new Deer Hunt Areas in the Bighorns, near Clark and Hoback. This year, the agency will survey mule deer herds along the Greybull River, Pumpkin Buttes, Cheyenne River, Goshen Rim and Sweetwater. Elk hunting units to be surveyed are near Cody, Fall Creek, the Upper Green River and West Green River.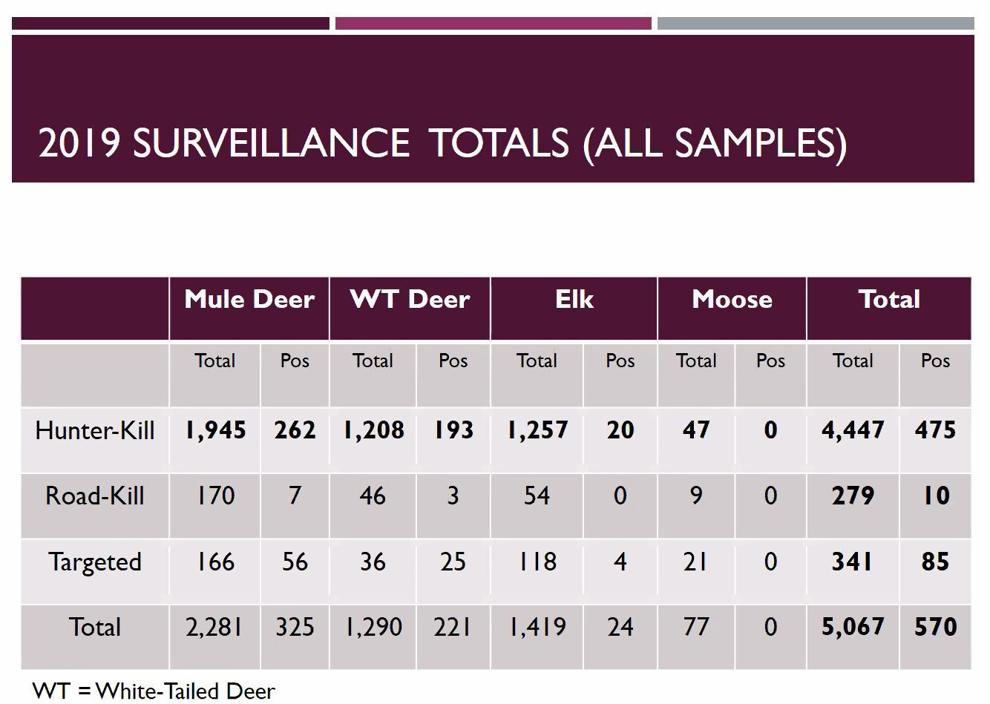 Working group
At meetings over the past year held by a 31-member working group, which helped develop the plan, the public expressed "genuine concern for taking action" despite the uncertainty surrounding the disease and the fact that there's no known "silver bullet" for solving the situation, according to Joshua Coursey, co-chair.
"This is about building a tool box for our managers," said Kristen Gunther, co-chair of the group, "because we can no longer wait to take action."
"This is a very tough spot for the agency, but doing nothing is against the public's desire," said Jessica Western, who facilitated the discussions. Western is a senior research scientists at the University of Wyoming's Ruckelshaus Institute, Haub School of Environmental and Natural Resources.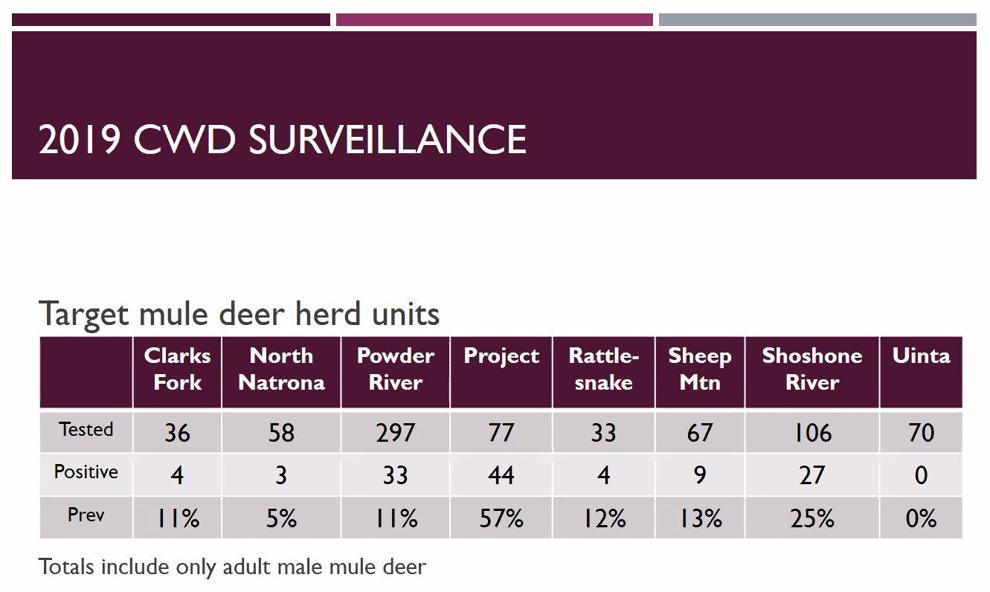 Opposition
Although several conservation groups support for the plan, not all of the public or commission backed the proposal.
"We're better than this," said Schmid, the commission's lone dissenter. "I don't think it meets the challenge that (WGFD) director (Brian) Nesvik threw down."
He noted that other states and Canadian provinces have used similar techniques for years without eliminating the disease.
Dick Edwards, a former game farm rancher, said no one had talked about the economic impact of the disease on out-of-state license sales.
Another commenter, whose name wasn't distinguishable on the Zoom connection, said the plan "wasn't there yet," saying scientists need to learn how to stop infections rather than move forward with reducing wildlife populations.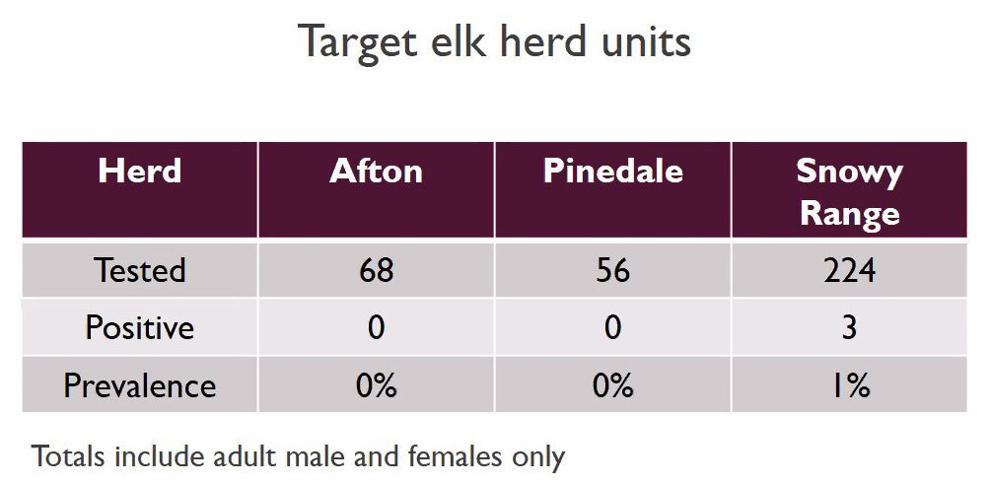 Other options
Hunters aren't the only ones who could observe changes. Rural and urban landowners may see wildlife managers focus on attempting to reduce unnatural concentrations of deer and elk, such as deer crowding around bird feeders or greenspace and fencing off ranchers' stackyards.
WGFD Casper wildlife management coordinator Justin Binfet said there would be no statewide or regional approach. Instead, the strategies will be targeted where they may be most effective.
The agency will also develop educational material for the public and landowners. One benefit to educating the public is so they might report seeing sick animals that could be removed by WGFD.
The finalized Wyoming Chronic Wasting Disease Management Plan will be available on the Game and Fish website by the end of July.