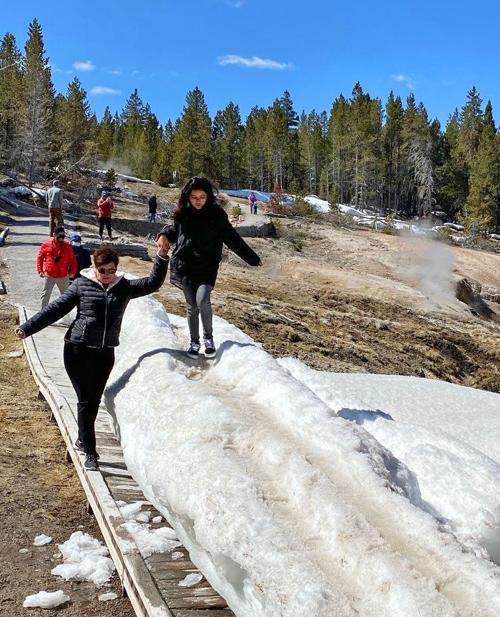 As Superintendent Cam Sholly predicted, visitation to Yellowstone National Park in April was up 40% compared to 2019, with 19,000 more people entering the park.
Likewise, Grand Teton National Park to the south also experienced high April visitation with more than 87,700 visitors, a 48% increase compared to April 2019. The high numbers set records for April in both parks.
Glacier National Park recorded more than 53,000 April visitors. Although that was a high figure, up nearly 50% from 2019, it didn't topple the peak April of more than 55,000 visitors set in April 2016.
Last spring, the parks were temporarily closed in April as the National Park Service figured out how to operate during the COVID-19 pandemic. Once the parks did reopen, they saw heavy visitation, setting new records in the fall.
Based on people's thirst for outdoor recreation last year, and the inability or lack of desire for tourists to travel internationally, Sholly predicted Yellowstone would be busier earlier this year. Park visitors proved him correct.
"I predicted a record season, and I think we're on track for that," he said.
More than 34,000 recreational visitors entered Yellowstone through the North Entrance at Mammoth this spring, with another 33,000 passing through the West Entrance at West Yellowstone. The previous high visitation for April was in 2016 when more than 59,000 people entered.
At Grand Teton, the previous high April was 2018 with more than 60,500 visits.
Yellowstone's West Entrance is the first to be plowed after the winter season ends in mid-March. The North Entrance is open all winter, providing access to Cooke City and Silver Gate, popular places for Nordic skiers and snowmobilers to recreate.
"Visitation has been up all spring," said Ken Hufford, a 34-year resident of Cooke City.
When the road between the Chief Joseph Highway and Cooke City was plowed open a couple of weeks ago, even more travelers poured in, he added. The route allows motorists to drive a more direct path from Cooke City south to Cody, Wyoming, or north to Billings.
"When they got the plug opened it really jumped," Hufford said, referring to the portion of the highway that remains unplowed in winter.
The route will be key to funneling tourists from Red Lodge to Cooke City when Highway 212 over the Beartooth Pass opens. The high pass — topping out at almost 11,000 feet — traditionally opens on the Montana side on May 28, the Friday before Memorial Day weekend.
Yellowstone National Park crews plow the Wyoming side and this year plan to have that portion of the Beartooth Scenic Byway cleared of snow by May 28, as well. Often the Wyoming side's opening is delayed by heavier snow.
With less trepidation about traveling domestically this year, Sholly foresees a crowded summer in the park, for which his staff has been planning. More seasonal employees are being hired and vaccinated, and more campgrounds are reservation-only providing more certainty for campers about where they will spend the night.
Still, he said it's going to be a tough summer that will help guide future visitor use management at Yellowstone. A shuttle from Old Faithful to the Midway Geyser Basin is one example. Testing new driverless shuttle technology at Canyon will be another.
"We've got a solid amount of data, now we need to translate it into what actually makes the most sense ... and improve the visitor experience," Sholly said.
"At some point you have got to look at what the capacity of your staff is," he added. "It can't be a free for all."
Sholly said any actions to limit or control visitors will be more aggressive as visitation climbs in order to protect the park's environment and wildlife. That will entail lots of public outreach, including to gateway communities, so there are no surprises.