Yellowstone National Park experienced the second busiest year on record in 2017. The park recorded 4,116,525 visits, a decrease from 2016.
With 4.25 million visits to the park, 2016 was a record year for visitation, and all demographic trends point to the continued growth of annual visitation, according to park officials.
Since 2008, annual visitation to Yellowstone has increased by close to 40 percent. Half of the increase in visitation occurred in just two years — 2014 to 2016 — coupled by an even greater rise in motor vehicle crashes (up 90 percent), ambulance use (up 60 percent), and search and rescue efforts (up 130 percent). Meanwhile, staffing levels and funding have remained flat over the past 10 years.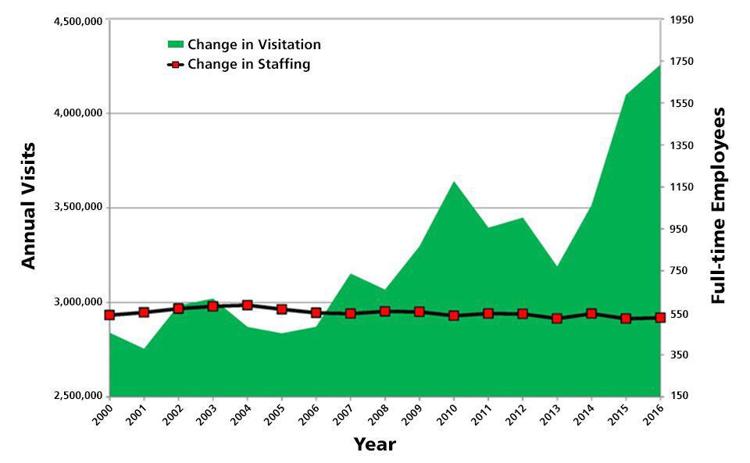 With the constant increase in summer visits, vehicular demand for roads and parking in Yellowstone is expected to exceed capacity sometime between the next three to five years. 
To ease the problems, park officials are considering communication and traffic management systems, shuttle systems and other types of transportation alternatives, and reservations or timed-entry systems. The strategies could be implemented in key locations or park wide.
"In 2018 and 2019, we intend to gather more information in order to make informed decisions about visitation," said Dan Wenk, Yellowstone National Park superintendent. 
The growth already has park managers considering questions like:
How can the park prepare for a future in which visitation continues to increase?
How does the increased visitation affect park resources and visitor experiences?
What do people expect when they come to Yellowstone?
How do people move through the park?
To begin answering these questions, the park commissioned two studies during the summer of 2016. The results were released to the public this summer. One finding is that more than half of visitors surveyed think that there are too many people in the park.
"These studies mark the beginning of our efforts to understand visitation and develop strategies to meet the challenges it presents," Wenk said.
Continued high levels of visitation at Yellowstone mean visitors need to plan ahead.