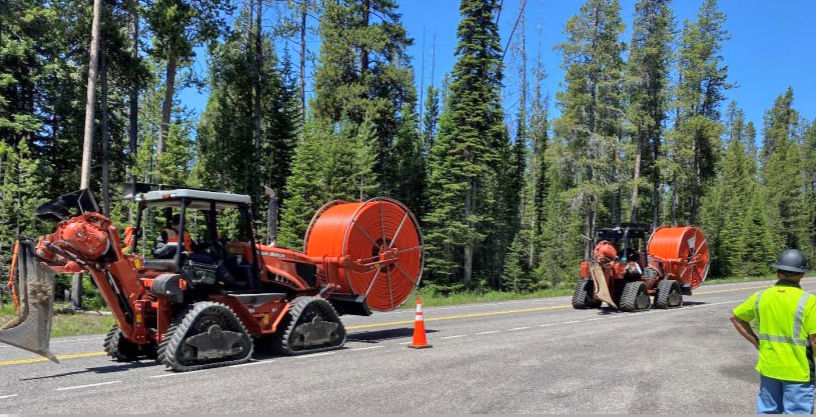 More than 180 miles of fiber optic cable is being proposed for underground installation along Yellowstone National Park's roadways as part of a plan to improve communications and enhance visitor services.
The cable would follow the Grand Loop Road with spurs branching off to developed areas within the park. It would also tie in with Grand Teton National Park to the south.
The National Park Service is seeking public comment on the plan. If approved, the park could remove five microwave radio reflectors that were installed in the park's backcountry around 1980. Although upgraded in 2008, the Park Service said the system was at full capacity within a year due to increasing visitation and changes in technology.
The microwave radio system is the only means of telecommunication (telephone, 911 and computer networks) to the park. The bandwidth via the existing system is inadequate for business operations like credit card transactions, employee communications, and emergency communications and operations, according to the park.
Installation of the cable would not expand cellphone coverage inside the park, the agency said, but would substantially improve coverage quality in existing developed areas along with improving data and internet connections.
New Jersey-based Diamond Communications has applied for a right-of-way permit to install the cable. On its website the company touts itself as a "leading wireless infrastructure company" with more than 200,000 sites in all 50 states.
Diamond would pay for all of the construction costs. Once installed, Yellowstone National Park could subscribe to the broadband services.
Following the public comment period, an environmental assessment will be prepared to analyze the proposal and its impact on the environment. The EA will be released for public review before a final decision is made. The EA is scheduled to be completed this winter.
Comments must be received by Oct. 21 and may be submitted online at: https://parkplanning.nps.gov/fiber or by mail. Comments will not be accepted by fax, email, or other means. Mail comments to: Compliance Office, Attention: Fiber Optic Project, P.O. Box 168, Yellowstone National Park, Wyoming 82190.