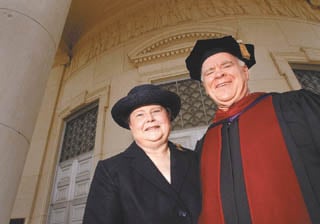 FORT WORTH, Texas - Dorothy Patterson irons her pillowcases.
She likes them to be smooth and crisp for her husband, Dr. Paige Patterson, the new president of Southwestern Baptist Theological Seminary.
This is a woman with two doctorates, a woman who started a thriving women's studies program at another seminary, a woman who has traveled to 85 countries and met world leaders, a woman with a high profile in a denomination dominated by the leadership of men. Yet, the first thing she lists on her resume under occupation is, "Homemaker."
"I enjoy teaching, I enjoy traveling, I enjoy speaking to women, but I don't enjoy anything as much as being the wife of Paige Patterson," she said recently, minutes after her husband's first sermon to the seminary body.
And if that means wearing splints on her hands to alleviate arthritic pain while ironing, so be it. Just the other day, she spent more than two hours ironing her husband's shirts - 16 of them.
"I had an appointment at 10 a.m. and a speaking engagement that night, so I started at 6:30 a.m.," she said. "I just couldn't go another day without having all those shirts in order."
She prides herself on keeping an orderly home, and that's hard to do when you're starting over. This summer, after 11 years at Southeastern Baptist Theological Seminary in Wake Forest, N.C., her husband was elected president of the Fort Worth seminary.
That meant leaving "Magnolia Hill," the beloved English Tudor president's home she named after a large tree on the Carolina property. She'd poured her heart and soul into fixing up the home, which had been in such bad shape that school trustees didn't want the Pattersons to live there. But Dorothy Patterson fell in love with it, had it restored and then opened it up to the community.
She built it into a place where students, faculty, alumni and others were sure to be treated to Southern hospitality. In her last year at Southeastern, Patterson and a staff served more than 4,000 meals at Magnolia Hill.
When she wasn't in the kitchen, she was helping develop a women's studies program at the seminary and designing a curriculum for a master's of divinity and doctoral degrees. She started the program to prepare women academically to help their husbands in ministry - and because it was a way for her to help her own husband in his ministry.
At nearly 60, Patterson has returned to her home state ready to start from scratch - as she does with so many of her recipes - and do it all over again.
Dorothy Patterson, who comes from a long line of Southern Baptists, was born in San Antonio and raised in Beaumont, Texas. She grew up in a church, First Baptist Beaumont, led by her future father-in-law, the Rev. T.A. Patterson.
"I met her when she was 5 and I was 6, and I told Dad that night when we dropped her off at the house that that was the girl I was going to marry," Paige Patterson said. "And I try to be a man of my word, so neither one of us ever had a date with anybody else."
He calls his wife of 40 years "the most remarkable woman that ever lived." He said he doesn't understand how one person can be so energetic, creative and intelligent all at once. In fact, he said, his wife is so smart in some areas that in others she has no ability at all.
"If you give her a car and put her two blocks away, she'll never get home," he said. "That's because of all that concentrated brilliance in other areas."
The former president of the 16 million-member Southern Baptist Convention said he can't imagine life without her.
"She has kept me from making so many mistakes and helped me to see so many things that I wouldn't have otherwise seen, and taught me so much that, dear Lord in heaven, I don't know what I'd be without her," he said.
Tammi Ledbetter has known the Pattersons since she was a teenager and Paige Patterson was her pastor in Fayetteville, Ark. She'd often visit their home, where they held Bible studies for young students. The Pattersons' two children, Armour and Carmen, were often running about, she said.
Dorothy Patterson took a young Tammi - now news editor for the Southern Baptist Texan, the magazine of the Southern Baptists of Texas Convention - under her wings.
Other women say they, too, have been greatly influenced by Dorothy Patterson.
Joy White, a doctoral student in the women's program at Southeastern, said her mentor taught her about subjects ranging from academics to hospitality and etiquette.
She, like many of the women in the program, will likely use her degree for personal edification or to teach women in seminary and in church. It is not intended to prepare her to be a senior pastor or to teach men - roles that conservative Southern Baptists say the Bible does not allow for.
And that's fine with White, who said Dorothy Patterson, above all, has been a model of "biblical womanhood for me."
Others don't see that model - wife as, chiefly, helper to her husband - so positively. Dorothy Patterson, a biblical inerrantist, was one of the authors of a Southern Baptist Convention family statement in 1998 that defined the marriage relationship. The statement drew on Ephesians 5:22: "Wives, submit to your own husbands, as to the Lord. For the husband is the head of the wife, as also Christ is head of the church."
Patterson said the word submit in Greek, hupotasso, means "to place under."
"It's reflexive, it can't be forced," she said. "Now, you can have obedience forced, but the word submit doesn't allow that. By the nature of the meaning of the word, it's something you choose to do, not are forced to do."
Moderate Southern Baptists and others roundly criticized the 1998 statement, saying its position on the role of women was, at best, archaic.
But Dr. Richard Land, president of the SBC's Ethics & Religious Liberty Commission, said that those critics misunderstand the conservative stance - and that Dorothy Patterson's life speaks clearly to its worth.
"She is a living denial of all the stereotypes that liberals and modernists try to impose upon the Christian understanding of the difference between men and women," he said.
"You can be submissive and be a woman of accomplishment and a woman of education and learning. Those are not mutually exclusive categories."
Dorothy Patterson, while well-rounded academically, is very grounded in her priorities, said her friend, Susie Hawkins.
Those priorities: God, husband, children and grandchildren.
"I had always seen her as Dr. Dorothy Patterson and was a little intimidated by all those degrees," said Susie Hawkins, the wife of O.S. Hawkins, head of the SBC's annuity board. "I didn't know how much she loved to have tea and girl chats and shop for her granddaughters. She is truly the shop-'til-you-drop kind - only she never drops."
The thing that sets her apart, said another friend, Kathy Sibley, is her personal touch.
"It's not just sterile education and sterile relationships," she said. "She brings a warmth and creativity, and she takes a real interest in people."
Kathy Sibley and her husband, Jim, have known the Pattersons for about 30 years. When their daughter went to Southeastern, Dorothy Patterson treated her like her own.
"In the midst of the flurry of all she does, she hosted a wedding shower for my daughter," Sibley said. "The thing is, that's not unusual for her. She does that for her students. She knows what the essentials in life are, and she capitalizes on those."
Driving recently to the home being fixed up for the new president on the Southwestern campus, Patterson smiled as she pulled into the circular drive.
"My husband's father attended Southwestern and got his Ph.D. here, and Paige was born here, so we have a lot of roots here," she said. The couple's 5-year-old black Labrador, Noche, has quickly laid roots of his own, marking his territory on every bit of the large front lawn, she said with a laugh.
She said the seminary will be run like a family.
"We will rejoice together, we will have fun together, we will cry together, we will hurt together," she said, before stopping in midsentence to greet a worker painting in the kitchen.
"Hi, honey! How are we doing today?" she said.
"Hi!" the painter replied. "Nice to see you!"
"I see we're making big progress here, and I appreciate so much your help," she said.
Even in the lingering heat of a late summer afternoon, she was dressed in the crisp blue skirt and jacket and matching hat that she'd worn to chapel that morning. Patterson said her trademark look - suits and hats - is one she finds comfortable and natural.
Once, she said, an older gentleman told her, "I suppose you wear those hats because the Apostle Paul said that women ought to cover their heads."
"I said, 'Well, I wish I were that sanctimonious and holy,' " she recalled. But really, she just liked hats.
Her husband wanted to name their new home "Hacienda del Pastor." She convinced him that the house, a red-brick, two-story home with white columns, doesn't look like a hacienda.
So "Hacienda del Pastor" has become "Pecan Manor," named after the trees that dot the front lawn.
"In season, people come from all over to pick up pecans," she said. "To me, the name speaks of a place of hospitality and a place of rest."
Copyright © 2003 Dallas Morning News. Distributed by Knight Ridder/Tribune Information Services. All rights reserved. This material may not be published, broadcast, rewritten, or redistributed.