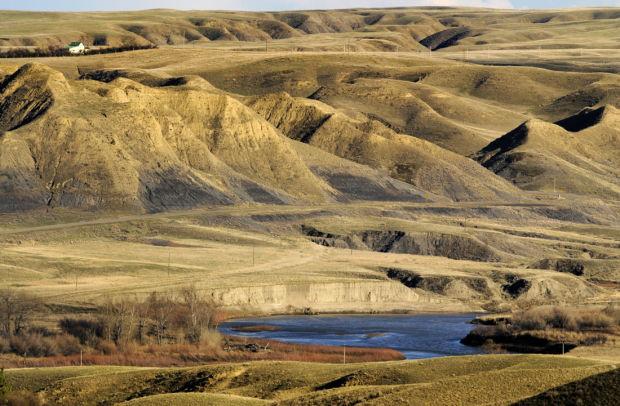 Date: Jan. 23, 1870. Blackfeet Wars.
Location: About 15 miles southeast of Shelby on the Hi-Line. Drive east on US 2 to Dunkirk and drive four miles south on South Dunkirk Road to Dobyn's Road. Go east for a half-mile to Robinson Road, then south two miles to the river. The site isn't marked (except by a retired combine), but a two-track road leads to a bluff and a view of the place where the Piegan were camped.
What's there: The massacre site is now on private land owned by caring stewards, so the best you can get is a distant view. A state historical marker on US 287 just north of Choteau tells the shameful story.
The story: As the name implies, the Marias Massacre -- or Baker Massacre as it is sometimes known and Bear River Massacre among the Blackfeet, for their name for the Marias -- was hardly a battle. A staggering 173 Piegan women, children and mostly elderly men were slaughtered on a frigid day during what later was determined to be an attack on the wrong group of Blackfeet. The massacre was touched off by the murder of a white trader who was killed near Helena by a young warrior named Little Owl. Determined to exact revenge, a regiment under Major Eugene Baker began pursuit of Little Owl's Piegan band, which had joined up with a group under Mountain Chief, all believed to be camped along the Marias River. As temperatures reached 30 below zero, the soldiers came upon a camp of 32 lodges along the river, surrounding it and commencing firing. Only when it was over did an Indian scout for the cavalry realize that it was a peaceful group led by Heavy Runner, who had papers from the government indicating they were to be left alone. Heavy Runner was killed while greeting the soldiers with his papers, and of the 172 others, some 50 kids less than 12 years old were either shot or killed with a bayonet. The soldiers did take about 100 prisoners, but when they realized many of the Piegans had small pox they cut them loose in frigid temperatures with no clothing, food or shelter, causing many to freeze to death. Only later did the soldiers learn Mountain Chief was camped a few miles downstream.
The significance: Even Americans who supported Indian relocation were appalled by the massacre, which some called a war crime. Initially, Washington tried to cover up the shameful act, but a report by a Blackfeet agent for the government was leaked and an outcry ensued. Under public pressure, President U.S. Grant instituted a policy of peace and permanently wrested control of Indian policy from the War Department (instead putting it under Interior). For the Blackfeet, it was a turning point in their war with the government, seeing it as the penultimate "crushing blow" before the extinction of the buffalo in their territory 14 years later. Some 145 years later, the tribe did exact a measure of revenge when one of Mountain Chief's great-granddaughters, a Browning banker and rancher named Elouise Pepion Cobell, sued the U.S. Government for trust monies owed to Indians across the country; Cobell, who died in 2011, lived long enough to win the largest settlement ($3.4 billion) ever against the government. Blackfeet members, including descendants of survivors, gather at the massacre site every year to commemorate the tragedy.