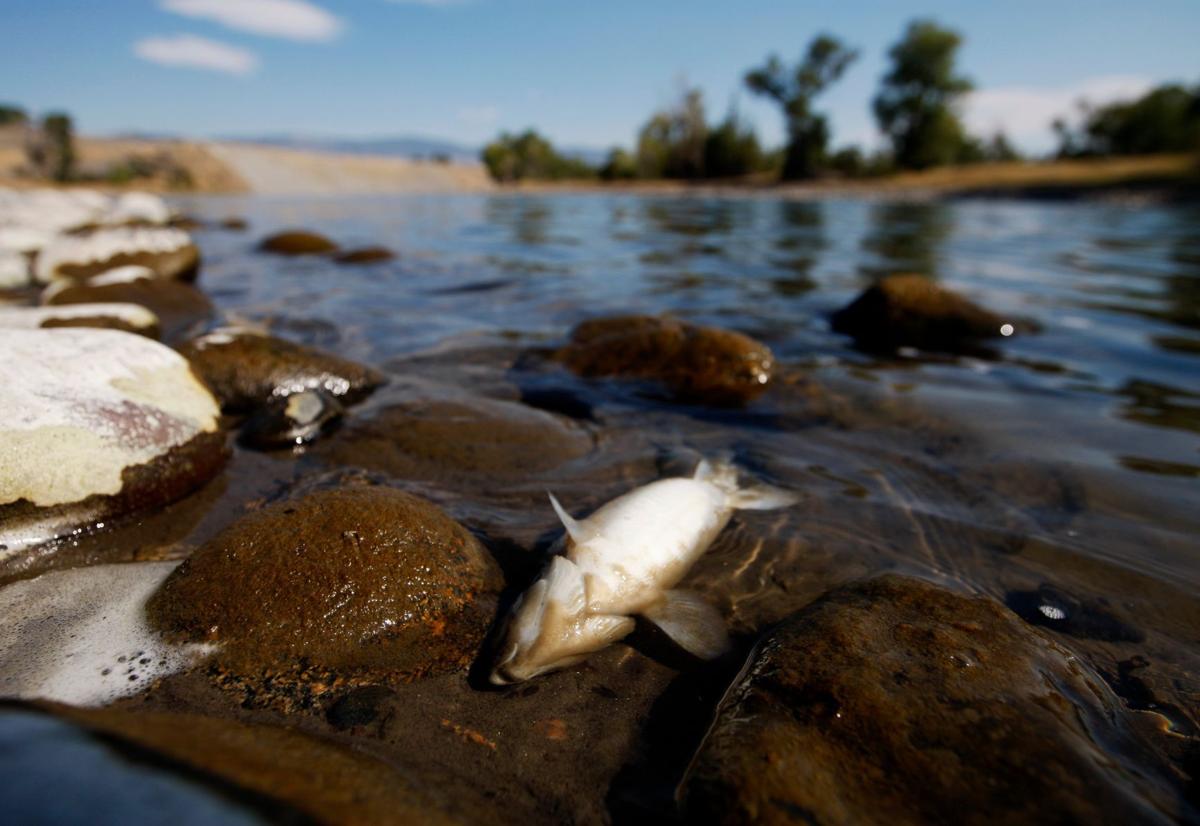 The stretch of Yellowstone River where the largest fish kills were documented last summer following a parasite outbreak showed fewer large rainbow and brown trout as well as whitefish when surveyed this spring.
"The larger fish from all species are reduced," Eileen Ryce, Fisheries Bureau chief for Fish, Wildlife and Parks, told the Fish and Wildlife Commission during its meeting in Kalispell on Wednesday.
Last August FWP took the unprecedented action of closing down 183 miles of the Yellowstone River — from the Yellowstone National Park boundary at Gardiner to the Highway 212 bridge in Laurel and all tributaries — to all recreational activities. The closure was prompted by thousands of dead fish, mostly whitefish, which were later determined to have been killed by an outbreak of parasites that can cause proliferative kidney disease. The parasite plague was magnified by low flows and warm water temperatures.
Fish populations seem to have been hardest hit in the stretch of river between the Mill Creek Bridge and Loch Leven fishing access site in the Paradise Valley. 
While FWP did not observe many brown trout in the 2016 fish kill, it appears this same stretch of river experienced a decline of about half its larger (13 inches and above) fish, and nearly 30 percent of rainbow trout in that same size category since the spring of 2016, according to an FWP press release.
In the upper Yellowstone River near Corwin Springs the number of rainbow and brown trout per mile remained relatively stable, although the number of large brown trout declined.
Farther downstream, sampling near Big Timber, Columbus and Laurel showed changing conditions. Trout populations in the Laurel section, the most downstream trout habitat, have trended downward since 2014, which biologists suspect is a result of a decade of changes in streamflows, timing and duration of snowmelt, and higher water temperatures, rather than the acute effect of the conditions in 2016, FWP said.
At Columbus, rainbow trout numbers are down significantly over time, but stable in the last couple of years.
On the plus side, Ryce said the number of juvenile fish in the most heavily affected areas was up. She also noted that high spring runoff this year should scour the river bottom removing the number of hosts for the parasite. Bryozoan, a moss animal similar to a freshwater sponge, lives on the riverbed where it releases the parasite that fish absorb through their gills.
That "should decrease the number of parasites out there," Ryce said.
When questioned by Commissioner Dan Vermillion about what FWP's response would be if there was a similar outbreak this summer, Ryce said a plan is still being developed but that it wouldn't be based on numbers, such as a certain water temperature or a specific number of dead fish, since some mortality is natural.
Closure of the river cost local tackle shops thousands of dollars and turned many tourists away from recreating in the Paradise Valley region. A full report following spring sampling is being written, Ryce added.
Vermillion also said he had received several calls from anglers angry about having to pay an additional $2 fee to support an increased aquatic invasive species detection program in the state after zebra mussel larva were detected in Tiber Reservoir. The fee was implemented by the Legislature this past session.
"Sportsmen are being asked to carry the burden" for a public problem, Vermillion said, estimating that 70 percent of the use of the Yellowstone River in the Livingston area is by recreational boaters, not anglers.
"We are looking comprehensively at funding going forward to be proactive next session so it doesn't just fall on anglers," said Martha Williams, FWP director.
So far out of 4,500 boats already checked the AIS inspectors have caught four boats that were used out of state and were infected with mussels. None had mussels that could be traced to Montana waters, Ryce said. Sampling at Tiber to see if invasive mussels can be detected in the water will start later this month. Ryce said they reproduce at temperatures of 50 degrees and warmer, so they could reproduce from June through September.