As the summer tourism season gets underway, Yellowstone National Park officials are figuring out how to deal with the ever-increasing visitation that stresses personnel and facilities, clogs roadways and sometimes results in tourists taking unnecessary and even illegal risks like getting too close to a 2,000-pound bison or a steaming hot thermal feature.
"We're trying to look at this very comprehensively," said park superintendent Dan Wenk.
To do that, the park hired Ryan Atwell, a social scientist, in late 2015. Atwell is still putting together data from tourist surveys and comments from park staff to provide Yellowstone officials with enough information to back up a decision, whatever that may be.
One proposal that has long been suggested is busing tourists to ease traffic on park roadways, but that's complicated by the large size of the park and its numerous entrances. People may come in from the North Entrance at Gardiner and leave via the South Entrance near Jackson, Wyoming.
"I've not been quiet about saying limits on visitation are possible," Wenk said, "but I can't say anything until we have the data."
Popular place
Last year Yellowstone played host to more than 4.25 million visitors, another record year for visitation. That number was up almost 4 percent from 2015 and was more than 21 percent higher than in 2014.
Part of the reason for the increase may have been attributed to the National Park Service's 100th anniversary and national and international media attention focused on Yellowstone, including the entire May 2015 issue of National Geographic Magazine. Even without that limelight this year, park officials are preparing for tourist numbers to climb again, noting that for many visitors Yellowstone is a "bucket list" trip.
Despite so many people in the park, there are still plenty of places where travelers can avoid the hubbub, often by walking down a trail.
"Some places are hit really hard, while many other areas in the park are pristine and unused," said Jennifer Carpenter, chief of the Yellowstone Center for Resources.
So crowding problems are not spread equally across the parks 2.2 million acres.
"It's such a complex issue in Yellowstone because it's such a big park," Carpenter added.
She noted that 84 percent of visitors surveyed said that even with more than 4.2 million people visiting the park they still enjoyed their experience. But Jody Lyle, chief of the Office of Strategic Communications, pointed out that more than half of visitors said crowding and traffic affected their trip in some way.
"For every complex problem there's a simple solution that's wrong," Wenk said. "A lot of people say, put in a transportation system, but how do we pay for it?"
Education
Park officials used to believe that many of the problems rangers and interpreters had with tourists were because those people hadn't read the brochures they were handed at the entrances. That newspaper contains warnings like the proper distances to stay away from certain wildlife. Or maybe the travelers simply ignored signs warning them to stay on boardwalks in thermal areas. So it was long believed more education was key, but that viewpoint may be changing slightly.
Wenk said in portions of the visitor survey he's looked at, some people said they knew they weren't supposed to pose for a selfie next to an elk, but decided to risk it anyway.
Yellowstone visitors behaving badly
Every summer, a handful of visitors to Yellowstone National Park ignore the rules and do something, well, stupid. Here are the incidents from 2016 alone.
"I don't know how to deal with that," he said. "I thought we had an information problem."
Last summer the park experimented with making violations more public, hoping that word of the violations and fines would spread and discourage other visitors from taking unnecessary risks, Lyle said. There was no way to judge if the publicity worked, but anecdotally she said it seemed to get some groups to respond.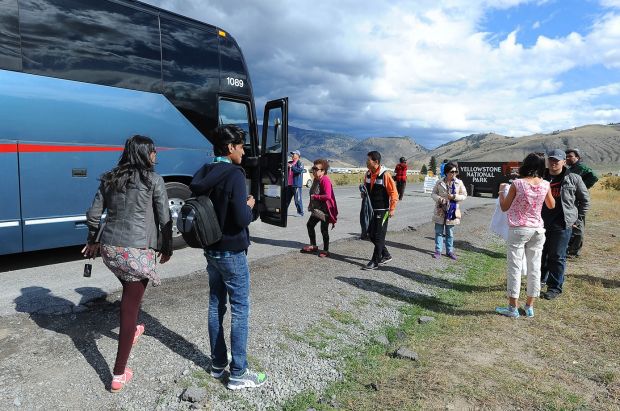 Park newbies
Part of the problem is that about 84 percent of the visitors to the park every year are coming for the first time, according to park data. International visitors hail from as close as Canada to as far away as Asia and Europe, with 12 languages spoken. 
"The language barrier is there but perhaps not as big a problem as we thought," Wenk said.
Park officials have been proactive and contacted tour bus companies, whose traffic has steadily increased as the number of tourists from China has risen, to try and advise folks about rules and regulations before they even get to the park.
The park also hired rangers who spoke Mandarin, added seasonal employees to help with traffic jams and installed porta-potties to ease lines at bathrooms. The entry hours were expanded and Wenk empowered staff working in the different districts of the park to take action they thought would help.
But even if it could throw more personnel at the problem, which the park said it doesn't have money for, then Yellowstone runs into another obstacle. Residents living in nearby towns are now taking advantage of companies like Airbnb to rent out their apartments or homes to tourists. That has meant less housing available for seasonal workers. Yellowstone employs about 800 to 850 people in the summer.
It's the resource
All of the talk about traffic gridlock and human jams ignores one of the fundamental facts about Yellowstone management: that preservation of the unique resource and its wild inhabitants is the primary concern. Without either, the visitors who spend more than $524 million in communities near the park and support about 8,100 area jobs would evaporate. The cumulative impact of Yellowstone on the local economy has been estimated at $680 million.
"That economic impact is only there if we continue to protect that place," Wenk said.
So when tourism bumps up against the resource, the park will rule in favor of the resource, Wenk indicated.
"As we look to the future, preservation has to be the key value we consider as we address increasing visitation," Wenk noted in a press release about the park's economic impact. "Protecting the park also protects the regional tourism economy." 
Critics have questioned the park's dedication to that ideal, as infrastructure like new lodges, cell towers and increased infrastructure such as sewer plants are built. There's also concern from groups like Public Employees for Environmental Responsibility questioning the increasing commercialization of parks to raise money. Wenk said such funding is a necessity.
"We need to be increasingly reliant on earned revenue," he said.
Last budget year, the park received about $35 million in appropriations from the Department of the Interior, he said, but it costs about $90 million a year to run the park. So the rest of Yellowstone's budget is paid for by things like utility reimbursements, franchise fees, visitor fees for everything from camping to entry, as well as donations from corporations like the camera company Canon.
Difficult issues
As maintenance backlogs swell in parks like Yellowstone, concern about more tourists, fewer employees and less money to maintain and operate the park may seem like much bigger problems than the few tourists who get burned, gored, injured or even killed while visiting Yellowstone.
After all, there has always been unacceptable behavior inside the park. The main difference now is that almost everyone is carrying a small camera or video recorder in their cellphones. Nowadays it's more likely that the bad deeds will be posted on the internet where millions of people can see it.
"So there's no research smoking gun that says: This is the reason we need to do X," Carpenter said. "Where do we take action and what do we do?"
The complicated issues are never far from Wenk's mind.
"My first thought when I wake up in the morning is: How do I not screw this up?" he said.