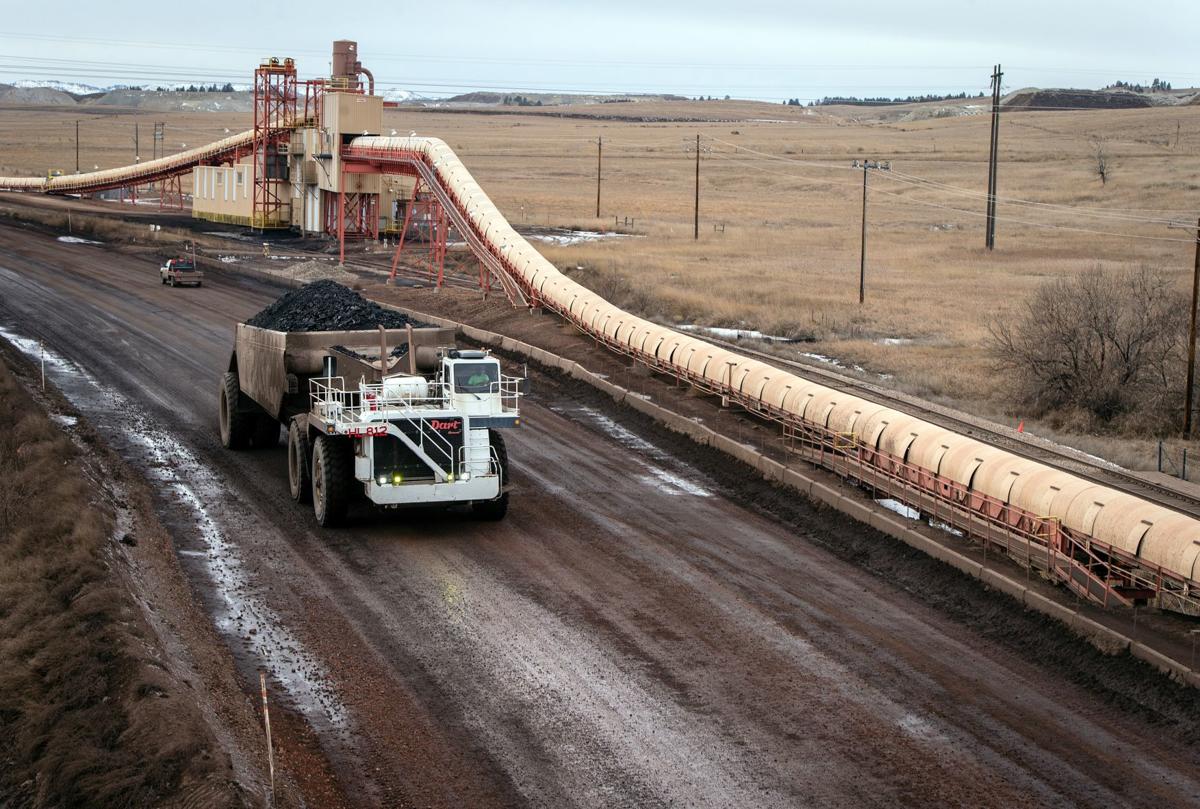 The summer-long shutdown of the Colstrip power plant in 2018 took center stage Wednesday as NorthWestern Energy made its case for a $23.8 million rate increase to cover unexpected costs.
The charges stem from unexpected power purchases during parts of 2018 and 2019, during which the monopoly utility bought 220,546 more megawatt hours of electricity than it had expected. The $23.8 million amount was attributed to higher than expected market prices.
Northwestern initially testified that Colstrip problems drove roughly $7 million of those purchases, but the utility later lowered the Colstrip associated share to $4.4 million. The power plant's largest coal-fired generators, Units 3 and 4, were taken off line for more that two months during the summer of 2018 after June tests revealed the units were failing federal Mercury and Air Toxics Standards, or MATS.
For the next 77 days after the MATS failure, Units 3 and 4 operated only for testing as engineers worked to bring them back into compliance. During that time, NorthWestern and Colstrip's other utility owners collectively spent more than $20 million of dollars on replacement power.
Three of those regulated utilities have already tried and failed to pass their Colstrip replacement power costs on to customers, having failed to provide evidence in Washington state proving that billing customers was justified.
NorthWestern faces a different commission than its Colstrip co-owners and different politics concerning the power plant.
Tuesday, the Montana Public Service Commission agreed to exclude several details of the Washington proceedings from the evidence used to determine whether Montanans should pay most of NorthWestern's replacement power costs. The all-Republican commission did allow to be included the Washington Utility and Transportation Commission ruling against the Colstrip owners Puget Sound Energy, Avista Corp and PacifiCorp. The Montana commission didn't allow the inclusion of details from Washington investigators on the grounds the Washington investigators weren't available for NorthWestern to cross examine.
In its hearing Wednesday, NorthWestern asserted that Colstrip never actually emitted unacceptable levels of hazardous air pollutants, but rather misreported pollution levels because its fiberglass pollution filters have become magnates for certain pollutants, which threw off testing. It took experts more than two months to figure it out.
"It was complex. It wasn't a simple fix. They didn't go out and find something that was broken. Everything was as it was when we were having compliance tests. All of a sudden, we couldn't meet compliance anymore," said Michael J. Barnes, NorthWestern Energy superintendent of joint owned thermal operations. "That's what led to the 77 days of not being able to operate commercially."
The arguments over whether Colstrip was truly a broken power plant in 2018 play out as NorthWestern Energy seeks preapproval from the PSC, to increase its ownership in Colstrip Unit 4 one of the problematic generators taken offline that summer. Puget Sound Energy is selling its 25% share of Unit 4. NorthWestern, which already owns 30% of Unit 4, is interested in buying at least half Puget's share. Talen Energy, another co-owner, which also operates the power plant, has said it wants half of what Puget is selling.
When given the chance to question NorthWestern, the commissioners pivoted to asking about how MATS testing would be handled differently in the future, if NorthWestern not only owned more of Unit 4, but operated the power plant.
"Let's say NorthWestern Energy got a greater share of Colstrip and you're in charge of monitoring the system. Can you see a change you might make that would improve over what Talen does today?" asked Commissioner Randy Pinocci. "And let's say if you implemented those changes, you might have been able to do something different than what happened in this event."
Barnes took no issue with the way Talen operates the power plant on behalf of NorthWestern and the other owners.
The Montana Consumer Counsel, the state's constitutionally created consumer advocate, questioned whether the Colstrip owners responded to the pollution problems with the units in a way that protected customers from avoidable costs.
Tests in February 2018 showed the units were at the limit for acceptable for mercury and air toxics emissions. That should have been a warning sign that MATS were close to being over limit, according the Montana Environmental Information Center. The argument went that if problem had been handled earlier in the year, the cost for replacement power would have been less than the period of peak summer demand.
Barnes testified there was no indication in emissions monitoring that action was needed before June 2018, though he also said in hindsight he would have called for more diagnostic testing. 
Similarly, the Montana Environmental Information Center, pointed out that Colstrip had at times used coal from different areas of the Rosebud mine. That choice to use different coal could have fouled the plant, MEIC argued. And, consumers shouldn't have to pay the bill if the power plant's problems stemmed from bad decision making.
NorthWestern argued that there's little difference in the coal from one section of Rosebud Mine to another.
However, state reports indicated that there was a difference in the coal burned at the power plant in 2018.
NorthWestern customers have been paying down the $23.8 million since last October 2019, when the Public Service Commission agreed to allow NorthWestern to begin collecting the rate increase while the PSC determined whether the costs were reasonable. State law allows NorthWestern to request the payment. The difference between what the PSC decides is appropriate and what NorthWestern is already collecting will be credited back to customers over time, once the commission has ruled, probably in July.
The average residential customer's share of the $23.8 million bill is $37.08 a year, according to the NorthWestern's initial request.