Yellowstone County's criminal caseload is still climbing each year, fueled partly by drug abuse, and is now more than double what it was eight years ago, according to recently released statistics.
In 2010, the Yellowstone County Attorney's Office filed 677 criminal cases. That more than doubled to 1,506 cases in 2017. During the same period, the county's population grew by roughly 7 percent, according to the most recent Census Bureau data. 
Recidivism is likely a factor in the increasing crime rates, said Yellowstone County Attorney Scott Twito. His office has begun tracking the problem in an effort to better understand its scope.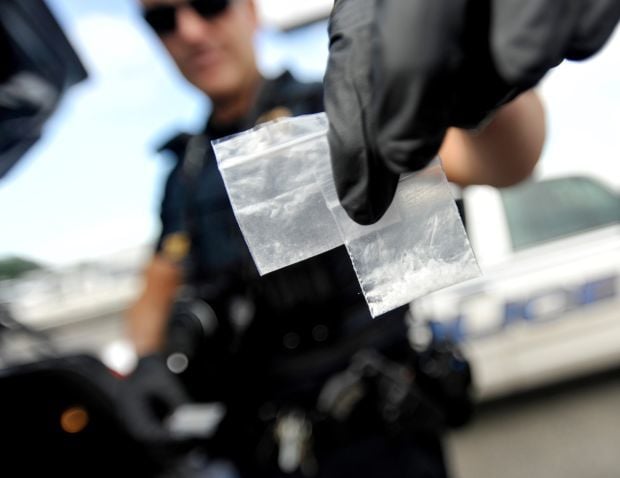 Drug crimes
Last year, drug crimes accounted for a little more than a third of all criminal charges filed in the county. That includes distribution, possession, production and related charges.
But law enforcement says drugs play a bigger role in crime than what's captured in drug stats alone. That's because drug addiction fuels other crimes, like violent crimes or home break-ins where burglars ransack medicine cabinets looking for pain pills and other drugs, Billings Police Chief Rich St. John told The Gazette in October.
Possession charges make up the bulk of the county's drug crimes, with 614 charges filed last year. In 2012, that number was just 198.
Drug dealing also appears to be increasing, although not as dramatically, with 55 distribution charges filed last year, the highest in the six years for which data was immediately available. (Those charges hover in the 30s most years, but a previous high of 52 was recorded in 2014.)
Drug abuse is also behind a surge in child abuse and neglect cases, Twito has said. And local addiction treatment providers are overwhelmed by the demand and unable to treat people fast enough, he told Sen. Jon Tester, D-Mont., at a roundtable in December. 
Thefts tripled in five years
Comparing the recently released 2017 numbers to those from 2012, a few crimes stand out.
That includes a tripling of theft crimes (from 77 to 234) and a doubling of robbery crimes (from 27 to 55). The categories include the primary and related crimes, such as robbery, attempted robbery and robbery by accountability.
The statistics also show a spike in bail-jumping (from 10 to 57), arson (from 0 to 12), witness tampering (from 7 to 27) and evidence tampering (from 12 to 30) between 2012 and 2017.
The five-year look-back also shows more homicide charges, from three in 2012 to seven last year. That includes deliberate homicide, deliberate homicide with a weapons enhancement and attempted deliberate homicide.
More than half a million dollars in personal property went missing in Billings during 2017 in the form of 118 stolen cars that were never recovered.
Yellowstone County saw 47 domestic strangulation cases last year, after lawmakers created the crime in May. That helps explain a 36 percent decrease in aggravated assault cases from 2016, Twito said, as some cases were charged instead under the new law.
There was a hint of good news in the filings, with drops in child endangerment, criminal endangerment, partner or family member assault and DUIs, although the year-over-year rates continued to fluctuate, with none showing declines lasting more than a year.
Tracking recidivism
Starting this year, the Yellowstone County Attorney's Office will track whether defendants have a pending criminal case or are on probation or parole at the time they are charged with a crime.
"Both of those categories, they come in on almost a daily basis," Twito said.
Tracking the individuals' criminal history will show prosecutors the scope of the recidivism problem locally.
"That's a problem," Twito said.
"How many people are recently released and go out and commit horrific acts?" Twito asked. "I want to know."