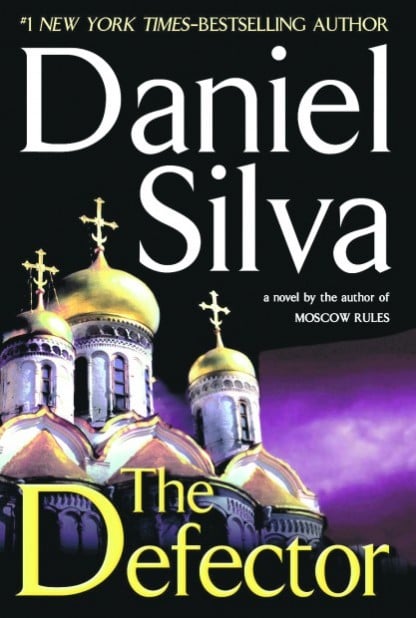 Publisher: G.P. Putnam's Sons
Gabriel Allon's big mistake at the close of Daniel Silva's 2008 spy thriller, "Moscow Rules," was to spare the life of Ivan Kharkov, the ruthless Russian oligarch and arms supplier to al-Qaida.
But it was an astute decision for Silva, one that set the stage for another confrontation between the two mortal enemies and demonstrates anew that the collapse of the Soviet Union doesn't leave authors short of material to craft suspense-filled conflicts between Russia and the West.
"The Defector" is the perfect book for fans of well-crafted thrillers, the kind of page-turner that captures the reader from the opening chapter and doesn't let go.
It's Silva's 12th novel and the ninth to showcase the brilliance and daring of Allon, the noted art restorer who occasionally takes an assignment from the Office, Israel's secret warfare agency modeled after the Mossad.
Allon gets his marching orders while on an extended honeymoon at an Italian villa, where he also is restoring a 17th-century altarpiece for the Vatican. He learns that Col. Grigori Bulganov, the Russian intelligence officer who saved his life and then defected to the West, has gone missing and faces the prospect of execution and burial in an unmarked grave.
The stakes grow higher when Kharkov's thugs kidnap Allon's wife, Chiara, herself an Israeli Special Ops agent, from the villa in Umbria, where her two security guards are found dead.
Allon's assignment takes him at warp speed to the Russian exile community in London, a little-known bank in Switzerland and a villa on Italy's Lake Como to which he lures Bulganov's wife to obtain details of her husband's abduction.
The globe-trotting continues with a visit to a lodge in New York's Adirondacks that provides sanctuary for Kharkov's wife and children, then to a dacha in a snowbound birch forest in Russia that offers haunting testimony to Stalin's butchery 70 years earlier.
Allon and his team get help from the Israelis' well-placed contacts in Britain's MI5, which at first suspected that Bulganov was a double agent who defected yet again, this time back to Russia, and in the CIA, which plays a key role in the daring rescue.
As the Cold War becomes a distant memory, spy novels have been forced to adapt.
Silva draws from undisputed master John Le Carre, but without the British author's projection of moral ambiguity. Silva's readers can always tell the good guys from the bad.
There's also a smidgen of James Bond.
Silva, a former wire service correspondent and CNN producer who's known for the research that informs his novels, spent some time in Russia while working on "Moscow Rules." That book and its sequel indicate that the country has a way to go to come to terms with its KGB past.