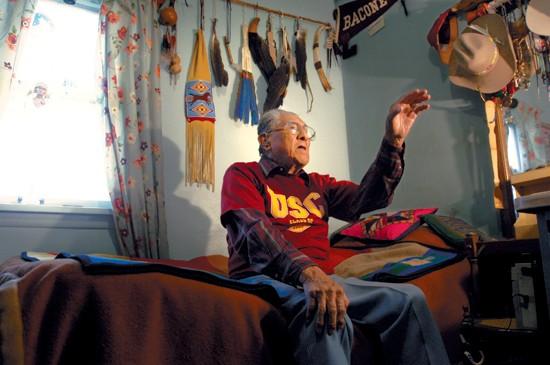 LODGE GRASS - Joe Medicine Crow has lived in two worlds and succeeded in both.
Thought to be the oldest Crow man living on the reservation, he is the official Crow Indian Tribe historian. He is a Crow chief, having completed the required four war deeds while serving with the Army in World War II.
After the war, Medicine Crow lived off-reservation for 20 years.
"I almost lost my language," he said.
But, during that time, Medicine Crow gained other life experiences, some while working for the Bureau of Indian Affairs for 32 years. Since the turn of the millennium, Medicine Crow has earned two honorary doctorates.
"I live in two worlds, and I enjoy them," Medicine Crow said.
Medicine Crow has written books about his Crow heritage.
"One, I can't even read," he said. "It's written in Norwegian!"
Medicine Crow said that, when he worked as a land appraiser for the BIA, he would wear a tie and sports jacket to work all day.
"After 5 o'clock, I'd turn into an Indian," he said with a chuckle.
His years living with a foot in both worlds taught Medicine Crow much, he said, including that it is good to follow the Crow ways of respecting the Earth and all people.
"I was acquainted with the good and the dangers of the white man's way," Medicine Crow said. "You learn from experience, they say."
Medicine Crow was born in 1913 and called himself "second-generation of Reservation Indian Crow." His earliest memories are of his grandparents, the Yellowtails, teaching him traditions at their home near Lodge Grass.
"At that time, my grandparents were our teachers," he said.
Medicine Crow still lives on the land near Lodge Grass. In a house tucked in the trees, he leads visitors past a living area with plush furniture and a large-screen television. Through the kitchen and down a hall, he enters a small room. The 92-year-old offers chairs to his guests and perches on the edge of a single-wide bed.
This room is den, library, picture gallery. The bed, heavy with blankets, is pushed against one wall. A gray metal desk occupies another wall. Near the ceiling, one wall is lined with five college pennants, each with a piece of white notebook paper on the edge listing the year and academic degree Medicine Crow earned there. The last two denote honorary doctorates from the University of Southern California in 2003 and Rocky Mountain College in 2002.
Medicine Crow tells stories in the circular, weaving way of those who have a strong oral tradition. Sometimes he punctuates a sentence with a "ha!" and a little chuckle - seeming both amazed and humored by what he has said. Other times, he raises his right arm and jabs a pointed index finger into the air to drive home a point.
On occasion, Medicine Crow folds his hands, intertwines his fingers and looks down. Collecting his thoughts, Medicine Crow's silence draws in his listener. He tells of Crow Indian history and his own.
His grandfather taught Medicine Crow to be a warrior.
"He would make little bow and arrows for me," he said and talked about the "rigorous physical training" that included running and swimming in icy water.
"But that came in handy when I was in the Army - World War II," he said.
Medicine Crow recalled being about 6 years old, when his grandfather woke him up in the middle of a winter night. The snow was deep, he said, and, without shoes, he was told to go run around the cabin. The training continued to become more strenuous and built up to running without clothes to a clump of sagebrush across the yard and back, then later running out to the sagebrush, rolling in the snow and returning.
The warrior tradition is deep-rooted in Crow culture. Medicine Crow explained that the great warrior, No Vitals, had a vision that Crow would have to be strong to fend off the other tribes and white men, who would try to take their good land.
"The great spirits said, 'I am going to make you warriors, strong and cunning,' " Medicine Crow said.
As a result, the Crow "became militaristic," he said.
"Kids train to be warriors right from toddlers," Medicine Crow said. "We were a war-faring people."
In his recent book, "Counting Coup Becoming a Crow Chief on the Reservation and Beyond," Medicine Crow describes how he became a chief. The book was written with Herman Viola and published by the National Geographic Society.
"Naturally, I thought about the famous warriors when I went to Germany," Medicine Crow wrote. "I had a legacy to live up to.
"My goal was to be a good soldier, to perform honorably in combat, if the occasion should occur. I did not think in terms of counting coups. Those days were gone, I believed, But when I returned from Germany and the elders asked me and the other Crow veterans to tell our war stories, lo and behold, I had completed the four requirements to become a chief."
The coups that Medicine Crow counted were:
He led a war party by taking a detail of soldiers, under fire, to retrieve dynamite to use for attacking German guns.
He touched the first fallen enemy and stole his weapon when Medicine Crow and a German met on a street in France. Medicine Crow knocked down the German and kicked his rifle away counting coup twice.
He entered an enemy camp and stole horses when he snuck into a farm where German SS officers were holed up for the night. Medicine Crow stealthily entered a barn and corral, mounted a horse and, with a Crow war cry, ran the horses toward the Americans.
Sitting in his house more than 60 years later, Medicine Crow says with a touch of pride that "I never got a scratch."
Medicine Crow's life has criss-crossed two cultures. He appears as comfortable in traditional beadwork regalia as a USC T-shirt worn over a Western dress shirt. As he tells of the U.S. State government's efforts to snuff out Crow culture, several of the anecdotes parallel his own life and the effort to "keep up the old ways."
"The government tried their best to transform these people into the ways of the white man," Medicine Crow said. "Yeah, they tried all right. But we had what you might call cultural persistence."